We finally managed to receive some moisture here across Northeastern Colorado on Thursday and Friday, and luckily the trend of cooler and active weather looks to continue through the end of the month.
Water vapor imagery shows an accurate depiction of what we will see through the work week: A progressive pattern with multiple shortwave troughs bringing much needed moisture to Denver and the High Plains, and possibly some severe weather across much of the Southern Plains.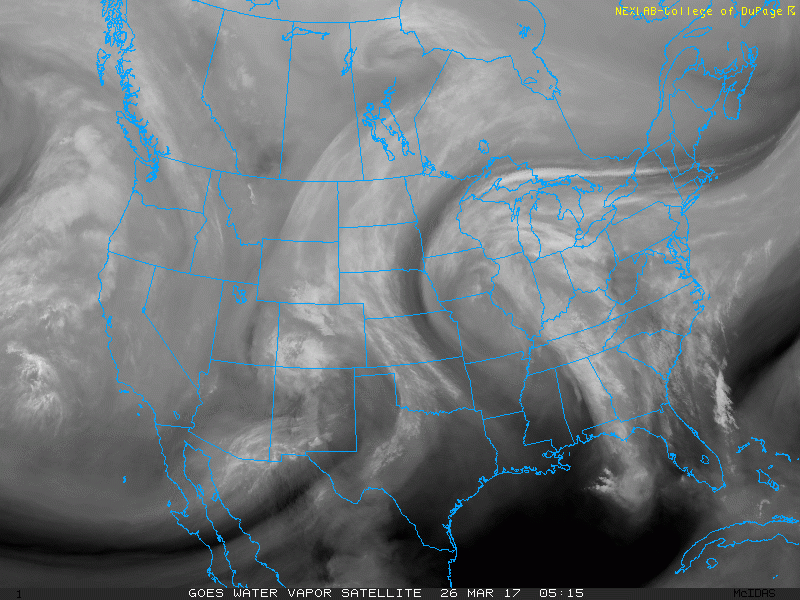 On this loop we can pick out three distinct upper-level lows: One centered over far Southeastern Colorado, one located off the coast of British Columbia, and another situated over the Midwest. With waves digging down from the northwest and ejecting out over the Rockies and onto the High Plains, it is common to see these systems intensify as the air column is being stretched which in turn increases the vorticity, or spin of the system. We refer to this process as lee cyclogenesis. We can see the low nicely on visible satellite spinning over Southeastern Colorado.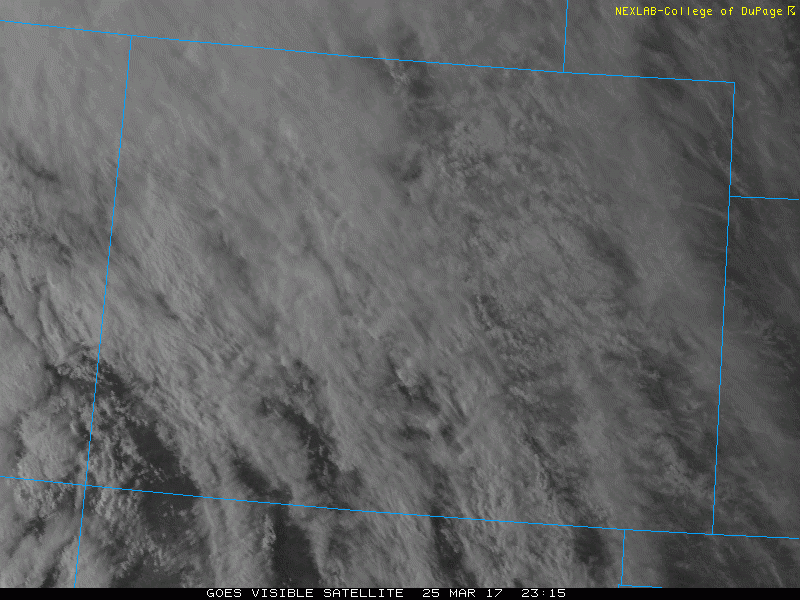 This is a common location for lows to intensify since there is a steep topography gradient between the Rockies and the Plains across Colorado.
Although moisture at the surface is marginal, with dewpoints currently in the 40s and 50s across Southern and Central Oklahoma, very large hail, damaging winds, and possibly a few tornadoes are possible in this region later today ahead of this shortwave, especially as richer moisture continues to stream in from the south.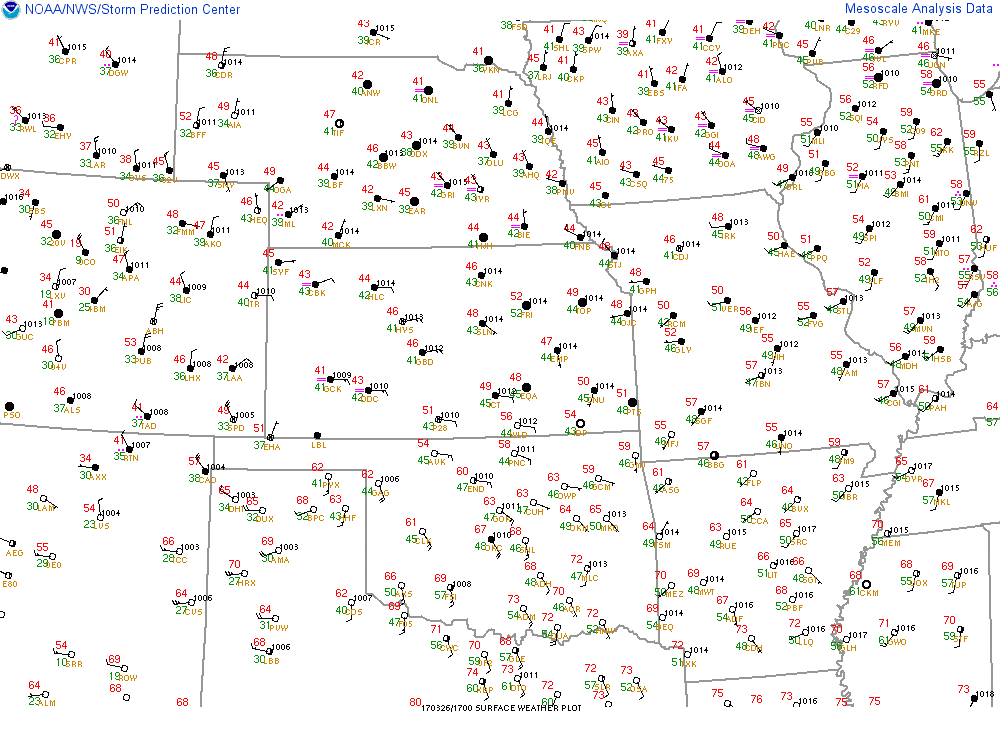 Across Northeastern Colorado, slightly below average temperatures and showery weather will be the trend for the next few days. Our average high in Denver for this time of year is 58°F. Under the cloud cover and northwest flow aloft, our high temperature in Denver only managed to hit 52°F through late afternoon which is 5°F below our average high for the day.
Tomorrow will likely be the warmest and driest day this week as weak ridging builds across Eastern Colorado in between shortwaves.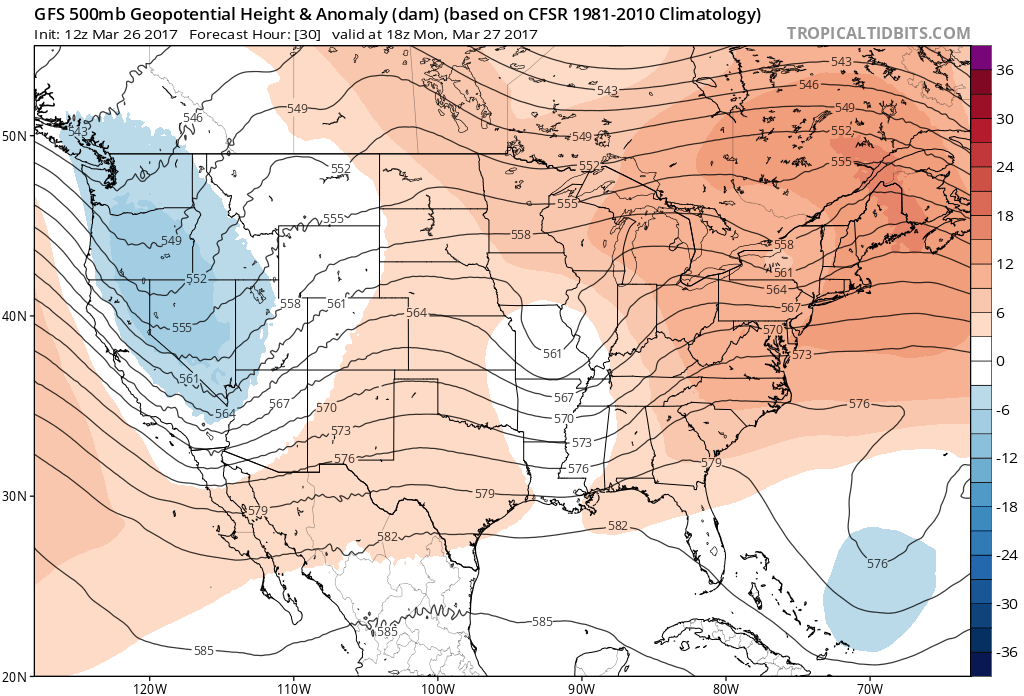 This zonal flow will allow some downsloping, drying, and warming east of the Front Range. We should see temperatures in Denver top out in the low 60s.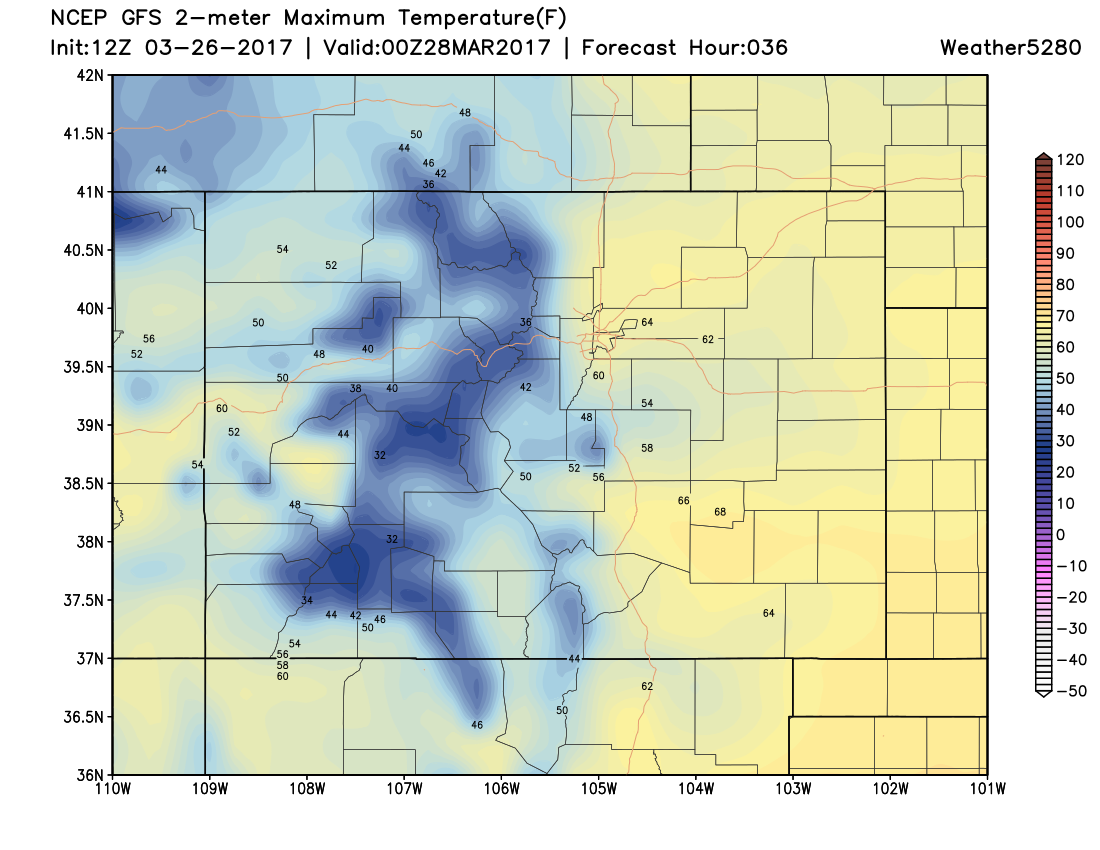 Tuesday will be a transition day in Denver, with a closed low slicing across Southern Colorado. We will address the details concerning this system in a future post, but without any frontal passage across Northeastern Colorado, we likely won't be cold enough to see any snow on the plains. The mountains and foothills will be cold enough to see some pretty good snow from this storm, Tuesday night and early Wednesday. The Palmer Divide will also likely see some snow from this storm, with the GFS model being the lightest, and the EURO and NAM models being the heaviest with accumulation. Thus, if you have to travel between Co Springs and Denver during this time frame, make sure you stay current with the forecast. We'll be fine tuning the details tomorrow.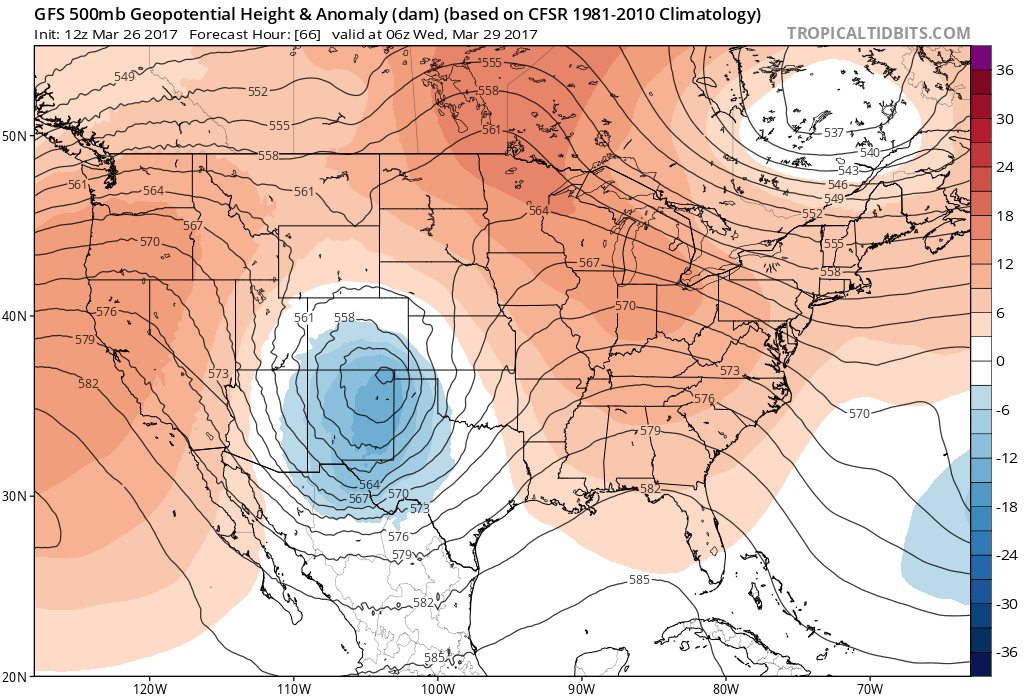 Notice how upslope is mainly out of the east or northeast for Denver Tuesday night into Wednesday morning. This is great for cloud formation and likely some rain, but temperatures look to remain at or slightly above freezing on Tuesday night, with high temperatures struggling to make it out of the 40s on Wednesday in Denver.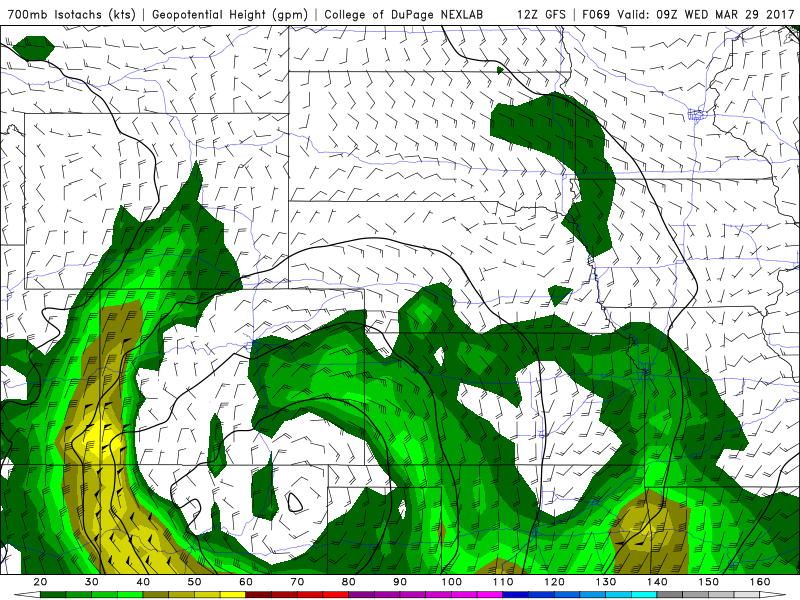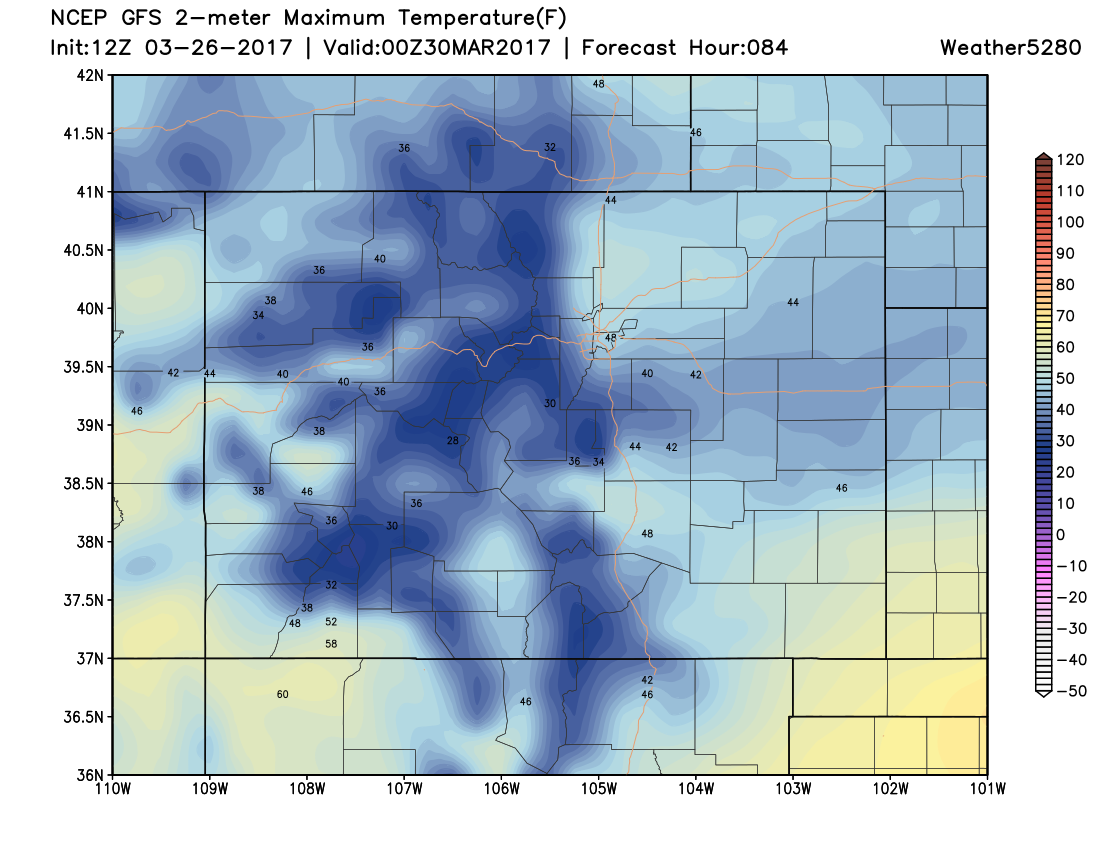 We stay active into the weekend as another closed low makes its way down from the northwest and possibly ends up over Southeastern Colorado. Details will certainly change regarding the timing and evolution of this system, but the overall trend looks to remain cool, wet, and potentially snowy for Denver into next weekend. We will continue to keep you updated here at Weather5280.