Well, leave it to the last weekend in April to dig us out of our least snowy season on record? Perhaps. We'll need 2.0" at Denver International Airport to best minimum snowfall season record holder of 21.3" set in 1888-89.
The National Weather Service in Boulder has issued a Winter Storm Warning for Denver, calling for 6 - 12" of snow for the city. This would certainly get the job done at DIA. The Warning goes into effect at 6pm this evening and extends through 6pm Saturday. As with our update yesterday... we continue to think the NWS is too bullish with snow, at least in Denver, and our forecast reflects that.
The storm is showing signs of slowing today, which is one reason the NWS has upped totals a bit. That said, we see models continue to track the low too far south for us on Saturday, and are concerned 1) that the snow will have hard time sticking during the day around Denver, and 2) that we could be dealing with some downsloping around Denver on Saturday given how far south the low is progged to track.
With that, we feel the greatest potential for accumulating snow in and around Denver comes tonight along the cold front, rather than with the low tomorrow. While our totals are lower than the NWS, we do think there will be a period of very heavy snow this evening/overnight, where visibility will be reduced, and snow will accumulate rapidly, even given warm surface temperatures. By early Saturday we see the heaviest snowfall shifting south/southeast across the plains, where very heavy snow could fall through Saturday night on into western Kansas. For Denver, Saturday remains cold (and likely snowy at times), but melting will be occurring, and snowfall should generally be lighter.
Friday afternoon and overnight
Expect some heavy snow as a strong front moves through Friday evening and overnight. The latest HRRR shows snow moving into the metro area as soon as the afternoon commute, with the heaviest snow being forecast between 7pm and midnight so far, with snow continuing but lighter into Saturday morning. Here's a look at its 7pm forecast – those dark blue over Denver indicate some heavy snow: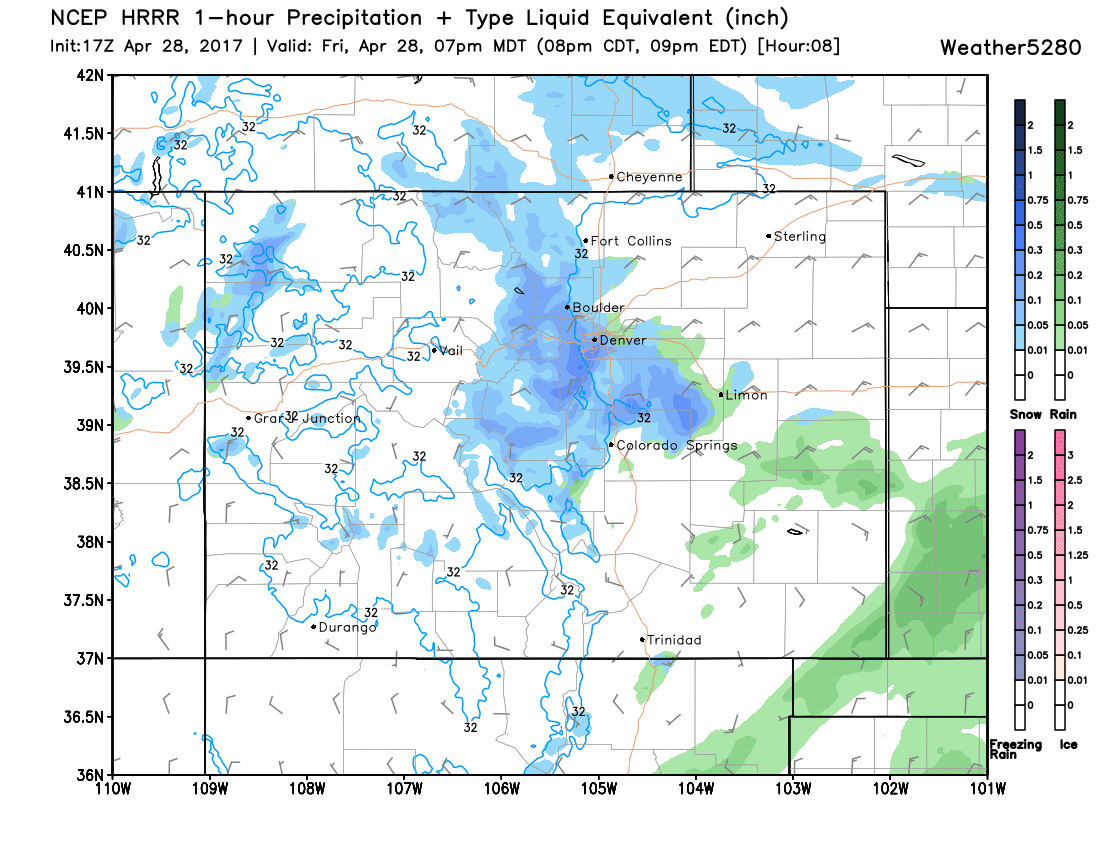 Under the heaviest bands do not be surprised to see some near whiteout conditions with rates >2"/hr at times. This, coupled with winds, will make travel difficult for a period, especially in Denver's west and southern suburbs and on into the Front Range foothills and Palmer Divide.
Temperatures will also drop rather dramatically, from the 50s we are seeing this afternoon to the 30s by 6pm, and into the 20s overnight for Denver. Here's the temperature forecast for 2am tonight – coldest we've been in some time!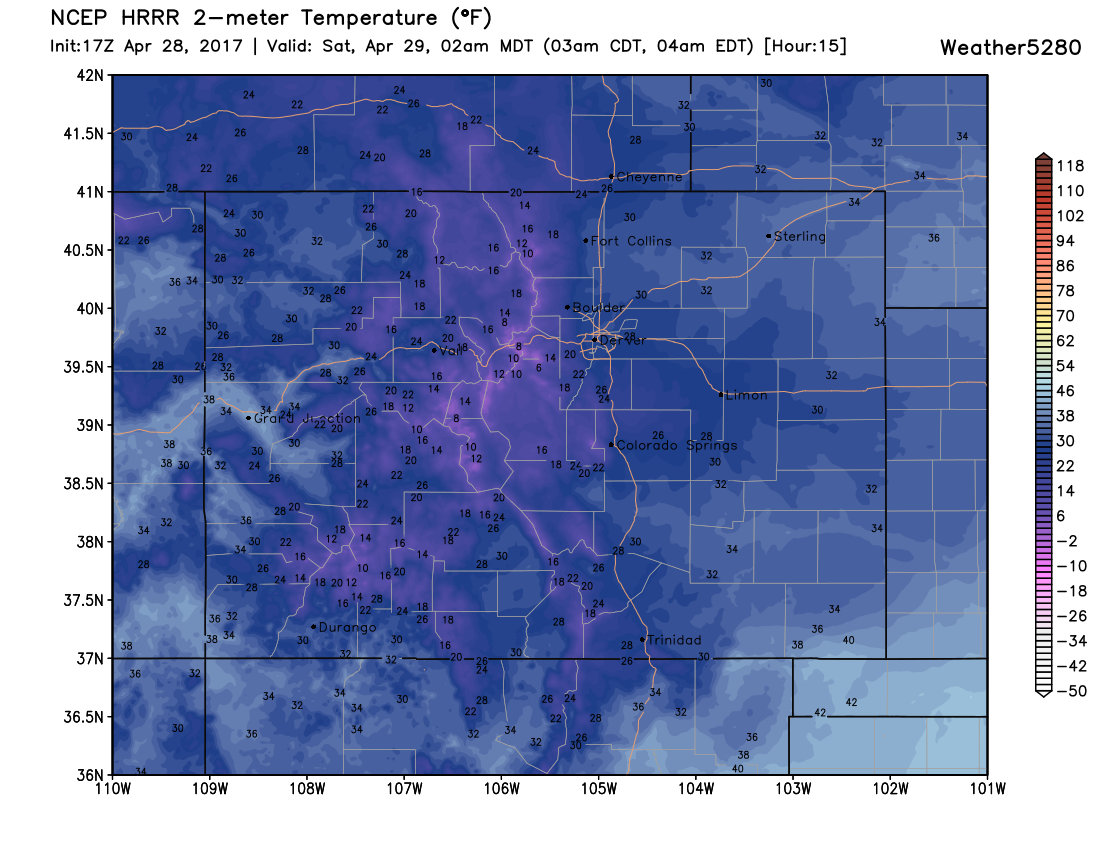 Concerns
As is always the challenge this time of year... communicating the "what falls vs what sticks" is hard. While heavy snowfall rates will likely overcome a lot of melting, surface temperatures are warm... there will be plenty of compaction... and so what falls vs what sticks may not be the same. This is especially true for Saturday, as snow will have an easier time accumulating tonight.
We're also a little concerned about the front. It doesn't look as strong as it was forecast to be yesterday... and our forecast is banking quite a bit on the front to deliver accumulating snow, vs the Low. So we'll have to see how things progress this afternoon...
By Saturday our concern (in addition to melting) is downsloping. Models show snow continuing for most of the day around here, but the track of the low being so far south would indicate we'll have some downsloping to contend with, which could kill snow early for some.
Snow forecast
We're going with a general 2 - 6" for Denver. Further north of I-70 and east of I-25 we have 1 - 4". If you live on Denver's west side and south side, those numbers could be even higher, with our 5 - 10" range skirting those suburbs. A few locations in our higher range could certainly see a foot+ of snow, especially if we can keep snow going through Saturday up this way.
For the far eastern plains we'll again see some very heavy snow... this mainly associated with the Low tracking east/northeast during the day Saturday. Some locations out southeast and into western Kansas could see some very heavy snowfall Saturday and Saturday night.
Lastly, the Bust Index is high. It's late April, and there are lot of moving parts here.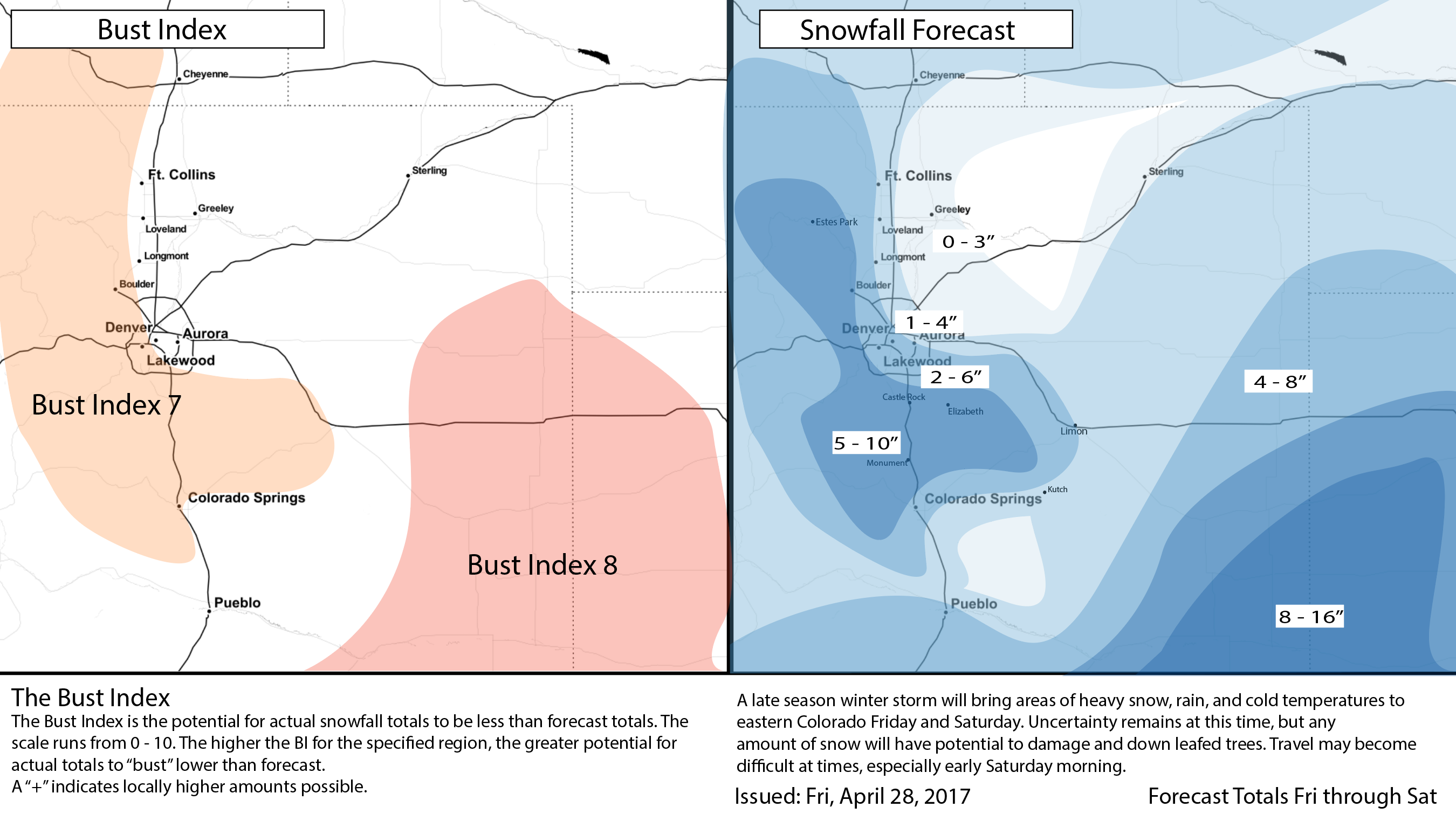 TL;DR
Snow is on the way. Snow may be heavy at times, especially this evening and overnight. Heaviest snow will sag south early Saturday, with snow continuing off and on in Denver on Saturday, but the greatest threat for accumulating snow in the city comes tonight.
Temperatures will be very cold with this system. Lows tonight will be in the 20s for Denver... with the low to mid 20s possible Saturday night into Sunday. We're hoping wind helps keep snow off trees a bit tonight in Denver, but keep and eye on things and if you can (safely) brush some of the heavier snow off leafed limbs... do!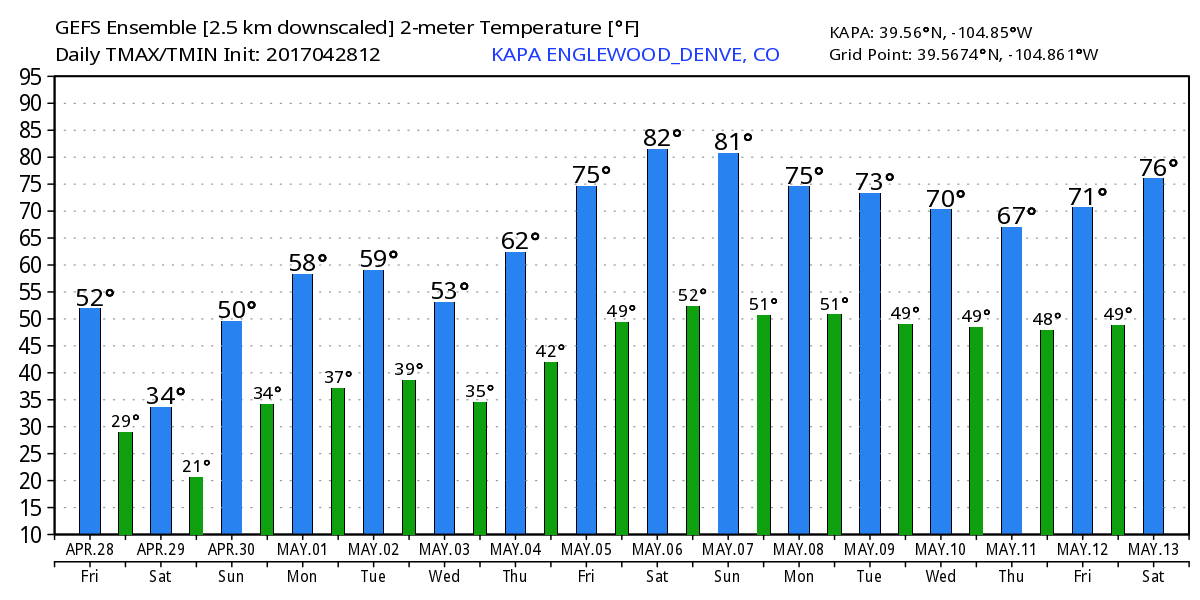 As always, please share your reports and pics in the comments below!