Back to your regularly scheduled spring!
We ended up with 5.5" at our station in central Denver, which is about what most of the city saw – somewhere between 4 and 6" of snow. At Denver International Airport, where official records are kept, 2.4" of snow was recorded. This was enough to dig us out of the least snowy season on record (we needed just 2.0"). Denver has now recorded 21.8" of snow on the season, far below the 55.4" we see on average through the end April.
So, in the city our forecast worked out very well. To the west and southwest of Denver we saw some pretty impressive "booms", with our comment in our final forecast saying "[a] few locations in our higher range could certainly see a foot+ of snow" really could have read "a few locations could be pushing two feet" if things setup right, but was not wrong. Genesee took the cake with 25.1" of snow, with most other locales in the area seeing from 11 - 16" of snow. Here are a few totals from around the region:
| Location | Forecast | Total | Bust? |
| --- | --- | --- | --- |
| Weather5820 (Denver) | 2 - 6" | 5.5" | 👍 |
| Denver (official) | 1 - 4" | 2.4" | 👍 |
| Fort Collins | 1 - 4" | 1.8" | 👍 |
| NE Thornton | 1 - 4" | 2.7" | 👍 |
| SW Boulder | 5 - 10" | 7.5" | 👍 |
| Eldorado Springs | 5 - 10" | 12.5" | 💥 |
| ESE Aurora | 2 - 6" | 6.0" | 👍 |
| ESE Aurora | 2 - 6" | 6.0" | 👍 |
| Highlands Ranch | 5 - 10" | 10.5" | 👍 |
| Lone Tree | 5 - 10" | 10.5" | 👍 |
| Elizabeth | 5 - 10" | 12.5" | 💥 |
| Tiny Town | 5 - 10" | 21.1" | 💥 |
| Colorado Springs | 2 - 6" | 2.5" | 👍 |
And here's a map of snowfall totals. Overall looks a lot like our forecast, although again, we were low west/southwest of Denver. Heaviest for the Front Range foothills, Palmer Divide, then again well south/southeast of Denver. The heaviest totals in Denver basically split the city in half – north and east last snow, south and southwest higher totals: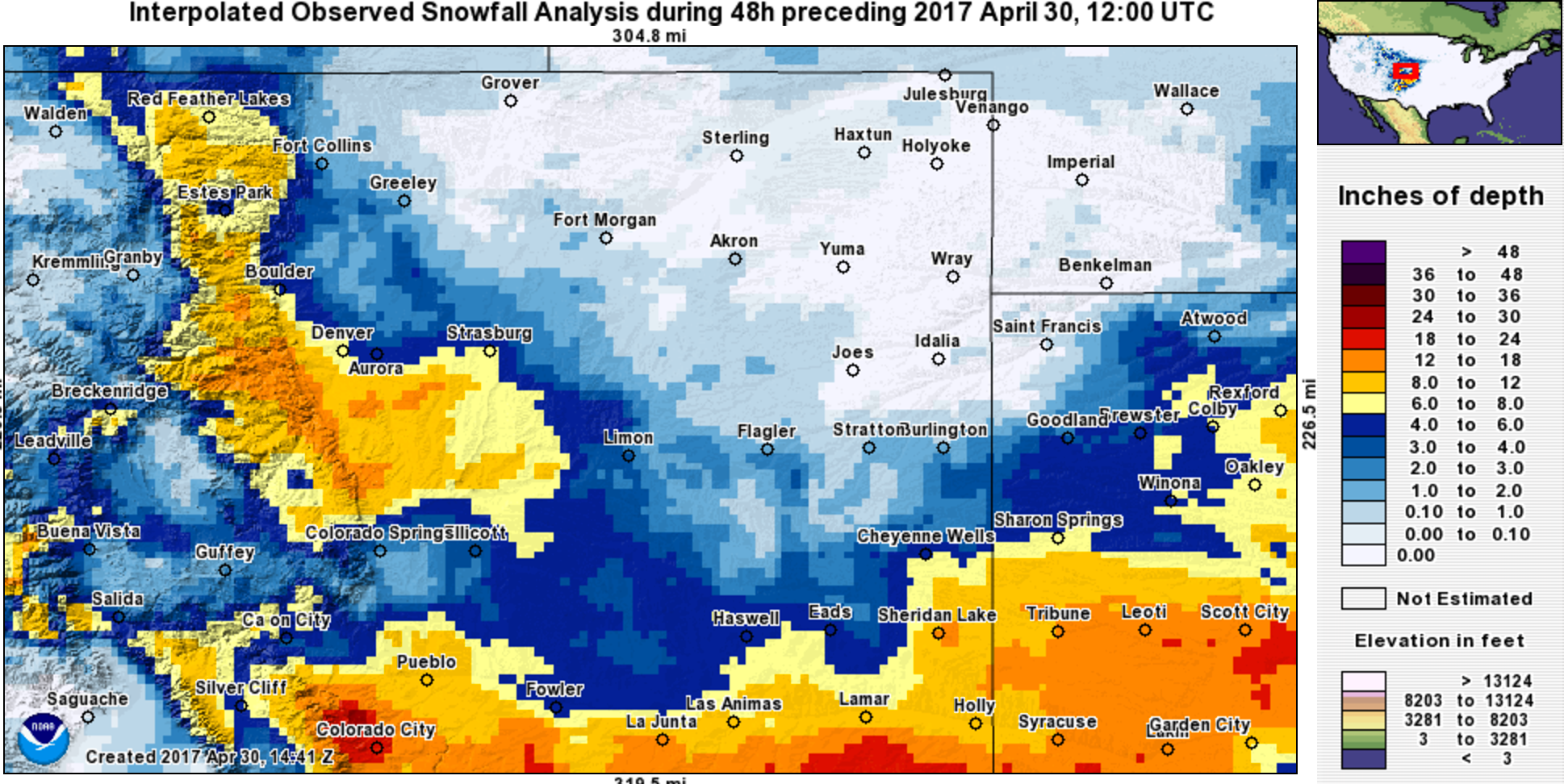 And lastly, GREAT precipitation for eastern Colorado. Keep it coming!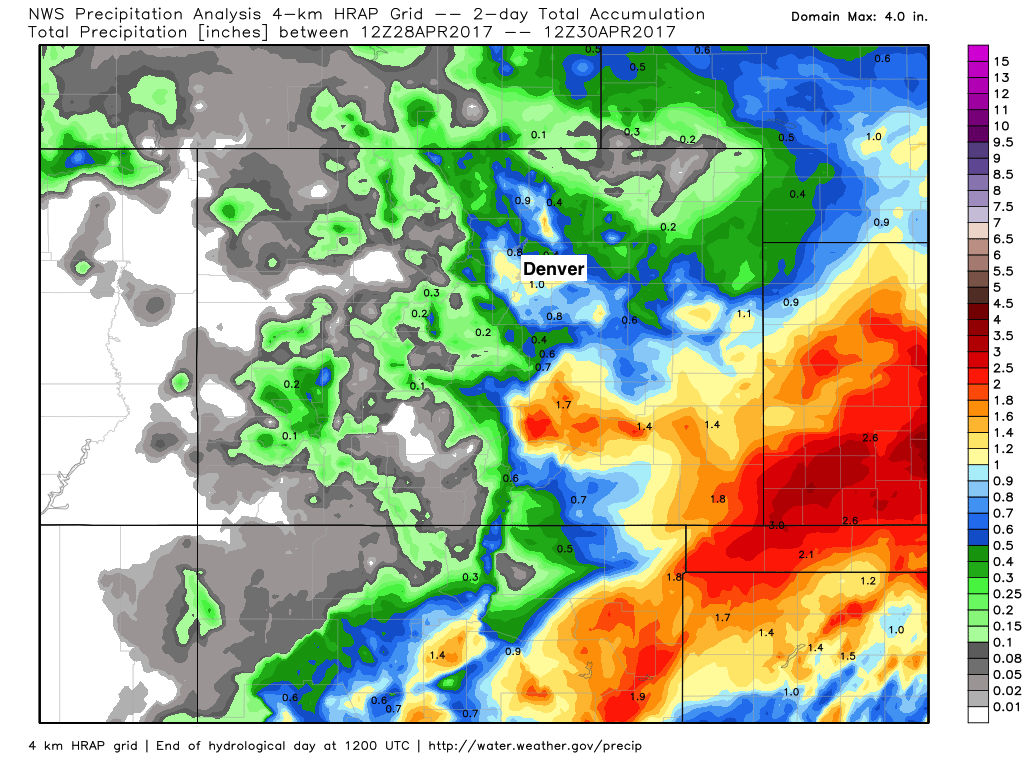 The week ahead
We can see the system that brought us the snow Friday night into Saturday centered over the Kansas-Oklahoma border, bringing Southwest Kansas some impressive snow. This storm is also causing some flooding concerns across parts of Oklahoma, Missouri, Illinois, and Arkansas. Further south along the Gulf Coast, severe weather is a threat, with some of these thunderstorms producing damaging winds and even a few tornadoes.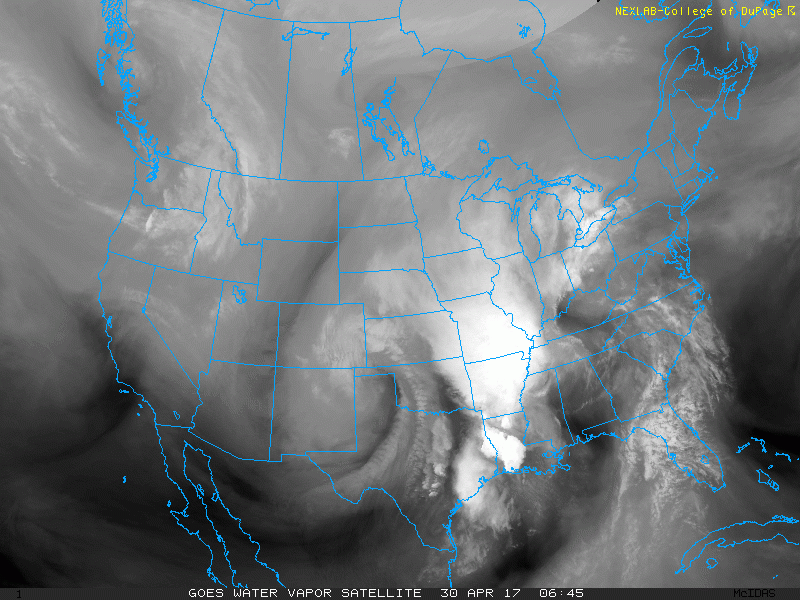 For us here in Denver, we managed to melt away a good portion of the snow cover. You can see the deeper snowfield over the Palmer Divide, with some of this melting away, especially on the northern extent of the ridge.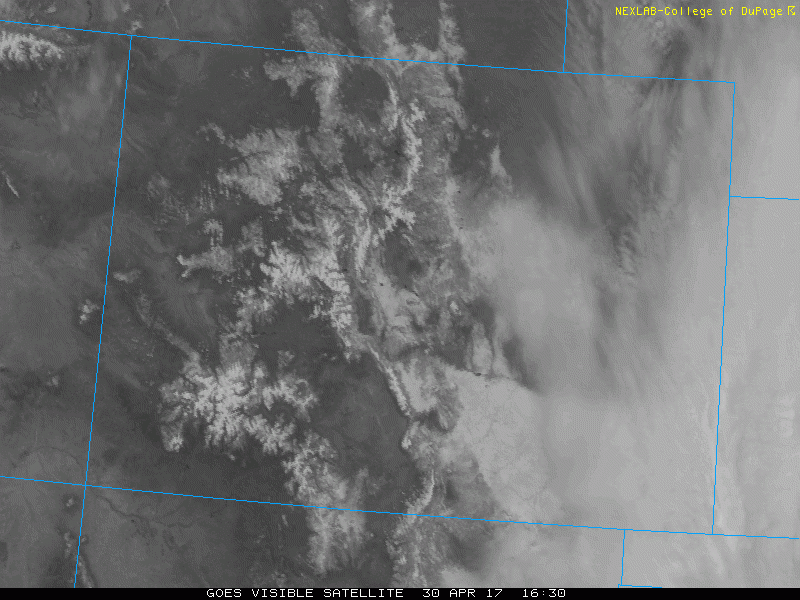 Despite the brisk north-northwesterly flow in place at the surface and the remaining snow cover, high temperatures in Denver almost climbed back near average for this time of year. We hit 62°F at our station late this afternoon, just four degrees below the average high of 66°F.
Under northwesterly flow aloft, May will start off with below average temperatures and unsettled weather. It is common to see weak shortwave troughs embedded in the northwesterly flow. Monday will be another unseasonably cool day, with highs only making it into the mid 50s to near 60°F for Denver. Again, areas that manage to melt off most of the snow or places that didn't see much snow could be a few degrees warmer. Cities such as Greeley or Fort Morgan should manage to make reach to low to mid 60s for highs.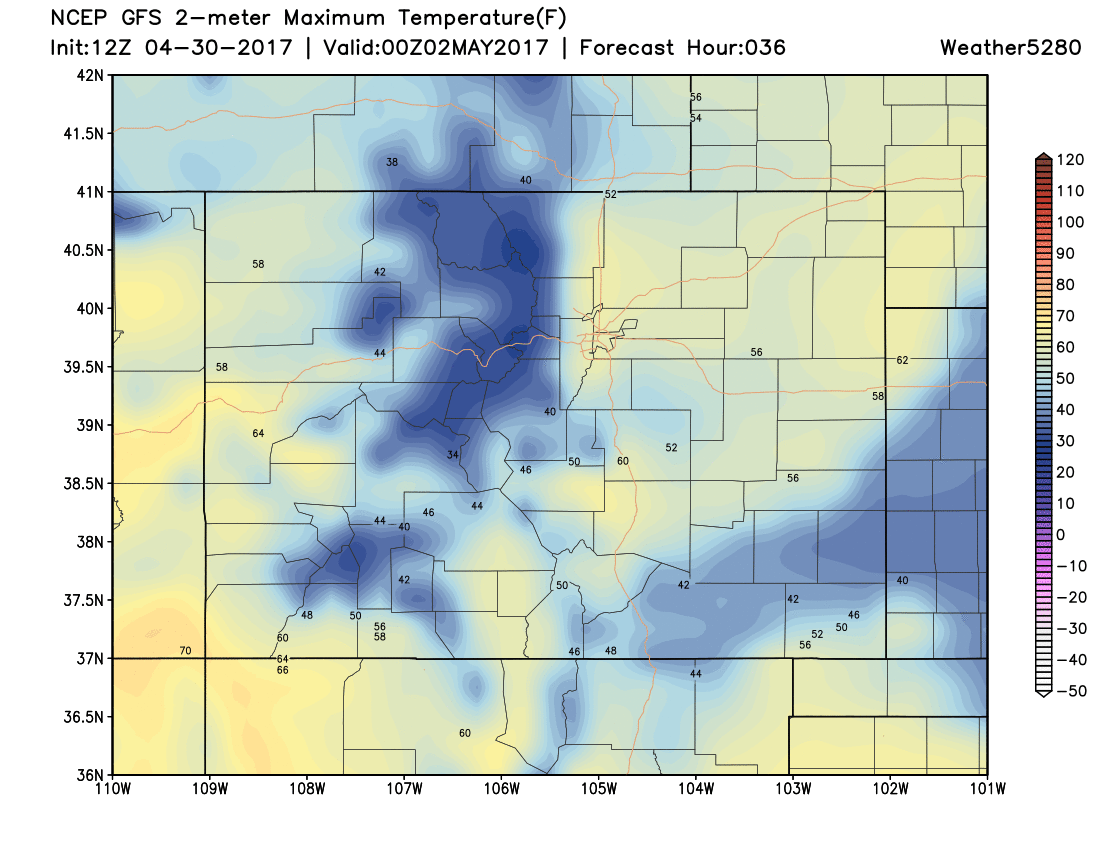 Tuesday will be similar to Monday, with an increase in clouds later in the day ahead of a shortwave trough that can be seen at 500 mb. Although we will have melted away most, if not all of the snow by this point, cloud-cover might limit high temperatures. Still, we should manage to push 60°F for a high in Denver on Tuesday.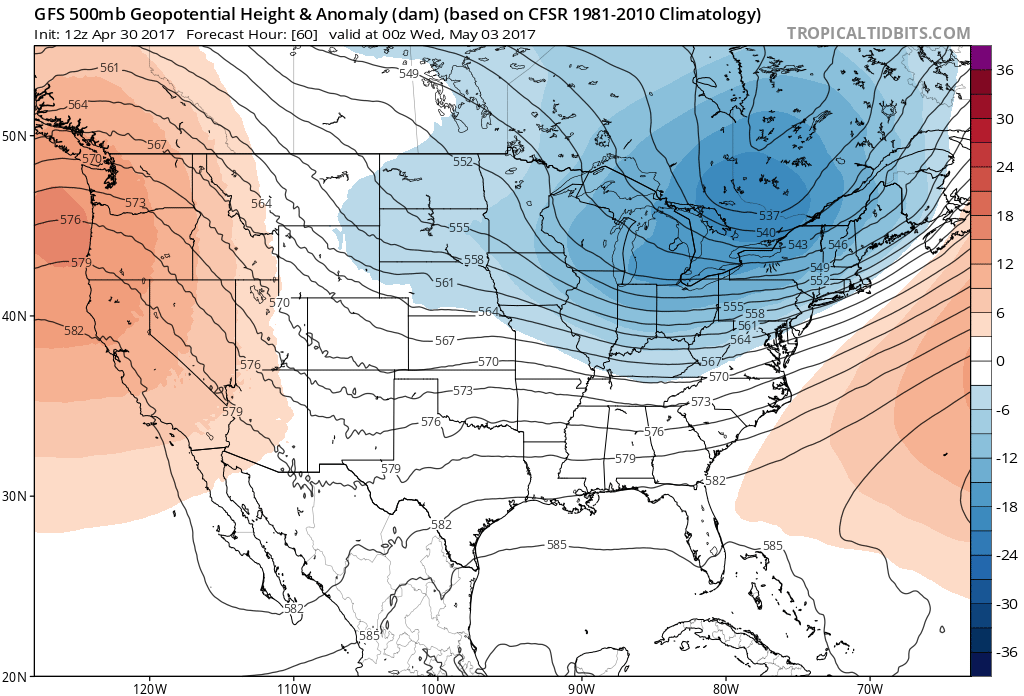 The upstream wave that is depicted over Wyoming if we are to believe the 12Z GFS isn't very deep and likely won't give us much moisture here in Denver. The weak 10-20 knot northwesterly flow at 700mb will likely result in the highest precipitation chances along the Palmer Divide Tuesday night into Wednesday morning. For places that are closer to the foothills such as Fort Collins and Boulder, this flow regime translates to downsloping.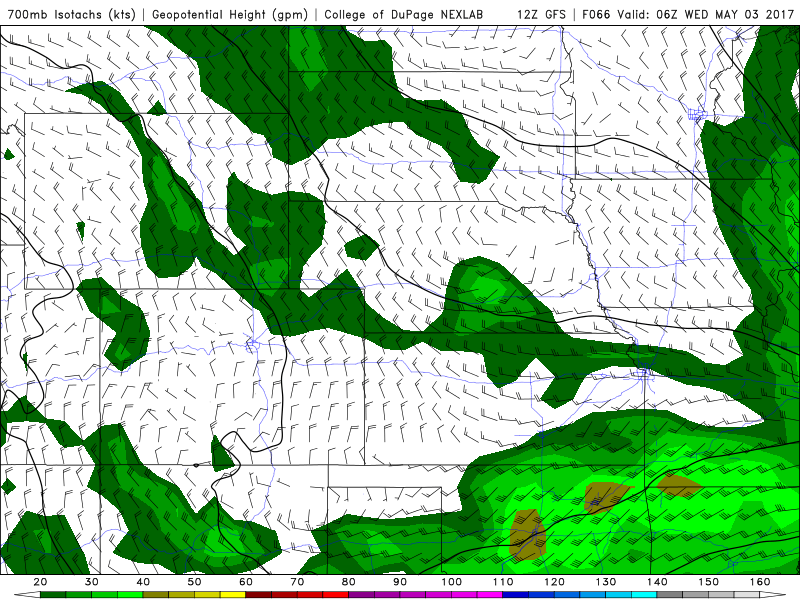 The far northeastern plains will also have a higher chance of seeing some rain during this time frame as they will reside in the left-exit region of a 120 knot 250 mb jet if the trough manages to dig further south.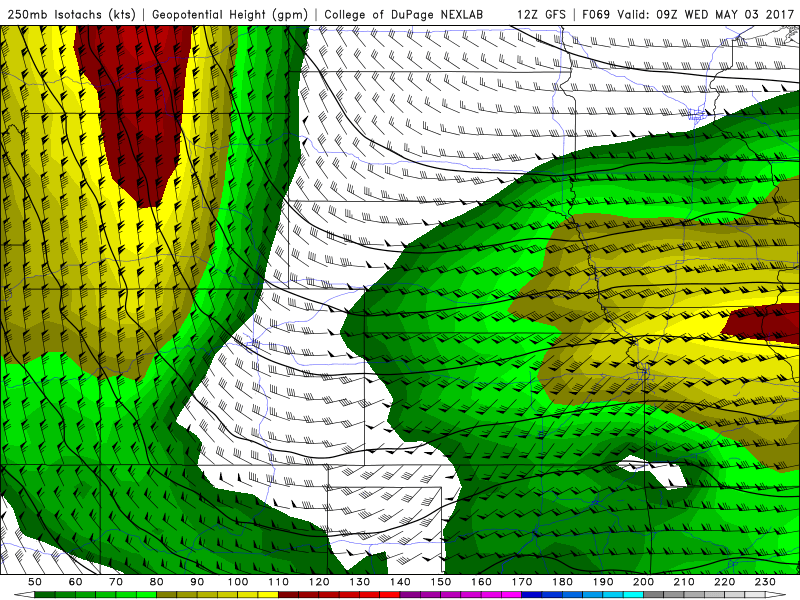 Here is a forecast sounding for Denver International Airport from the 12Z GFS. Notice how the surface is rather dry, but there is some mid-level moistening around 700 mb.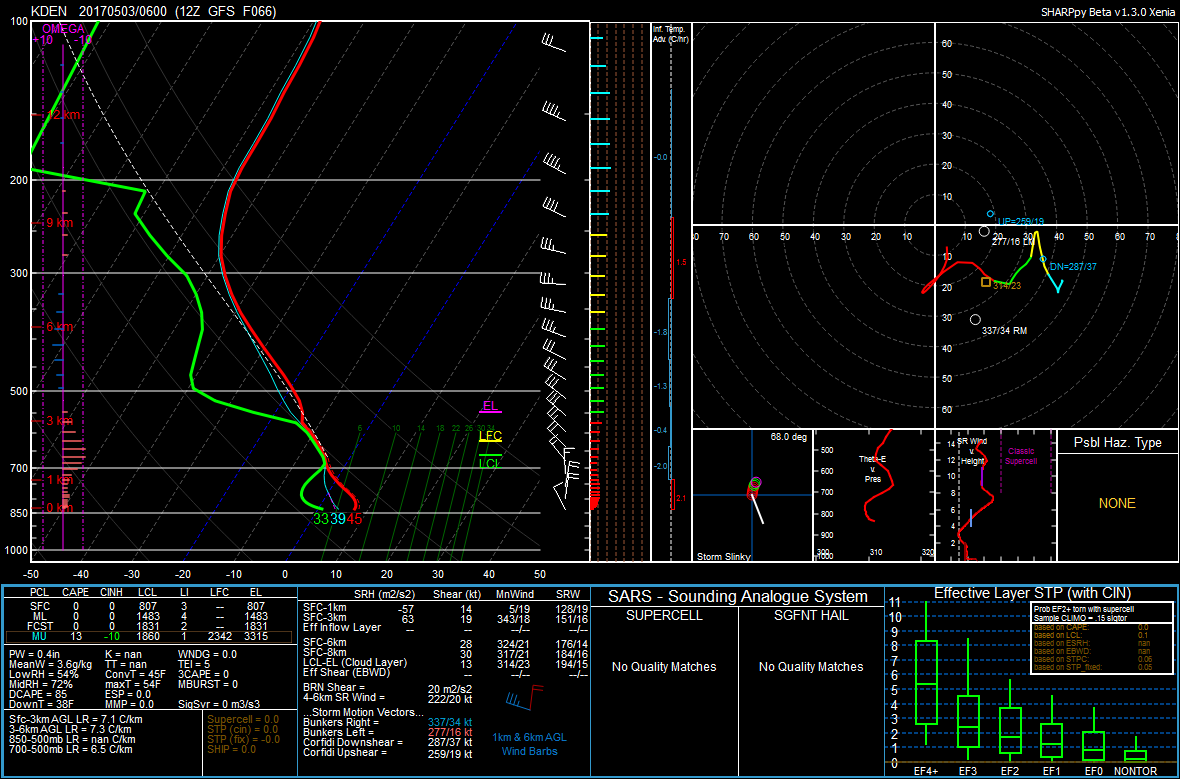 Precipitation on the Palmer Divide should fall mainly as snow despite overnight low temperatures remaining in the mid to upper 30s. We aren't expecting any accumulations due to the warmer temperatures and the fact that most areas will remain dry.
As we head into Thursday and Friday, mid-level ridging will dominate the large-scale pattern over the western half of the country. This will bring us above average temperatures and dry conditions for the latter half of the week and into the weekend.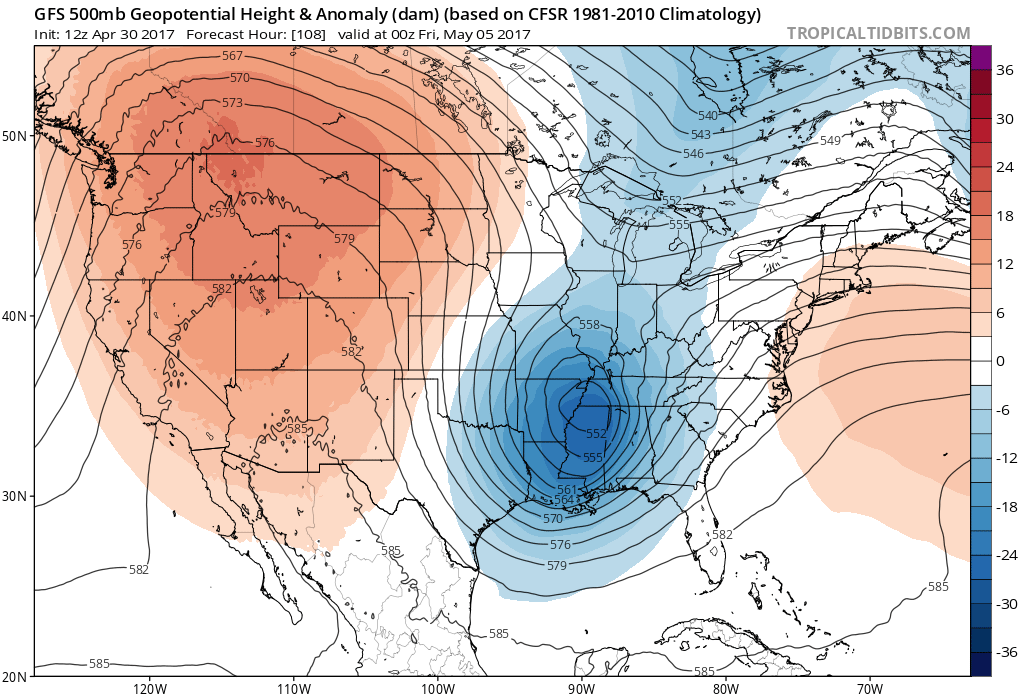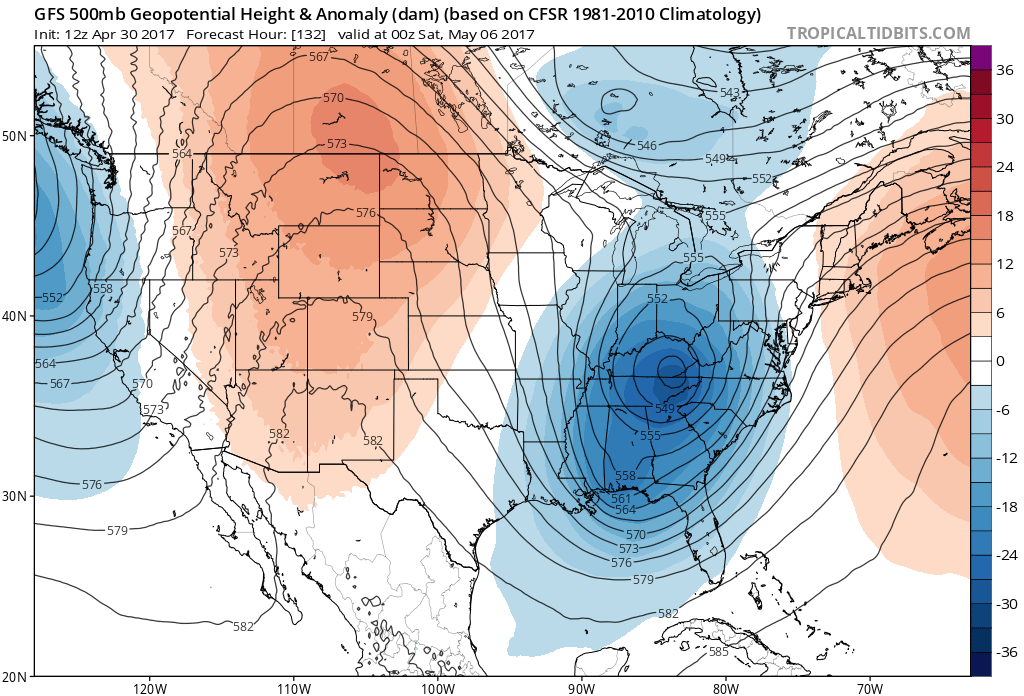 There are some hints that we may see another period of cooler potentially wetter weather towards the middle of the month, but this is far out and details are still uncertain at this point. We will certainly take all the moisture we can get!
---
Brendan Heberton contributed to this post.