From snow one weekend... to summer heat the next... to the severe weather we saw yesterday. It's been quite a stretch for weather across the Front Range and eastern Colorado.
Things set up just as expected yesterday, unfortunately that equated to a damaging hail storm for much of the metro area – especially on Denver's west and north side. Hail the size of golf balls rained down under a large severe thunderstorm around 3pm on Monday. Hundreds of cars had windows blown out, as well as property damage to the sides of homes and roofs across a large portion of the metro area.
Here's a look at the radar from this time as the heaviest rain and hail moved through Golden and Lakewood. Southeast of Denver the red polygon indicates a tornado-warned cell to the south of Deer Trail, where a funnel was spotted shortly before 3pm.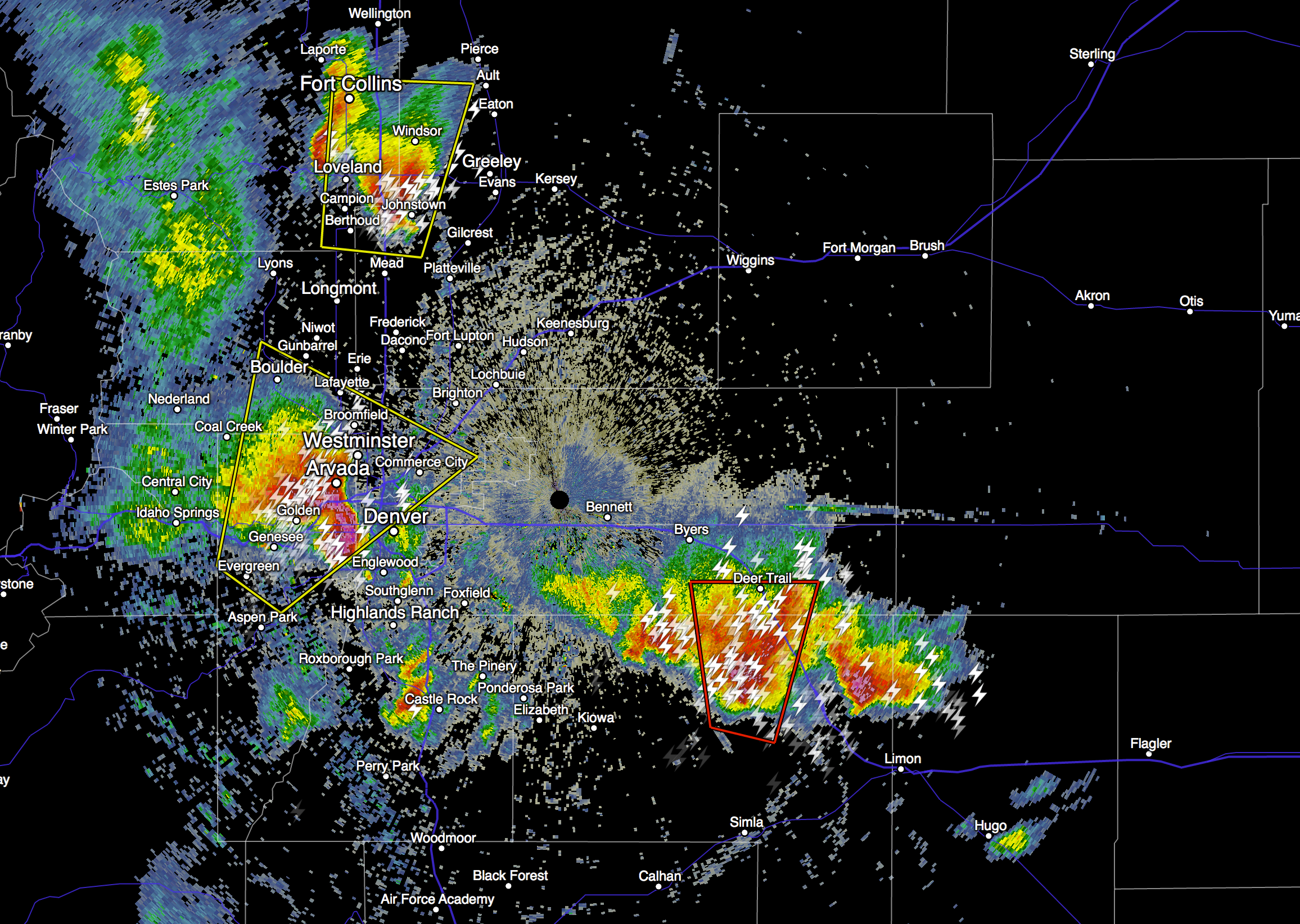 The good news in all of this, is we saw lots of good moisture across the region from these storms – including some areas that saw too much, with multiple flood/flash flood warnings issued Monday afternoon across northeast Colorado. You can see in the image below the storm that moved over Denver (mainly on the northwest side) dropping more than 1" of rain in addition to the hail, with storms merging east of Denver and delivering widespread heavy rain to the northeast Plains: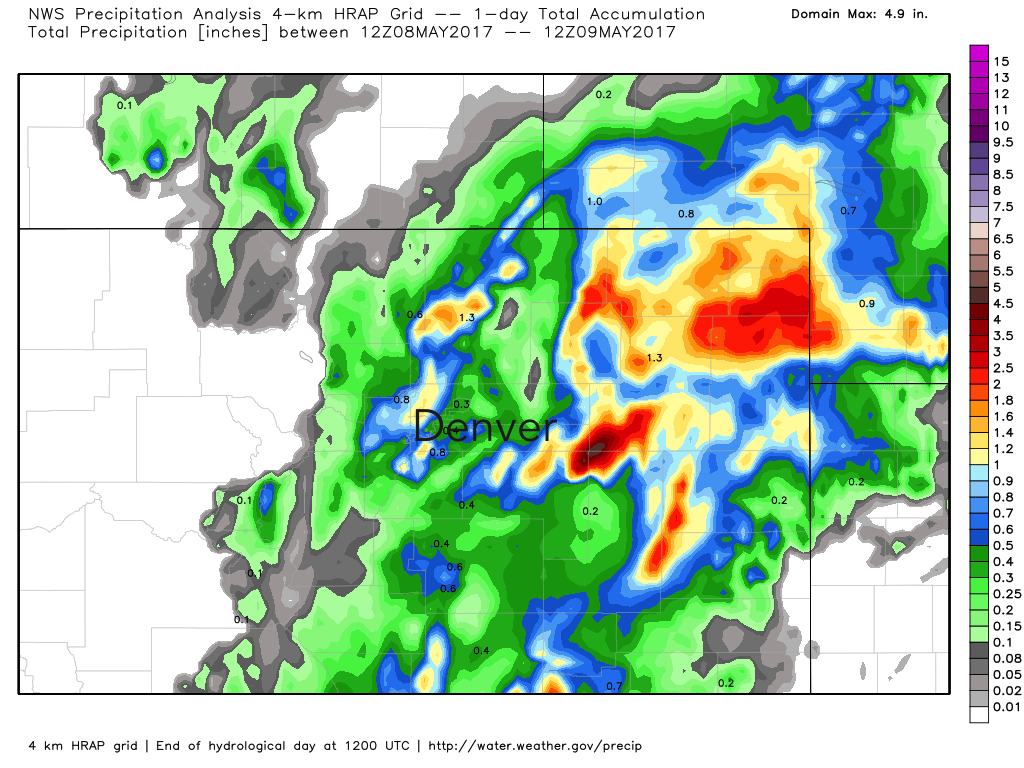 Today that severe threat shifts a bit further south, with the main focus being across southeast Colorado this afternoon and evening. A few storms have already gone severe down there, and we've also seen at least one Flash Flood Warning as a result of heavy rain east of Pueblo. Any storms that do develop around Denver will have the potential to become severe... although the probabilities are lower today than yesterday.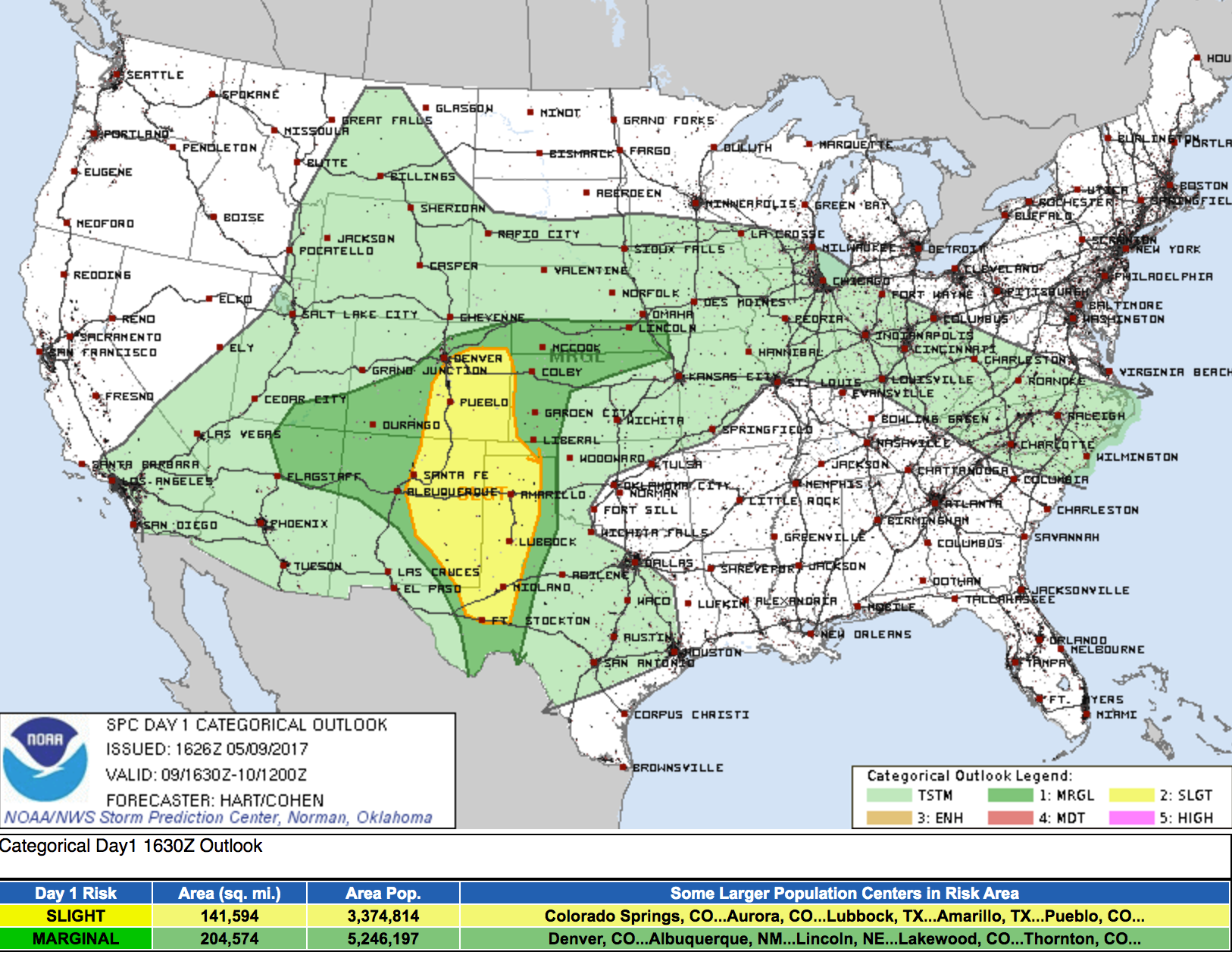 The big lumbering low we discussed in the State of the Atmosphere continues to slowly move east across extreme southern Arizona/Northern Mexico today, and well eventually deliver at least one more round of rain to much of eastern Colorado Wednesday into Thursday before we dry things out for Friday.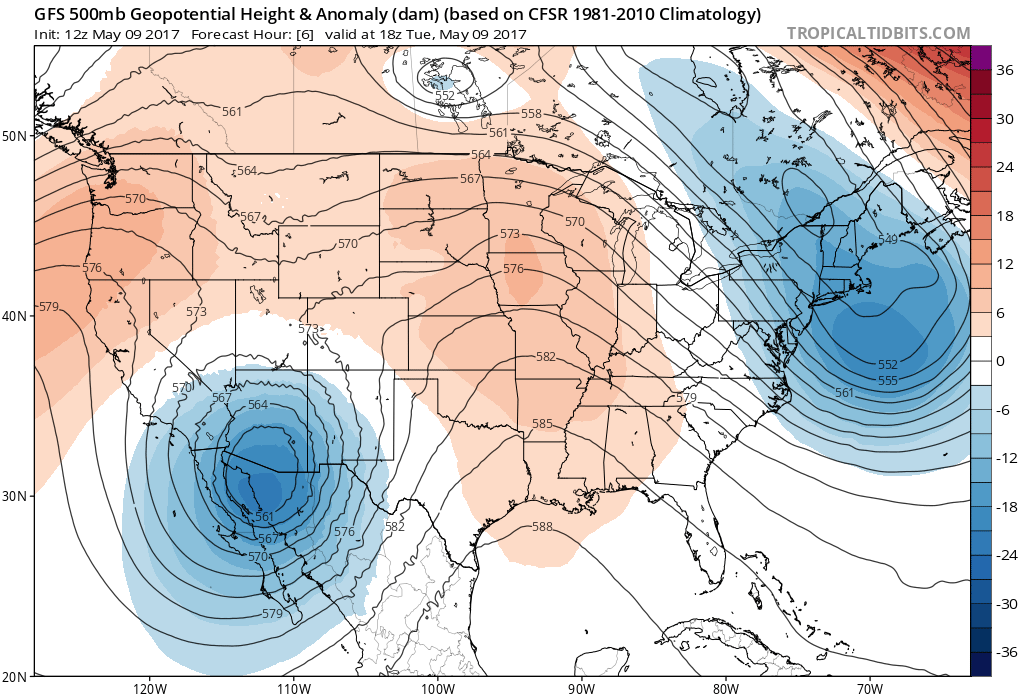 Models continue to struggle with out much moisture we see from this evening through Thursday, largely due to differences in speed on how fast the low eventually gets east Wednesday night and Thursday. While numbers are down a bit today... this continues to look like a pretty favorable setup for widespread rainfall across much of eastern Colorado tonight through at least early Thursday morning. Even with the quicker solution from the EURO, its ensemble mean remains at about 1" for Denver as of last night.
Planning
For planning, look for storms to redevelop later this afternoon along the Front Range and continue on into Tuesday night across the plains. PWAT values remain very high for this time of year, so any storms that do develop will be capable of producing heavy rain. The severe threat is lower for the urban corridor than yesterday, but a storm going severe, or even some sub-severe hail cannot be ruled out.
Temperatures cool even more for Wednesday with rain off and on in the forecast for most of eastern Colorado. We'll stay cloudy, cool, and wet through Wednesday night, with rain eventually coming to an end during the day Thursday. Highs both Wednesday and Thursday will be in the 50s to low 60s for Denver, with temps warming into the 70s for Friday under clearing skies.