My house was hot last night. Like, July can't-get-a-breeze-through-the-open-windows hot. We topped out at 84°F yesterday at our station in Denver, a temperature more akin to mid summer than mid May – Denver's average high this time of year is 72°F. Yet, big (chilly) changes are on the way once more, in case anyone was getting too comfortable with the idea of summer.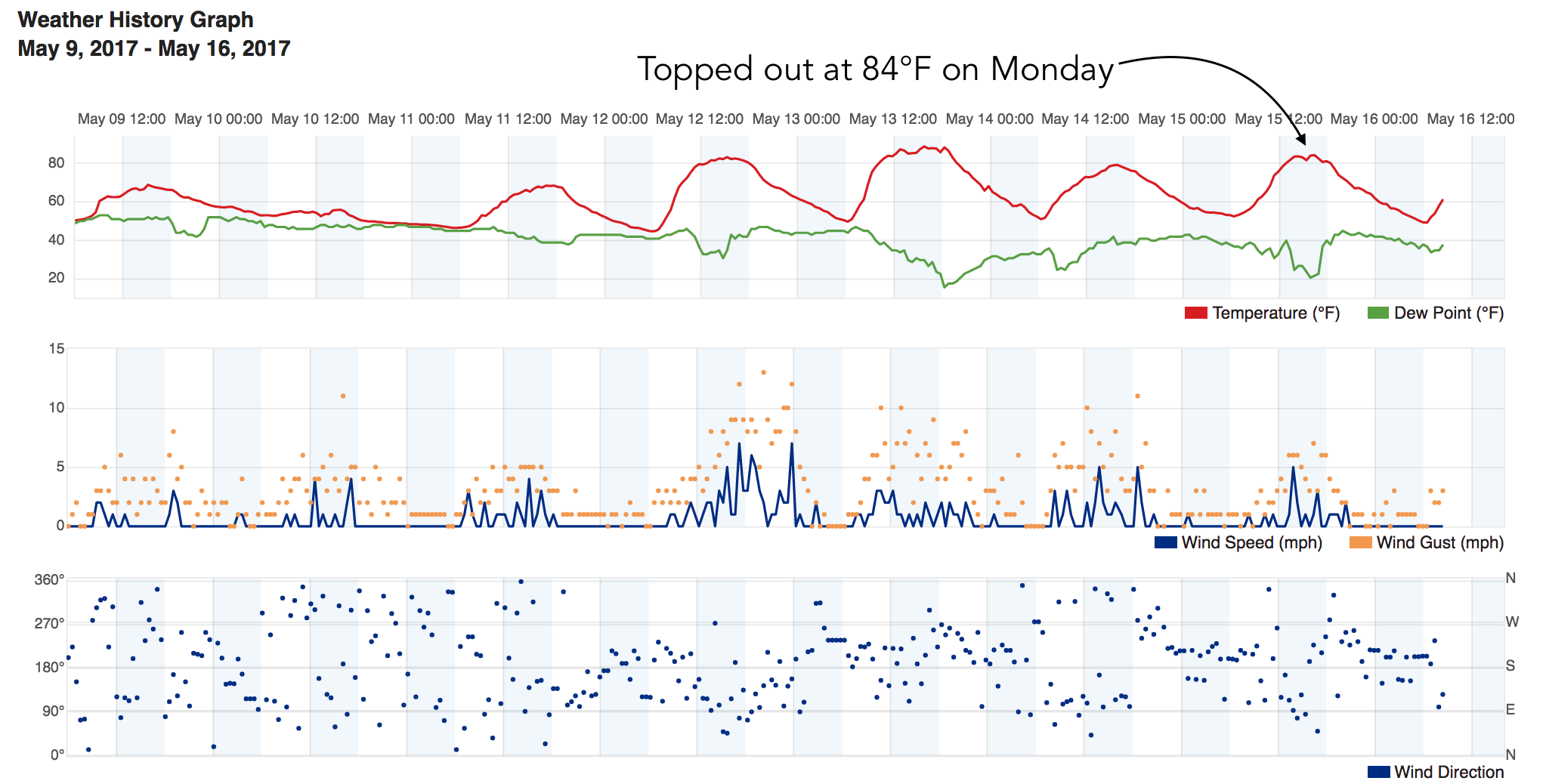 Our next storm system, which will begin impacting the area on Wednesday, is showing the potential to deliver another round of late season snow to the Front Range. Forecast models cooled quite a bit last night, with GFS and NAM MOS guidance this morning showing lows below freezing both Friday and Saturday morning. For vegetation that was already hit hard a few weeks back, this is obviously bad news. For those flowers folks put in the yard this Mother's Day weekend? Again, bad news. Then, there's the snow... which if the most bullish model were to be correct, would cause its own set of issues across northeast Colorado.
So what's the reality of any of this? Well, I had hoped pretty small... but latest forecast trends continue to insist snow at lower elevations, and with that snow some seasonally very cold temperatures.
Ultimately it comes down to the track of the storm and how much cold air it has to work with. There's still some hope it wraps up and stays a bit too far north (CMC hinting at this?) to usher in the heaviest snow. Then there's the question of how well models are handling the cold air – where will that rain/snow line end up, and will we indeed see a vegetation-killing freeze either Friday or Saturday morning? These are the details we'll continue to work on over the next 24 to 36 hours or so... for now, here's a look at where we see the greatest risk wet weather from Wednesday night through Friday: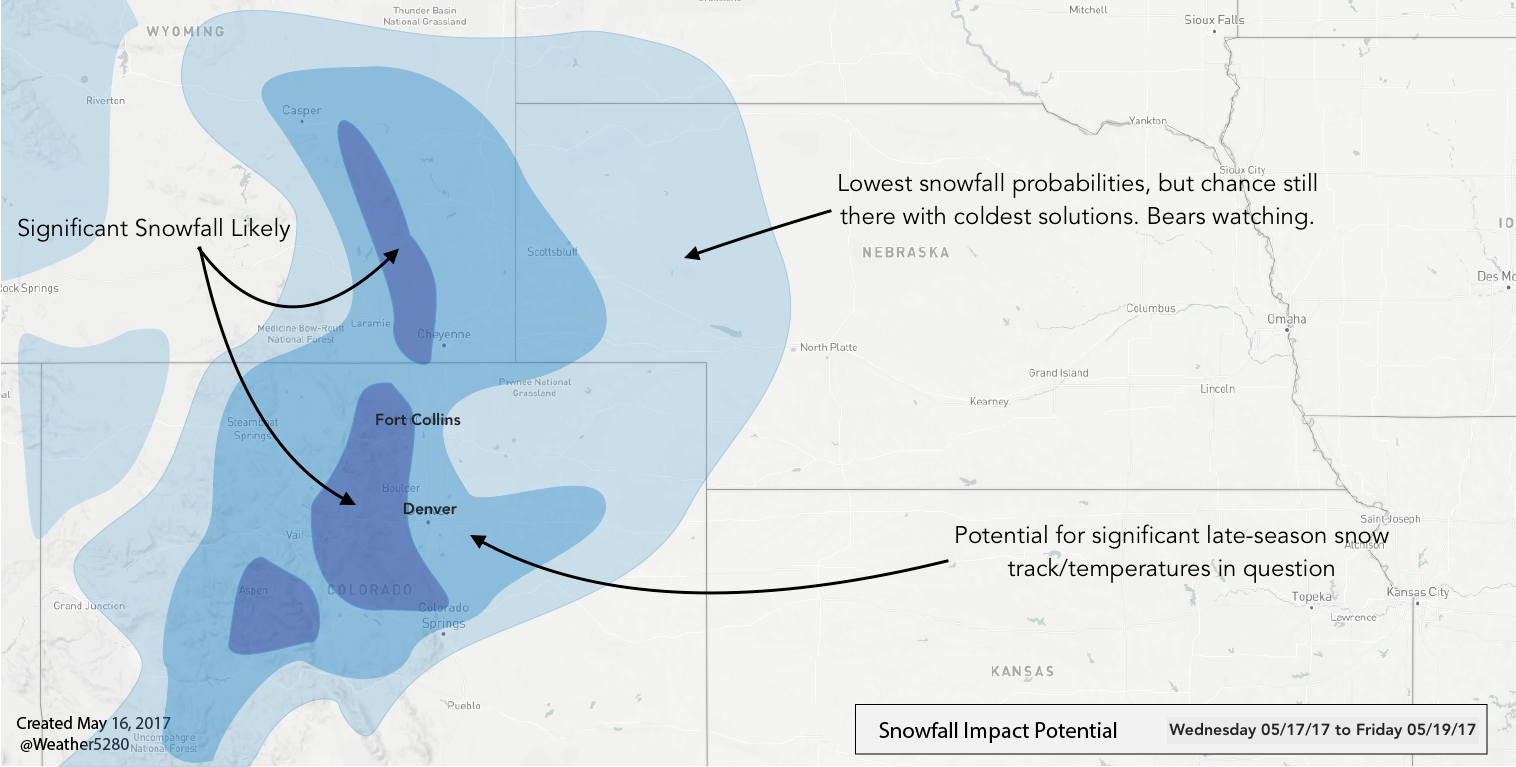 Setup and timing
Temperatures today will again be warm across eastern Colorado, with a chance for storms by this afternoon – with perhaps a few of those becoming severe across the eastern plains. The greatest severe threat today stays east of Colorado, however, with most storms along the Front Range producing rain, lightning, and wind, but staying sub-severe.
Wednesday we should again warm into the 60s before changes arrive. By later in the day Wednesday the chance for rain/storms increases, and temperatures begin to fall. By Wednesday night and Thursday expect a good chance of rain across eastern Colorado, with pockets of HEAVY rainfall during the day Thursday.
It appears as though should it snow at lower elevations, that would likely occur later Thursday and overnight Thursday into Friday. The GFS has changeover to snow coming Thursday evening, becoming heavy at times into Friday morning. This is pretty much worst case scenario – if precipitation does continue at this rate so long, and snow falls at night, we'd be likely facing quite a bit of tree damage across the Front Range as a result.
Snow or no snow, modeled QPF continues to be impressive. The GFS (which blew last week's forecast, by the way) has a max of more than 4.5" across northeast Colorado – significant moisture to be sure. The trusty EURO mean is showing closer to 2" for the Denver area, with its control run also producing about 4" for Denver. Either way, a lot of liquid. And, if some of that falls in the form of snow... a lot of snow.
Modeling
The question is, are models handling this thing correctly? Our hunch has been no, especially when looking at the upper level track of this thing vs the QPF models like the GFS are producing. They seem (well) overdone. Today we've seen that track come a bit further south on both the GFS/NAM, so maybe better credence for the amount of liquid they are producing. Maybe.
Then there's the question of other elements such as convective feedback. Are we going to dryslot? Or do we really see that much widespread liquid along the I-25 urban corridor. In some ways we like the look of the 12km NAM most right now, as it's got the heaviest liquid north/northeast of Denver (should be some pretty impressive convection across the plains with this one) and less of a snow thumping for Denver – mostly has it confined to the foothills and Palmer. It's at odds right now with the GFS and EURO controls – so we'll see how that changes in the coming hours. It could be one of those things where we wake up tomorrow morning and models finally get a clue.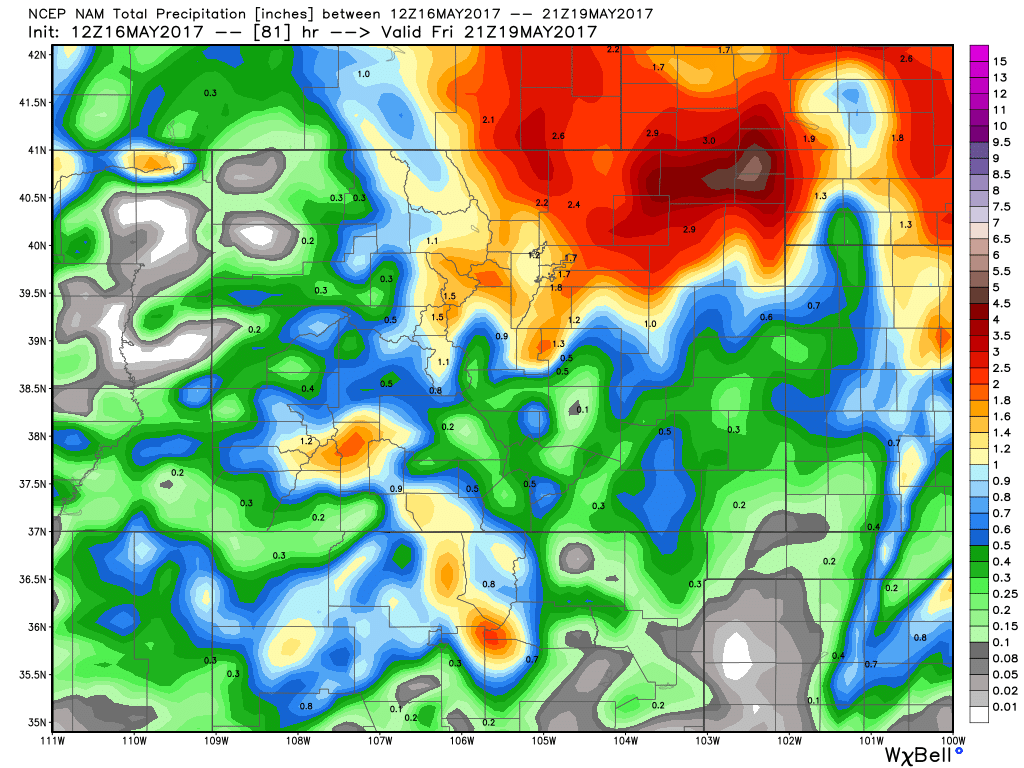 Any chance this doesn't happen?
Absolutely. Despite decent agreement between models right now, there are still some notable differences. That, in combination with the fact it is now the second half of May... means they may really be off with regard to how much snow they are producing right now. Data later today and early Wednesday should help pin down exactly how this will all shake out over the coming days.
Final thoughts
Look, snow in May isn't unheard of. Denver itself averages just over an inch for the month. That said, significant snow, especially during the second half of the month is almost unheard of. Denver International Airport's greatest three day total for snowfall is 4.0", today's GFS is forecasting upwards of 12". None of the top 10 snowfalls in May have come after the 15th from what I can find. That makes the going forecast both unbelievable, and significant should it come to be. One only has to remember the epic blizzard a couple of weeks ago that struck far Southeast Colorado and Southwest Kansas. Many had a hard time grasping that it was going to happen...
The only constant in Colorado's weather is the reminder that we live in what can be a beautiful, albeit at times harsh climate. Whether it's drought or late season cold snaps, the weather can be unforgiving to how we've reshaped the landscape over the years. While those annuals we buy every year sure look nice, Mother Nature don't care.