After an unseasonably chilly day on Saturday, with Denver recording an official high of 62°F, we started to warm up closer to seasonal highs today, with the Denver area recording highs in the mid to upper 60s, just a few degrees shy of the average high for this day of 73°F.
Thankfully the snow from last week is long behind us now, but not before burying the Front Range under an incredible late season snow. The great news is, the storm also delivered a LOT of moisture to the northern Front Range which has struggled with drought conditions over the last year. Below is a look at precipitation totals over the last seven days – a few areas with 4 to 5" over this period: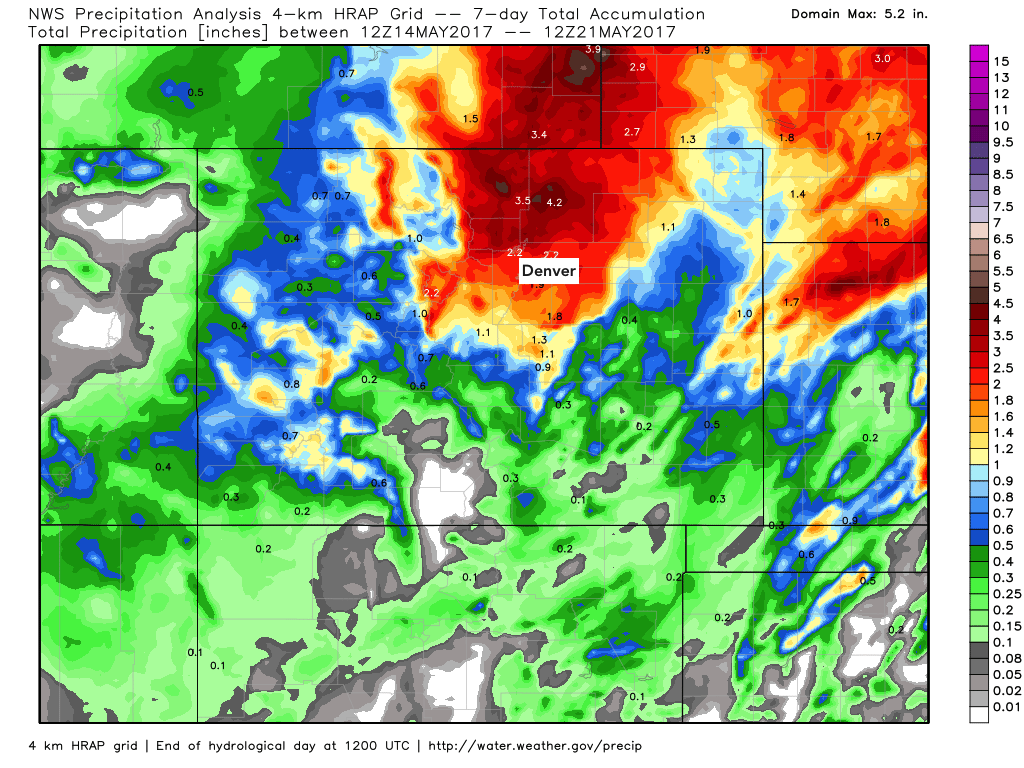 Current water vapor imagery shows the westerly flow aloft nicely, with a weak shortwave over northern Utah.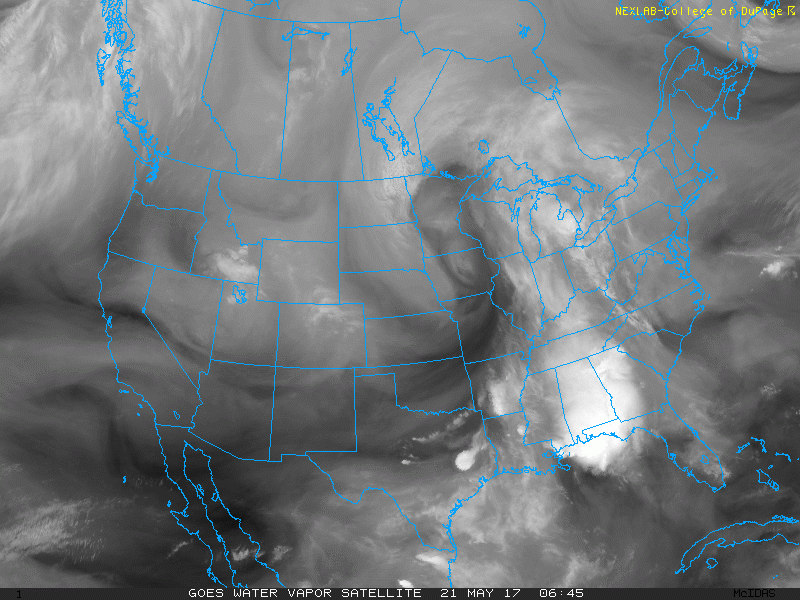 With this source for lift, we may manage to see a few showers and thunderstorms over the plains this evening. With an observed precipitable water value of 0.36" on the 12Z Denver sounding and not much moisture expected to move into Colorado under the westerly flow, most storms will produce more wind than rain as the low-levels remain rather dry with dewpoints in the 30s.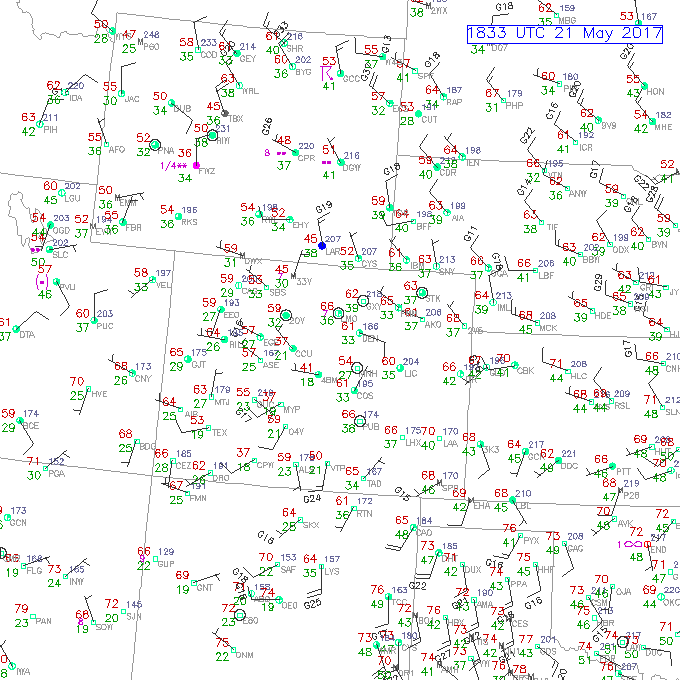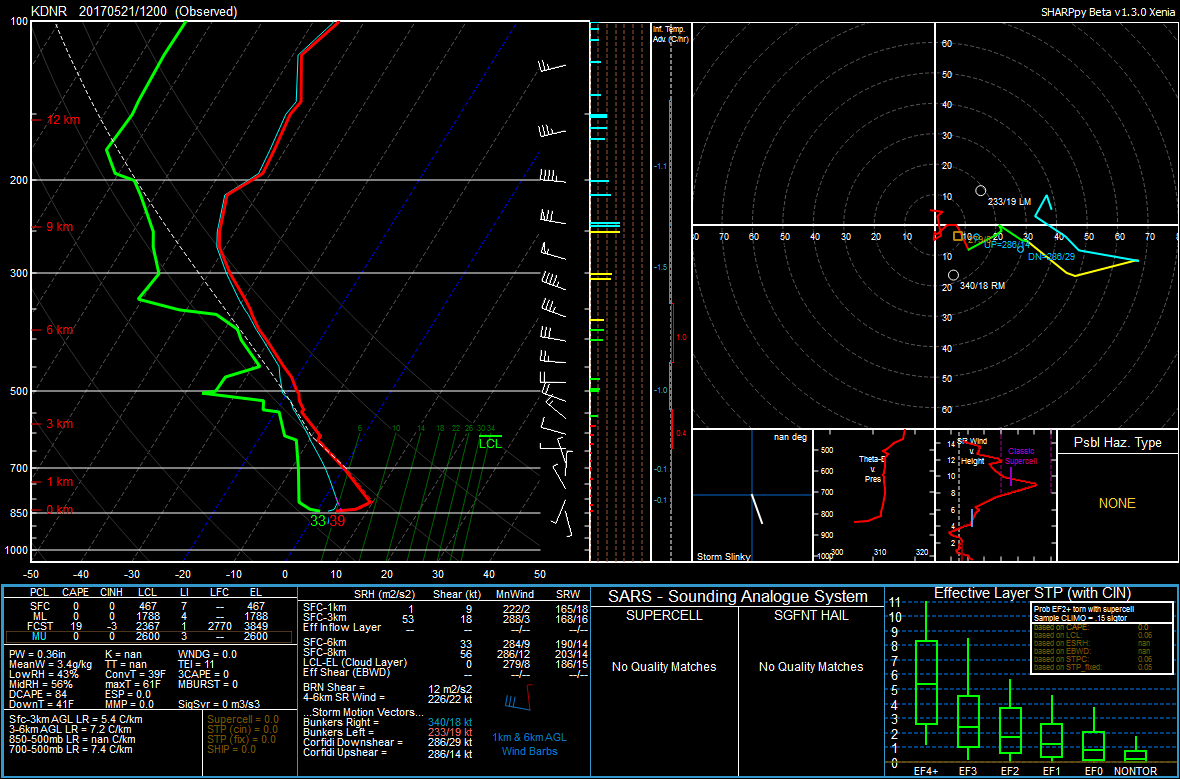 Most if not all of the shower and thunderstorm activity should diminish by midnight once daytime heating ceases. Check out all of the ongoing convection across the Rocky Mountain region on GOES-16 visible satellite!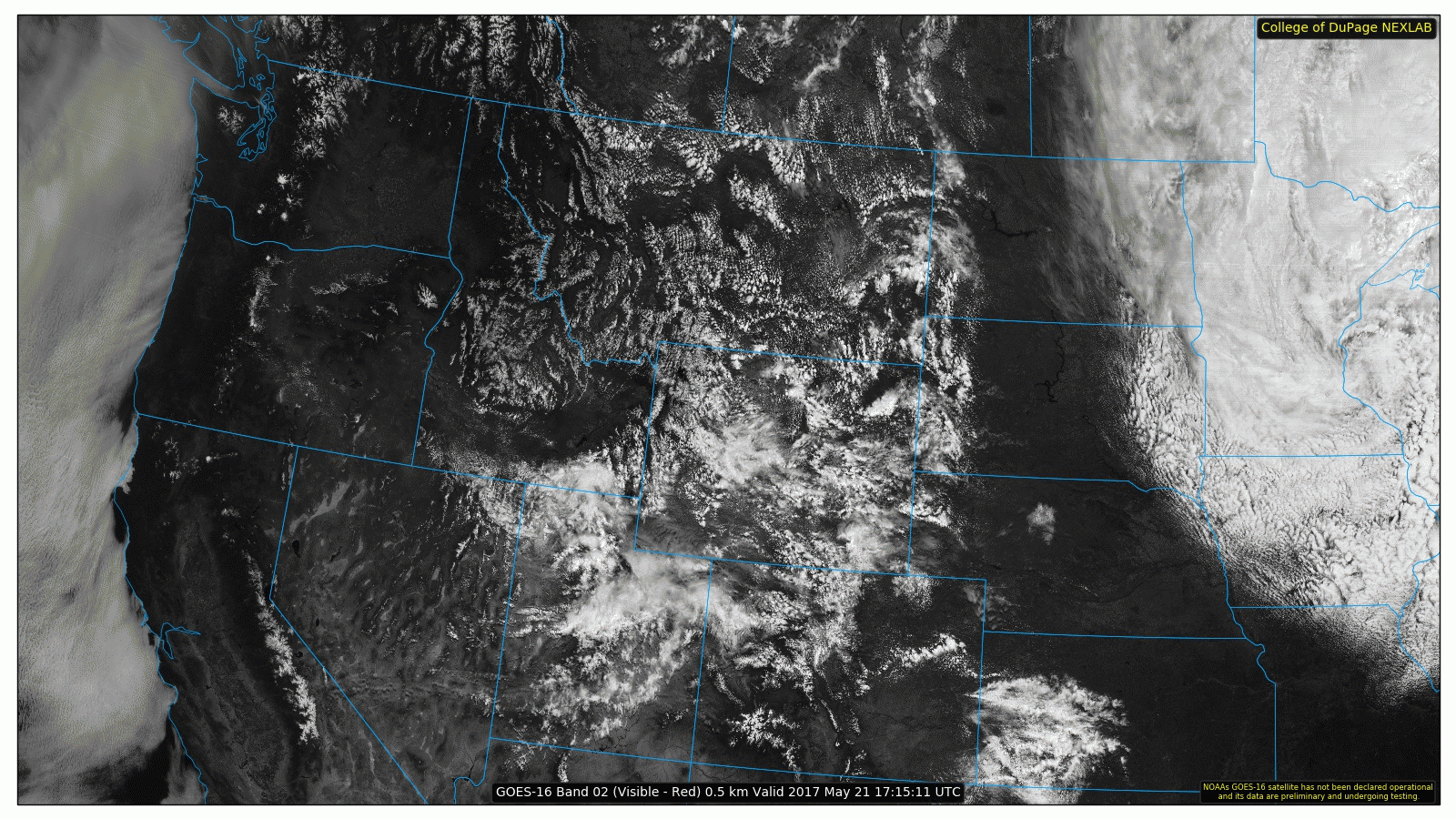 Monday will be similar to today across Northeastern Colorado, with the exception of a weak cold front moving through later in the day. This front may bring Denver a few showers and possibly a thunderstorm as it moves through around dinnertime, but the most noticeable change that we will experience will be gusty northerly winds. Highs on Monday should continue to be 5-10°F below average, thanks to the northwesterly flow and increasing cloud cover as we continue throughout the day.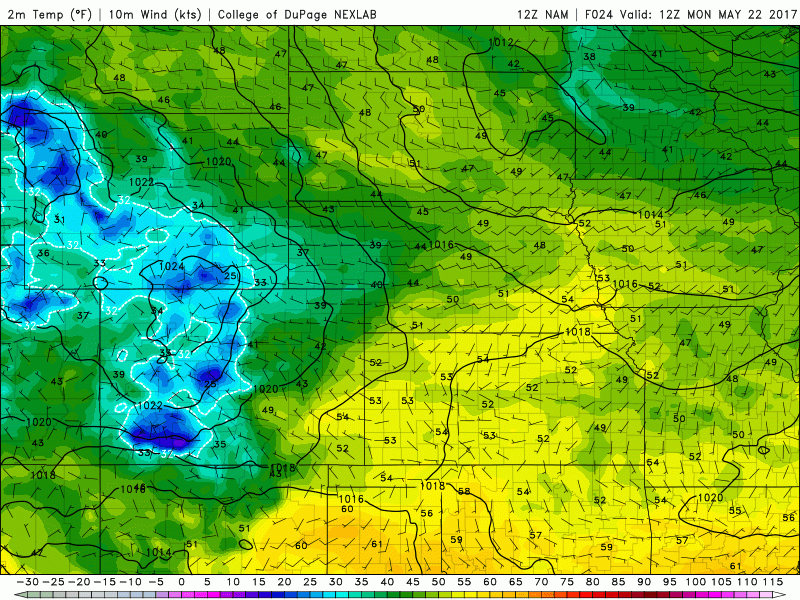 On Tuesday, the general height pattern in the mid-levels will become north-northwesterly. This will continue to keep our temperatures cool and slightly below average, although we should be mostly dry here in Denver.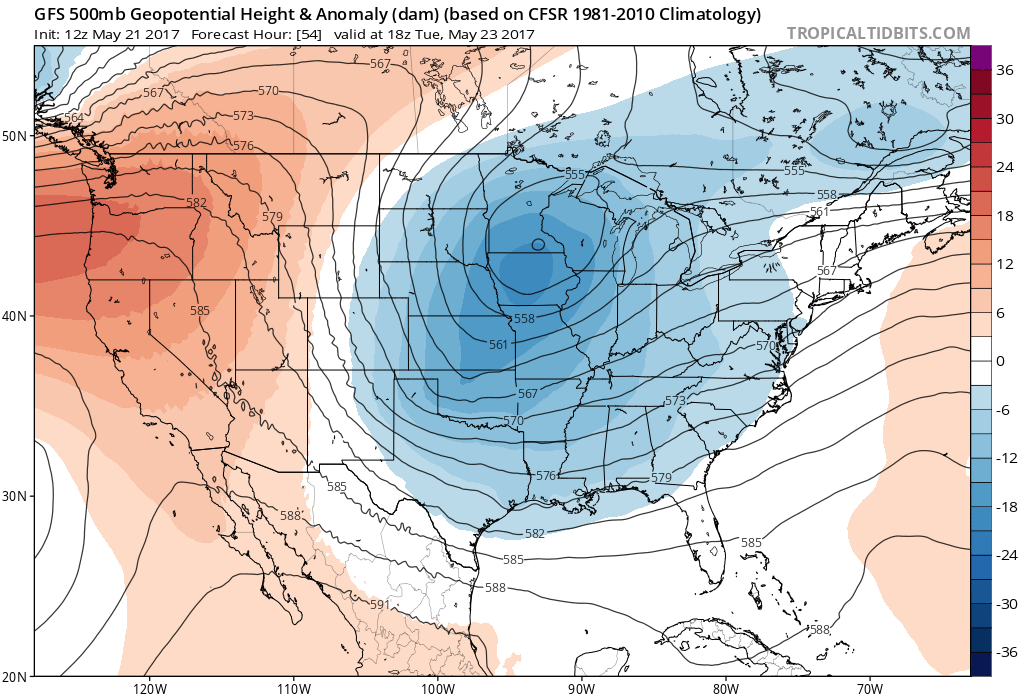 On Wednesday we begin to see height rises across Northeastern Colorado which translates to warm air advection. This is in response to a building ridge across the Four Corners region. As a result, temperatures on Wednesday should be at or slightly above normal in the mid to upper 70s.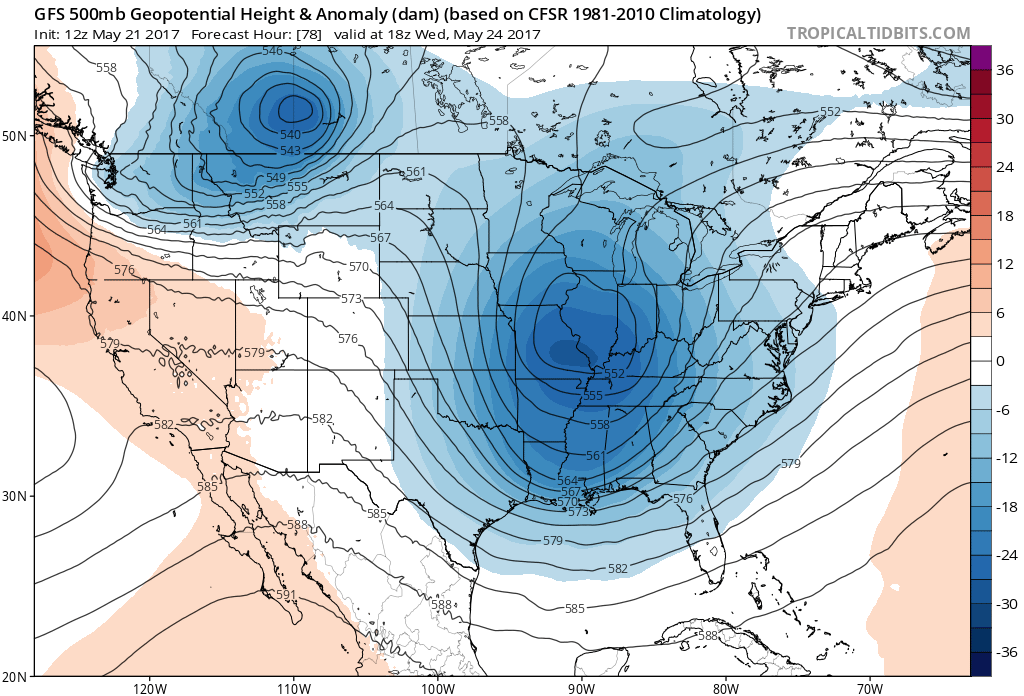 The height pattern during the latter half of the week looks relatively zonal and benign, with a closed low over Idaho, Montana, and Saskatchewan. This should translate to zonal flow for us in Denver, keeping us mild and mostly dry under downsloping flow east of the Front Range. Assuming the GFS is correct, a weak cold front is forecasted to push south through Northeastern Colorado early Thursday, which could drop high temperatures on Thursday 5-10°F from Wednesday's highs, and increase our rain chances. Nothing widespread is likely at this time, but a few showers and thunderstorms aren't out of the question.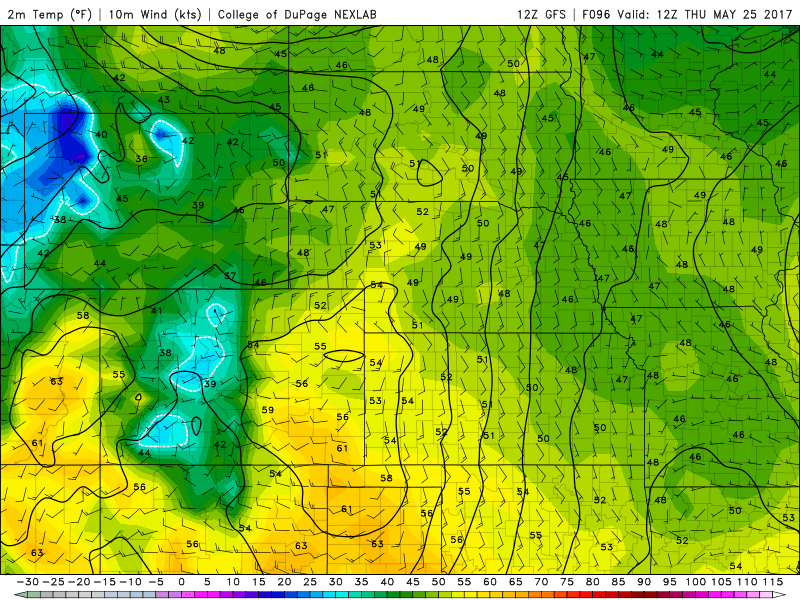 Friday will likely be slightly warmer than Thursday under westerly flow aloft.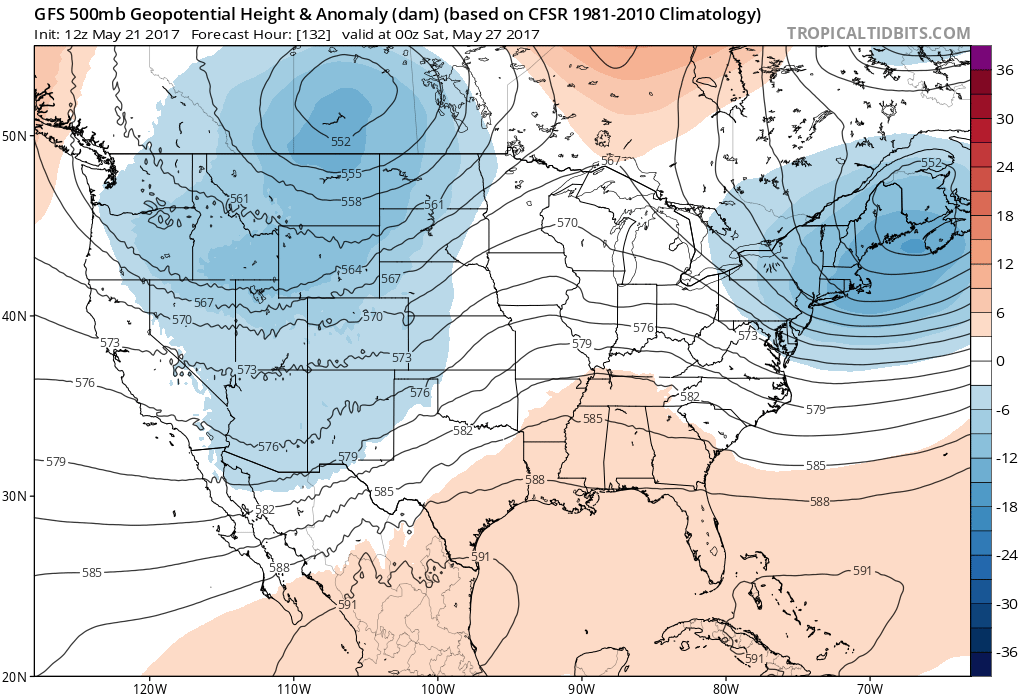 With a series of shortwave troughs embedded in the mid-level northwesterly flow, temperatures during the weekend should be slightly below average. While there doesn't seem to be any major weather system for us here in Northeastern Colorado in the next seven days, these shortwaves and any frontal passage may allow for widely scattered showers and thunderstorms into the weekend. Details regarding rain chances will become more apparent as we head into the middle part of the week.