July has picked up right where June left off for Denver: hot and dry. While we saw a handful of storms over the last week across eastern Colorado, most of those produced more wind than rain across the greater metro area. The eastern plains overall fared better, with pockets of decent rainfall. Below is a look at seven day totals across the state, very dry across western Colorado, with better storm coverage across the plains: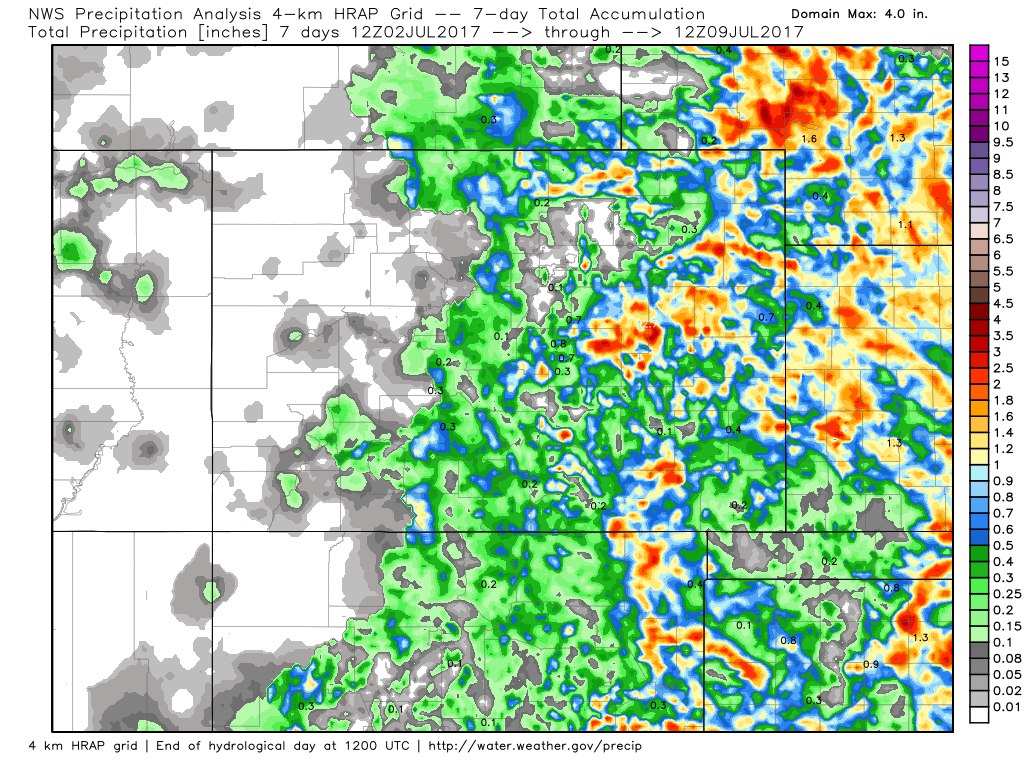 For the week ahead we see a strengthening monsoon across the southwest U.S., with better moisture flow finally returning to Colorado. As Brian Bledsoe discussed earlier this week, where the ridge placement ends up will greatly impact our rain chances around here this coming week... but it does appear the ridge will shift far enough east for a few days to at least increase storm coverage for much of the state, before drying a bit again for next weekend.
With that, the 10 day precipitation outlook is a good one, but again, the devil is in the details. We'll need things to line up just right for the return of storms along the northern I25 corridor. Here's a look at the EURO 10 day precipitation anomaly forecast – those greens across Arizona, Utah, and Colorado indicate that monsoonal flow, and a period of above average precipitation: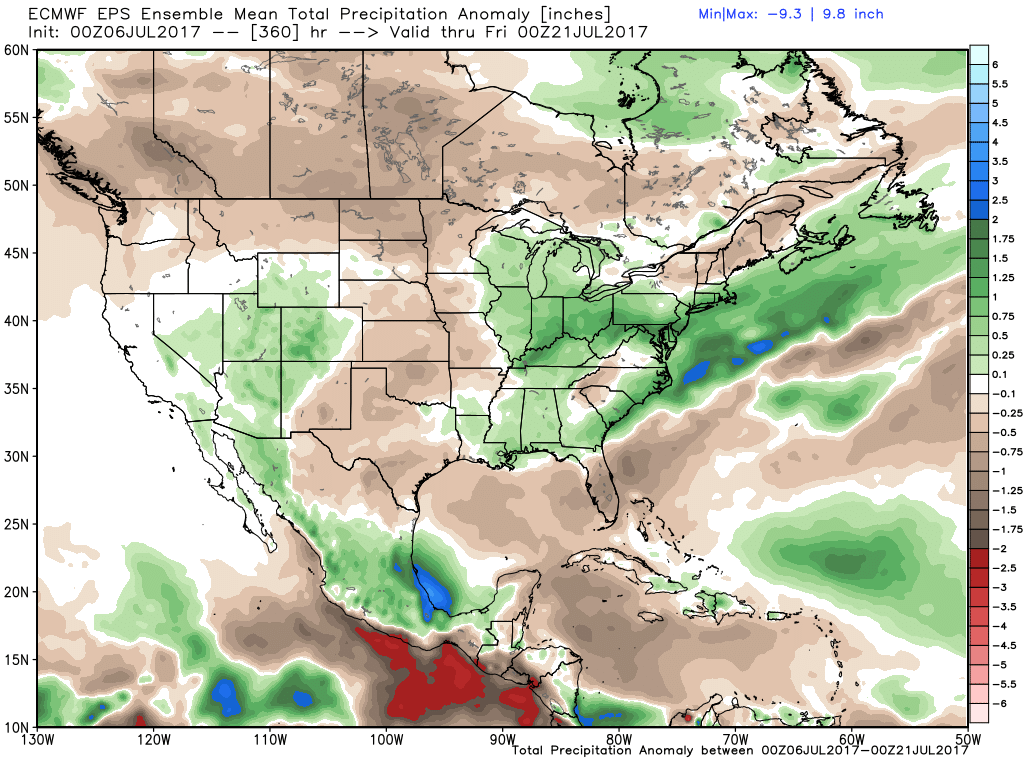 The 10 day operational GFS would agree: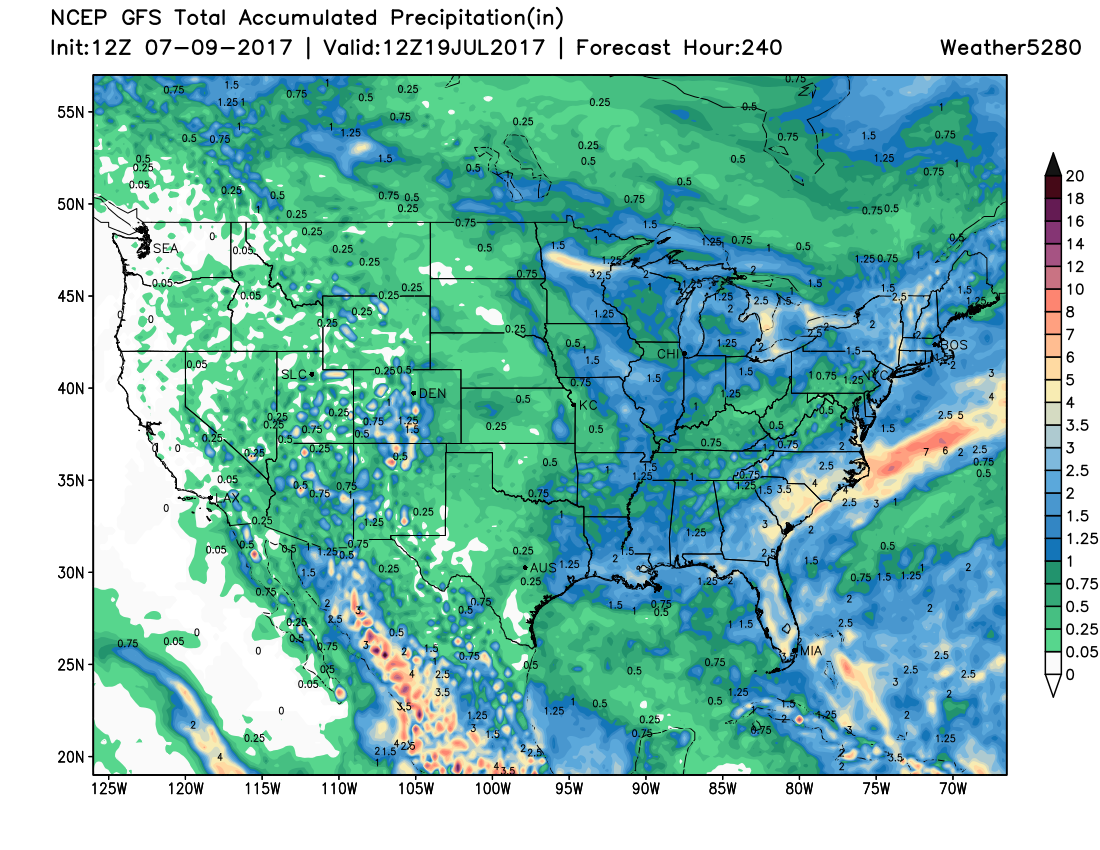 For Denver, the week starts out hot. Highs Monday will again be in the mid to upper 90s around town, with only a slight chance for afternoon storms to help cool us down. But, as you can see below, we'll cool through the end of the week with a cold front due to arrive Tuesday, and those better rain chances for Wednesday, Thursday, and Friday.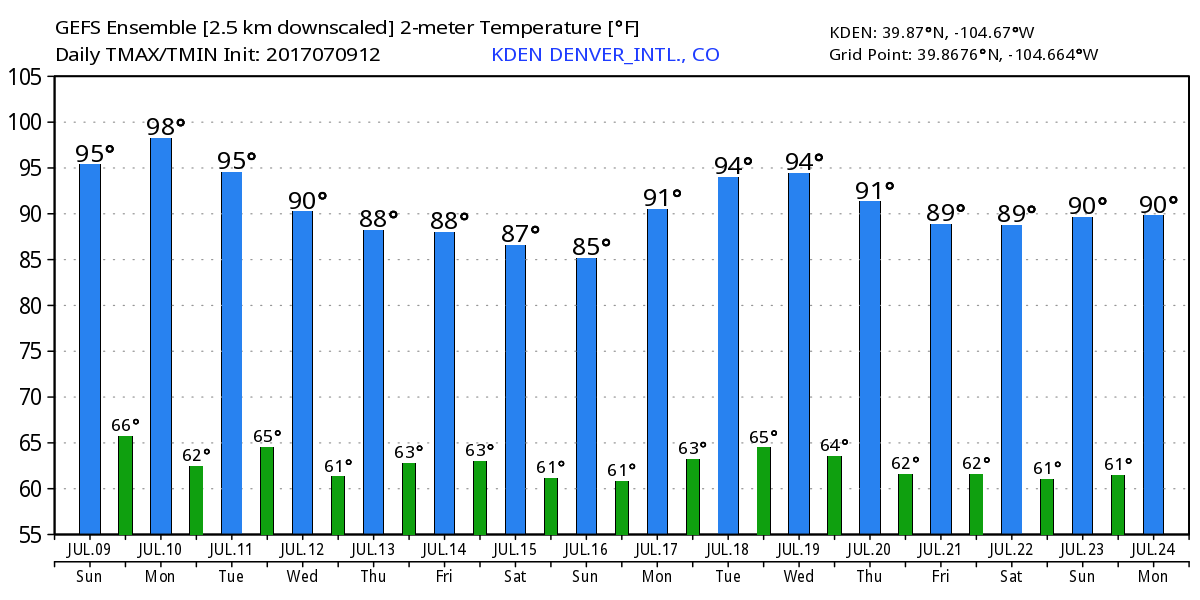 As for rain chances in the city... I'm still a bit unconvinced how well we'll do. The state overall should see a more active storm period, with some good shower/storm activity for the high country on the way, but how that translates for us – we'll see. In any case, at least a better chance for storms than we've seen in awhile on the way, perhaps with the best chance coming Wednesday. We'll go 10 - 20% for storm chances on Monday and Tuesday, with 30% chances for Wednesday and Thursday for now. For the northern Front Range (Loveland/Fort Collins) will go with similar odds, while we should see better storm coverage to our south, with Colorado Springs more in the 40% range most of the week.
In short, after a hot start to the week on Monday, fingers crossed we see some rain by midweek, with at least a break from the upper 90s for most of the week and on into next weekend.