For those of you who caught this week's Insider August outlook, the weather this coming week should come as no surprise. Temperatures have cooled considerably across the region today, and will remain below normal through the work week.
First though, some welcome news from the last week: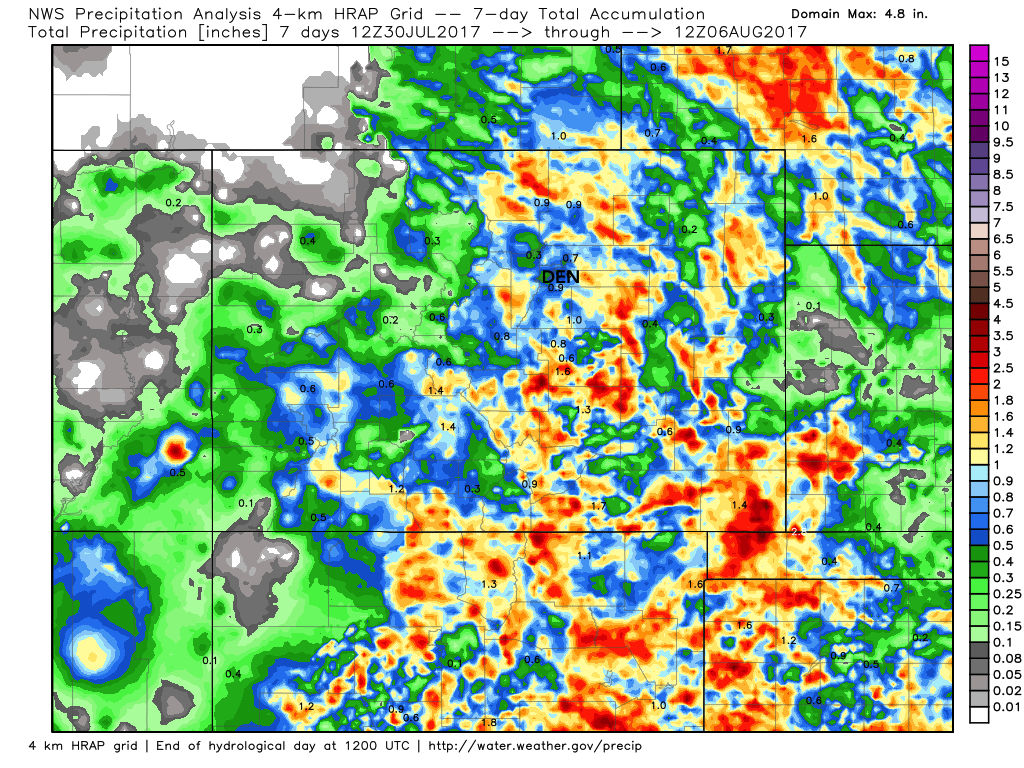 The last several days have featured pretty good storm coverage across the eastern half of the state, including some rain for many that have largely been missed in recent weeks. Along the northern Front Range we're finally seeing some moisture show up, and that trend looks to continue into the coming week.
The week ahead
The week ahead will feature both below normal temperatures and a pretty good chance for showers and storms.
Through the remainder of the day today expect an increase chance of storms through this evening, especially from Denver south and less so for the northern suburbs. The latest HRRR shows pretty good convection developing later in the afternoon, then pushing east overnight. Here's its forecast radar for 6pm this evening: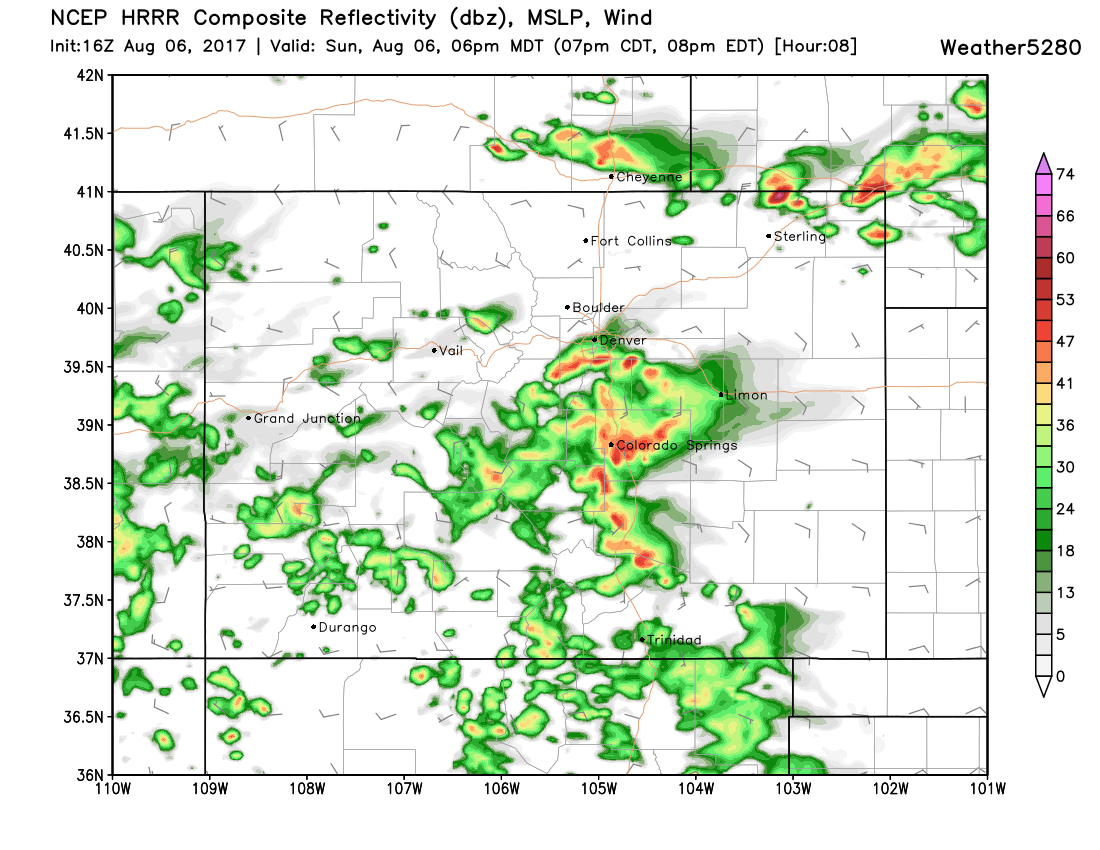 Overnight more cool air filters into northeast Colorado, leaving Monday looking quite cool for this time of year. It should be the coolest day of the week, with MOS guidance in pretty good agreement on mid to upper 60s for the Denver area. With those cool temperatures on Monday we'll also see a good chance of rain – likely upward of 60% for much of eastern Colorado.
The latest WPC excessive rainfall outlook for Monday shows this threat, although still some disagreement in the modeling on who sees how much. In short, plan for a cool damp start the week, with periods of rain overnight tonight through Tuesday night.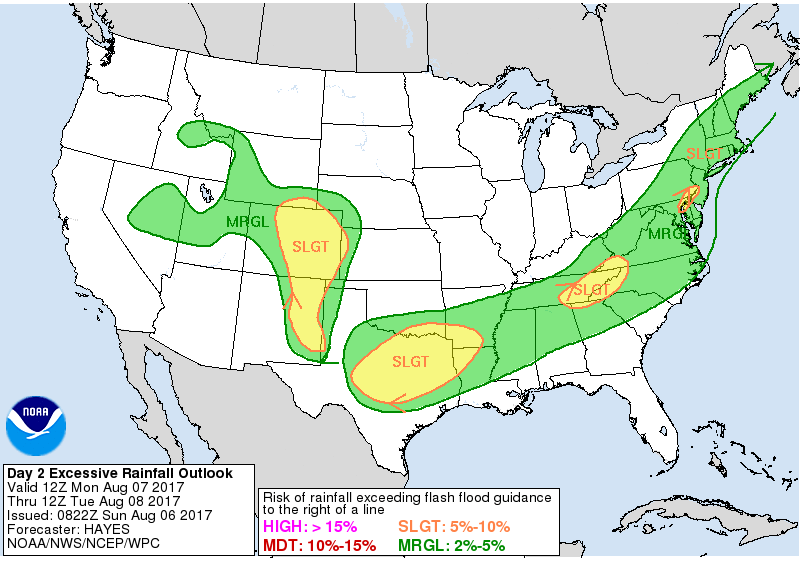 For Tuesday we should warm a few degrees in the city, but will again see a pretty good chance of storms across the eastern half of the state. In fact, today's 3km NAM looks a bit better for us to see storms Tuesday than it's showing for Monday – we'll see.
This will really be the theme for the remainder of the week. Wednesday we may see another little push of cool air (but for now will keep temperatures a bit warmer than Tuesday), with temperatures warming to around 80 for Thursday and Friday. Storm chances will remain in the forecast each day, with the signal for above average precipitation through the next 10 days remaining strong for all of eastern Colorado, especially the plains: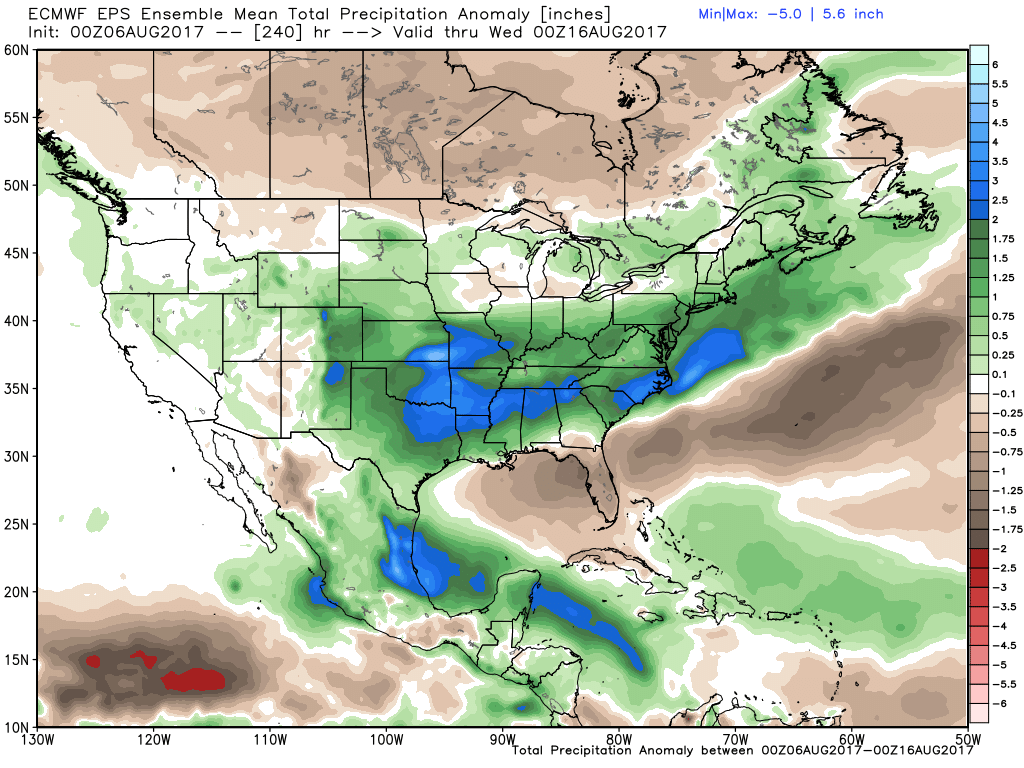 Average highs this time of year are in the upper 80s for the metro area, so we'll be well below that to start the week, and even when we warm to end the week, we'll still be several degrees below average. If we look at an animation of temperature anomalies as forecast by the GFS over the next 10 days we see virtually nothing but blue across eastern Colorado, indicating temperatures below normal through the period: