Just a few days now until the much anticipated total solar eclipse will sweep across the United States. For those getting set to travel to the path of totality, and even for those that can't make the trip, the question of if the weather will cooperate is top of mind.
There's fairly good agreement in the large scale pattern that's setting up for early next week. For Colorado, eastern Wyoming, and western Nebraska, it looks like a west/southwest flow aloft will be the dominant feature, with partly cloudy skies currently expected across the region Monday morning, perhaps becoming more cloudy through the day with an increase chances of convective showers and storms.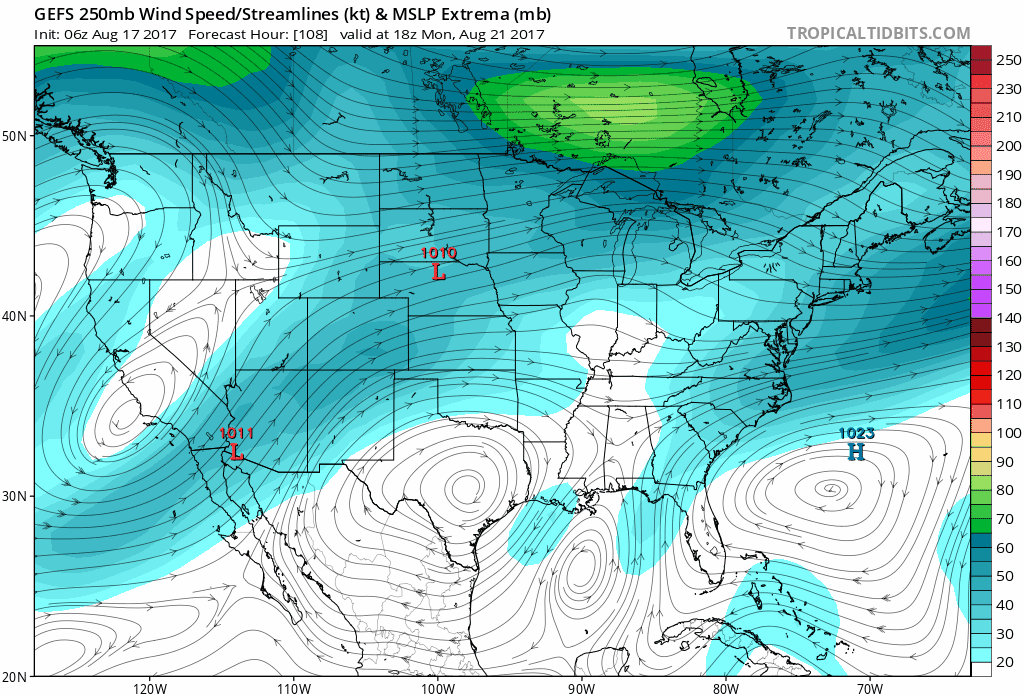 A look at the latest GFS (top) percent cloud cover for 18z Monday, and the EURO simulated satellite for the same time shows this. Both have come into general agreement that most of Oregon and Idaho look pretty good, while those in the path of totality across Wyoming and Nebraska may have to contend with more cloud cover – at least scattered in nature.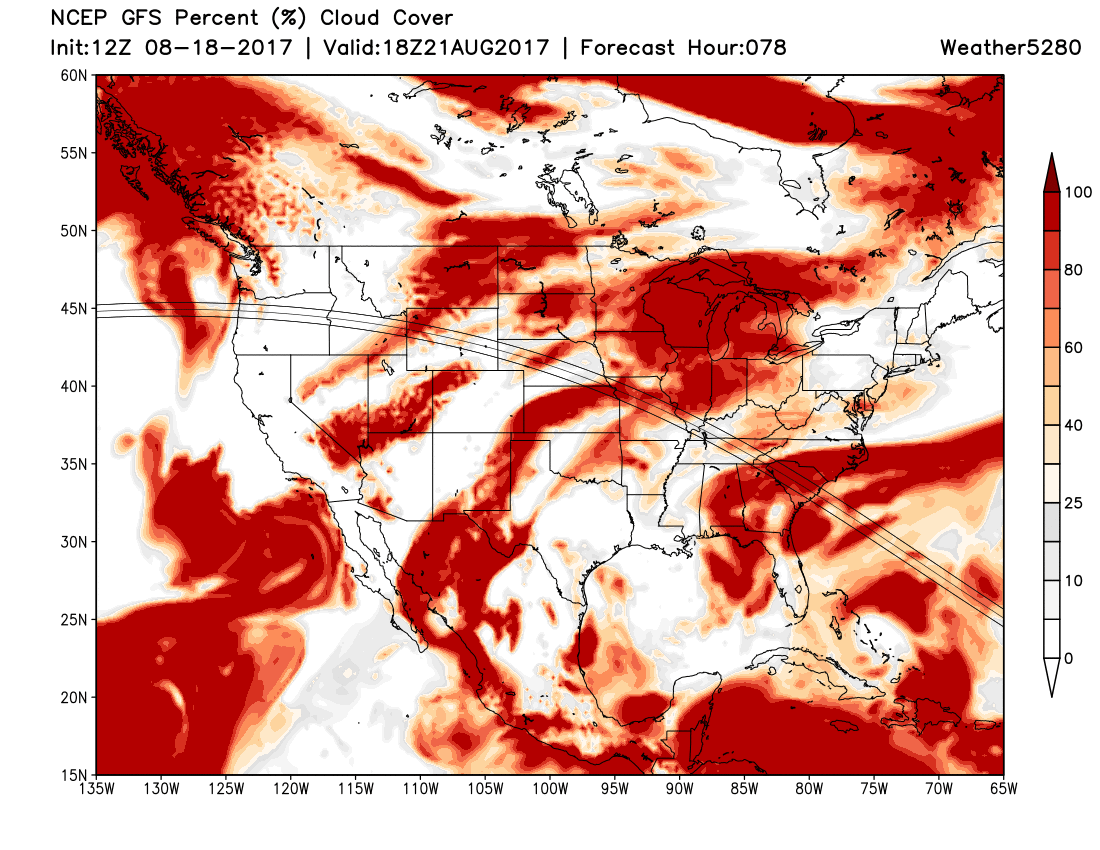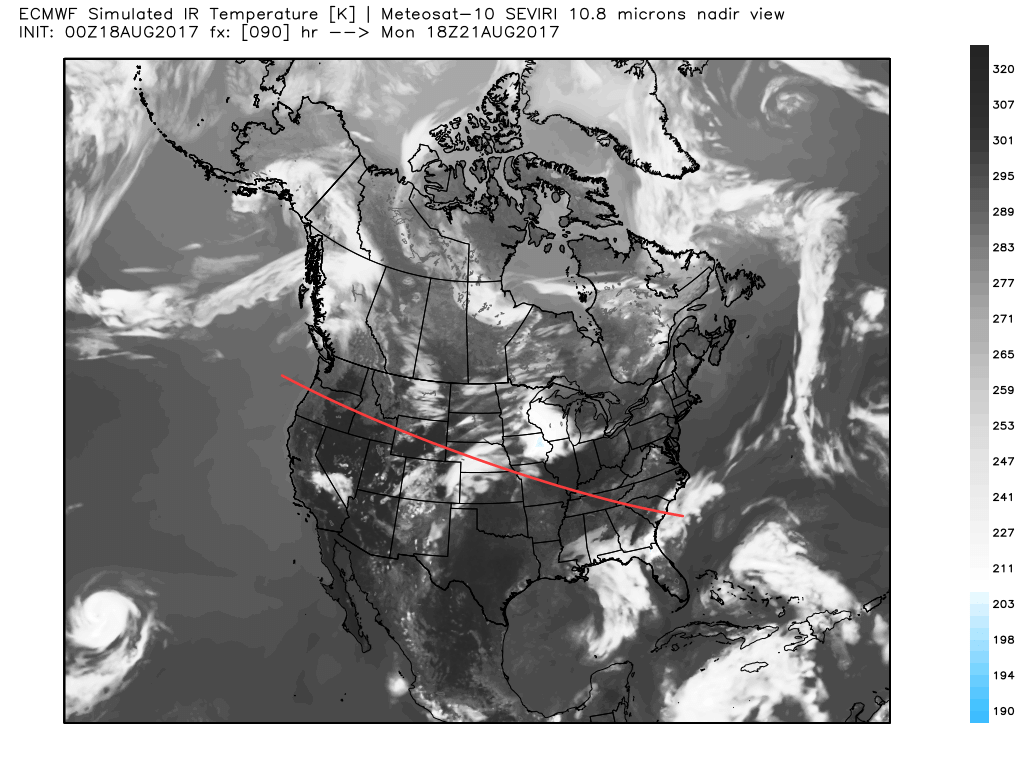 As we discussed last week, these products are finicky at best. That said, a general agreement that greatest risk for cloud cover across the west exists along and east of the Rockies makes sense given the pattern setting up. With the better consistency in the large scale pattern, we're also seeing better run-to-run agreement in the cloud cover modeling. Here's a look at the last three GFS runs for our region, all showing partly cloudy skies, but certainly could be much worse:

For those living in Denver looking to drive north into eastern Wyoming and western Nebraska for the event, I'd be concerned about the potential for some clouds Monday, but at this point I don't see it as reason to cancel plans either. The hope is that we'll see speedy clearing early Monday after any storm potential Sunday night, and that the worst of the cloud cover will be south of the path (south-central Colorado/western Kansas) then again across the upper midwest/Great Lakes, with (fingers crossed) only partly cloud skies to contend with across Wyoming and Nebraska and along the urban corridor of Colorado during the time of total eclipse.
Climatologically, here's a look at where's more/less likely to see clear skies on August 21st. Greatest odds would put those traveling up into Idaho and Oregon at the best chance for clear skies, and that happens to match the current forecast pretty well too.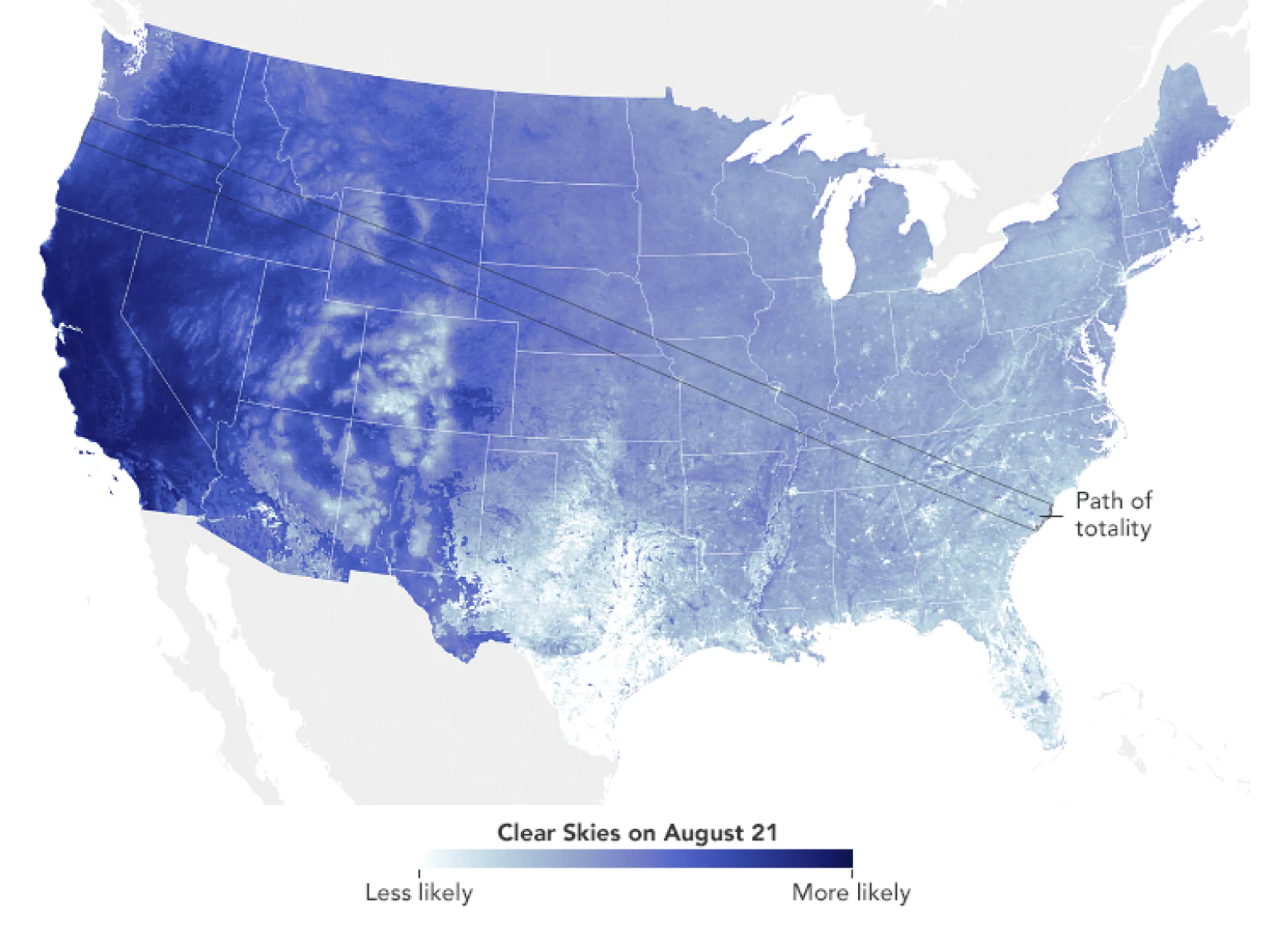 A few reminders
Be safe! We don't want anyone to go blind trying to soak in this rare event, so please – wear glasses when looking at the sun, and make sure they are approved for use. From the American Astronomical Society:
You shouldn't be able to see anything through a safe solar filter except the Sun itself or something comparably bright, such as the Sun reflected in a mirror, a sunglint off shiny metal, the hot filament of an unfrosted incandescent light bulb, a bright halogen light bulb, a bright-white LED flashlight (including the one on your smartphone), or an arc-welder's torch," the AAS wrote in its press release. "All such sources should appear quite dim through a solar viewer.
Traffic! There will almost certainly be a lot of traffic to deal with as well for those making the trip to the path of totality. In fact, the Denver Post reports that CDOT is expecting that return trip traffic could be like six Denver Broncos games letting out at once (a measurement most Denverites can relate to I suppose). Needless to say, if you're planning to travel to enjoy this special event, don't forget to pack a little patience as well, and perhaps plan to spend an extra day or two out of town if you can.
Lastly, enjoy! Please share your experiences with us, and pass along any (safely) taken pictures you may take as well! We'll have another update on Sunday with final thoughts on those pesky clouds for Monday...