I recently wrote about the lack of September snowfalls in Denver since 2000. A couple of things became clear shortly after publishing: 1) Weather5280 readers love their snow (but we already knew this), and 2) snowfall stats are fun to explore, debate, and discuss.
So, let's take it a bit of a deeper dive today, and dig into Denver's snowfall history, trends, and other fun snowy stats.
Seasonal snowfall averages and trends
First, here's a chart showing total snowfall in Denver by season since record keeping began in 1882. Interestingly enough, the trend overall (red line) has gone up over the period of record, despite some ho-hum totals in recent years: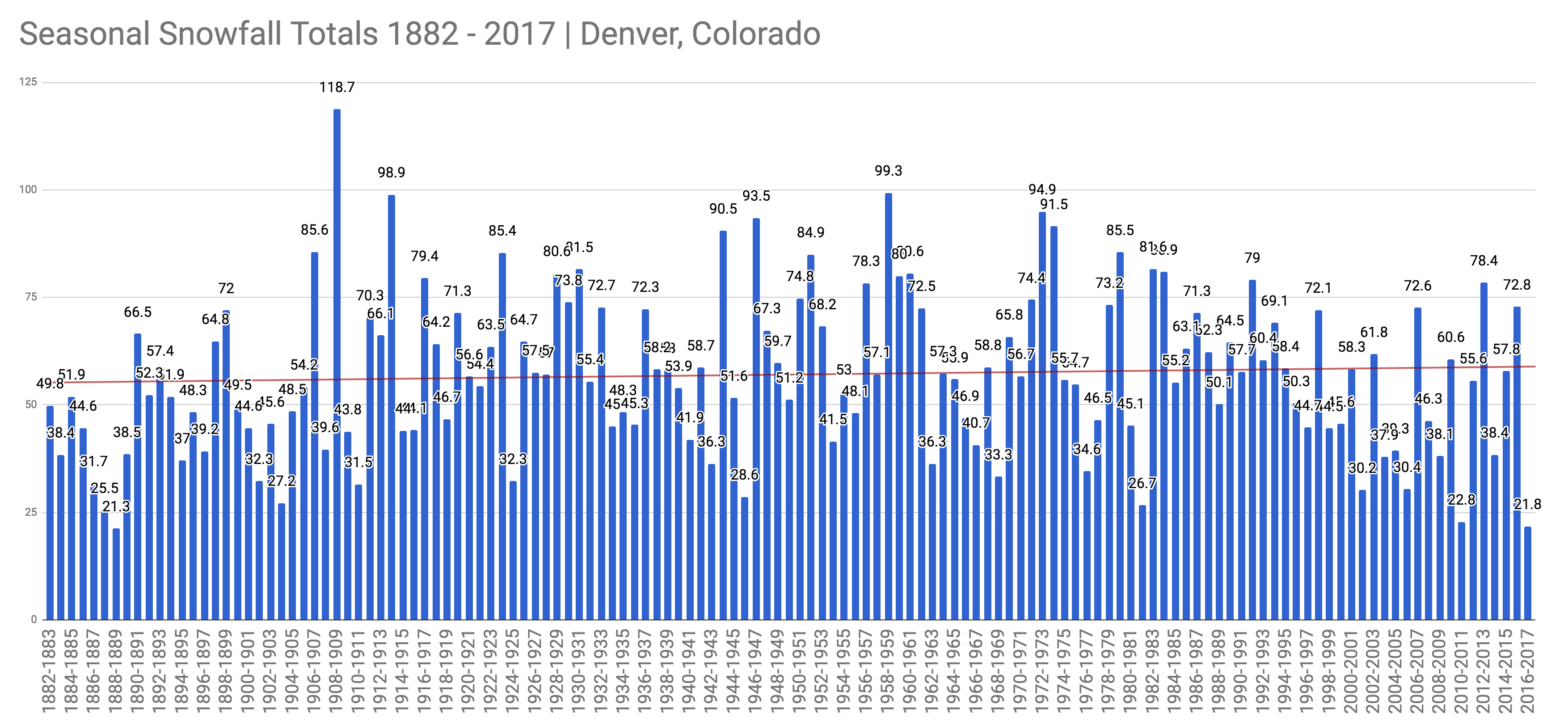 If we look at departure from average snowfall each season since records have been kept (1882-83) to last year (2016-17), there are a couple of quick observations to be made. One, for those of us that obsess over snow, thank goodness we weren't living here before the turn of the last century. At the same rate, (again for those of us that obsess over snow), some of our recent complaining is justified: the last decade+ certainly hasn't been the heyday for big snowfall seasons in the Mile High City either: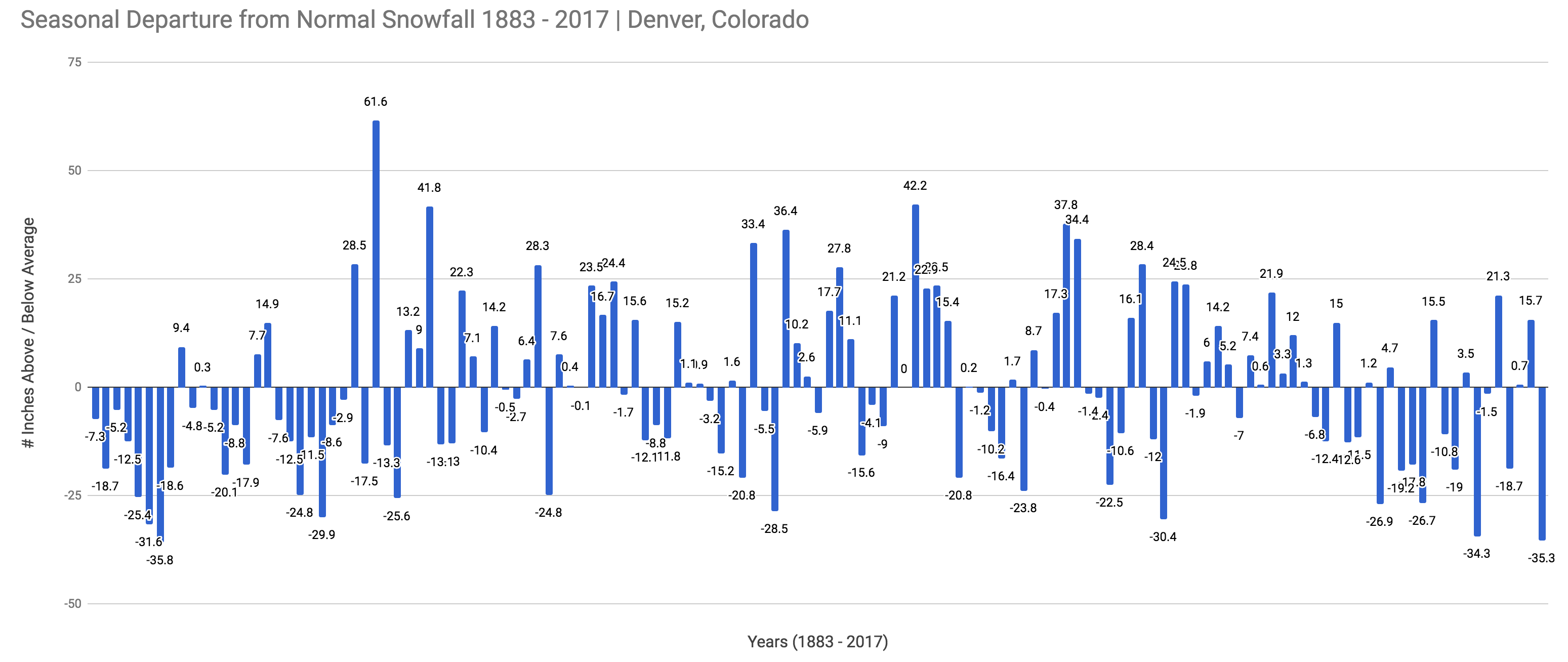 Again, the trend line for the same chart is up (↑) over time: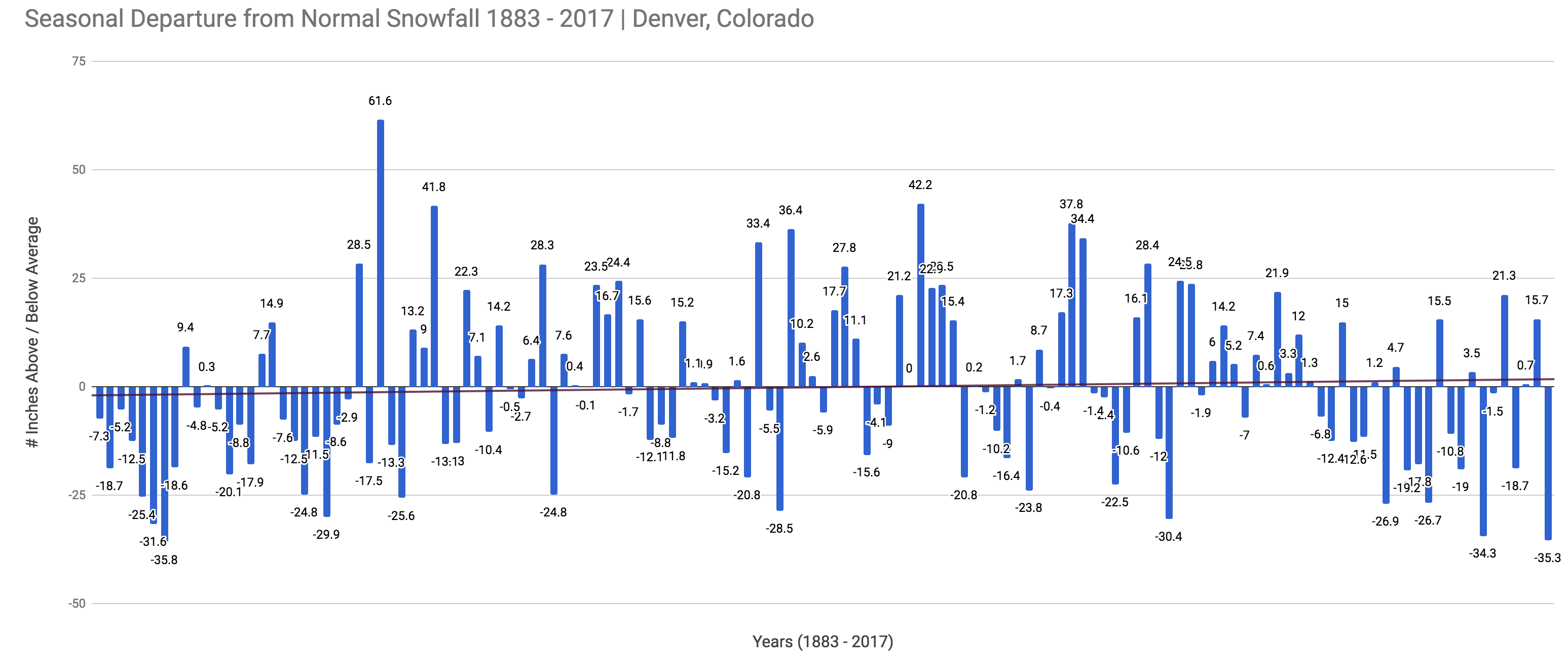 But perhaps that's due to those oh-so-sad early years. If we start at 1900, the trend goes the other way, thanks in large part to a couple large snowfall deficit seasons in recent years: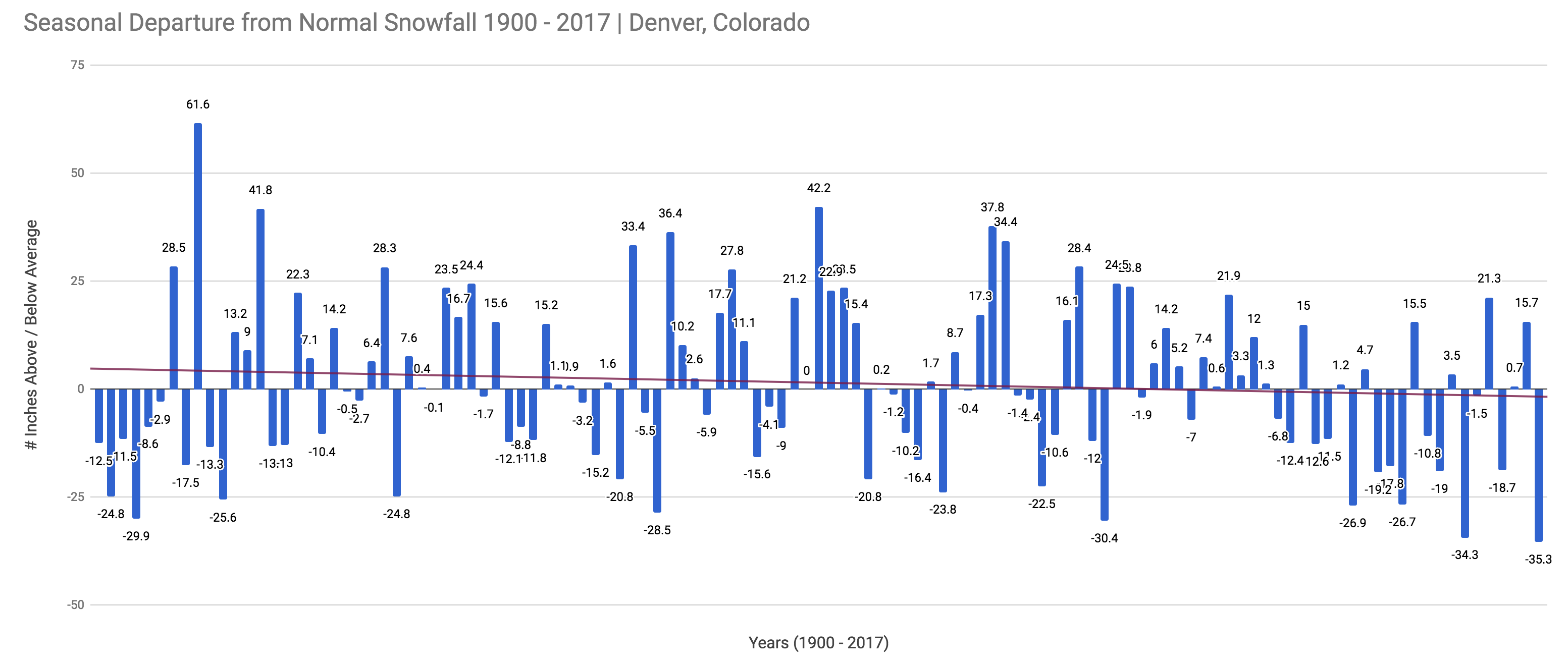 Sometimes it's hard to separate what we've experienced in the last decade to the trend overall. When I look at these charts (while keeping in mind Denver's official weather station has moved several times over the period of record) I don't see anything that screams abnormal to me.
Season's first and last snowfalls: what's really happening?
One theme that was hit on quite a bit in the comments of the post was this idea that both Denver's first and last snow are coming later – almost as if our cold season has been pushed by a month. It would certainly feel like that if we consider the last several years as our sample. We've already established we haven't seen accumulating snow in Denver in September since 2000, and we've had some notable May storms in recent years that our fresh in our memory. But what if we look at all years on record, is this a long term trend, or a more recent phenomenon?
Long term, we've actually seen the opposite trend if we consider total snowfall for the month as measurement. That is to say the trend for total snowfall in September has gone up since 1882, while the May trend line has remained mostly linear, if not even decreased a bit over the period:

If we choose instead to look at more recent trends, to better align with our memory, we see what many were hypothesizing: an increase in total snowfall in May since 1980, and a decrease in total snowfall in September since 1980:

Denver's average first snowfall comes on October 18th, and the average last snowfall April 26th. In recent years Denver has seen some very late first snows (we almost broke the record for latest snowfall on record of November 21 last year), and some pretty late late-season snows as well. Of the last 10 years, eight of those the first snowfall as come later than average, and nine of those have seen the last snowfall occur later than average. That's pretty impressive. In the table below, yellows indicate first snowfalls after October 18th, and reds indicate last snows of the season after April 26th.

This streak isn't really all that unique to recent years. By my count, we've seen nine other times since record keeping began that we see streaks of nine or 10 years where we say later than average first snowfalls or last snowfalls. Still, for those of us eager for the season's first snow, or stressed about late season storms killing spring vegetation, the last decade certainly has been a struggle in both departments.
Extremes
To me, the question is not only are there any long term general trends in Denver's snowfall patterns, but how are extremes changing, if they are. Are we seeing less snow overall in a given season, but larger singular snowfall within each season? Are we seeing snowfall deficits or excesses outside the norm?
If we look at Denver's greatest snowstorms on record, we see a pretty even distribution over time. Most of the storms fall within a general 15 - 22" range as well, with a few outliers with significantly more snow (all time record of 45.7" in 1913!).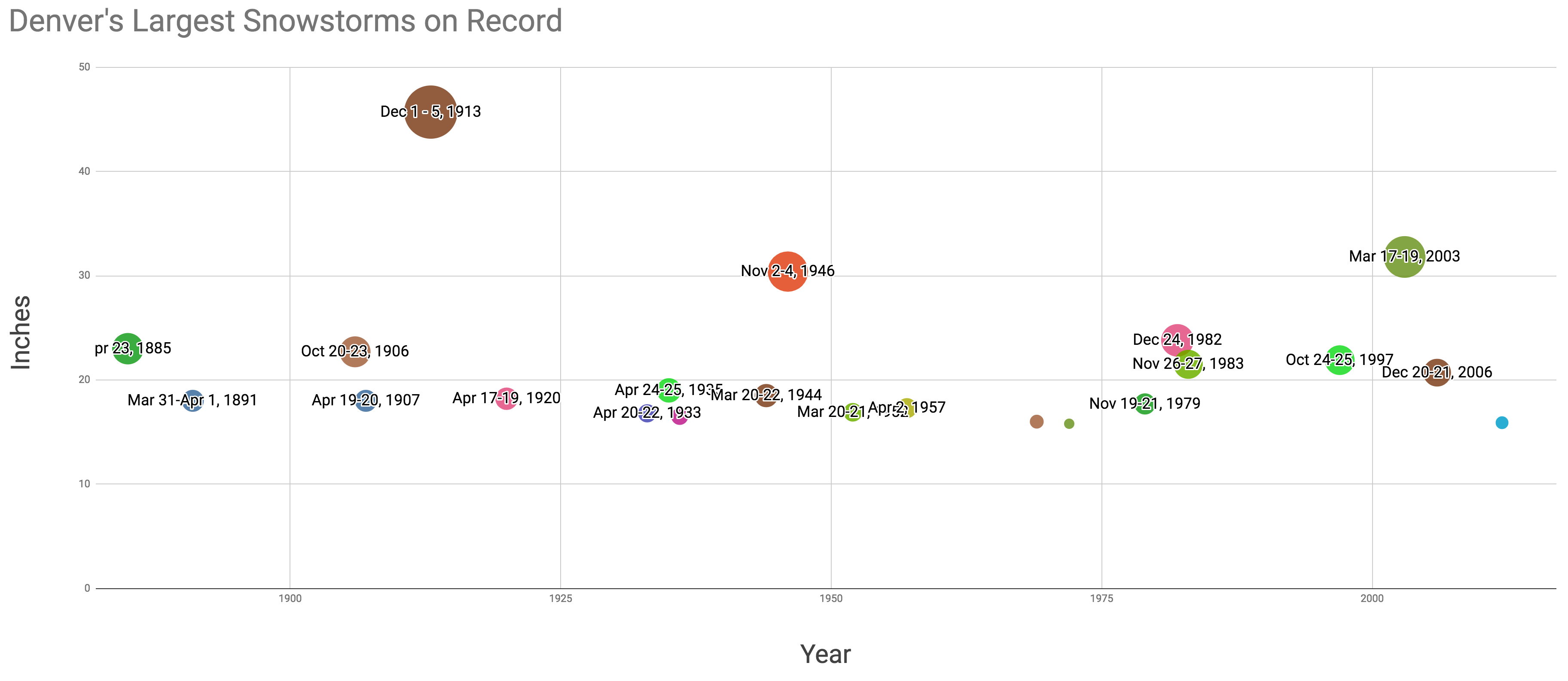 And if we look at the most extreme outliers for snowfall season deficits (all seasons greater than 15" below the long-term average) we don't see anything too remarkable either. A few big deficits in the 1880s (we established this above), and a few remarkable outliers in recent years as well, with a nice positive curve upward during the 20th century: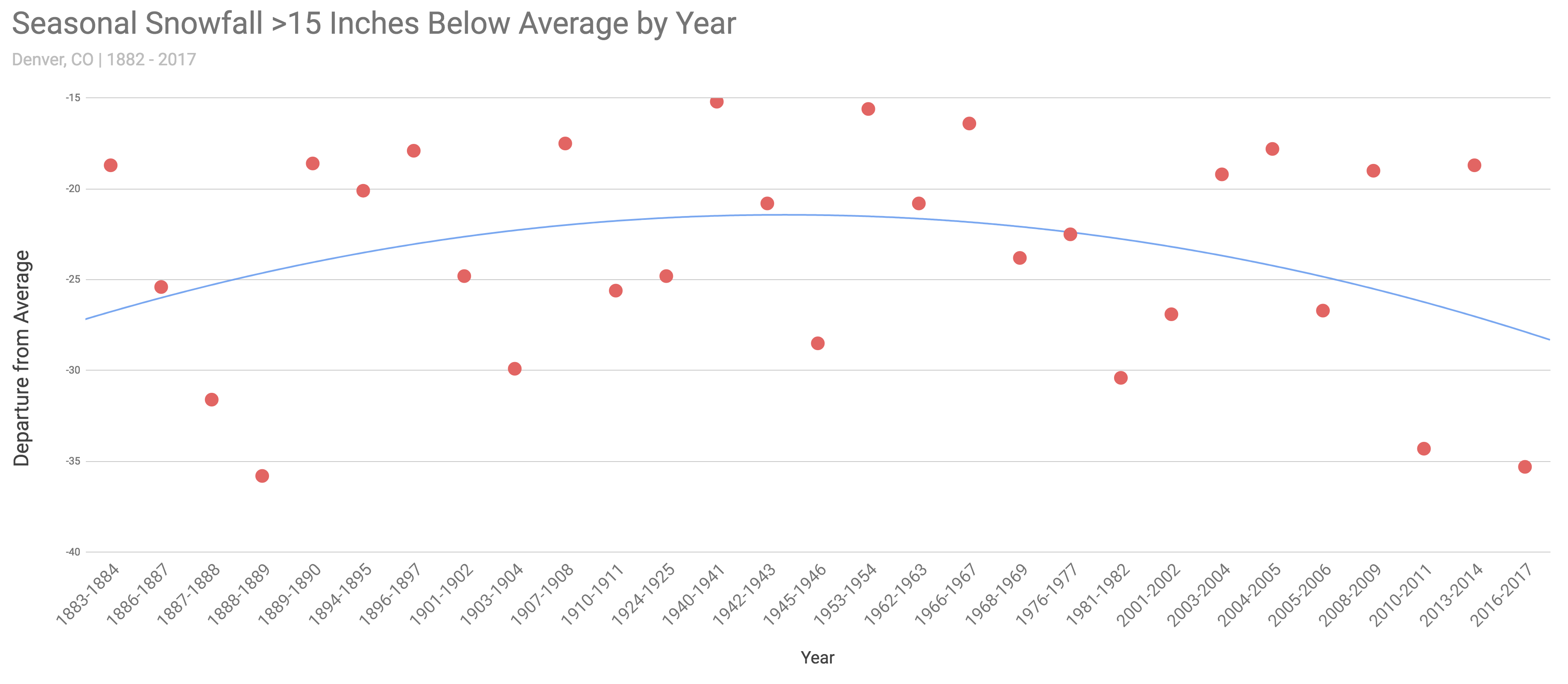 Obviously if recent trends continue, and those departure from average extremes continue to grow... well, then we may be latching onto a larger shift in our snowfall pattern, but for now, given the relatively short period of record we have to work with, it's hard to draw any real conclusions from the above. The recent large snowfall deficits we've experienced aren't anything we haven't seen before.
Conclusions
I don't know that any of this answered any questions... but hey, snow!
My takeaway is that yes, the last decade has featured overwhelmingly late starts and late finishes to the snowfall season, though certainly not unprecedentedly so.
One could also argue that we're due for a big storm (though we had one in March 2016 that just happened to miss DIA with the heaviest totals) but it's unclear if this year is the year. La Niña looks to be taking hold, which can mean a colder winter for those of us across northeast Colorado, but not necessarily a snowier winter. We'll often come out of Niña years having seen a lot of smaller snows, but not necessarily huge seasonal totals. In fact, La Niña years average about four inches below the long term seasonal average as compared to +2" for Niño years and +1" for neutral. Interestingly, our biggest snowfall surplus year came during a Niña, so you never know!

When do you think this year's first snow will fall? Will we continue the trend of later-than-average first snows of recent years? Or will we see something come though before October 18th? We'll launch our first snowfall prediction contest TOMORROW, so dust off your winter forecasting hats tonight!