We're in a bit of a routine now – big swings in temperatures day to day, and what looks like another week set to start colder than average with at least a chance of light snow.
The wind today along the Front Range has helped warm us into the low 70s around town, and certainly has things feeling quite nice for the first weekend of November. By Sunday we start to feel those changes arrive with a 10 to 20 degree drop in temperatures from today across northeast Colorado. The real cool down arrives later Monday and on into Tuesday, before a gradual warming trend by the middle of next week.
As for the snow potential, we offered our Insiders and early look at this last week, and it does look like we'll see a chance of a light (perhaps prolonged) snow event along the I-25 urban corridor from Monday night potentially into Wednesday. The EURO is the showing the longest duration of light snow (likely too long) with others generally ending that snowfall chance by Tuesday evening.
Like our other recent events, this doesn't look like a huge snow producer east of the Rockies. If we can keep those snow showers around long enough perhaps a few inches will be possible, but the heaviest snow will remain confined to the northern and central mountains through the next few days.
Temperatures
Temperatures will cool into the 40s and 50s for Sunday. By Monday we'll be tracking our cold front, but may be able to warm into the 50s once more before the front arrives and ushers in much colder air. Perhaps that optimistic.
Further south both days will be a bit warmer. For Colorado Springs upper 50s to near 60 look doable for Sunday, with highs in the 50s Monday before the cooler air arrives Monday night.
Tuesday will be the coldest day of the week up and down the Front Range, with temperatures mainly in the 30s and that chance of light snow.
Snowfall
Still some work to do on this front, so will hold off until tomorrow on any hard numbers. A few models have a couple of heavier bands delivering several inches of snow up along the Colorado/Wyoming state line and again somewhere between Denver and Fort Collins, but the overall picture is a generally light accumulation.
The snow first gets going in the northern and central mountains tonight and Sunday, then gradually we'll see that chance spread across the plains.
The map below takes us through Tuesday morning, and you can see most of the snowfall is up well north and west of Denver. It's showing the potential for some light snow to move off the mountains Monday night in Denver, but totals at this time look pretty light, especially the further south you go on I-25.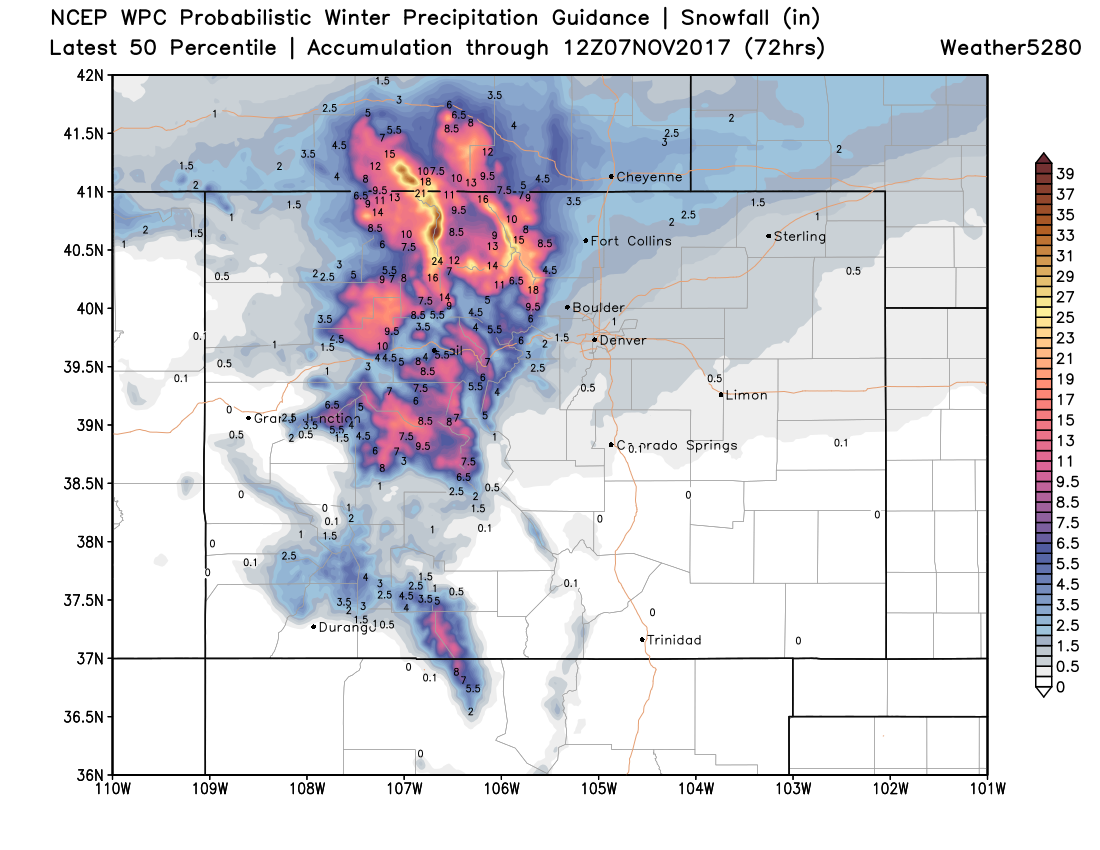 The best chance of snow for cities along the Front Range looks to be Tuesday at this time, with that chance tapering off Tuesday night into Wednesday. With that, expect those numbers above to change as we move into tonight and tomorrow and get a little big closer to the event.
Our snowfall probability charts aren't showing great odds for too much accumulation at this time, but we'll see if that changes between now and Tuesday. Right now this looks more like a 0 - 3" event for most cities, higher-end totals if duration wins out, lower end if not. Our probabilities in Denver right now are >70% for a Trace, >50% for 1", but drop off considerably for >2" at about 20%. Meanwhile, the EURO mean is at about 3" for Denver (in good agreement with its operational), but we're concerned it overdoing the duration.
The overall pattern continues to support these light snowfall events and quick-hitting cold fronts, but nothing big for those east of the Rockies at this time. Great to see some good snow headed for our north-central mountains at least!