The state of the atmosphere may finally be changing with all signs pointing to a chilly (cold?) finish to 2017 across eastern Colorado.
There are a lot of uncertainties that remain in how exactly the last 10+ days of the month will shape up, with a highly amplified pattern set to take shape over North America we expect the general ideas to hold, but specifics will be worked out as they can be.
Here's what we know: the warm weather that has dominated the pattern across the intermountain west-central United States over recent weeks will hang on for a few more days before we likely see a big shift to large-scale cold for the last 10 days or so of the month. The shifting pattern should do a few things, including bring some much needed snow to our mountains, as well as deliver some very cold air to the Front Range – with several snow chances to boot.
What remains harder to pin down is just how cold we'll get, how much snow we'll see, and how prolonged the cold will be. We'll touch on all of this below!
The week ahead
For the week ahead plan on three quiet, and likely mild days to start your week before changes arrive Wednesday night and Thursday. MOS guidance has highs in Denver in the upper 50s and low 60s through Wednesday, before dropping into the 30s for Thursday, and 20s for Friday. In short, don't put off your outdoor activities to the end of the week if you have the option!
Here is a look at temperature anomalies for Tuesday across the United States. As you can see, virtually everyone will be seeing above average temperatures, with the exception perhaps of northern New England.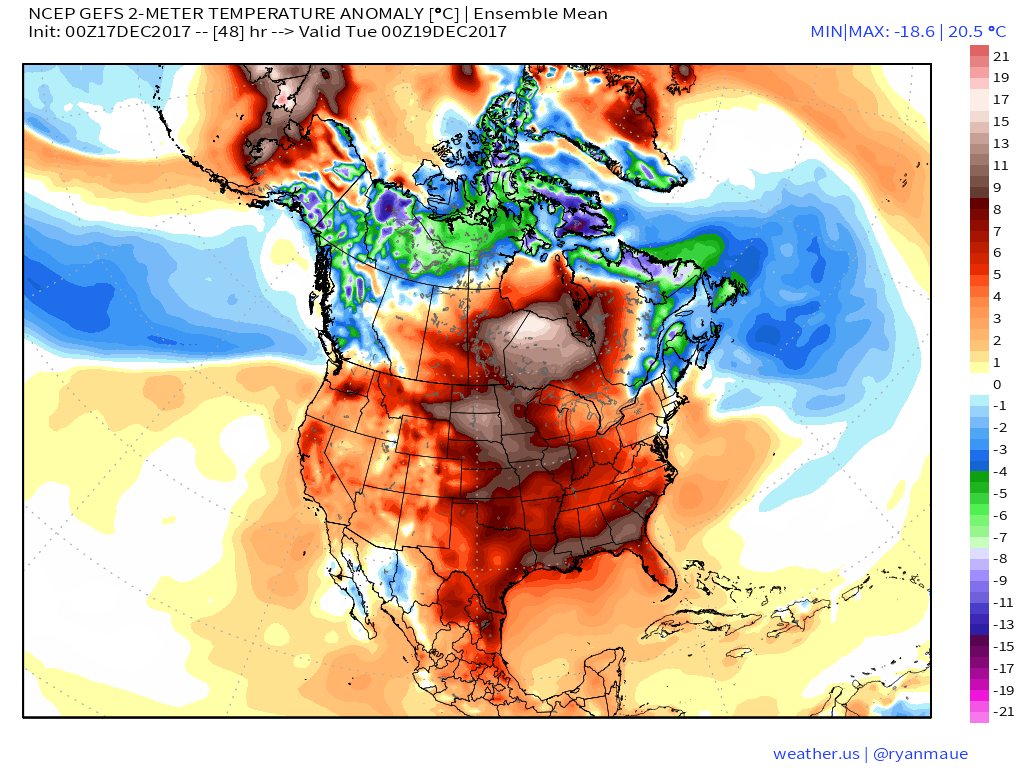 By next Sunday, we see the cold really starting to invade: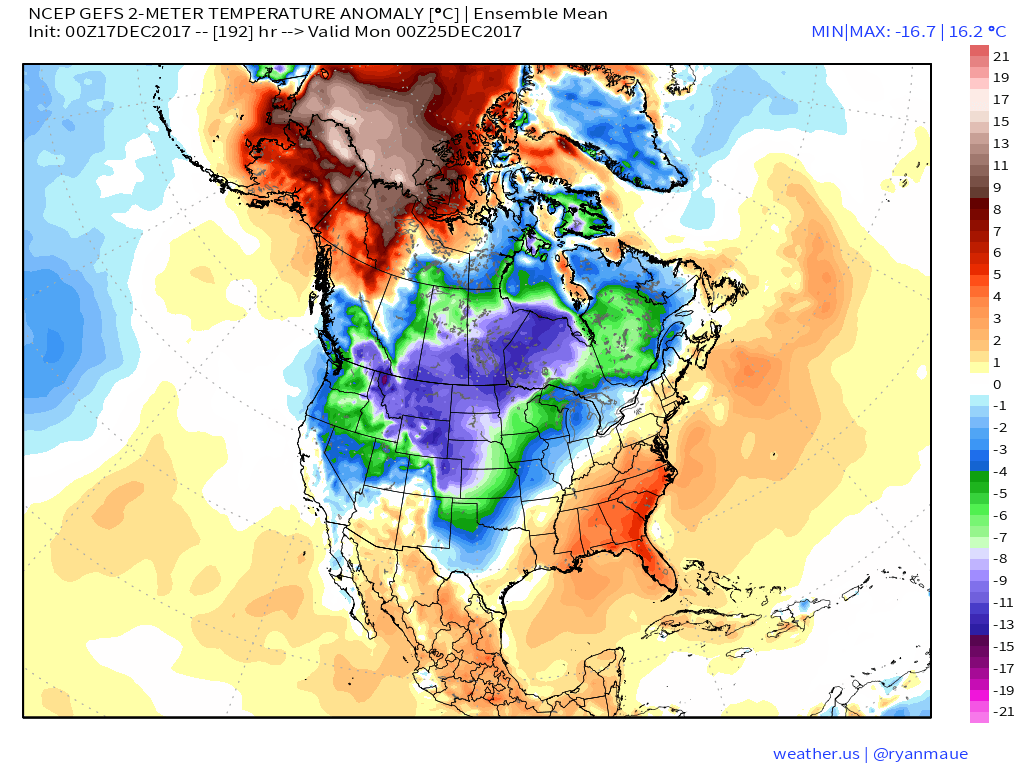 Then we see the GFS with a remarkable cold high parked over Wyoming for Christmas, which even if partially right signals a very cold Christmas day across eastern Colorado: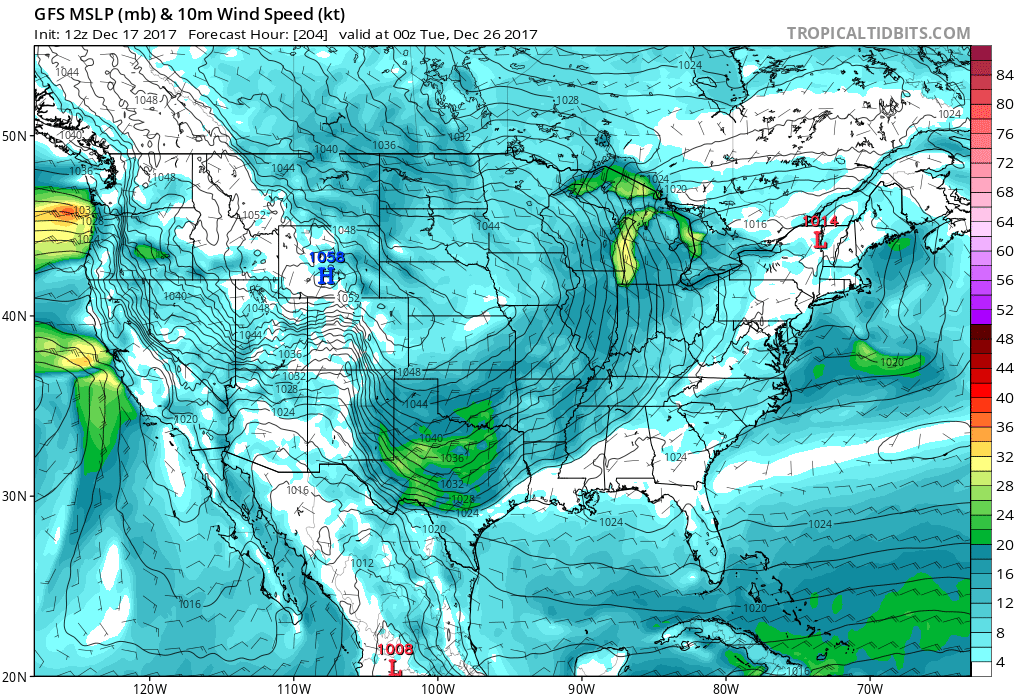 And finally, the EURO showing FIVE-day temperature averages by the 29th well below average almost nationally, including temperatures from 5 to 14 degrees C below average across northeast Colorado to end the month: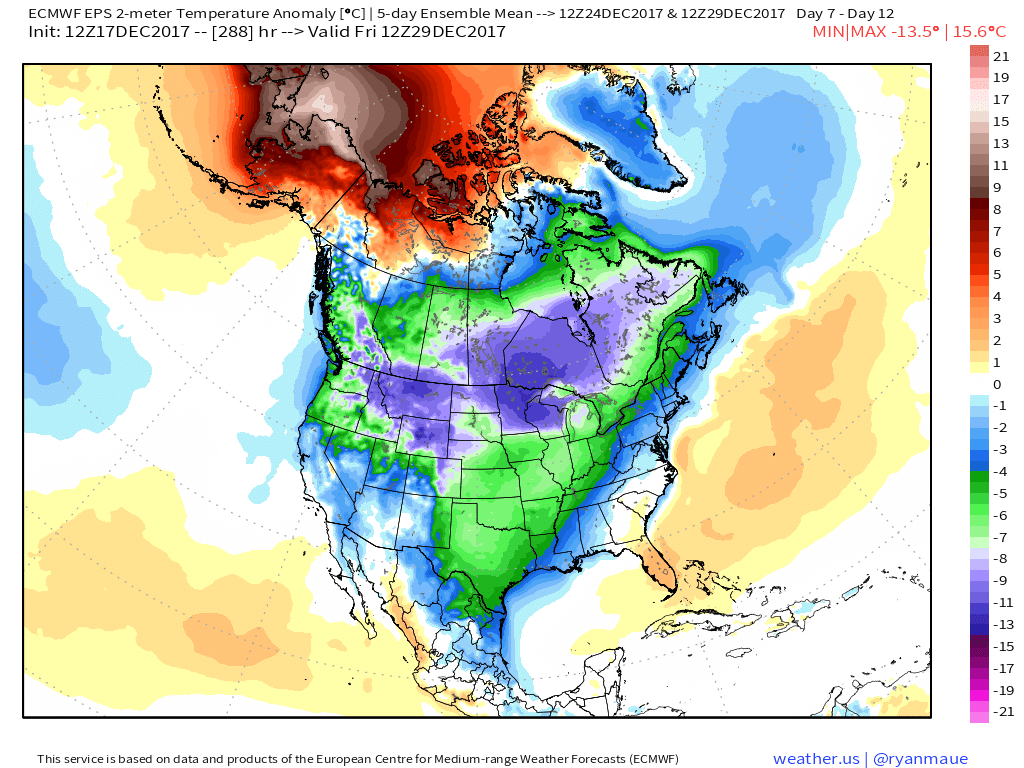 So, the week starts warm but ends quite differently. The initial push of cold air appears to arrive late Wednesday, or possibly during the day Thursday. The trend has been a little faster with this cold air, and not quite as shockingly cold (though still a big-time change) with this initial front.
It's a bit hard to say how much snow we'll see with this initial push of cold air. For the time being, it's not looking all that significant, and this certainly tends to be the case with these types of systems – though they can overperform. For now plan for a chance for snow showers arriving Wednesday night and lingering through the day Thursday, to accompany those much colder temperatures.
Weekend outlook
By next weekend the cold air will really try to establish itself across the region, with yet another push of cold air and chance of snow as another low drops out of western Canada. This system has the potential to deliver some of the coldest air we've seen in quite some time around here, as well as perhaps a chance we see some jet-induced snowfall along the Front Range. It's a long way out, so we won't get too excited yet – this season has had a way of outdoing itself in the Snow Disappointment Department.
What to watch
We fully expect there to be a lot of volatility in the models over the coming week, with the end result yet to be determined. Overall, good confidence in some much colder weather on the way, but details around snow and just how cold will need to be tweaked over the coming days. While we don't typically look for arctic cold fronts to deliver big snow around here, perhaps we'll be able to piece enough light events together to see a white Christmas around here. It'd be well earned after the start of the season we've had!