The weather has let me down a time or two before, but something about the trends in the last 12 hours or so feels especially bad.
It's been a grim snowfall season for the area so far. Both statistically (we've seen just 3.2" of snow so far this year in Denver, while on average we should end December with 20.8"), and in how many 'maybe storms' have fallen through the cracks (I'm not sure how to quantify that). Yet, it feels a bit like pulling teeth getting a system to deliver more than a flake or two of snow around here.
This go around, there have been many factors that lead to increased confidence in the shifting pattern. While we said time and again the GFS was likely overdone (it had a foot+ of snow for Saturday two days ago), the cold looked like a lock. While cold is still on the way, and perhaps some snow too, neither look all that impressive from where we sit this afternoon.
As we discussed with our Insiders earlier this week, the upper level pattern has been correcting north and east for the last week or so, from early model runs that were putting way too much trough in the west, to today. The animation below shows the trend GEFS forecast from this past Sunday to today, all valid Saturday evening. Notice the troughing (blues) slowly transitioning north and east with each consecutive run: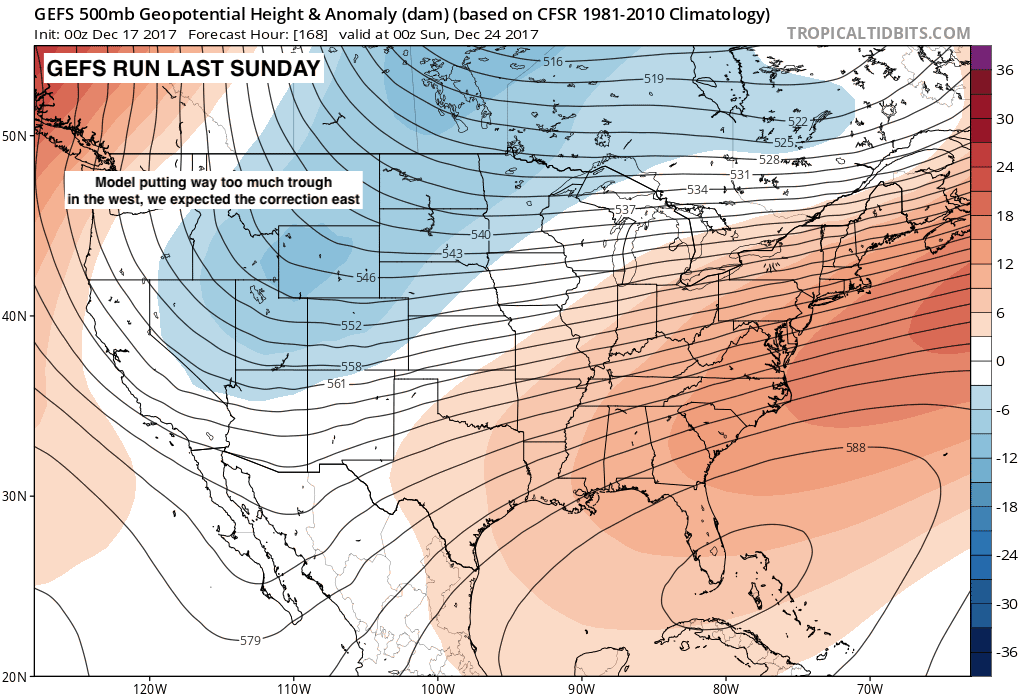 The latest runs suggest less of a push of cold air for the front range both Thursday and Saturday, and with that less lift (less favorable) conditions for light snow around here. While we should still see both some cold and snow, it's getting harder and harder to see a scenario where we 'bust high'.
Thursday's system
This one never looked all that impressive, and that continues to be the case. Most models indicate a spotty 1 - 2" across the urban corridor will be possible, but like our last... 20 systems(?)... I suspect some locales don't see any accumulation Thursday, or manage a coating at best. The operational GFS continues to show the best accumulation over the Denver/Boulder area, so won't rule out a few inches if you end up under a snow shower.
Temperatures will also be much colder than today. Expect highs in the 20s Thursday, with overnight lows in the teens. A big change no doubt, but certainly not record-setting for December either.
Friday continues to look chilly but dry across the region.
Saturday's system
With the mean trough not digging as much as it was once progged to do, hard to see much accumulation from this system either, at least across lower elevations. In fact, some models show less potential Saturday than Thursday now down low, with still some decent snow for our northern and north-central mountains.
If we look at the GFS run from this morning for Saturday morning compared to yesterday's run, we see the trough not digging nearly as much, and with that far less jet energy over the state to help enhance snowfall as much (shaded colors). The top image is from yesterday's 18z run, the bottom image is from this morning: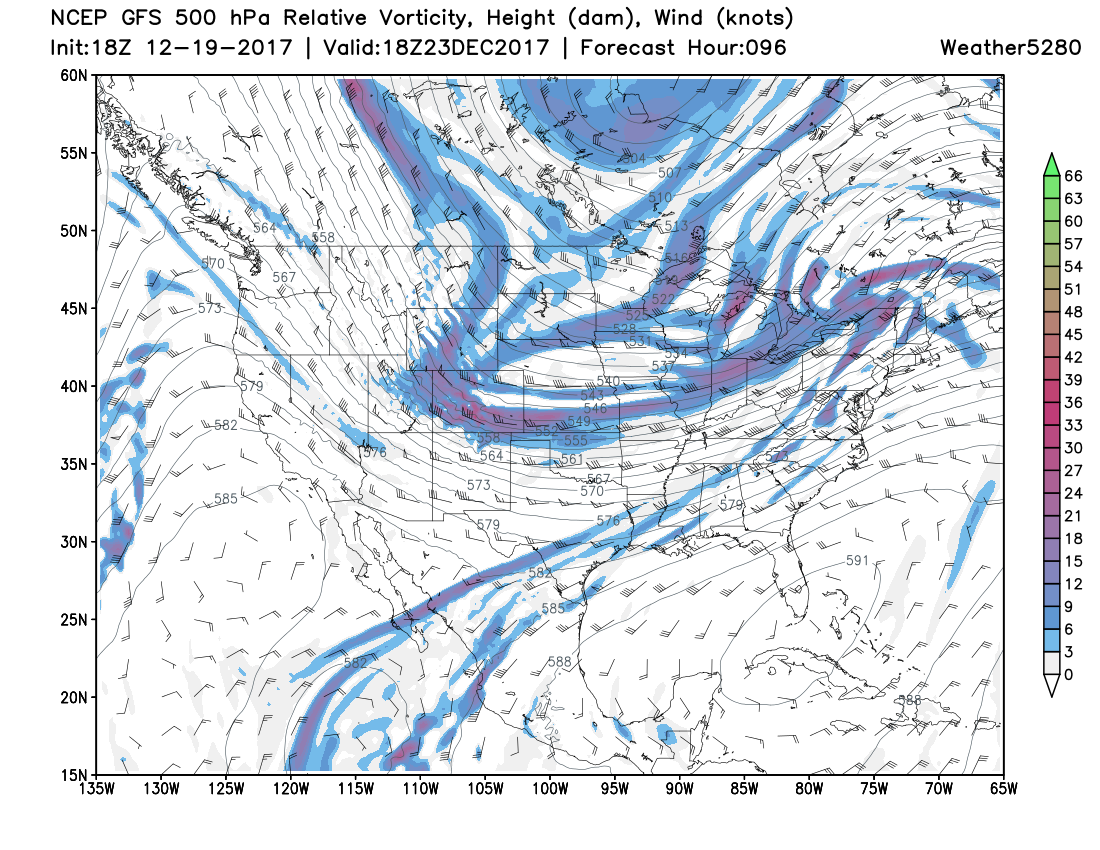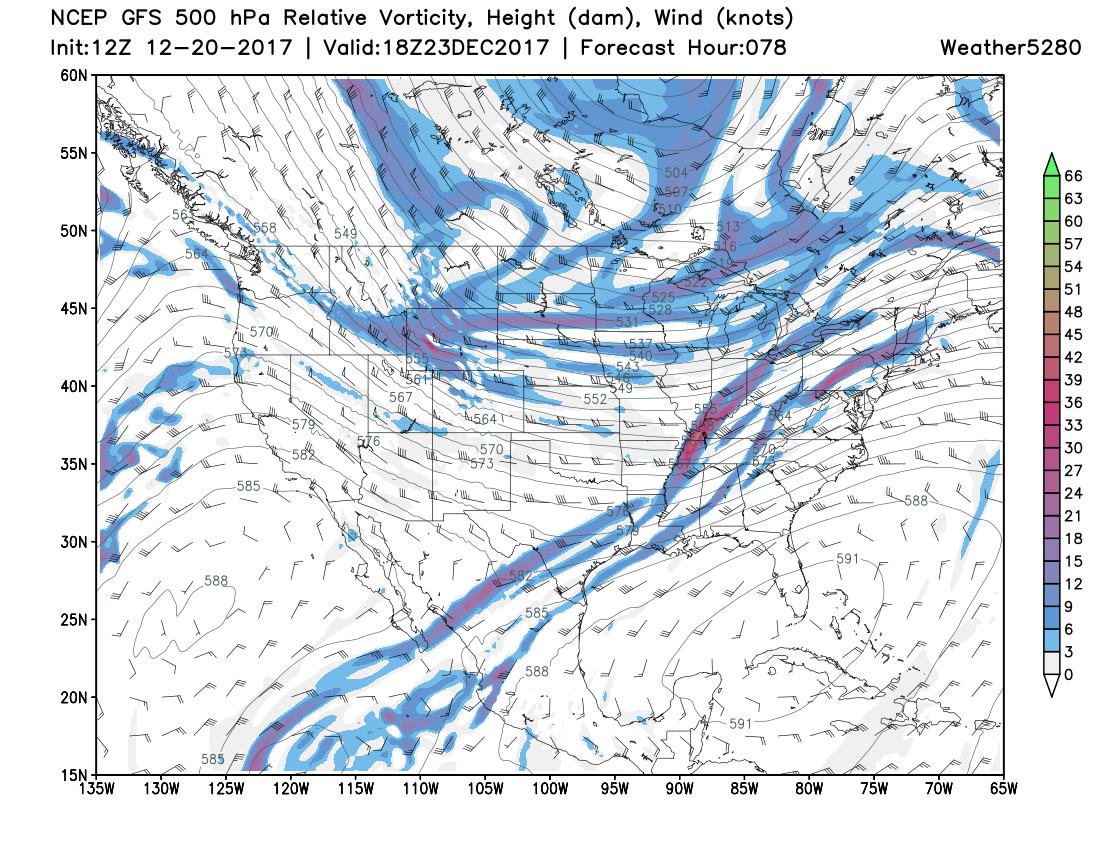 So, while we still expect another push of cold air on Saturday, it doesn't look as cold, and the snow chance doesn't look as great as they once did. Additionally, some timing differences between the EURO/GFS will mean the difference between the best chance of snow coming Saturday afternoon vs overnight Saturday into Sunday. Hard to say which will win out, but timing of our snow chances Saturday will be determined on when the passage of the cold front happens. Plenty to watch between now and then, so look for tweaks to the going snowfall forecast as needed between now and the end of the week.
Forecast totals
With all that outlined above, we've knocked back totals a bit (they weren't all that high to begin with). Low end for most areas with both systems will be 0" (or a coating) with high end being in the 2 - 3" range. Of course if you manage 2 - 3" on Thursday and another 2 - 3" on Saturday things will be looking pretty good in the snowfall department... but I suspect most folks struggle to do that, unless we can shift the trend the other way again.
Again, especially Saturday, snowfall ratios will be pretty high, so even if light, snow that does fall will be fluffy. Despite us lowering totals, the GFS still shows the potential for 5 - 6" in Boulder and Jefferson Counties on Thursday, with 3 - 4" in Denver. So the potential is there, despite odds dropping today. Here are our updated numbers: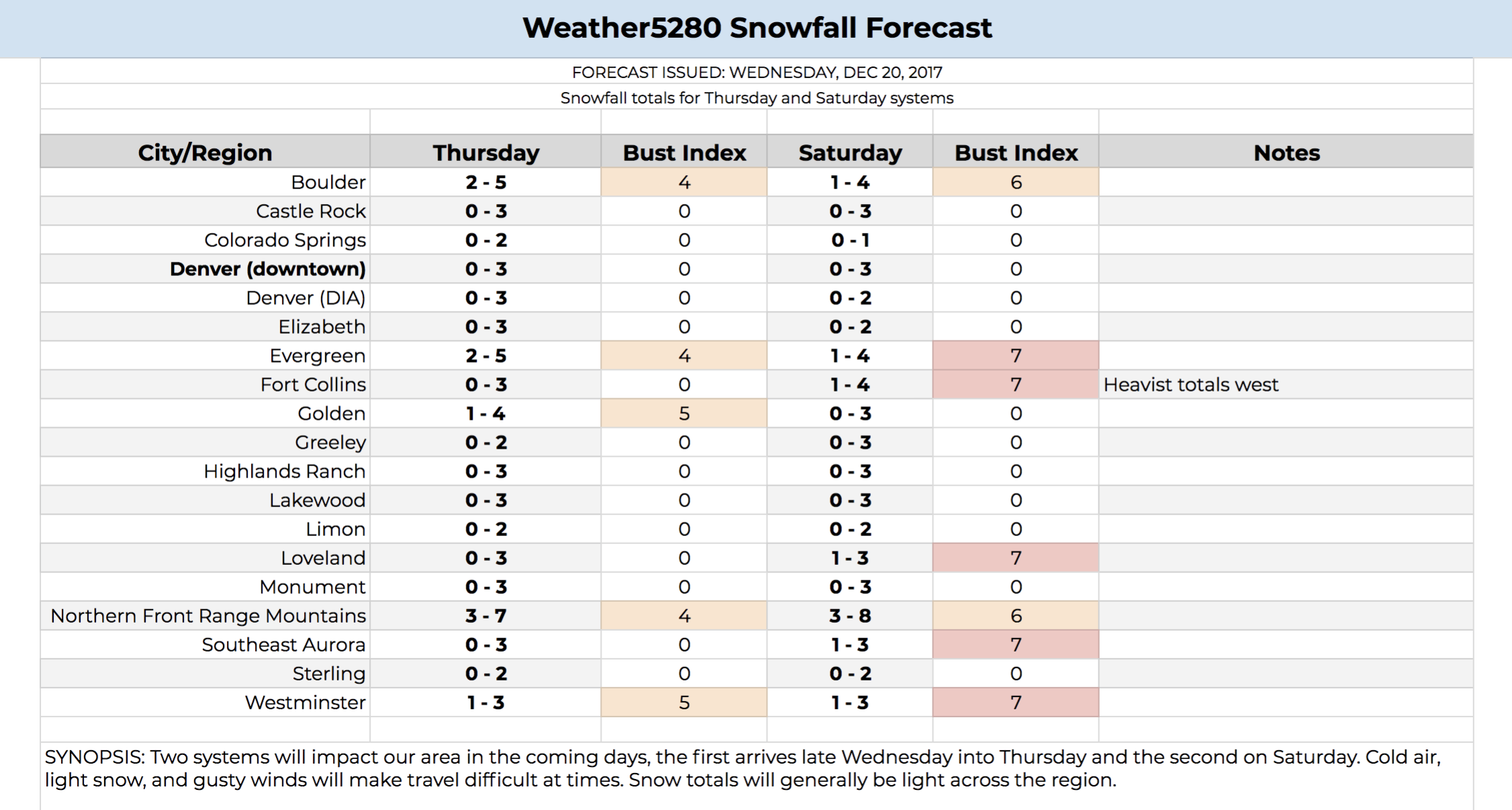 And finally, if we look at the EURO probability forecast from last night for ONE inch of snow between now and Sunday we see pretty good odds for most of the northern urban corridor. Probabilities drop off considerably after that, so... will leave you on a high note!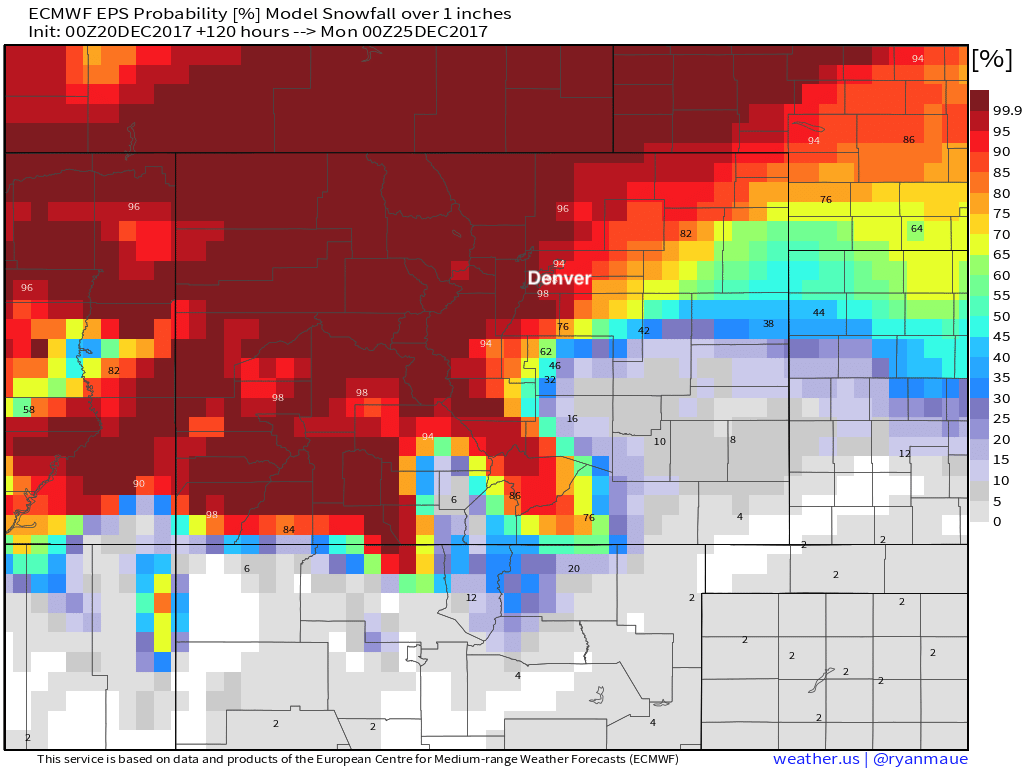 Looking ahead
Still plenty of uncertainty with regard to temps on Christmas day. With models pulling the mean trough northeast today, some are showing warm air able to invade from the west once more by Christmas, but others keep the cold backed up just enough to keep the chill going across northeast Colorado. A bit too soon to say which scenario wins out... the cold will certainly be close, but where exactly that front sets up remains a bit of a toss up.
Beyond early next week we do see another shot of cold reload by the middle to latter half of the week. This again has the potential to deliver snow and cold to Colorado – but could also go the way of this winter and push east. The pattern is certainly stacked to end the month, it's a question of we can get that to deliver in our back yard? Or simply sit on the sideline as the rest of the nation freezes.