The cold we had discussed at length for our Insiders in recent weeks certainly has delivered – especially compared to the seemingly endless warmth of the last few months. Denver only managed teens for official highs both Monday and Tuesday, with overnight lows in the single digits. Temperature anomalies over the last seven days show the colder than average conditions we've seen across northeast Colorado: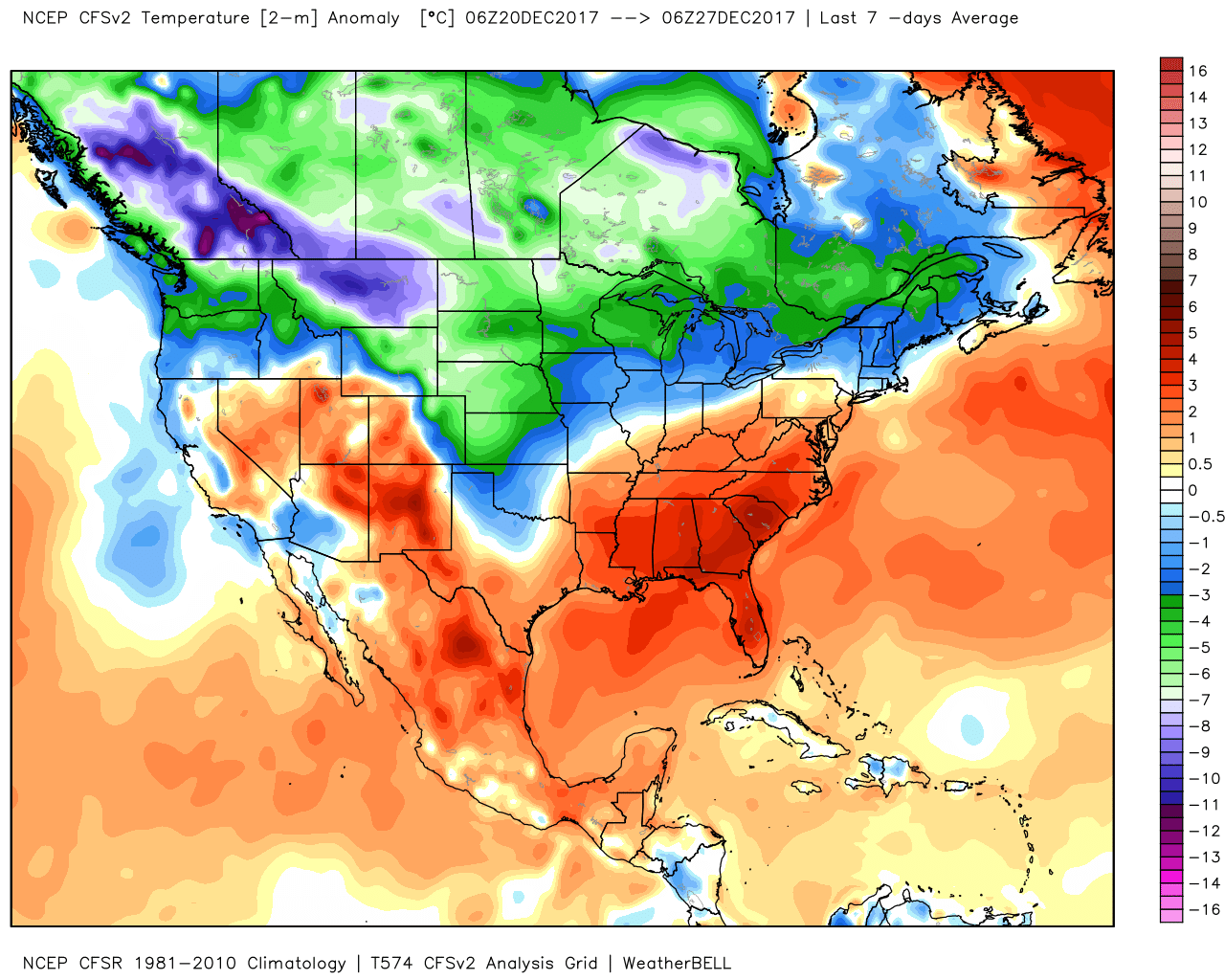 In the last three days, that cold has overtaken more of the country:
Today they wind has turned toward a warming one for the Front Range, and so we've watch as the cold has been replaced by very mild air along the urban corridor. Take a look at these readings from NCAR this morning:
At our station in Denver, we recorded a low of 9°F this morning, and as of 12:30 we were sitting some 46° warmer at a very mild 55°F. Always an incredible thing to watch happen around here.
As we've discussed quite a bit, despite the warming in town you don't have to go far to find the cold. Take a look at this map from the 12 o'clock hour across Colorado. Just a few miles removed from the foothills, and you're still socked in with that cold airmass: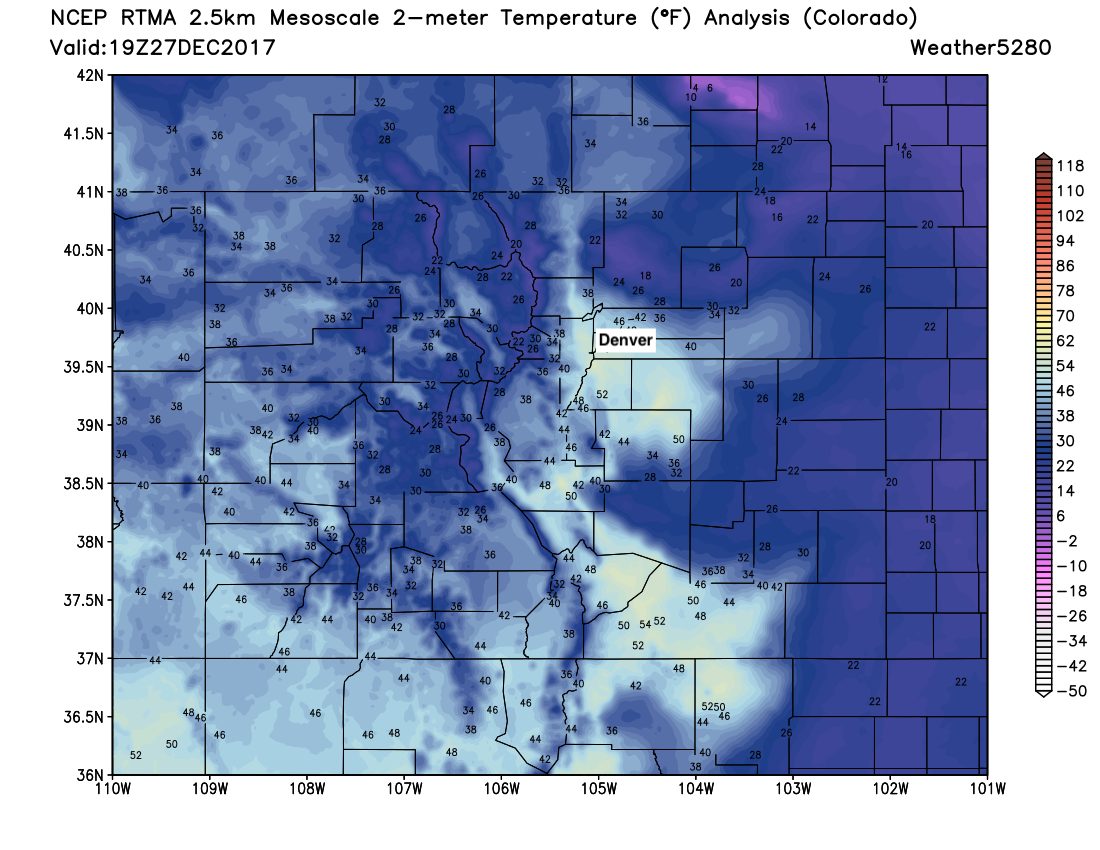 Remainder of week and this weekend
The remainder of the week will feature more of the same. MOS guidance has Denver in the 50s to near 60 both Thursday and Friday and hard to find much issue with this. Conditions will be dry as well, with only a few scattered snow showers to speak of across the northern mountains between now and Friday.
The cold will remain entrenched just east of us, however, with the the forecast anomaly map looking like this for Thursday: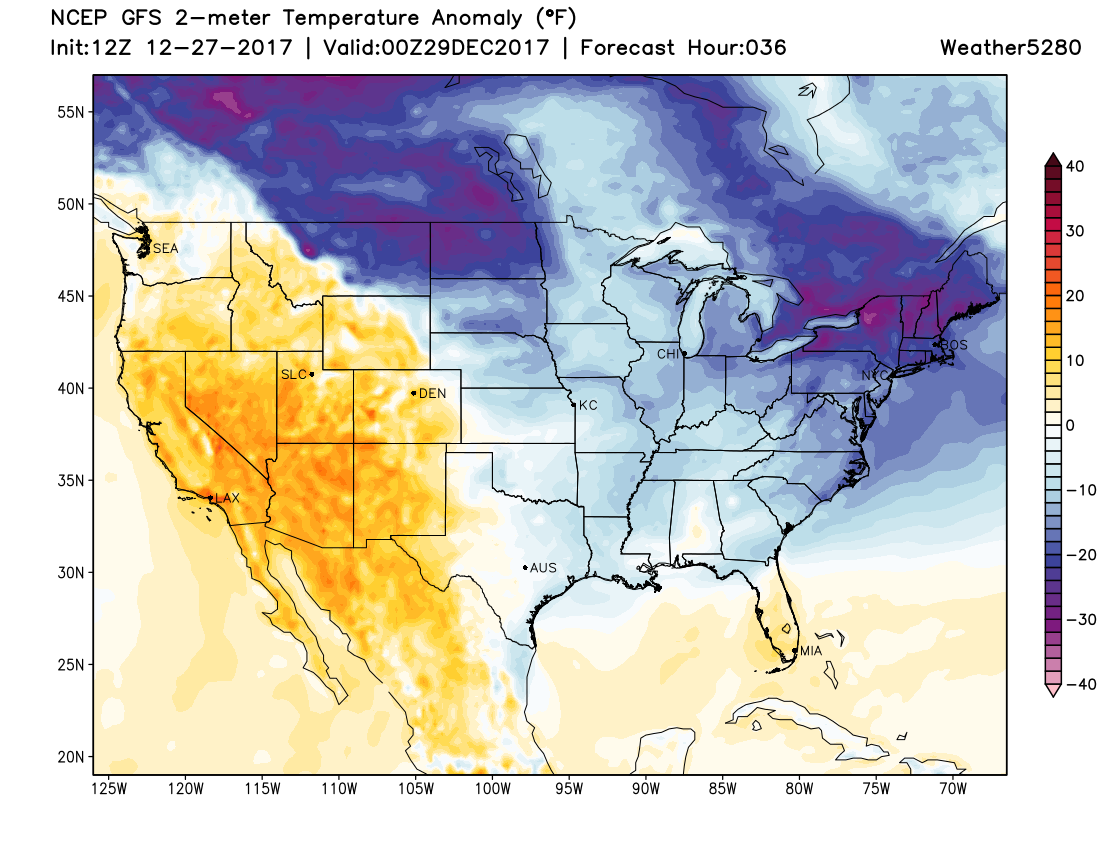 And this for Friday: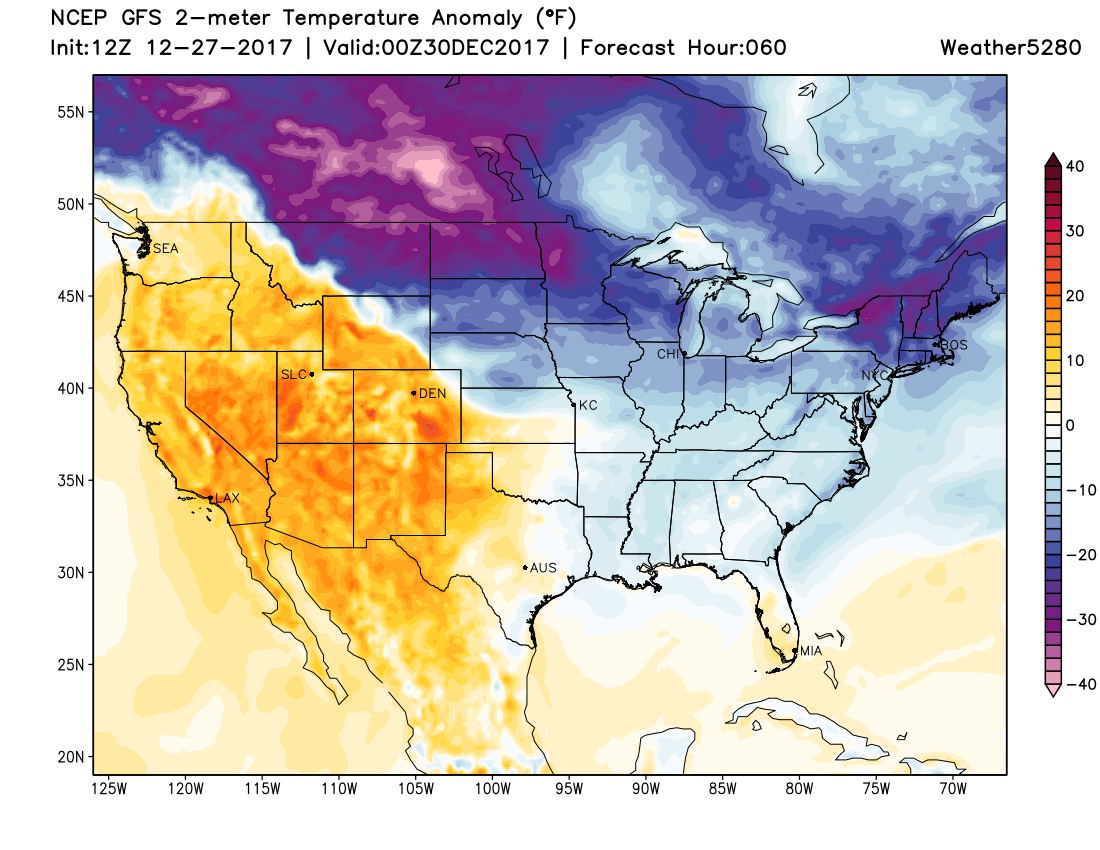 In both you'll note some blues showing up across extreme northeast Colorado, this indicates temperatures remaining blow average out there. Across most of the rest of the state we see warmer than average temperatures for each of the next two days.
By the weekend, we watch for the arrival of another push of arctic air. While Saturday does look much cooler than Friday around here, it looks like Sunday and Monday (New Year's Eve/New Year's Day) will feature the coldest air of the next five days or so, with potential for highs in the teens and overnight lows in the single digits once more. Take a look at the GFS forecast for Sunday morning below. Note the blues have moved back into eastern Colorado, but the coldest air associated with this next front again ended up north/east of Colorado: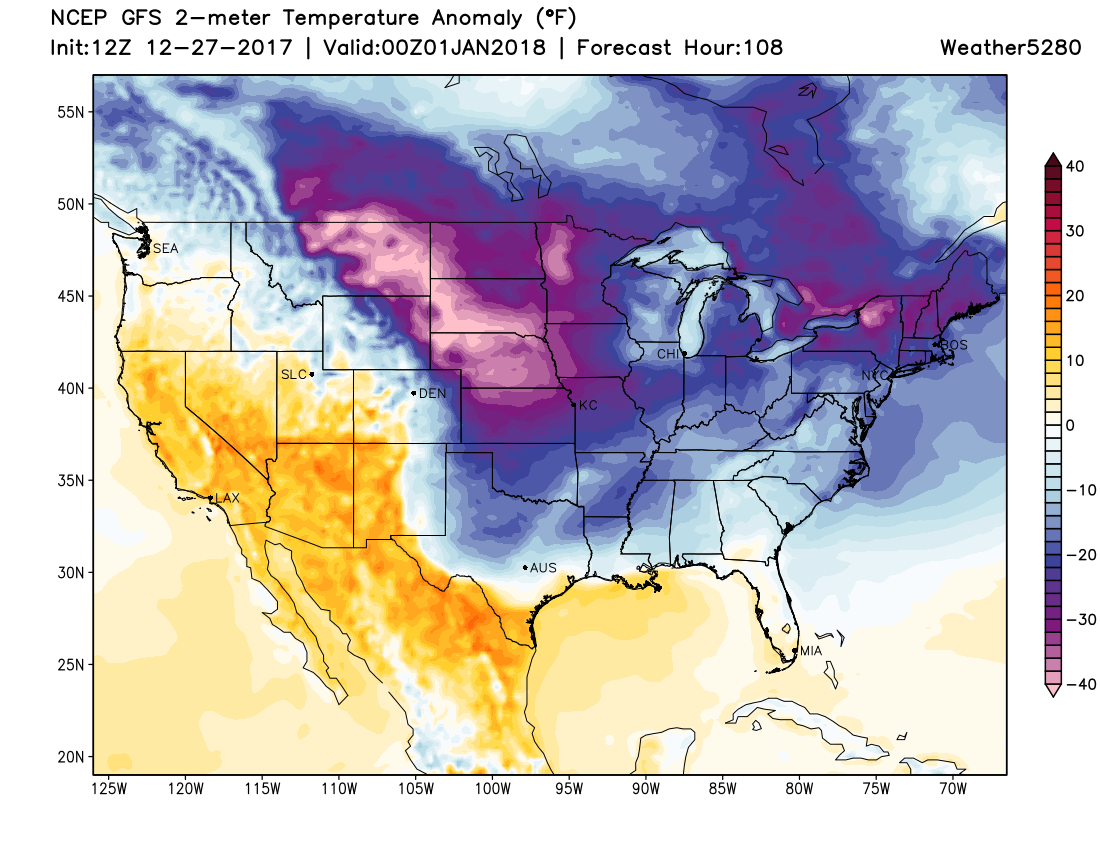 And the EURO forecast: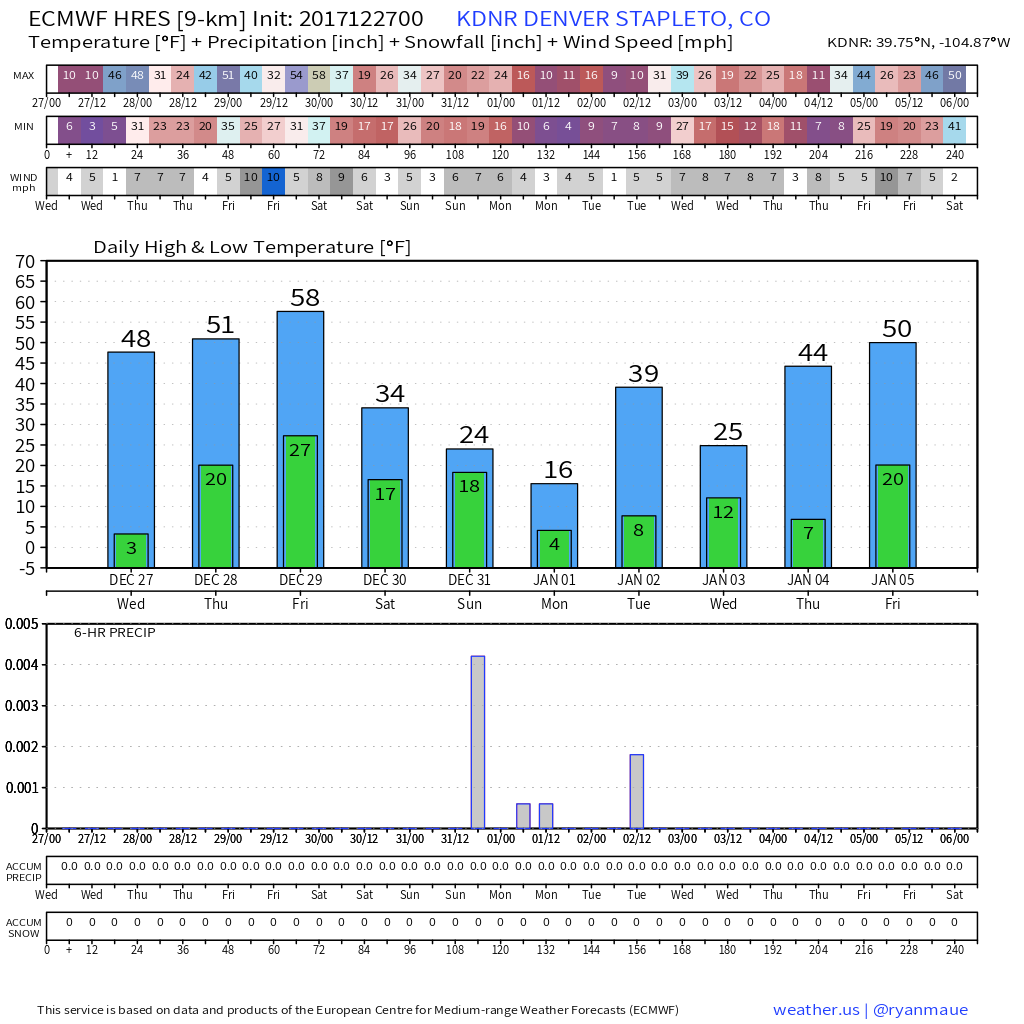 We'll need to keep an eye on things for the next several days to see just how cold we'll get. A lot of fluctuation in where the coldest air makes it with this next push... with some scenarios just grazing us (would mean temperatures likely back in the 30s for Monday), while other scenarios keep us cold until Tuesday or so. Still plenty of time to see how things will shake out... for now, enjoy the warmth!
Snowfall potential
There's not a lot of support for much in the way of snow with this next blast of arctic air set to move in this weekend. I would expect to see some snow across northeast Colorado with the passage of the front Saturday into Sunday.
The biggest issue right now appears to be how much moisture we'll have to work with. Models for the time being aren't overly excited about that potential, and therefore are pretty dry across most of Colorado. That said, we'll have plenty of cold air, and similar to this last week a jet overhead to potentially help enhance some banded snowfall – if generally light. So, for now plan on the chance of snow across northeast Colorado Saturday night into Sunday, with perhaps some more freshies for our northern mountains as well this weekend. We'll keep an eye on things and see if trends don't change a bit in the coming days...
Looking ahead
Hard to believe the calendar will flip to 2018 in just a few days. As the calendar shifts to January, the large-scale weather pattern across the United States may also begin to shift. We continue to see support for the mean trough to move into the west as we move into the second week of January, with ridging building across the the eastern seaboard.
While that won't necessarily be a lock for anything east of the Rockies snow-wise, it could be we at least see a more favorable winter pattern set up across much of the western United States for a time. Outside of Montana and Wyoming this winter has been dreadful across the west, so this of course would be welcome news. A LOT of moving parts in the drivers of the overall pattern coming up... so a word of caution, but certainly a better signal than the alternative. We'll be discussing this potential further for our Insiders in our next update.
For now, here's a look at the current snowpack across the west as of December 27th, 2017. SNOW NEEDED.