On Weather5280 Insider we've been discussing for some time the changes in the weather pattern on the way for the remainder of January across the United States. Areas that have seen brutal cold in recent weeks are likely to see a nice thaw during the latter half of January, and those in the west still waiting on winter are finally in line to see some rain and snow.
Our focus in Colorado is two-fold: both a concern about the poor snowpack numbers in the mountains, and of course the lack of snow across eastern Colorado as well.
On Friday, I discussed the period coming up (roughly now into early Feb) as likely our best window yet to see winter visit the state, and the western U.S. as a whole. This, I think, holds true – but it's important to understand there are likely several windows we need to worry about, all open to varying degrees, depending on where you are in Colorado. Eastern Colorado for example? One would probably describe the window as cracked rather than open. For the high country that window actually looks a bit better, but we have some serious work to do to catch up.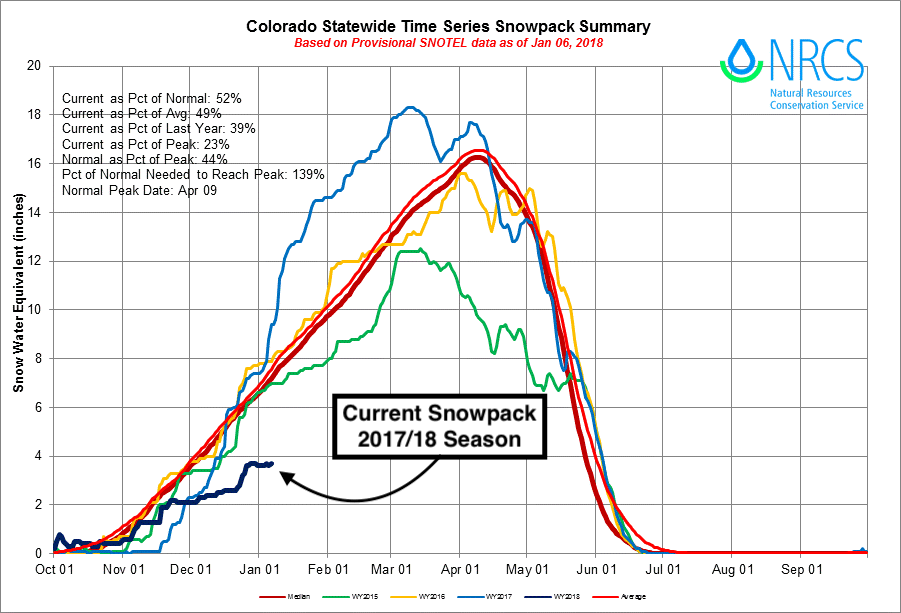 The lack of rain snow snow across the west and high plains this winter has drought creep in full swing. Take a look at the latest drought monitor for the High Plains region, with 80% now considered abnormally dry (yellow) or worse: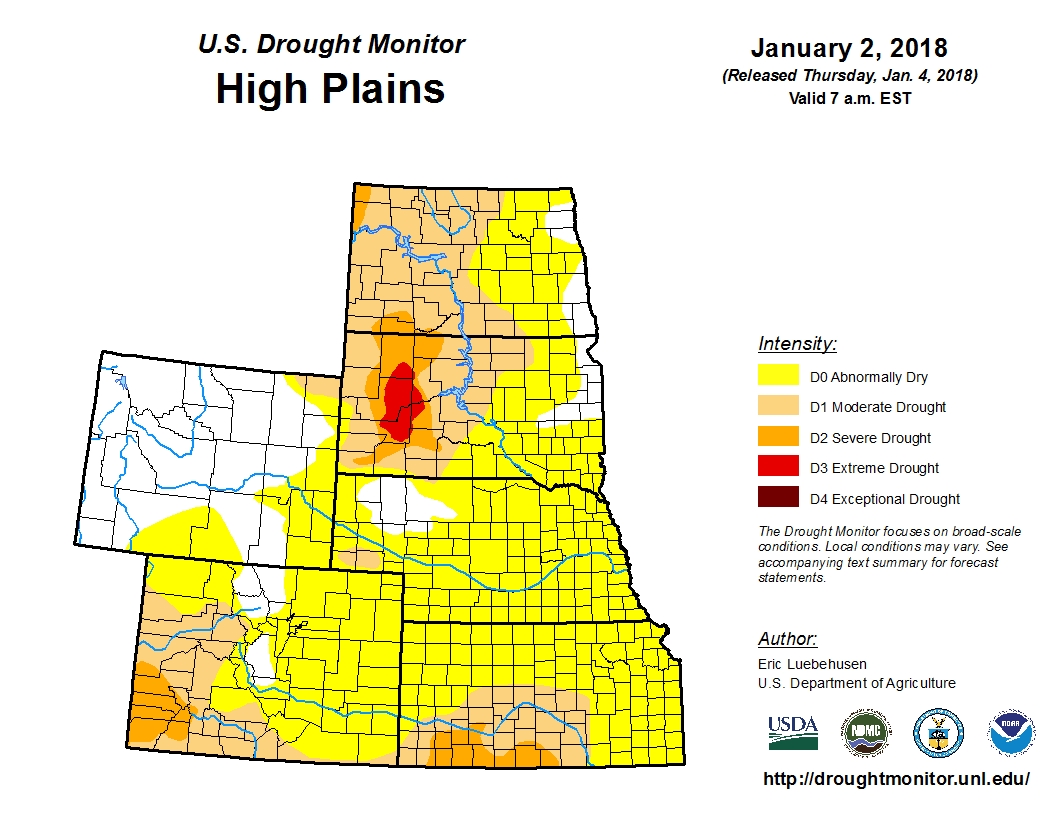 Another way of looking at the upcoming few weeks might be to imagine you have a handful of snowballs (representing storms) and a pickup truck representing Colorado. Now imagine the truck driving down the road away from you and your task is to throw five of those snowballs in the bed of the truck (mountains) and five in a cracked driver side window (plains). You're likely to stick most if not all of the snowballs in the bed of the truck, but landing one through the cracked window of a moving target... not so easy. Not to mention that as the truck gets further away, even the snowballs that make it into the bed of the truck may break apart in flight a bit, landing less of a punch.
Not exactly confidence inspiring, is it? Nevertheless, it's certainly a better scenario we find ourselves in than we have all winter. Season-to-date not only have we not had any snowballs in our hands to begin with, but the truck's windows have been sealed tight and bed covered by a strong ridge.
Overnight we saw the first system in some time deliver respectable snowfall to western Colorado. Aspen/Snowmass reported 8" of fresh snow, with Crested Butte boasting 11" in the last 24 hours. A look at precipitation totals since yesterday show some nice totals west of Denver, with just a few areas across eastern Colorado seeing some rain and snow showers overnight: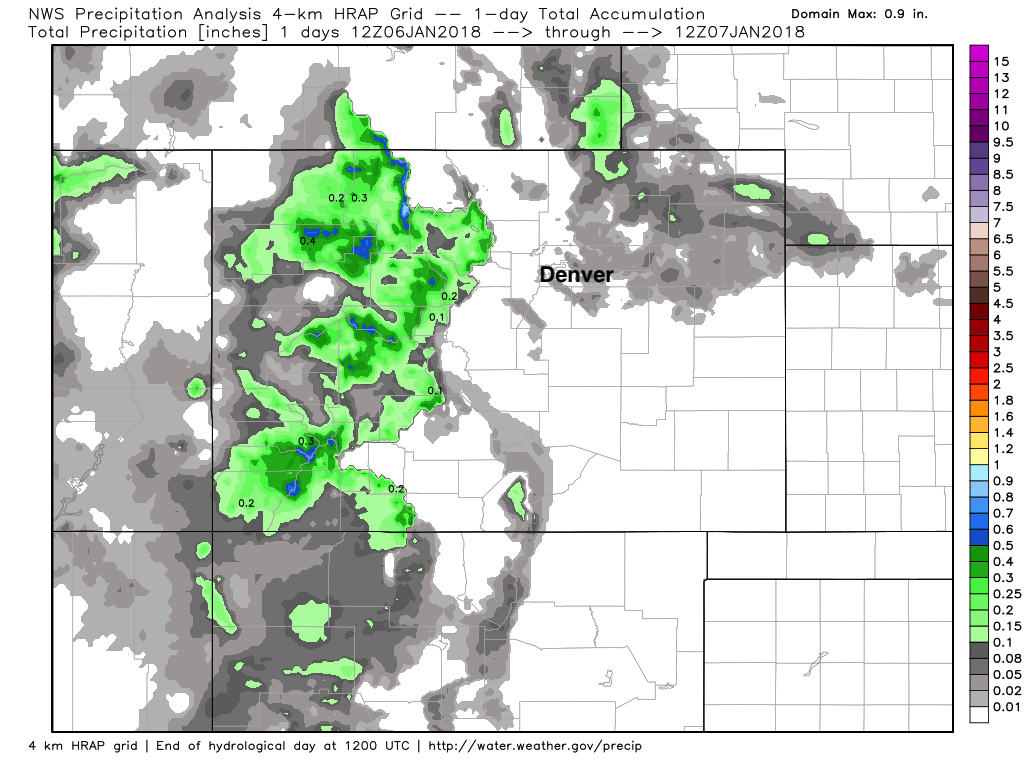 We'll look for this trend to continue in the high country, with another system set to bring more snow up high mid week, and perhaps some rain and snow to lower elevations as well.
The week ahead
The system due to arrive midweek out of the Great Basin continues to lack alignment of all the right bits and pieces needed to deliver a good snow along the Front Range urban corridor. Surprised? I didn't think so.
That said, I wouldn't totally throw this storm out with the bathwater just yet. It's at least the best looking system we've seen try to develop in some time... and models from time to time do show a decent track (albeit it fast moving).
Last night's runs were certainly more progressive and further south than those from Friday and Saturday which would not equate to much of anything across the plains if they verify. To pile on... the GFS which actually continues to look "okay", has a good bit of what moisture does fall coming in the form of rain – go figure.
Anyway, today's GFS keeps us in the ballpark for a meaningful-ish storm Wednesday into Thursday, the EURO not so much. Here's a look at the last eight runs from the GFS for Wednesday evening – plenty of movement with the placement and strength of that low still indicating ongoing uncertainty: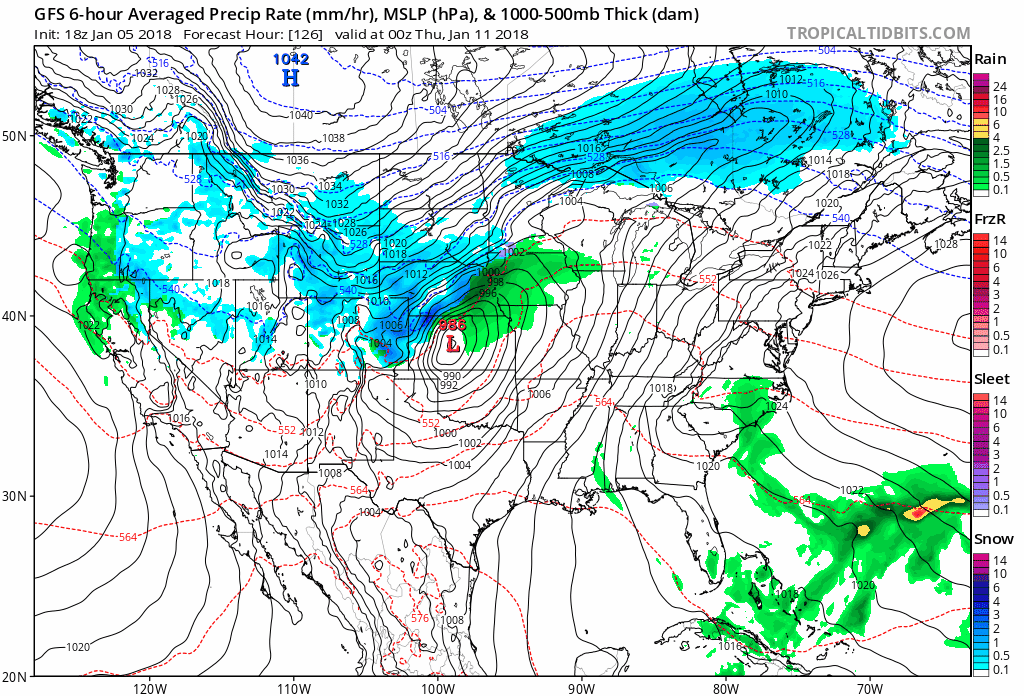 If trends head the other way, we'll be looking at a chance of rain and snow mainly midday Wednesday through Thursday morning across Colorado. Even in the event of a better set up than is indicated in today's data, the overall pattern would support a rather quick-hitting event.
Temperatures this week will start mild (50s and 60s continue for Denver), then cool into the 40s for Thursday and Friday – possibly slightly warmer/cooler depending on how this next system eventually evolves.
We'll continue to watch and update as needed. If we get excited look for an update Monday, if we're sad, likely nothing until Tuesday.
Long-range
It'll be very interesting to see how the remainder of the month shapes up, and if the west can capitalize on the mean trough finally pushing into the west. After this week's system we'll have some brief ridging to work through, before the ridging really takes hold in the east – at least for a time.
If we look at the 22nd of January we see that the EURO continues to push with the trough in the west, and pop the ridge (thaw) the east: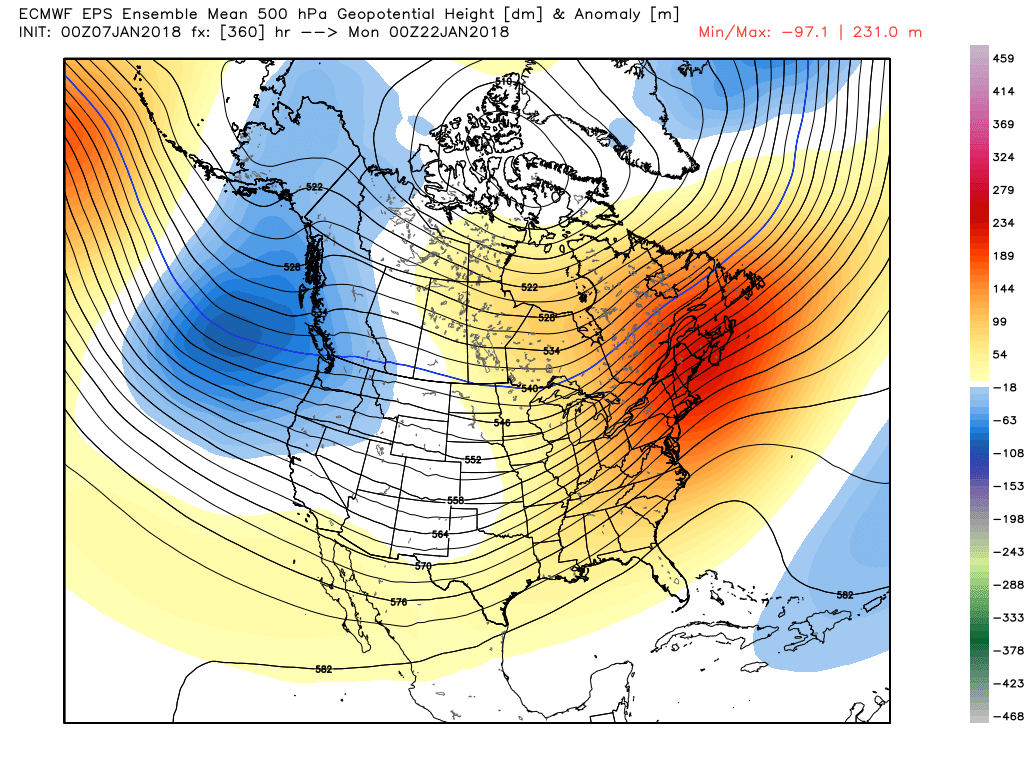 And below the latest EURO ensemble mean precipitation outlook for the next 15 days. It shows above normal precipitation for all of the west during this period (including western/northeastern Colorado), which would obviously be more than welcome: