Denver managed 0.7" of snow yesterday, bringing the season-to-date snowfall total to 7.5" officially. On average, Denver should be closer to 26" through the first half of January, so to say we're running behind would be an understatement.
Instead this latest system served little more than to deliver some cold (very cold!) air and a brief reminder that it is in fact the middle of winter. Thus has been the case time and time again this season.
Below is a look at 48 hour snowfall totals from across the region. A nice little band up near Fort Collins (thanks high snowfall ratios!), and a narrow strip of 2 - 3" totals tucked right against the foothills west of Denver, but otherwise... not much snow to speak of from Monday's event: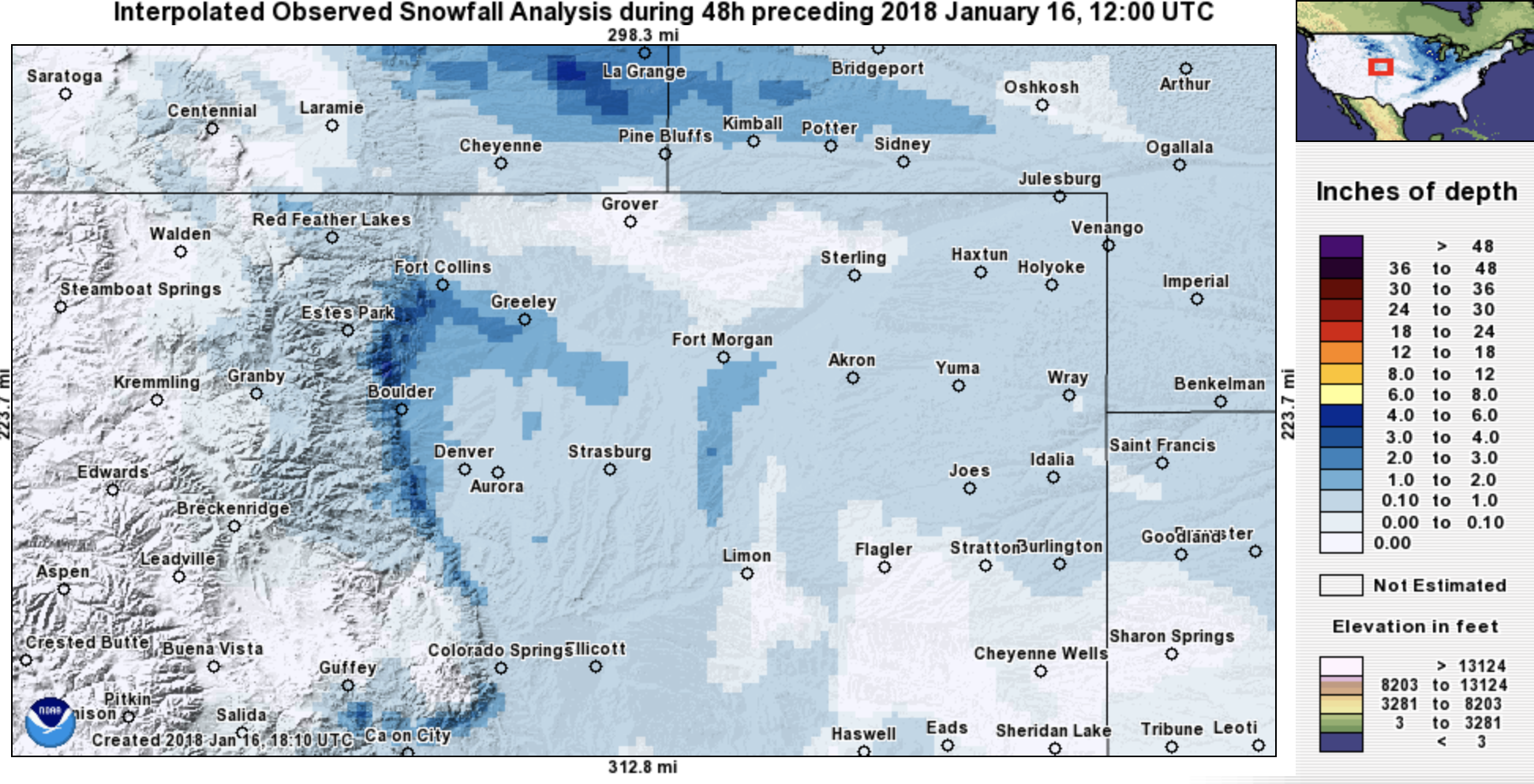 As promised, we're tracking the next chance of snow for your weekend, but before it we've got a nice warm up in store.
MOS guidance has highs climbing into the 60s for Thursday and Friday in Denver before colder air arrives for the weekend. The latest GFS forecast for Friday shows temperatures well above average across the middle of the country, the exact areas seeing the coldest air right now: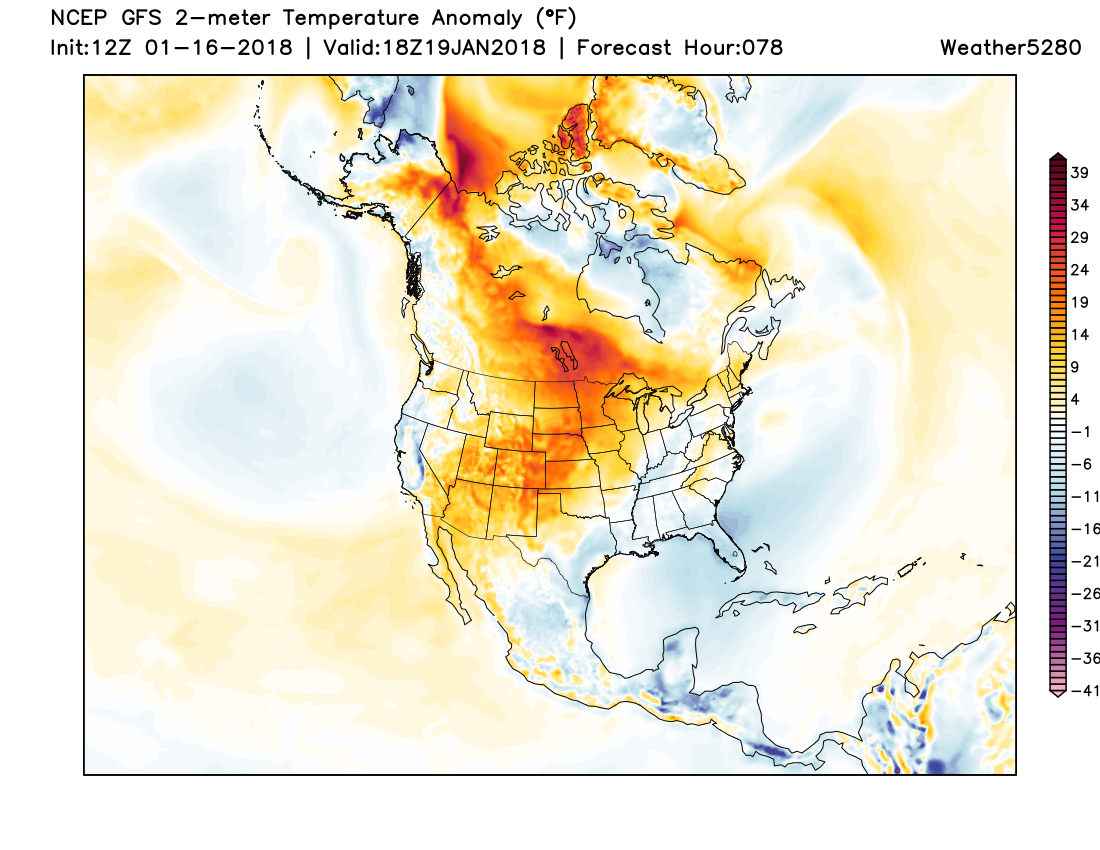 Our weekend storm looks to move into the mountains on Friday, and eventually spread the chance of snow across the plains for Saturday and Sunday. Still quite a bit of uncertainty with this system with regard to eventual track and speed... but, as we've been hinting at for some time, it's one of the better "looking" systems we've seen so far this winter (I know that's not saying much).
Today's EURO moves the system through a bit slower than previous runs, tracking a low across southern Colorado before eventually ejecting east/northeast on Sunday. Here is it's 500mb forecast for Sunday morning – you can see it trying to develop a nice storm for us: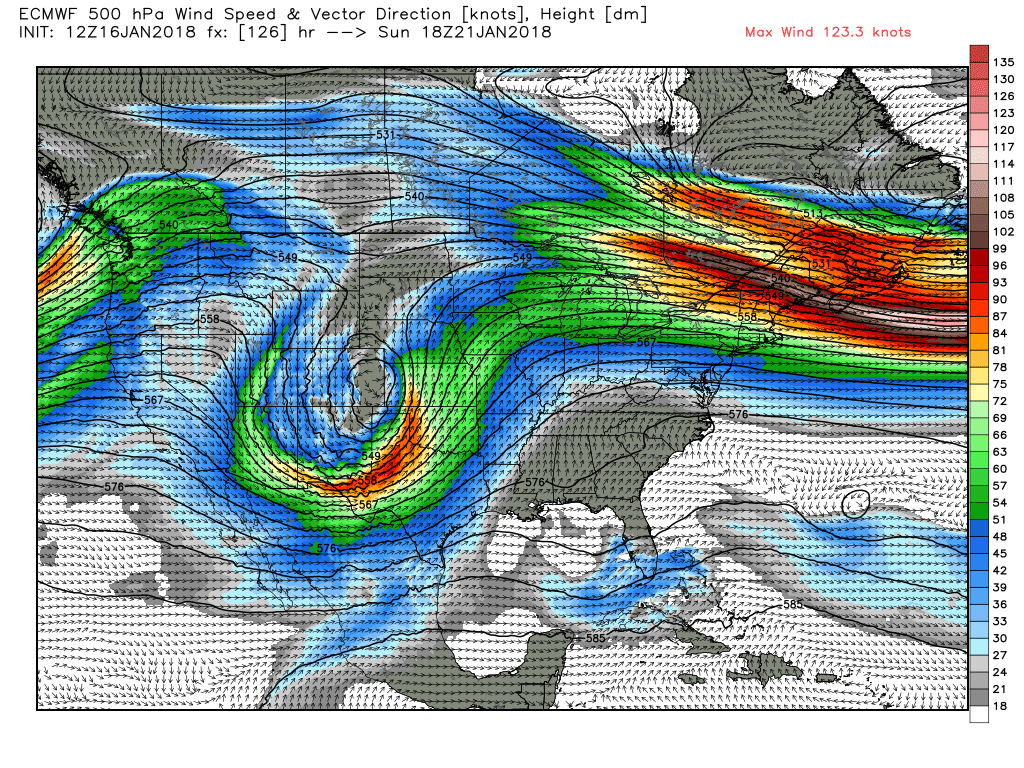 Despite the inconsistencies (some runs north, some runs fast, some runs slow), models tend to agree the potential is there for a nice round of snow across northeast Colorado with this system. Too early to start jumping on snow totals, but IF we can get things to align, a few inches will be possible.
Given the "window for winter" we've been discussing for some time it'd be nice to see this evolve into a storm for us. However, given how the winter has gone so far... there's a LOT of time between now and Saturday, so let's be patient and see how trends progress. It won't take much for this to be another miss.
For now, plan on a colder and unsettle weekend after a very warm end to the week. And, at the very least, likely some more snow for our northern and central mountains where it's finally starting to feel like ski season.