I, like you, woke up this morning expecting models to suddenly be producing a ridge over Colorado this weekend instead of a storm since I'm used to disappointments this year. Much to my surprise, this was not the case.
Instead, we continue to track one of the better looking systems we've seen this winter – due to arrive late Friday to western Colorado, and overnight Saturday into Sunday across northeast Colorado. There's a lot to be considered yet, including remembering how all of our "storms" this season have trended in the late hours of their forecast (↓). With that, the tone today is one of cautious optimism we finally get some snow, rather than high-sounding confidence.
First, the NAM (of all models) is the most bullish today, with the EURO/GFS finally more or less on the same page now after quite a bit of waffling from the GFS this week. With that, no surprise that the latest CIPS analogs based on today's NAM are pretty bullish for snow in Denver, with upwards of 60% of the top 15 analogs producing >4" of snow in Denver: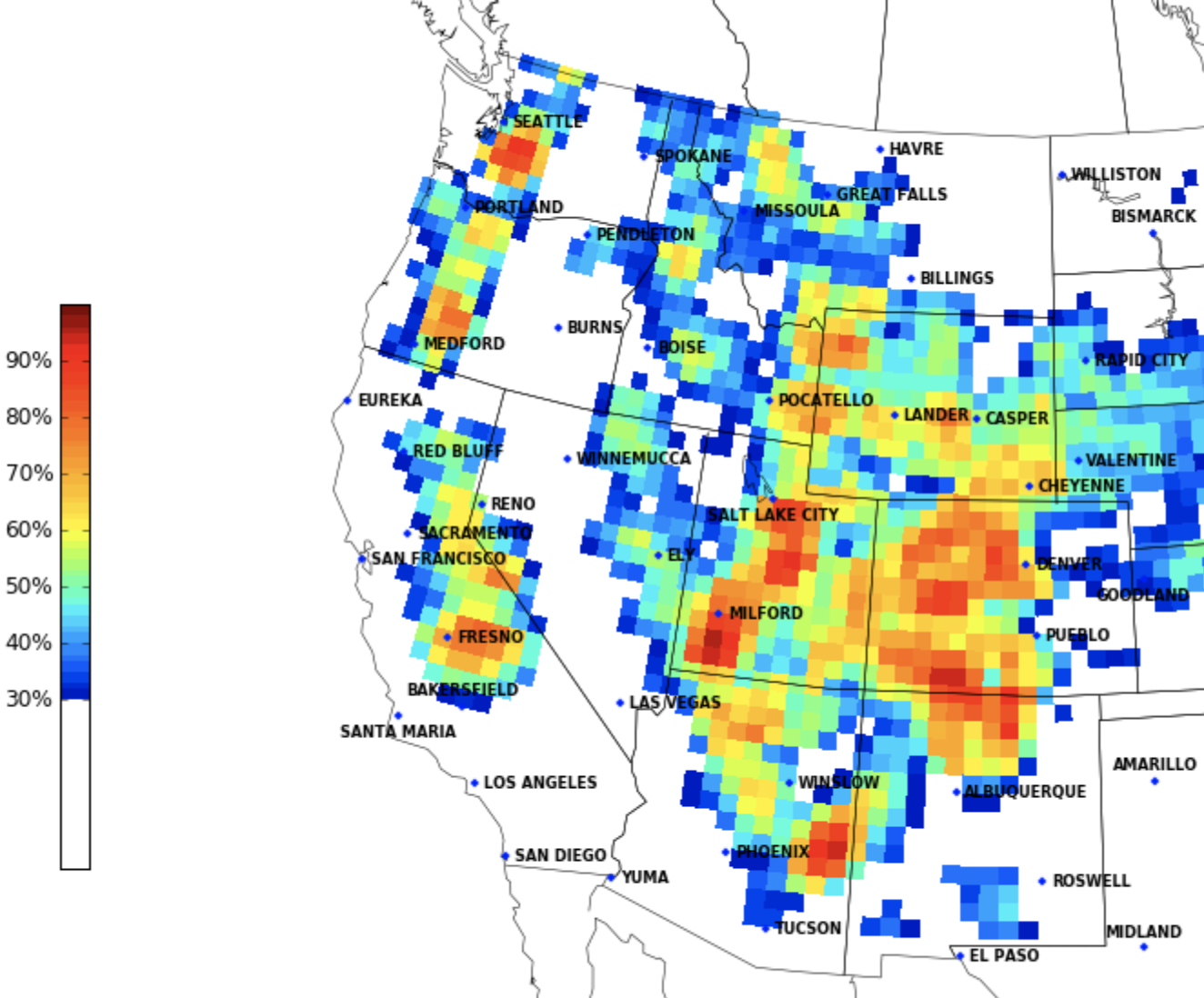 This, unfortunately comes off a near-perfect positional forecast from the early morning NAM for snow for us in Denver, and its 18z (late morning run) has since backed off considerably, which will likely be reflected in future analog packages.
That said, I wouldn't be showing this image if it wasn't within the realm of possibility. Both the GFS and EURO are showing QPF in the 0.3 to 0.4" range (the EURO pretty consistently) which would support snowfall totals upwards of 3-4 inches as well.
There are plenty of questions that remain, however, the first of which being if there is any reality to those QPF numbers above. Those would actually be pretty good for January, and I wouldn't be surprised to seem them come down in subsequent runs. That said, a few other good signs if you're hoping for snow include a general slowing to the system as compared to how things looked earlier this week, and again a pretty good/consistent track of the low.
Take a look at the GEFS ensemble mean 500mb forecast for Sunday morning over the last 10 runs (pausing on the latest from this morning at the end). The trend shows a very clear deepening of that low in the means, and is slower/less progressive with it as well. If this trend continues expect a better setup for moderate snowfall around here this weekend, if we see it trend the other way – another miss.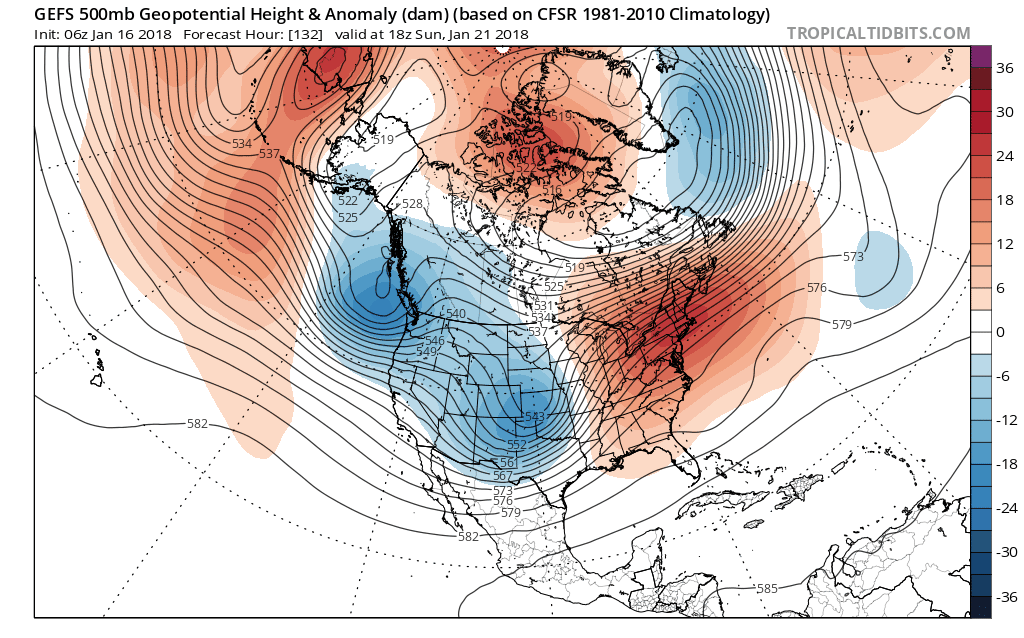 As for how much snow we'll see... well, it's still a bit too early to say. On the high end we're seeing a few 5"+ totals for the greater Denver area, and on the low end still some 0 - 2" scenarios as well. A safe idea is likely somewhere in between, with plenty of time to hammer out the details as we get closer to the event.
A quick look at our gambler charts shows that there's still pretty good uncertainty, especially with higher-end solutions. Despite some favorable trends in recent days, odds at 3" or more are still less than 50% for Denver this afternoon. Let's see how these look at this time tomorrow.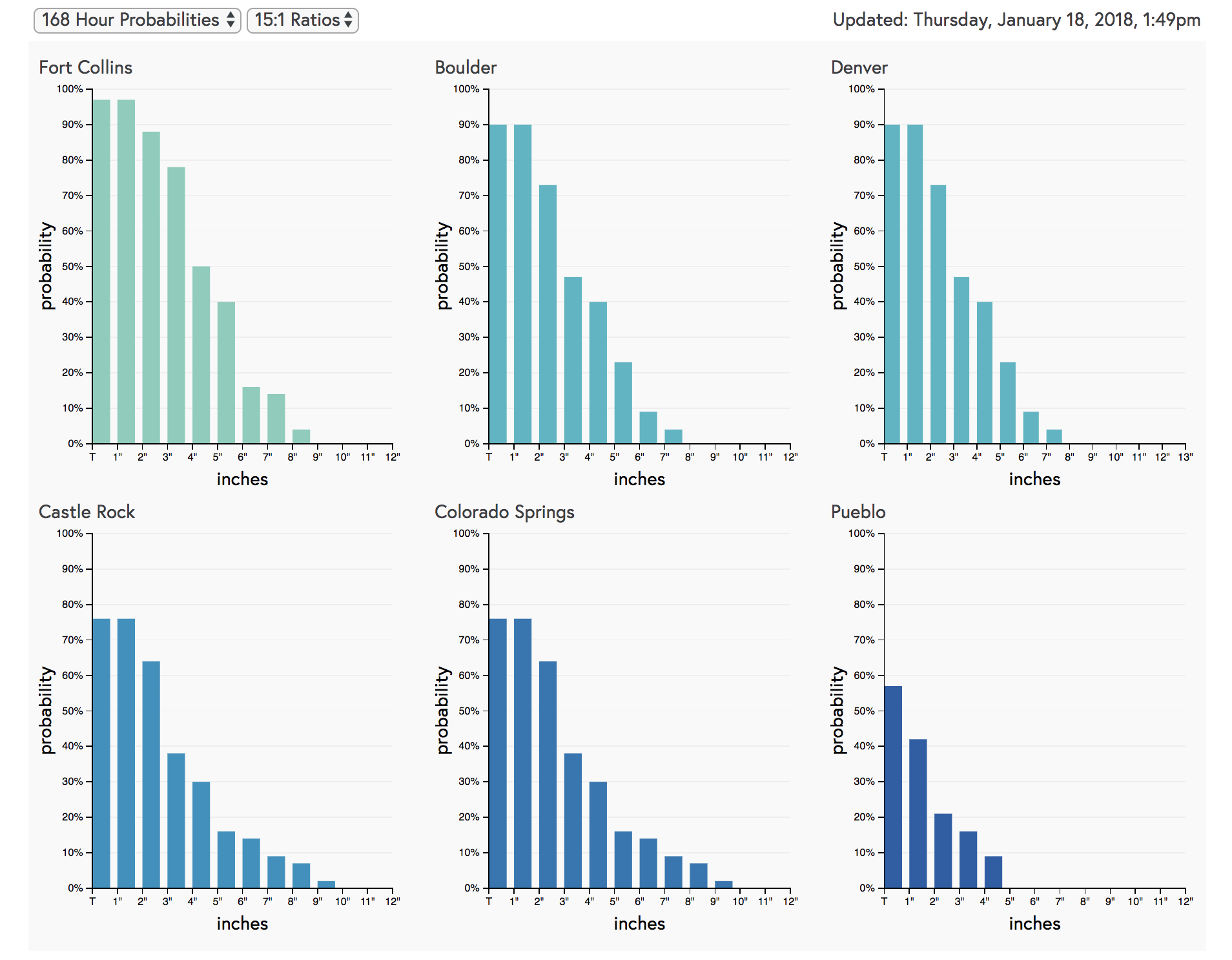 Timing
Still looking at a very mild end to the week across eastern Colorado before those changes arrive. Highs are in the 60s this afternoon, and return there again for your Friday afternoon. In fact, depending on the timing of the cold front this weekend, we could see a couple hours of pretty mild air again on Saturday before the changes arrive.
The chance for rain and rain changing to snow will move into northeast Colorado late in the day Saturday. We may even see some icing once again with this system early on before changing to all snow Saturday night.
It looks like the best chance for accumulating snow along the northern urban corridor will be in the midnight Saturday to noon Sunday timeframe, but again that's subject to change if the system speeds up/slows down in the next day or so.
Chilly air but drying conditions are expected by Sunday night and Monday.
Impacts
Still too early to be too specific here, as it really depends how things trend in the next day or two. At the very least, plan on winter travel conditions starting for western Colorado Friday night, with the threat for rain/snow gradually moving east Saturday and Sunday. Also, Sunday will be MUCH different than Saturday! Expect it to be about 30 degrees colder in some areas. A strong north wind will also be an issue, especially on the Palmer Divide and across the Eastern Plains. Blowing snow could become an issue on Sunday afternoon, depending on how much snow we actually see.
Maybe not an epic storm on the way, but certainly a nice chance for light to moderate snowfall across northeast Colorado, and at least a fighting chance at seeing some of best snowfall totals of the season at lower elevations.
Do you believe?