Friday, 9:50pm Insider Update: Evening data keeps higher end snowfall totals in play; NWS issues Winter Storm Watch for Denver
---
Here we are we into January and I was reminded this morning that Denver International Airport (where official records are kept for Denver) has yet to see a single storm deliver more than 3" of snow this season. The greatest storm total to date came way back in the fall, when 2.8" of snow fell at DIA on October 9th.
The coming storm has the best potential we have seen since October 9th to better that total, so don't be fooled by the record warm end to the week: by Sunday our weather will be quite a bit different around here.
Overall, not a lot of change from our update yesterday. Last night we posted an update for our Insiders discussing some of the model trends. Those more or less continued this morning, with the main two features being a slightly slower system (better for higher snowfall totals), but also a broader circulation (generally not a good sign for higher totals). The track remains a pretty good one, and if the EURO has a better idea of speed, it could end up being a pretty good snowfall across much of the area. Still, the faster solutions are still at play, and under those scenarios we'd lose our good upslope too quickly for higher-end totals, with the best snow ending up across far eastern Colorado instead.
The main outlier model this morning was the 3km NAM, which basically downsloped everyone and moved the system east way too fast. At 18z (its late morning run) it looks much better, and gives better confidence that higher-end totals ARE in fact in play.
Given the uncertainty, we'll keep a pretty good range in totals today. Basically the lower end of the range is a scenario where the storm moves east quickly, with the higher end of the range accounting for a slower scenario. IF we can keep trends going, and don't see a (typical?) collapse in the data tonight, it could be we need to tweak a few numbers up tomorrow.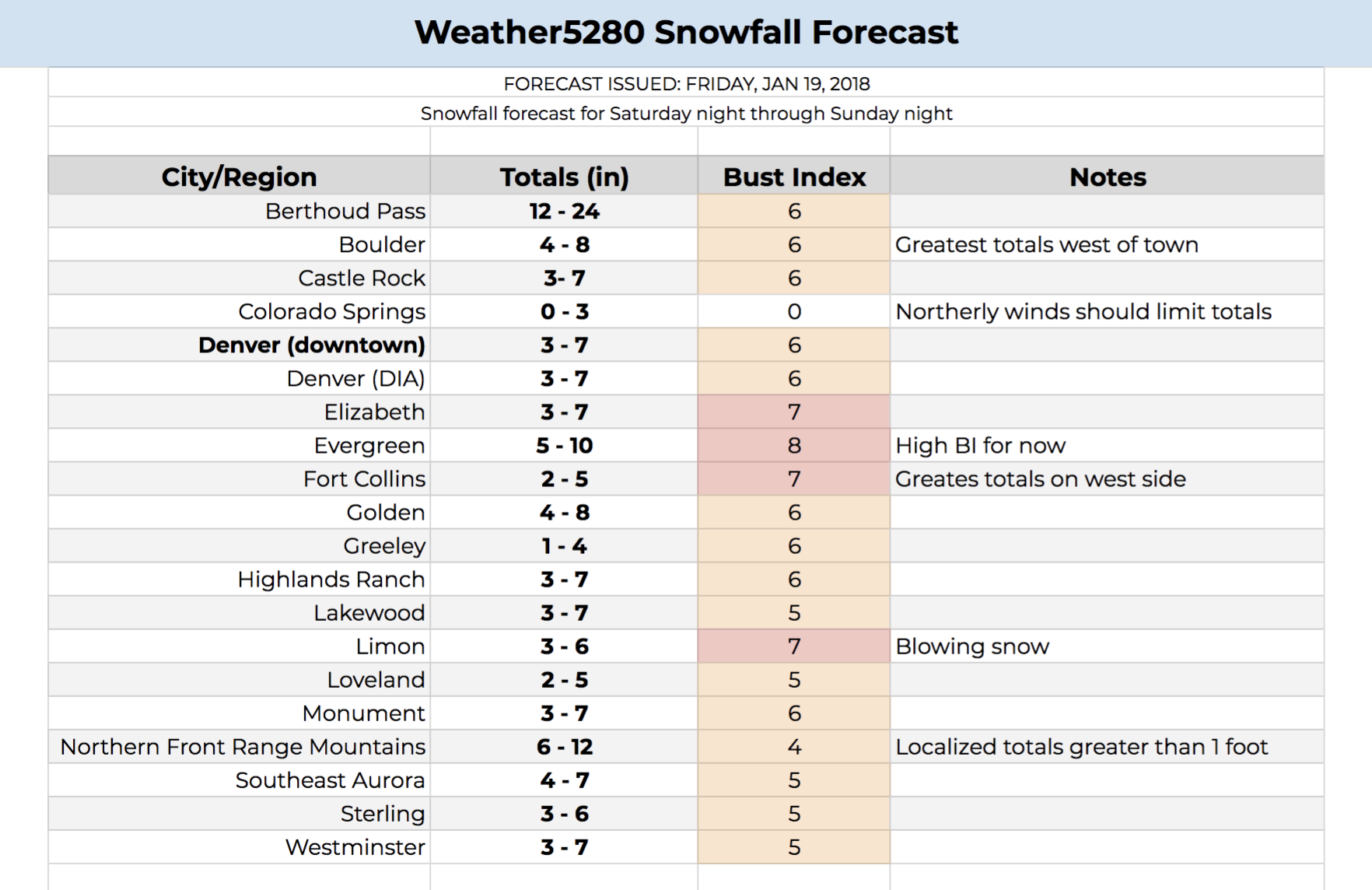 As you can see, most of the urban corridor is in the 3 - 7 inch range. Golden/Boulder and other snow-favored locales will likely do a bit better. If you're planning to head to the high country for skiing this weekend best to do so sooner than later, as the passes and tunnels will likely see some very tough travel beginning Saturday and extending through Sunday.
Areas to Denver's north (Fort Collins/Greeley) we have a slightly lower totals given downsloping concerns, with someone out east (perhaps Sterling, maybe south though) seeing a good period of snow on Sunday and some 5"+ totals likely.
The same is true for Colorado Springs, where a strong north wind will likely limit totals down there. Trends today have been a bit better, so the Springs may see some accumulation early on, but as soon as the wind kicks in, snow is likely done.
We'll see how things go tonight, and adjust any totals as need tomorrow.
Timing
Right now it looks like Saturday will be another pretty nice day across northeast Colorado, though signs of change will certainly be in the air. Guidance has highs in the 50s for Denver, before colder air arrives late in the day and overnight into Sunday. If you're looking to do some outdoor activities, morning certainly will be best, but you'll likely be okay for most of the day east of the Rockies.
By Saturday evening we see snow really start to pick up in the high country, with perhaps some rain showers spilling off the Front Range as well: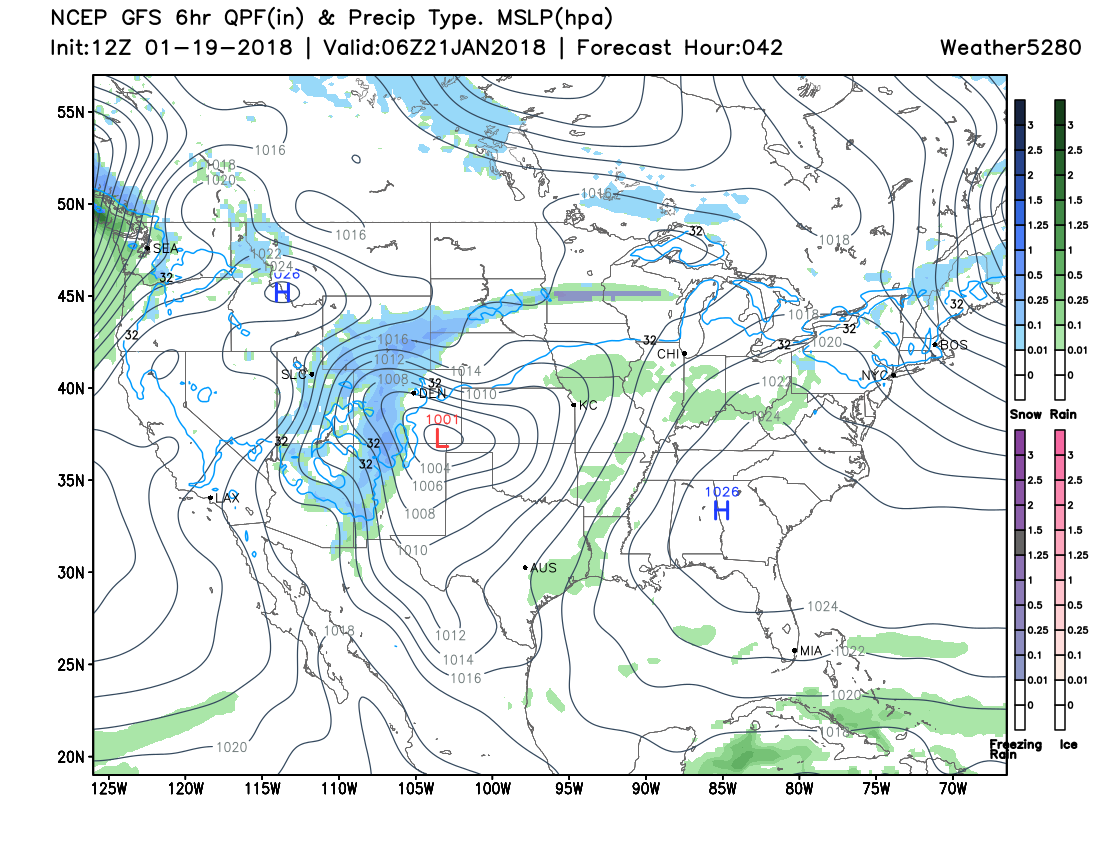 Then, by early Sunday morning we see heavier snowfall develop along the urban corridor, with the best chance for snow in Denver likely coming between midnight Saturday and midday Sunday.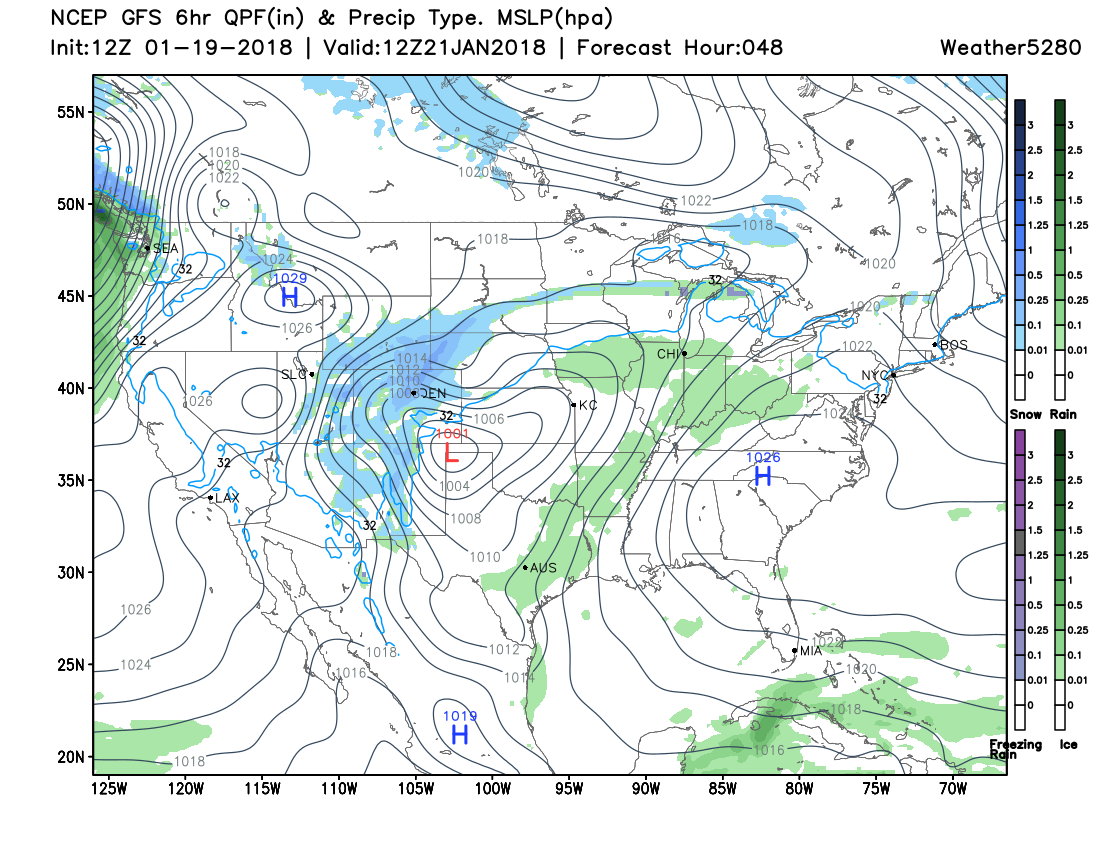 By Sunday morning we most of Colorado seeing snow, with high winds making travel VERY difficult across the plains Sunday: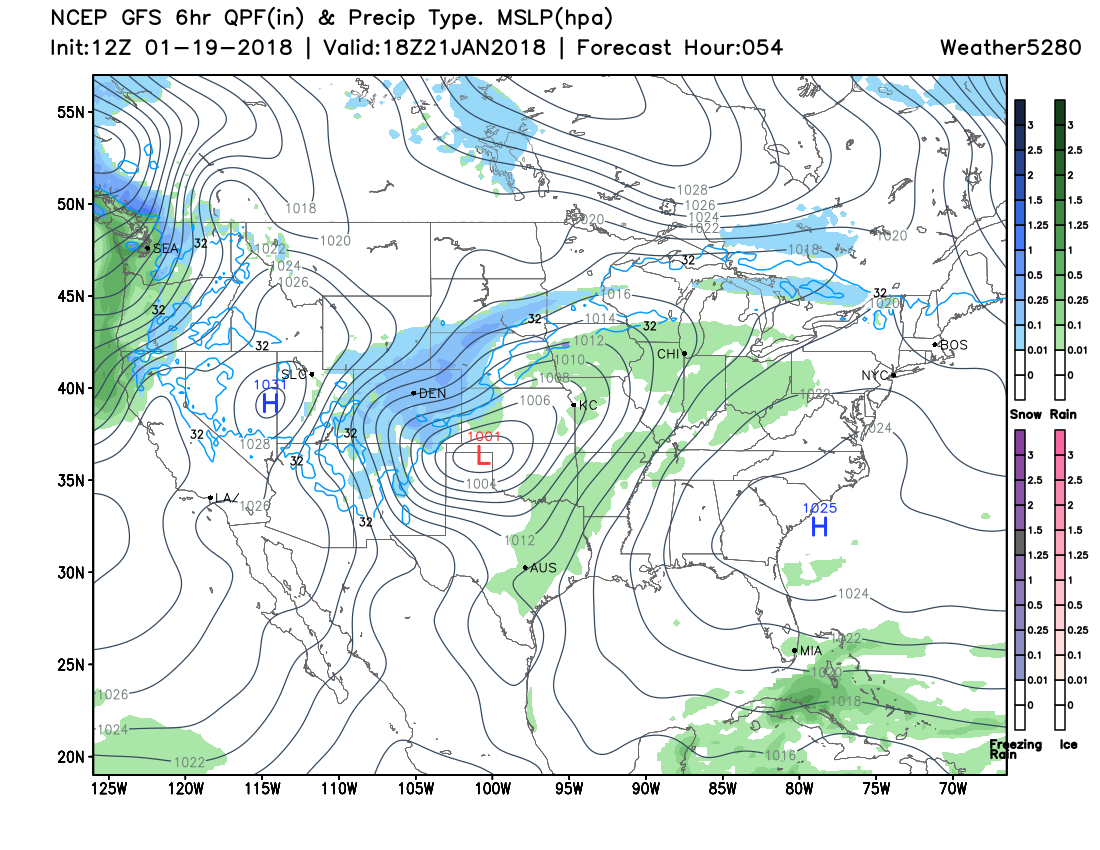 Depending on the eventual speed of the storm, snow should come to an end Sunday afternoon for most areas with the exception being the eastern plains. A few models keep some light snow lingering into Sunday night for Denver – but that's questionable, and likely would be very light at that point.
Impacts
Again, this looks like one of the more impactful storms for eastern Colorado (at last snow-wise) that we've seen this season. That means be prepared for winter driving conditions, and stay off the roads if at all possible. Sunday will be VERY different than your Saturday, with snow, blowing snow, and temperatures some 20 to 30 degrees colder across eastern Colorado.
For ranchers... If you are calving, have sensitive livestock, or have livestock on wheat pasture with a single wire around them...make sure they can get behind a wind break or you can get them to shelter if need be. This is especially true for areas that will see the most snow, because everyone will see a strong north wind.
Considerations
Still no Winter Storm Watch for the urban corridor, though the National Weather Service in Boulder has issued one for the Front Range foothills and Palmer Divide. I'm assuming they still have some uncertainty with downsloping winds for our area, but would expect highlights to go up if trends continue into this evening.
Again, our biggest concerns right now are mainly focused around the speed of the system. Will it end up scooting east too fast and downsloping us? For now hedging closer to guidance, and with that we think this system has the potential to be the biggest of the season (I realize how low the bar is).
We'll continue to watch things and pass along updates as needed. As long as data isn't soul-crushing tonight, we'll likely pass along another update for our Insider, with a final storm update here on Saturday.
Stay tuned! And keep us posted on how the snow is where you live!