We head for the last days of January with continued huge snow deficits across Colorado, despite recent storms. Statewide snowpack in the high country sits at just 61% of average, with basins in southwest Colorado coming in at 30 to 45% of average.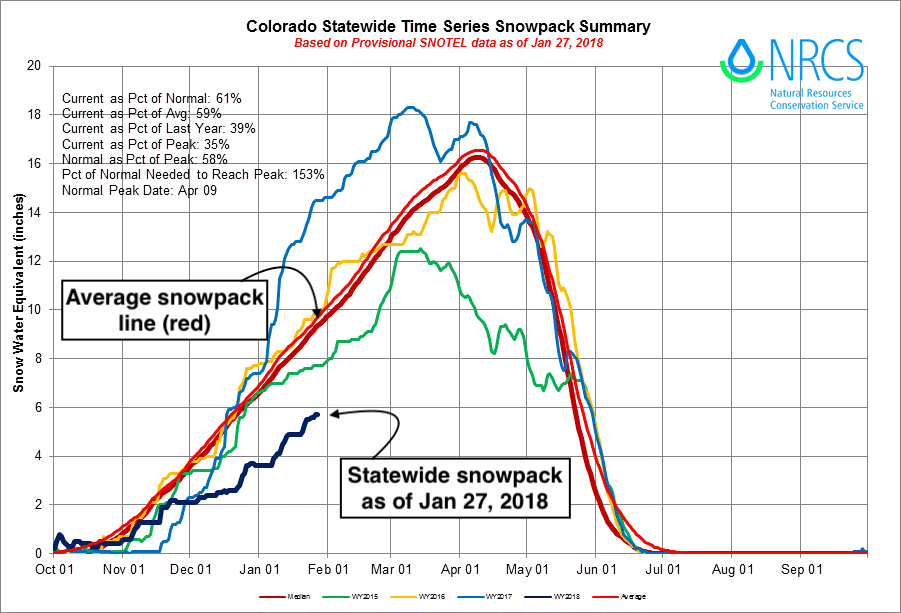 In Denver, we managed to move our season-to-date snowfall total into double digit territory this month, but that's about it. So far this season the city has recorded 13.2" of snow, less than half the 27.4" it sees on average through the end of January.
As we head for February, the ridge in the west is set to fight back, and the cold from the plains east may again be making headlines. This of course is not great news for a state hurting for snow, but there remains some hope for the northern/central mountains going forward, and even the northeast plains at times if we can manage some snow, not just cold as we saw to end December.
The week ahead
The week ahead starts quite mild, with highs along the urban corridor climbing into the 50s and 60s for your Monday and Tuesday, with little weather to speak of aside from perhaps some gusty winds – especially in and near the foothills on Tuesday.
Our focus really is on the latter half of the week, with two "chances" of snow to talk about. Both chances will be linked with two potential cold fronts, associated upslope, and jet interaction leading to primarily banded snowfall events – i.e. tricky to forecast, snow for some and not for all, and frankly big MAYBEs at this point.
There's been virtually no agreement in the modeling with regard to either of these chances. The first comes in the Wed evening - Thur night timeframe, the second in the Sat to Sunday night timeframe.
The EURO has been more favorable for snow with the first one (it doesn't even have a cold front next weekend), while the GFS has been the opposite. To help illustrate this, here's the temperature anomaly forecast (departure from average) for next Sunday morning from the EURO (left) and GFS (right). The EURO has temperatures at this time near 60°F in Denver, while the GFS has temps in the single digits with snow.

So, we won't even bother trying to tackle Sunday just yet, but instead look at the first chance for rain/snow headed for northeast Colorado as early as Wednesday evening, and perhaps lingering through the day Thursday.
The flow aloft should look very familiar to you as it's not so different than what we saw a few weeks back. You'll recall, most of those snow 'threats' ended up as little more than a shot of cold air to remind us it was winter, but were mostly dry events across the state. It's not so hard to see a scenario where both snow chances in the coming week suffer the same fate. It'll all depend how far south the jet digs in both cases, and subsequently if the cold air pushes into northeast Colorado, or if it grazes (event misses) the state all together.
Here's the latest GEFS 500mb forecast for Thursday morning. It's showing that strong northwest flow aloft, but I'd like to see more of those blues over Colorado to believe we'll see the good jet dynamics and cold front needed to produce snow on Thursday. Under this scenario we wouldn't see much snow over northeast Colorado, which is what its operational forecast is suggesting today.
It's previous run looked better: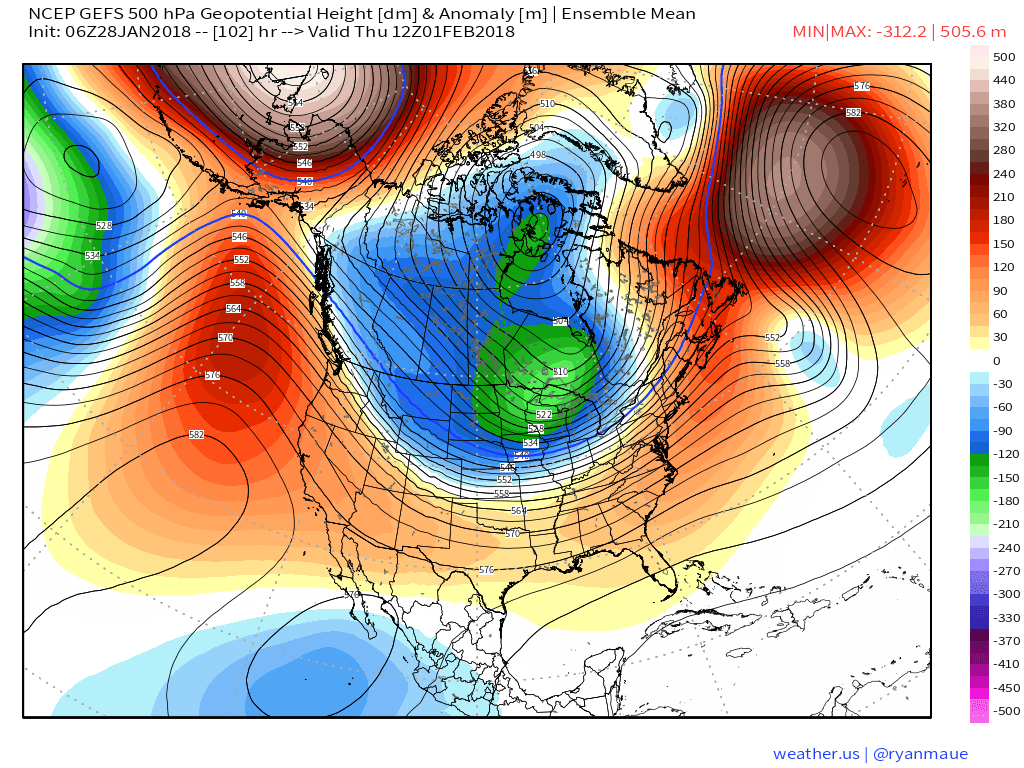 Which actually looks more like the EURO ensemble mean: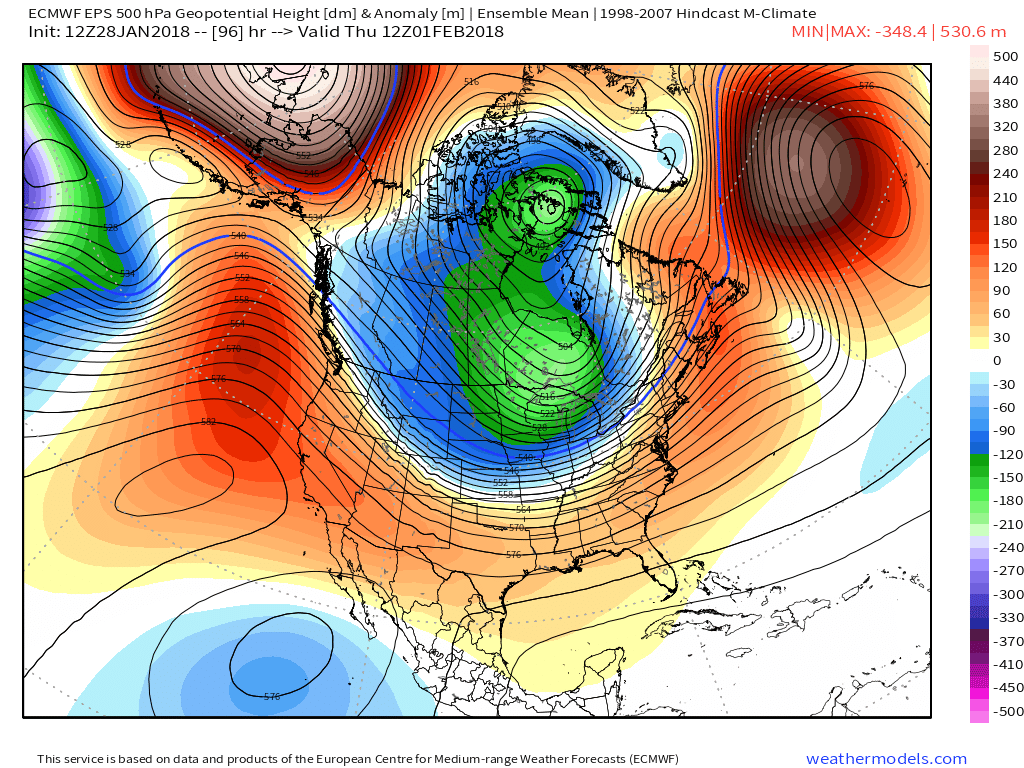 For now will hug the EURO a bit for Thursday as I think it's got a better handle on things. The EURO shows potential for some banded snowfall across northeast Colorado from Wednesday night through Thursday which seems plausible. It's backed off the heavier totals it once showed, which also seems likely. As you can see in its control forecast below, the potential for a few inches under a heavier snow band will be possible in this timeframe, likely seeing that set up somewhere between Denver and the Wyoming state line, with chilly air in place on Thursday. As with all banded snowfall events, it's likely we see some locales see snow while others don't, it just depends if you end up under a band or not.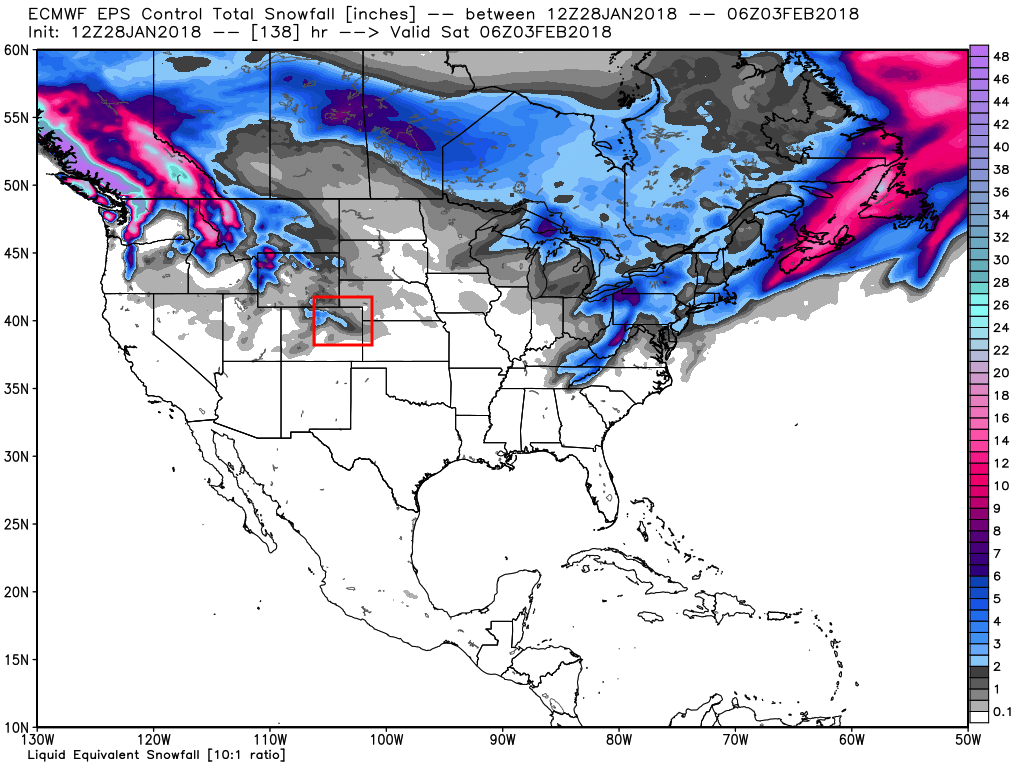 All models have the cold/snow threat retreating for Friday, and then diverging in scenarios for next weekend.
Today's operational EURO looks dry (and warm, see above) for this weekend, while the GFS again sags the jet over the state as well has pushes some bitter cold air into eastern Colorado with a nice snow along the urban corridor. The consistency of the EURO, the fact its ensemble mean has been virtually dry for days, and the fact the pattern seems to be in a race against itself to push the cold air east would suggest to me the EURO's likely too warm for next Sunday, but might be spot on with keeping us dry. The GFS at this point just isn't convincing me.
I'll leave you with this precipitation forecast from the GEFS for the next 16 days. Dry, dry, dry across California and the southwest. A little hope left in the bucket for Colorado (especially northern), but I'll tell you what... not the map you want to see going into February in a year that continues to put up horrible snowpack numbers in the west.