Still tracking our next disturbance due to arrive Thursday and bring with it another chance of rain and snow to much of the state. Right now totals east of the mountains look to remain light (perhaps very light), with the Palmer Divide the favored area to see any accumulation Thursday PM/overnight.
The main impact for most locations east of the mountains will be the cooler temperatures – from highs in the 60s today, to 40s both Thursday and Friday.
The chance of precipitation moves into eastern Colorado Thursday afternoon and overnight, with pockets of rain and snow, again likely focused along the foothills, western/southern Denver suburbs, and Palmer Divide.
Don't miss: Weather5820 Insider mid Feb update
We think many (if not most) folks along the urban corridor will see little or no accumulation, but if you end up under a heavier snow shower, look for a coating to 2" to be possible. For those favored areas mentioned above, a few 3 - 4" totals will be possible, but most will come in lower, so will leave leave a Trace (T) as the low-end for these areas as well.
Here is our snowfall forecast for Thursday into Friday: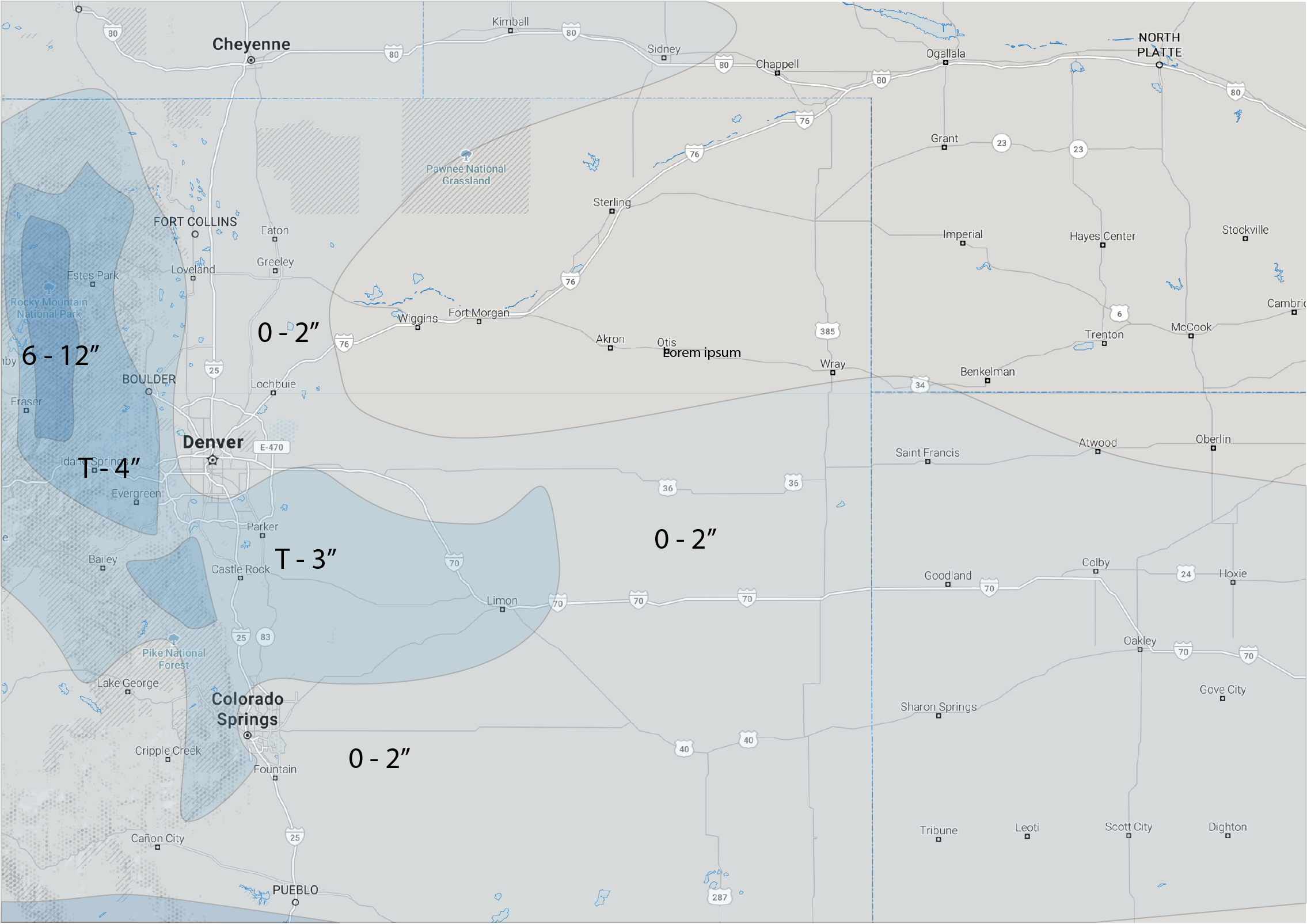 And a look at the EURO ensemble probabilities for greater than 1" of snow through Friday... at 100% for the high country, with slightly higher probs for Denver's southwest suburbs as well. As you can see, if you live north of Denver (Loveland, Fort Collins, Greeley) odds of seeing an inch are quite low/nonexistent: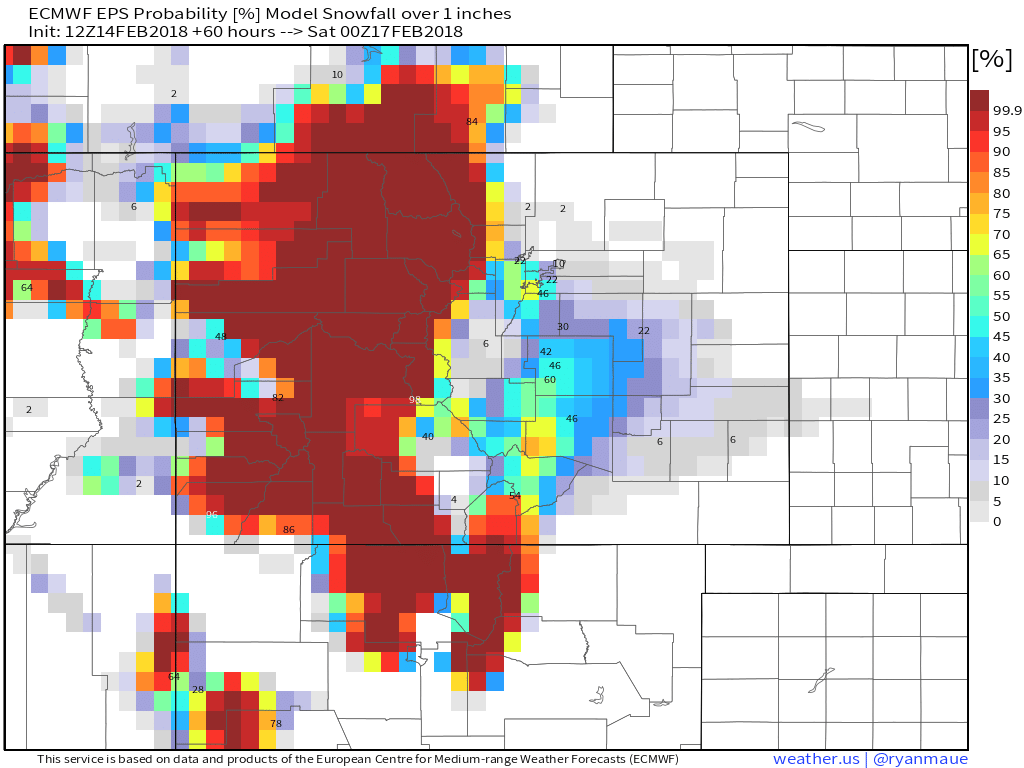 While this won't be a terribly cold system, especially compared to our last, look for icing to be an issue for your commutes Thursday evening and Friday morning, even if you don't see much snow.
Good mountain snow, bad travel
A Winter Storm Warning goes into effect for much of the high country tonight, and remains in effect through Thursday. This should equate to some great skiing this weekend... but travel will be difficult Thursday, with upwards of 8" likely for most of the higher peaks. This probabilistic outlook shows the potential for good mountain snow heading into the weekend: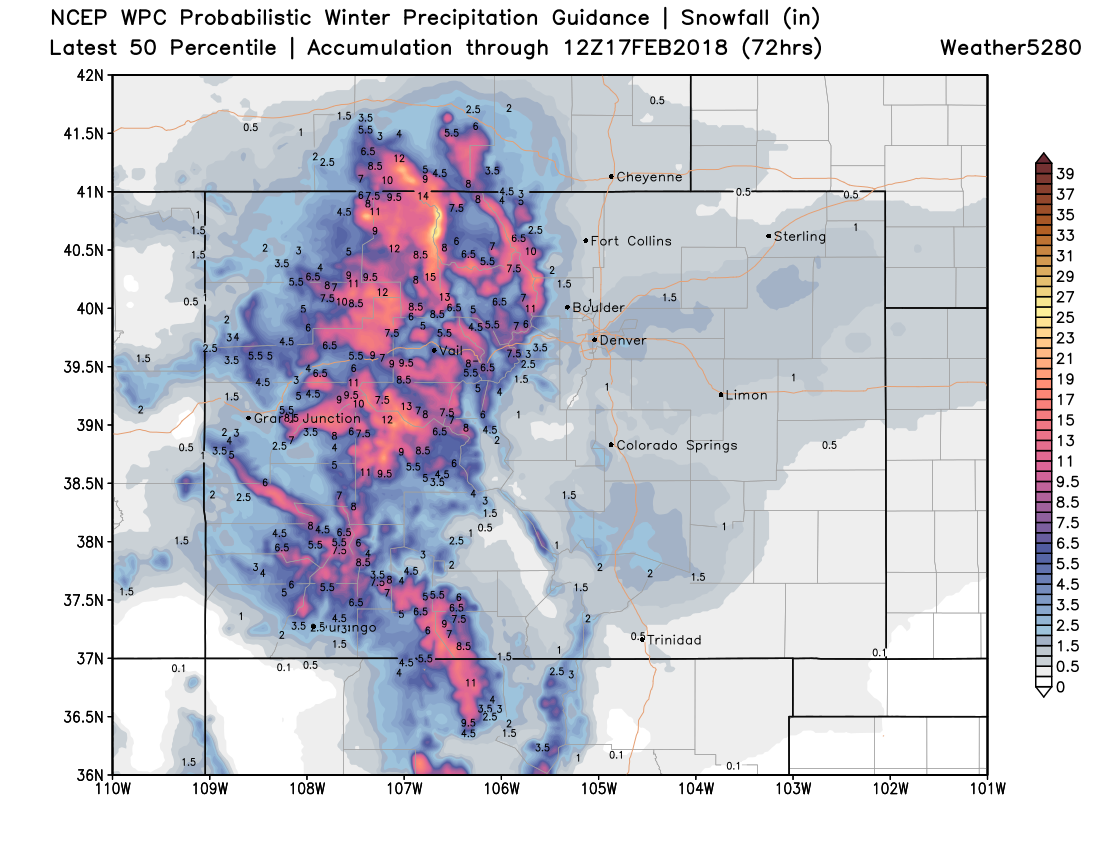 Temperatures will rebound nicely for the weekend, with highs back in the 50s for Denver by Saturday. Another system is set to arrive early next week... so stay tuned!