Not a lot of change in our thinking from yesterday. Changes will arrive through the afternoon to northeast Colorado, and should make for a wet and cold Sunday night across much of the region.
Again, this will be a storm of the haves and have nots – pockets of heavy rain and snow, while others don't see much.
The best snow potential continues to look focused across the Front Range mountains this afternoon and evening, and across the Palmer Divide this evening and overnight tonight. Areas along the urban corridor from Denver north to Fort Collins will be more hit and miss with both the rain and snow, and for those areas that do see appreciable moisture, much of that may fall in the form of rain, or rain/snow mix.
This system will be moving quickly, so the window for both rain and snow will be a small one before the heaviest precipitation moves east across the plains late tonight and into Monday. If you have travel plans along I-70 from late this afternoon through early Monday, please plan for winter travel conditions, or delay those plans if possible.
It still looks like 0 - 3" on the north side of town should cover things just fine, with most areas seeing closer to the 0" range barring a heavy burst of convective snow setting up north of town. For Denver we'll stick with a Trace to 4", again, with rain instead of snow likely being the greatest threat to snow accumulating in the city. On the south side of town look for the changeover to occur quicker, and again the "bust high" potential to be greatest here. Parker, Highlands Ranch, Castle Rock... keep us posted! And finally for those east of Castle Rocks to Limon... models continue to focus on you for the heaviest snowfall from this system. We have an 8" max here, but potential for more in a few spots IF things come together. Wind will be a significant issue for the Palmer Divide and across the Eastern Plains. So if you are in an area that is going receive some decent snow, blizzard conditions will likely materialize tonight. Please keep this in mind if traveling on the Palmer Divide or points to the east/northeast along I-70. As a result, a Winter Weather Advisory is in effect for tonight for the Palmer Divide.
As for timing... look for snow to increase across the Front Range mountains through early afternoon, with rain and snow spilling onto the plains as we head into the mid to late afternoon and evening. Here's the HRRR forecast for 4pm: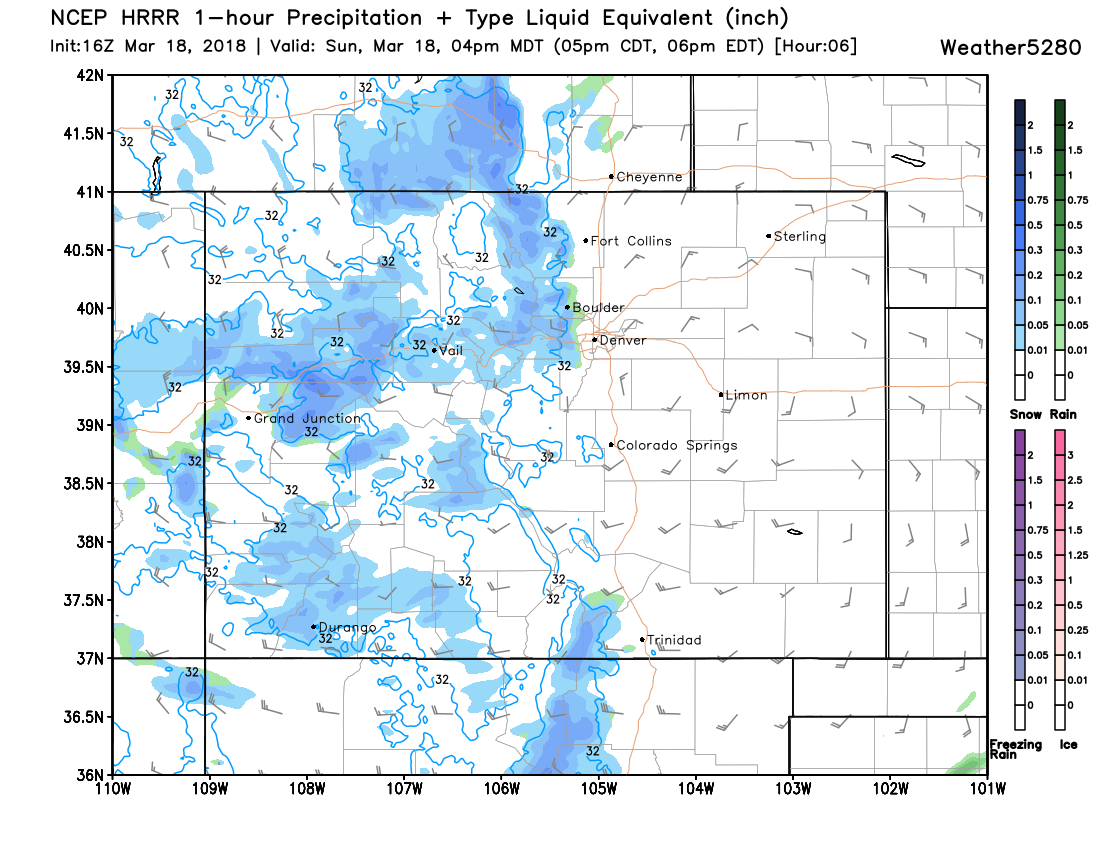 And by 7pm we see that rain and snow pushing across the I-25 urban corridor: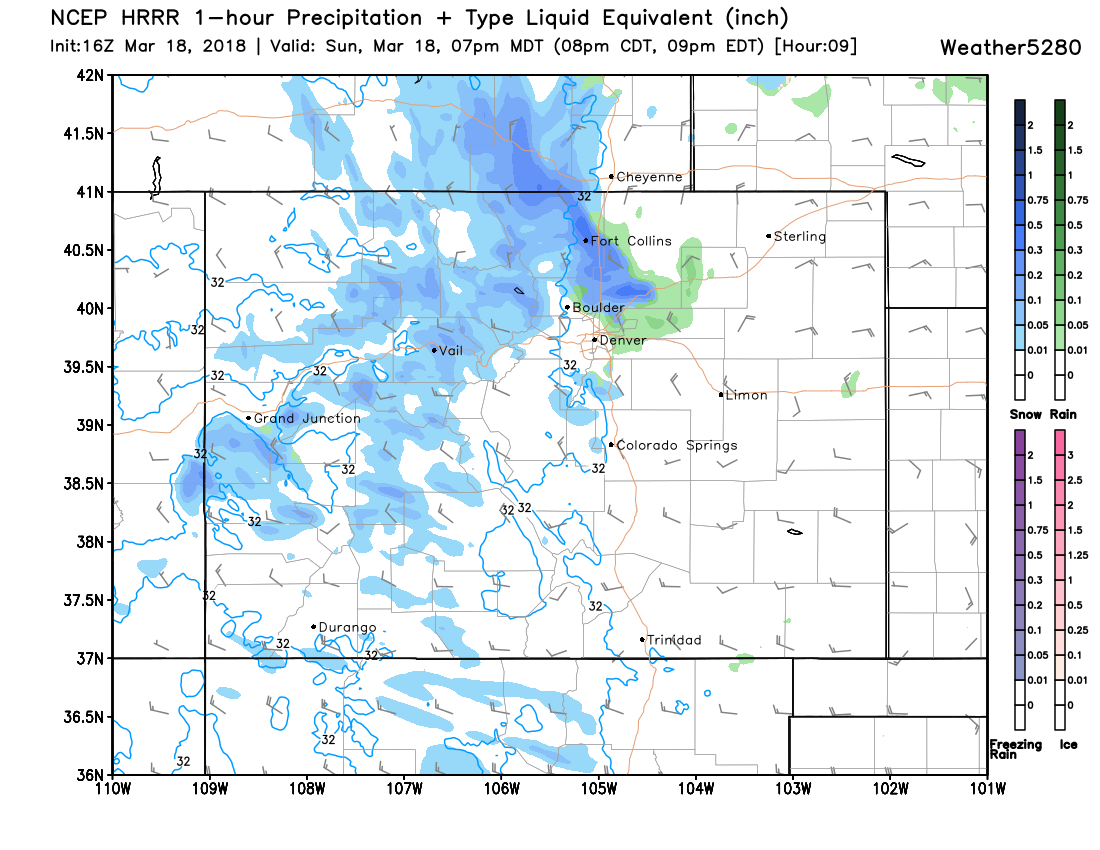 With the snow focusing along the Palmer Divide and eastern plains late tonight as the wind shifts out of the north: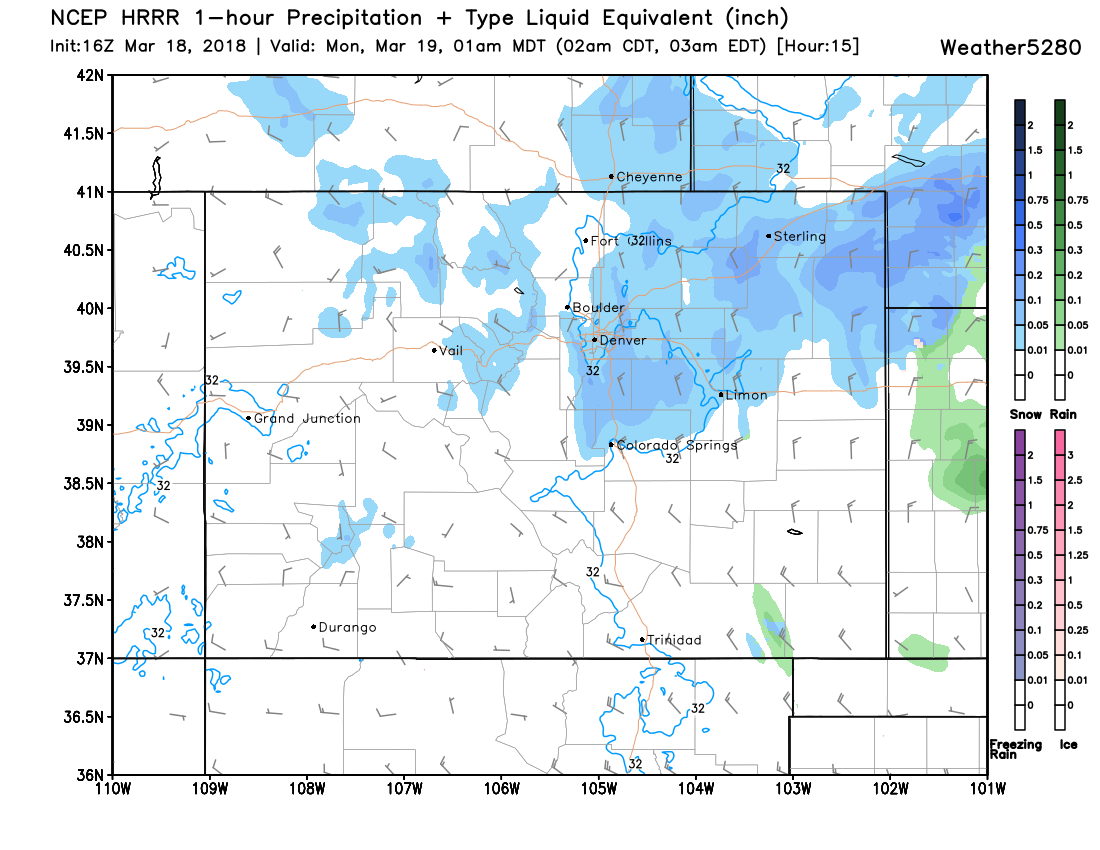 As for moisture... tough call, but pockets of 0.3 - 0.5" liquid seem reasonable, with others seeing less. Latest EURO shows this, with some of the heaviest moisture being focused across the far eastern plains: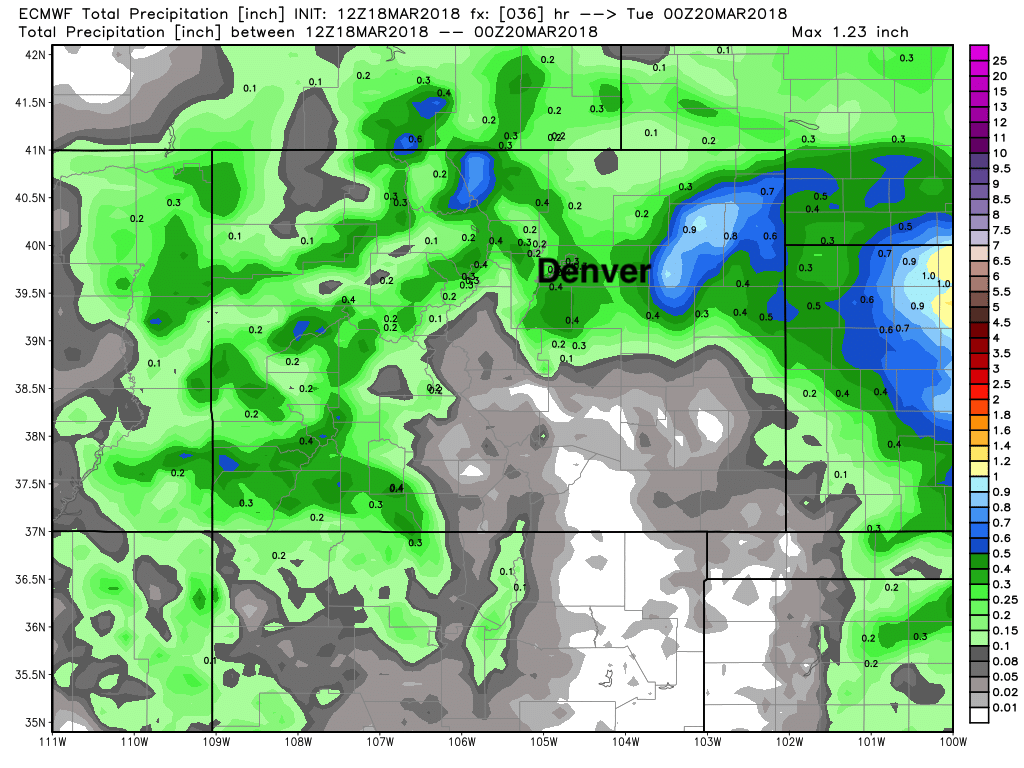 And the 3km NAM really demonstrating the haves/have nots with virtually no precipitation up in the Greeley area, but pockets of 1"+ on the south side of Denver:
Bottomline: a wide variety of impacts for the region over the next 12 hours or so... plan accordingly, and do let us know if you see rain (or snow!) and how much!