After a mostly calm weekend, the weather will quickly change for the workweek; so, hopefully, you enjoyed the weekend's weather by being outdoors.
Coming in this week is a storm that we've been talking about for several days for our Insiders and one that will bring much-needed water to the state. Some will have rain, others snow, and a likely combination of the two across the greater Denver area.
The Spring Storm
Right now the storm system is sitting over the Western U.S. and will progress toward Colorado throughout the day. Starting Monday the system will be covering Colorado and may hang over us for a few days.
This 'trough' as it is called is a mid-atmosphere feature that will be responsible for two systems at the surface level. You'll see both systems in this animation, most clearly defined as the areas of rain and snow. This animation is from Sunday evening through Thursday evening.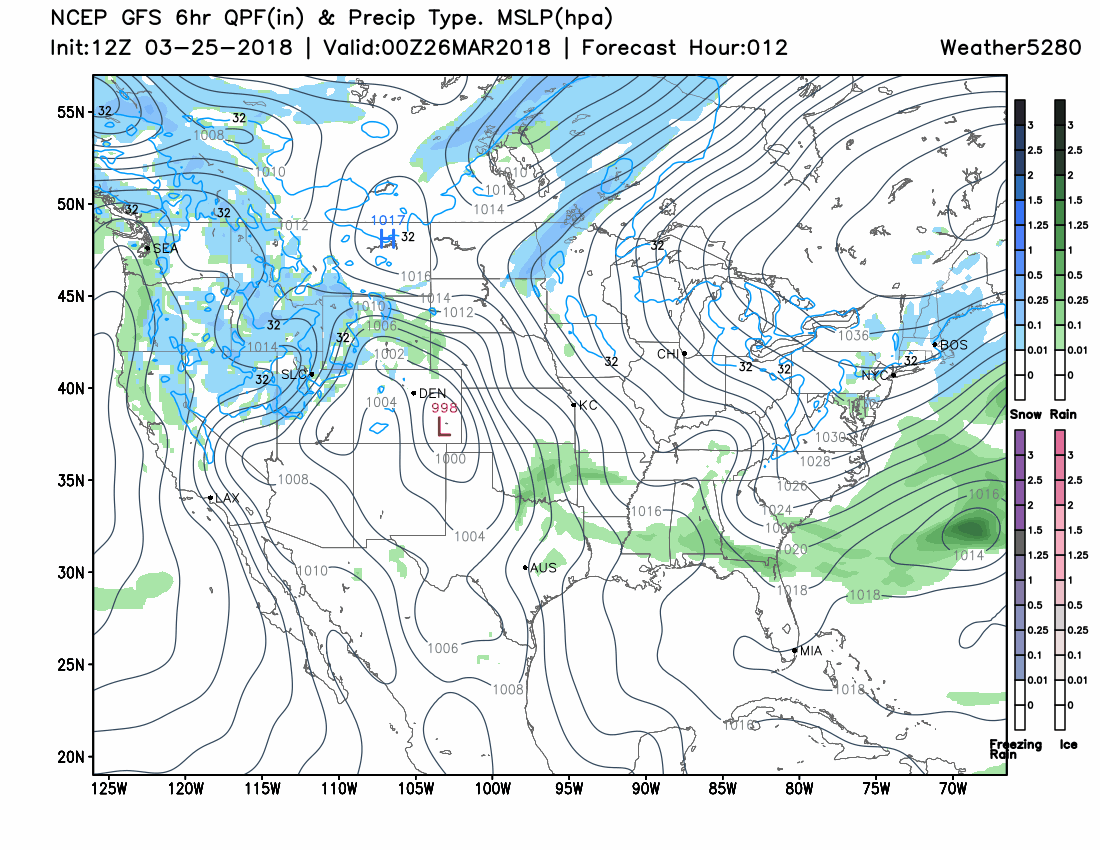 The Timing
Rain and snow will be possible across the state anytime from Sunday evening through Thursday. For Denver and the metro areas of the Front Range will have the highest chance of rain and snow midday Monday through Tuesday morning and then again later Wednesday through Thursday. Here's a timeline of the rain/snow chances from 6 pm Sunday through 6 am Tuesday:


During that same timeframe, let's look at the temperatures that will show quite a bit of warmth during most of the higher chances of precipitation, meaning a rain chance initially and then a chance of snow as temperatures cool later Monday through Tuesday morning. This also implies the snow, for those you have it, will be a heavy, wet, slushy style snowfall:


For those that have to work around wind, sadly there will continue to be periods of windy weather to deal with:

This is for surface storm system #1. We'll have updates on the timing of the second system later this week.
The Impact
The best thing about this storm will be the precipitation, obviously. Just looking at the incoming water (we will discuss rain versus snow areas in just a moment) there will be areas receiving at least 0.25 to 0.5 inches, which is a great amount considering how dry these same areas have been. The highest totals around the city will be on the south and west sides; yes, just like the last storm.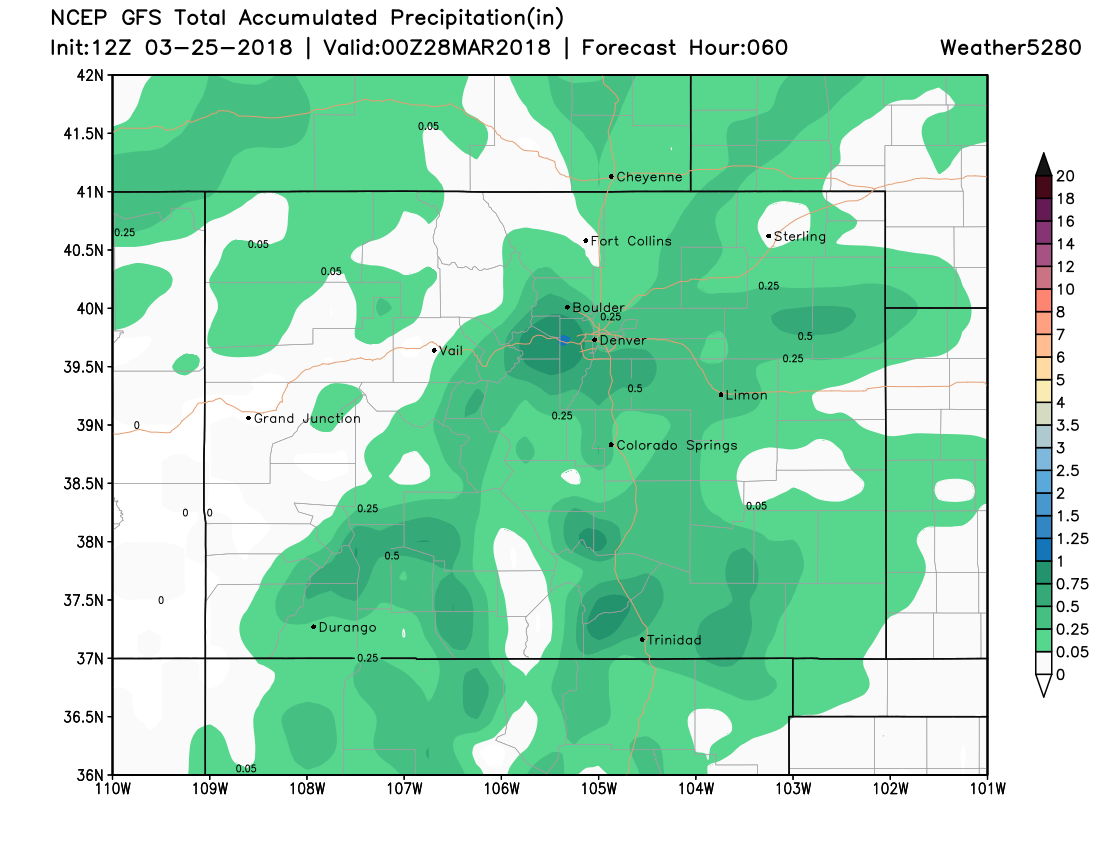 Again, that's total precipitation.
Now, to look at the rain versus snow is a tricky thing to do. That is because temperatures and elevation are critical for when rain changes to snow and thus the total snowfall that results.
It stands to reason that the south and west sides of the metro area will not only have the highest precipitation total but will also have the most snowfall. There will be cases elsewhere that don't ever see snow, and may not see much rain either based on the gaps in that total precipitation map above.
Using what we saw with the last storm that came through and knowing what we do about the terrain and how this storm has behaved so far, let's look at the American GFS model showing snowfall from Monday through Tuesday. This is a reasonable approximation: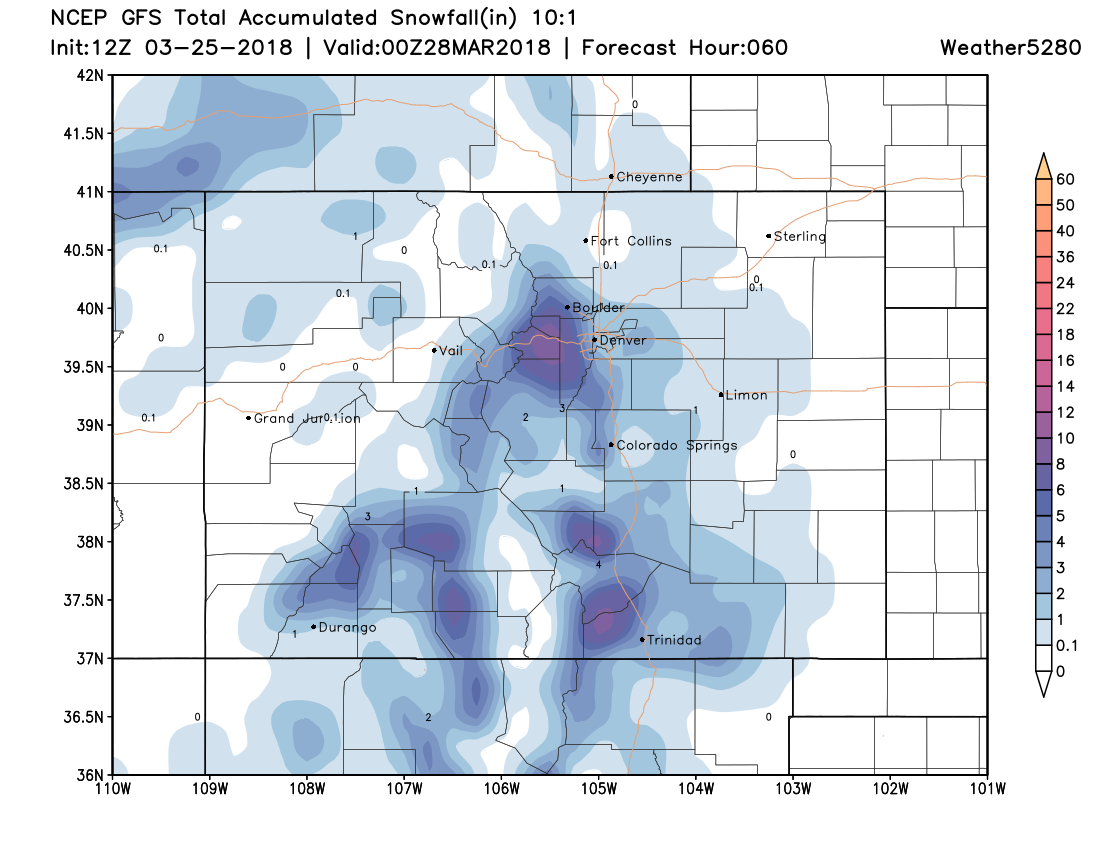 Monday, we will publish a list by city/town location of the totals we are expecting. For now, this map is very reasonable for giving you the heads up as to potential. We would like to look for any temperature issues that may present themselves between now and tomorrow that will force us to adjust snowfall totals up or down.
Commuters
Clearly, this is a spring storm with warm temperatures. There will be wet, slushy, and icy sections of roads for the Monday PM commute and the Tuesday AM commute. Plan accordingly. Roads turned to ice with the last storm for sections of Douglas and Jefferson Counties. We hope it doesn't come to that again as slush is easier to clear by road crews. Icing will be possible again, however, by Tuesday morning.
The focus of this week's SOTA has been this first push of rain and snow. We will cover the second round in a future update.