Unusual heat continues but there is a cool off coming Monday and Tuesday. Well, if you even want to call it a cool off as temperatures will only drop by about 10º to 15ºF.
Since last Monday, temperatures have been in the 90s for the city; a stretch of 7 consecutive days including 3 record highs: Tuesday, Wednesday, and Saturday tied record highs – all of which were 95ºF.
Sunday closed out the streak, with our station reporting a toasty 99ºF as of 3:15pm. This is far from an unusual number of consecutive 90º+ days, the longest streak of 90s is 24 days in 2012 and 2008.
Starting Monday, temperatures will be in the middle 80s for a pair of days. This is a brief cool off as highs return to the 90s starting Wednesday.
Wind will be gusty through late Monday with the cooler temperatures. Sadly, the chance for rain remains quite low. A look at the 24 hour temperature change as of midday today shows that cooling to the west, which will arrive but moderate to start our week. Over northeast Colorado you can see we're running just a bit warmer than Saturday, with highs in the mid to upper 90s across the region: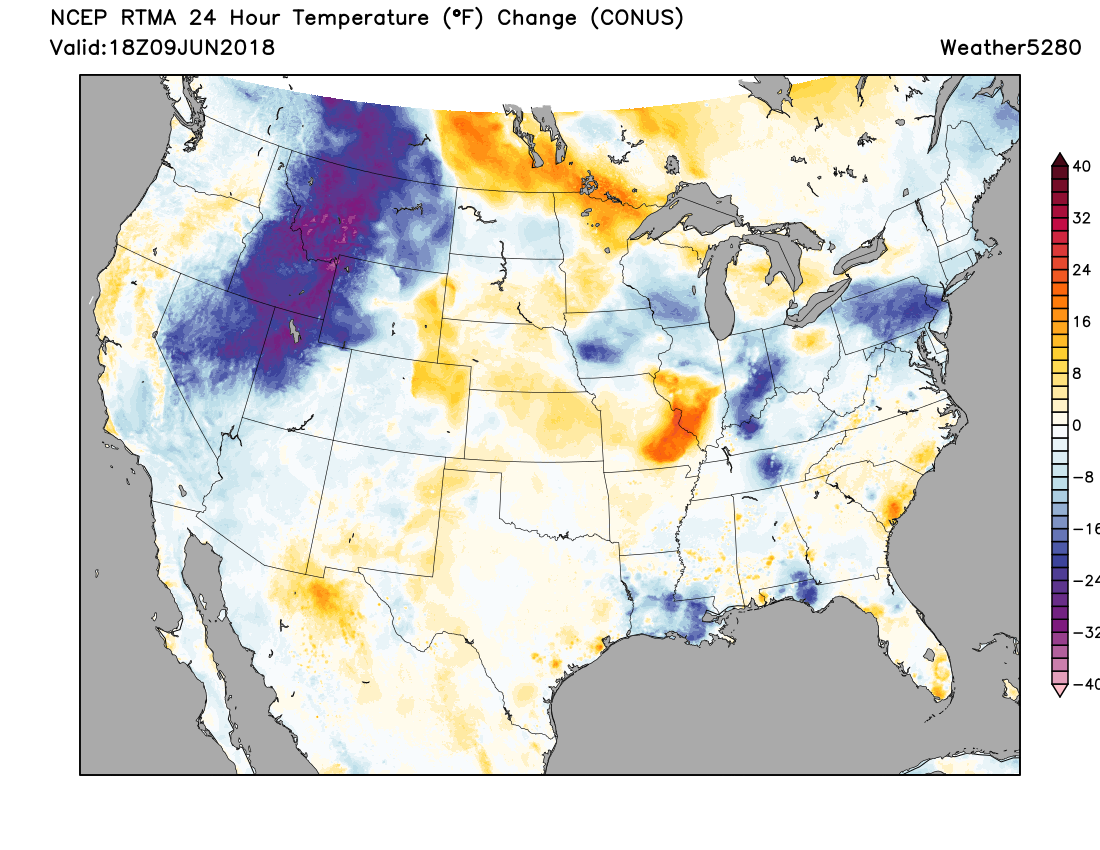 Best storm chances for the state during the work week arrive Wednesday, but will be focused across southeast Colorado. The SPC shows that severe storms will be possible here as well, with mostly dry conditions north and west: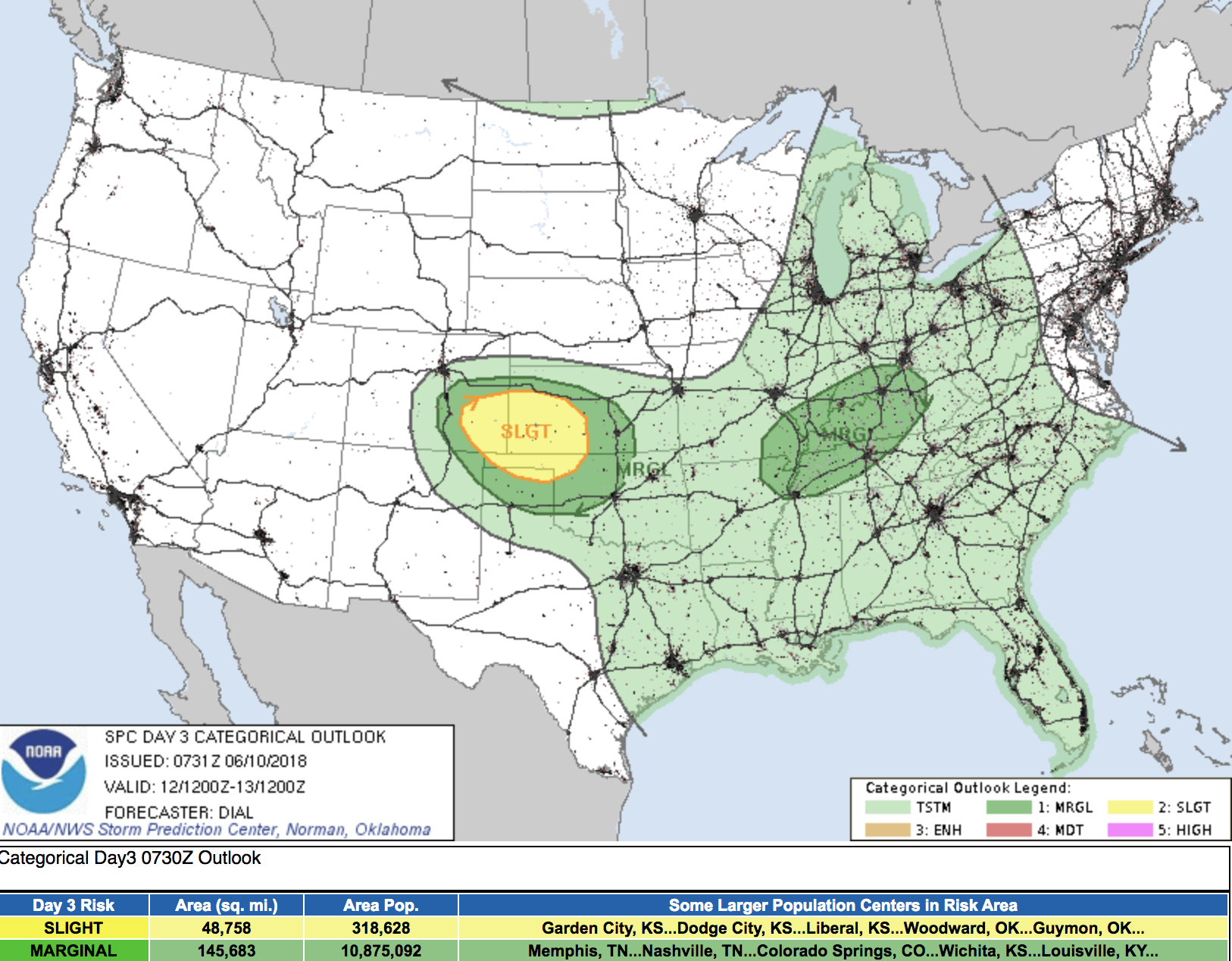 The drought is growing across the state, and despite a brief rainy period Denver's spring is drier than average. June is normally a wetter month but this one is dry and will likely remain that way a bit longer as we pointed out to our Insiders this week.
That post goes into a deeper look at how the monsoon may materialize this year. Something certainly needed or we will have a terrible drought situation going into fall.
Speaking of the drought situation, the drought started spreading quickly this past winter and is, in part, responsible for the unusual heat that we've had recently. Drought conditions range from Severe to Exceptional across the Four Corners states – the exception being Northeast Colorado where we've seen at least some help in recent months: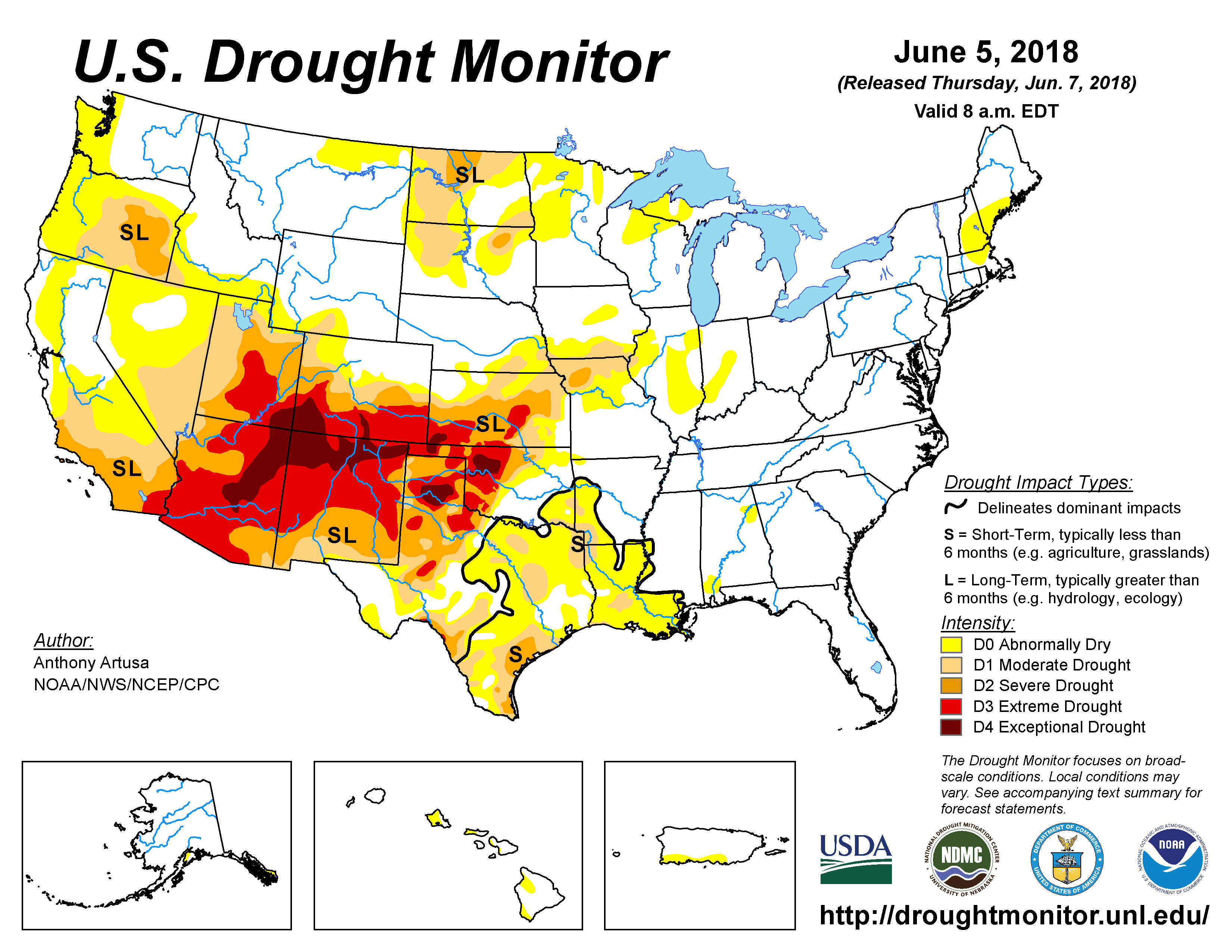 Part of the same pattern, drought and heat clearly go together. Further, a feedback mechanism is created by such dry terrain aiding in higher than average temperatures thusly making it even drier. This loop must break down with heavy frequent bouts of moisture, which isn't likely anytime in the near future.
So, while this next week looks rather hot and dry (please pay close attention to all burning restrictions if headed to the high country!) we do see modeling trying to bring some relief by mid-month, at least briefly. And, if we can manage to get some moisture into the ground, this may help our hopes for the monsoon as we head into late June, July, and August.
A look at the EURO relative humidity forecast at 700mb shows all the dry air over the region during the work week...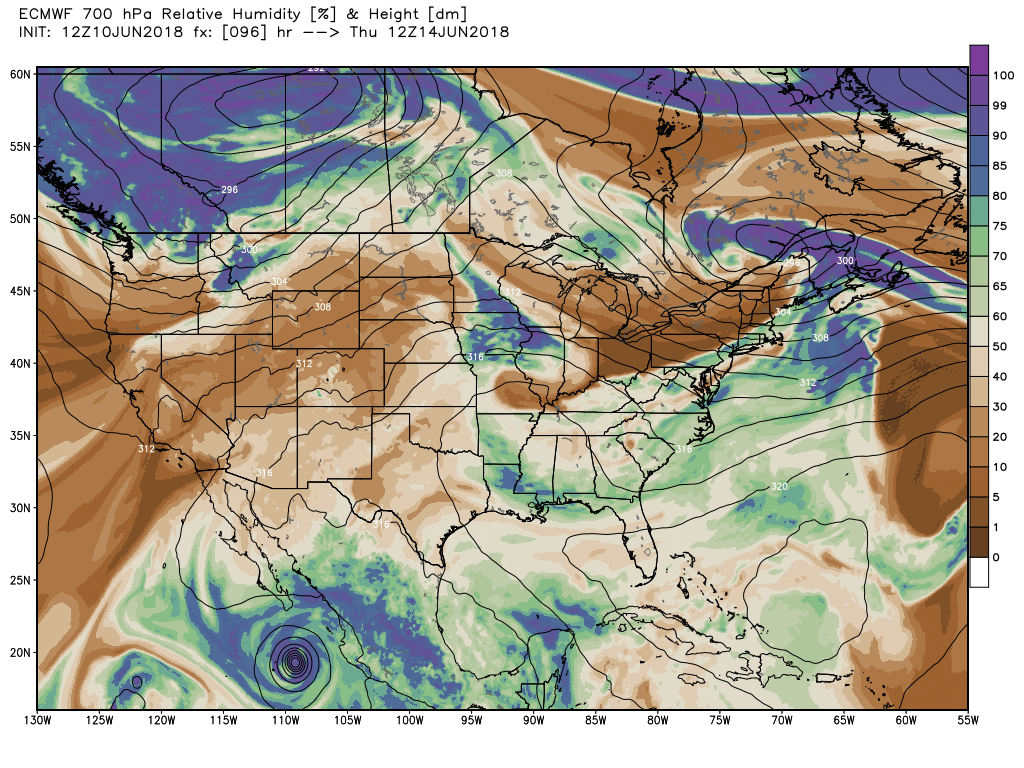 With perhaps a change on the way for next weekend as the mean ridge shifts east: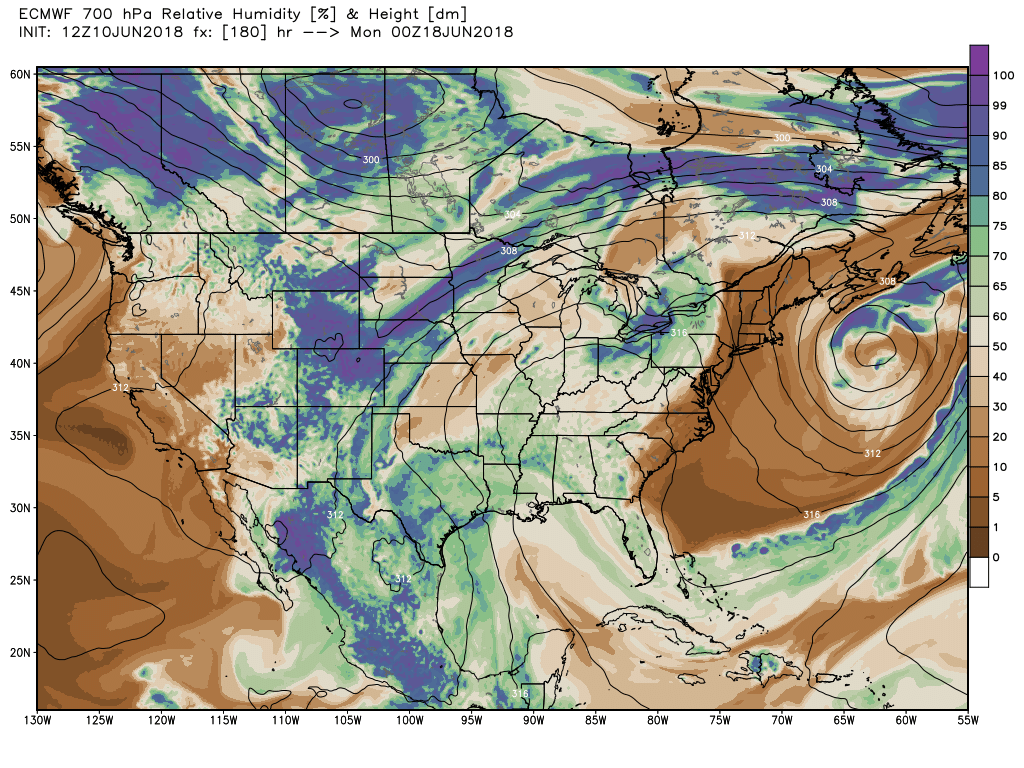 In some ways this looks very monsoon-like, and, it could be we are able to tap into a bit of moisture from tropical storm Bud which would certainly help increase moisture availability. In some aspects models seem over done here... but they've been pretty consistent in this mid-month pattern shift (or blip?) and over recent days have been very consistent with an increase shower/storm activity as we head into next weekend. Again, not only would a period of cooler/wetter weather be a huge relief after the recent heat... but also could prove crucial if we have hopes for an active monsoon, as moisture in-the-ground is ever so important.
Something to watch, and after this recent heat and painfully dry conditions across the region, certainly a welcome change if it comes to fruition. For now, stay cool and stay safe as we cruise through another dry week with high fire danger across the state.