It's hard to believe it's already December. Temperatures over the next 48 hours or so will certainly feel it, but if you're looking for exciting weather, this SOTA may not be the place for you. But hey, why change the status quo to start the last month of the year?
As we talked about at length last week, we'll see those snow chances increase again this afternoon and overnight into Monday. Like Friday, not looking like a huge deal, in fact, many of us probably won't even see snow. That said, a dusting or an inch in some spots is certainly possible, especially across the southern forecast areas and Front Range foothills.
The bullish WPC product the potential for 0.5" to 1" for many communities along the Front Range this afternoon through Monday, but again... most areas aren't likely to see much accumulation.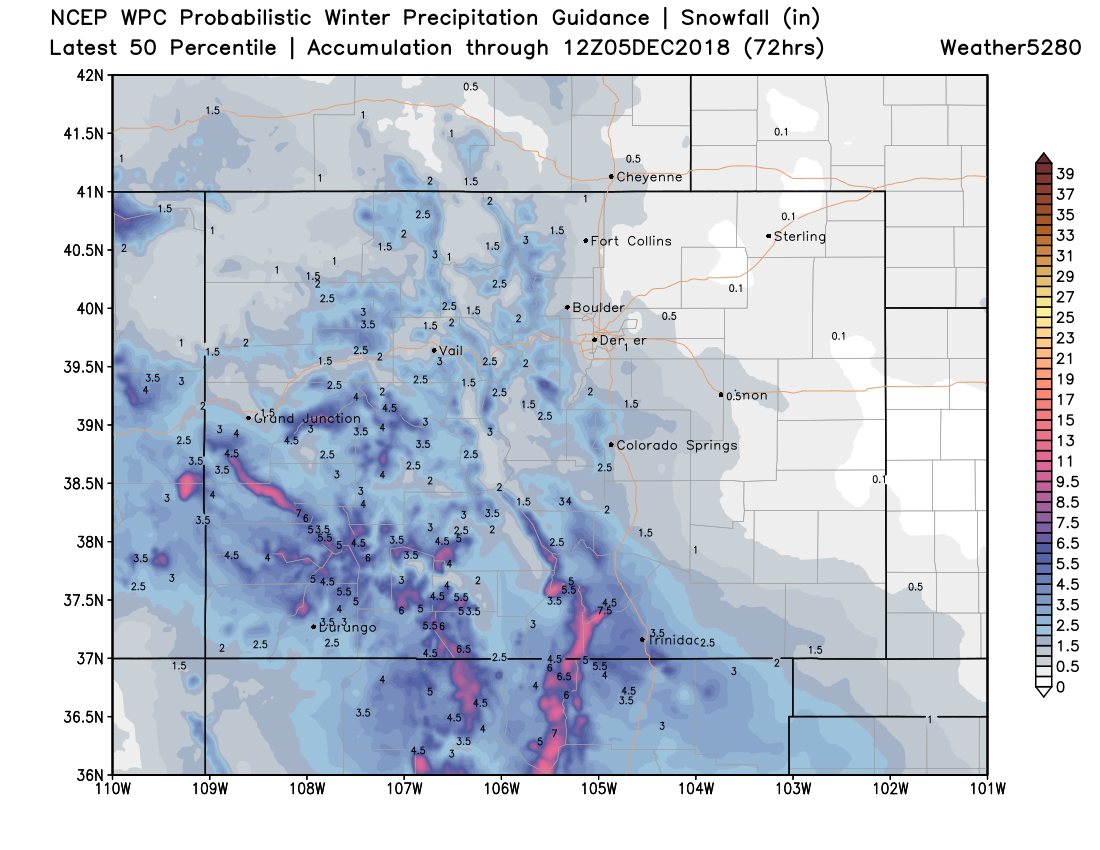 A look at probabilities from the latest Euro ensemble forecast shows this... with pretty low odds for an inch of snow for most areas, the exception being a few foothill communities, and perhaps Colorado Springs where this particular model is certainly on the bullish side for some light accumulation later today into Monday: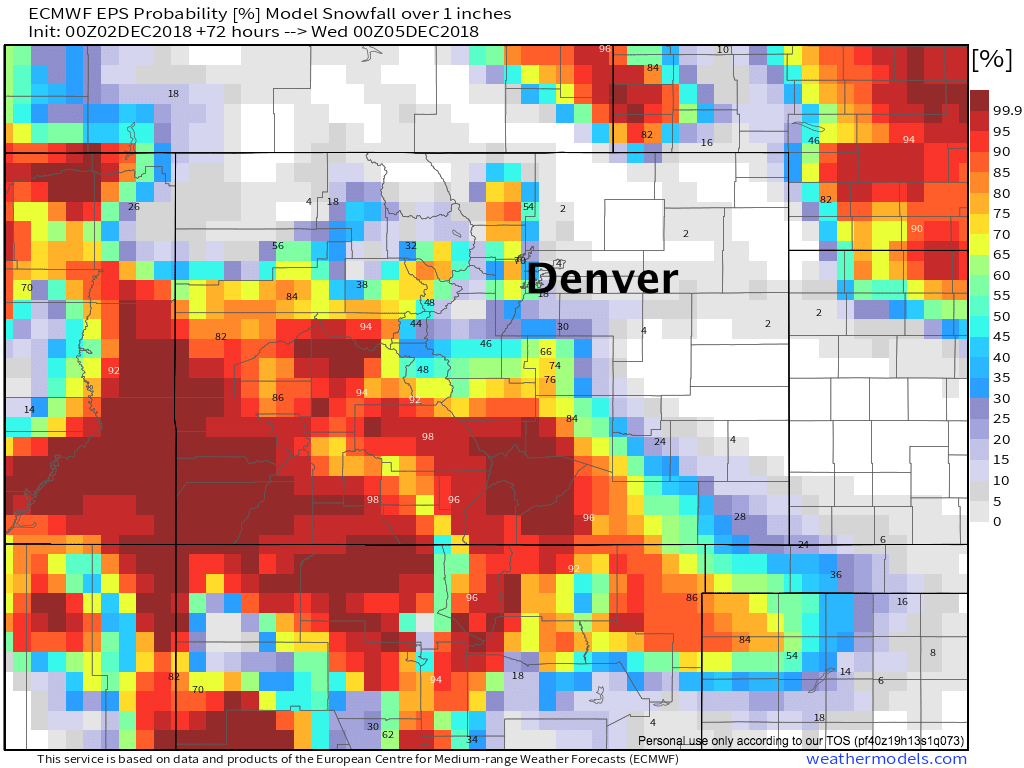 Overall, we're not all that worried about big impacts. Denver's sitting at about a 30 to 40% chance of snow Sunday evening/night, with perhaps some scatter showers and flurries lingering for what looks like a chilly Monday across eastern Colorado. Of course, should a snow shower pass through tonight, we could see some slick spots on the roads for you Monday commute.
The week ahead
The southerly storm track comes alive to start December. This, more than likely, will equate to a relatively dry but perhaps chilly start to the month across northeast Colorado.
A look at the EURO ensemble mean precipitation anomaly through the first 15 days of the month shows where the wave train will be alive and well... with an active weather pattern for the West Coast, Southwestern U.S., Southern Plains, and Southeast:
With plenty of cold air in place to start the month, helping to drive that baroclinic zone south: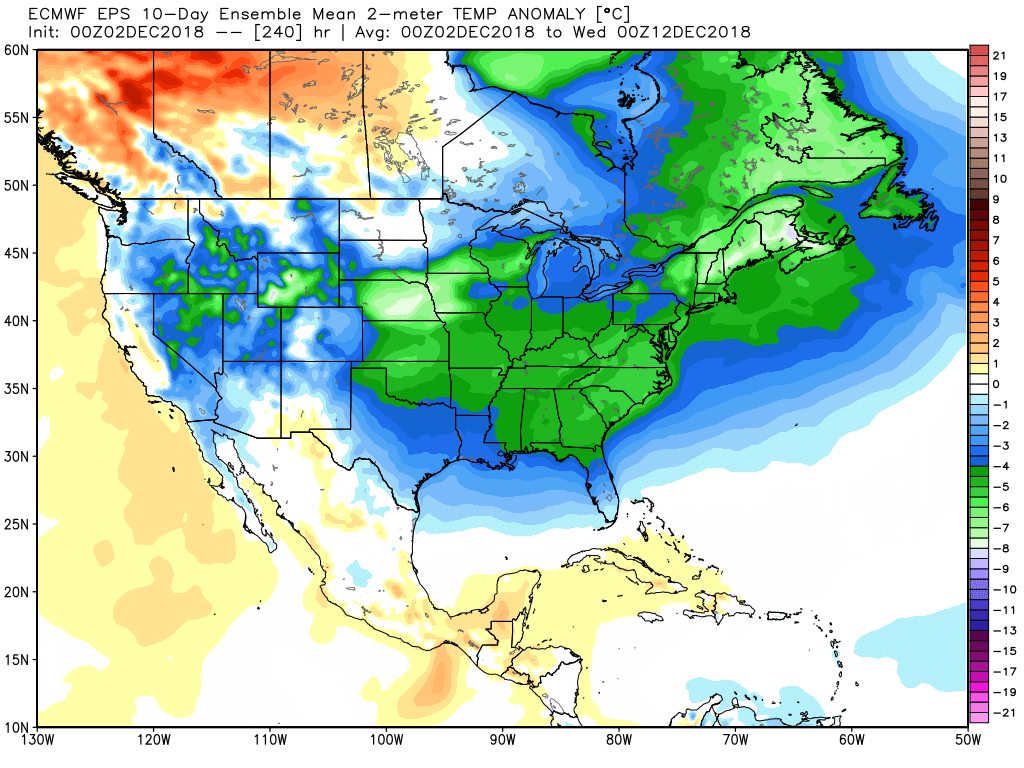 For snow, that would translate to the potential for some above average snowfall across southern Colorado, extending into the plains, and up into the Mid-Atlantic states, depending on exactly where that storm track sets up this week: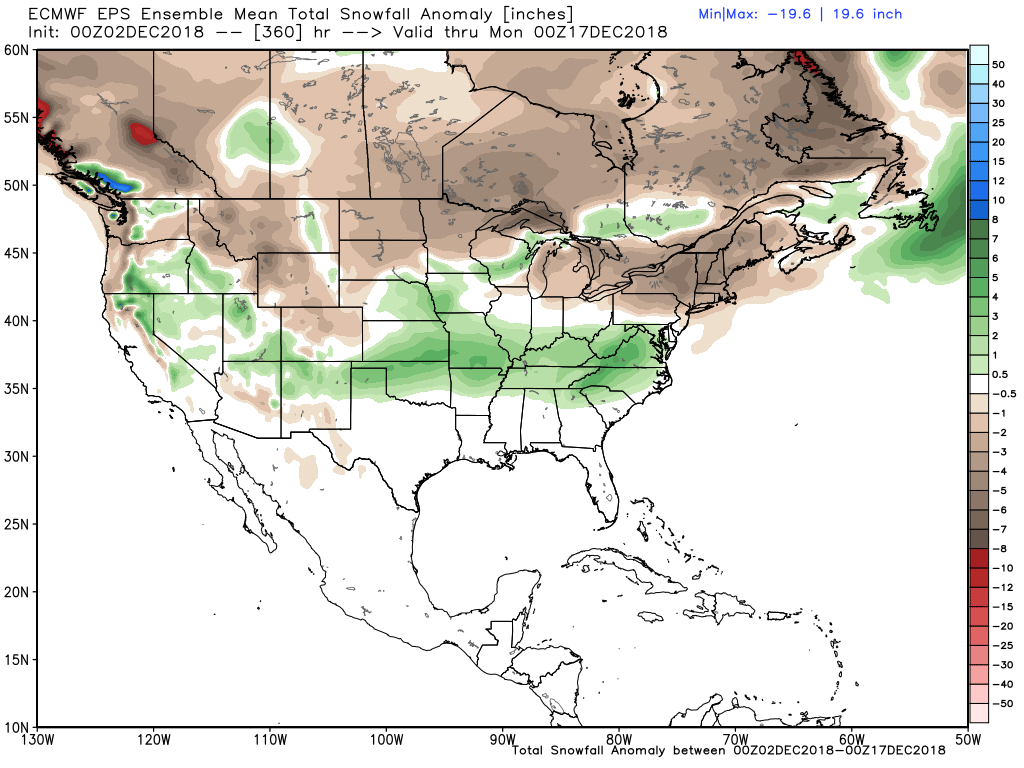 For Denver and most of northeast Colorado, this equates to a rather quiet weather pattern. We'll see temperatures start the week cold, and remain on the chilly side throughout, with perhaps a bit of a warming trend on the way for next weekend.
I like the look of the temperature forecast below from the EURO. Highs near freezing on Monday with perhaps some lingering flurries around, warming(?) to 40 by Wednesday, before what looks like a mostly dry front drops temperatures again Thursday. Highs at this time look to climb into the 40s, perhaps 50s again by next weekend.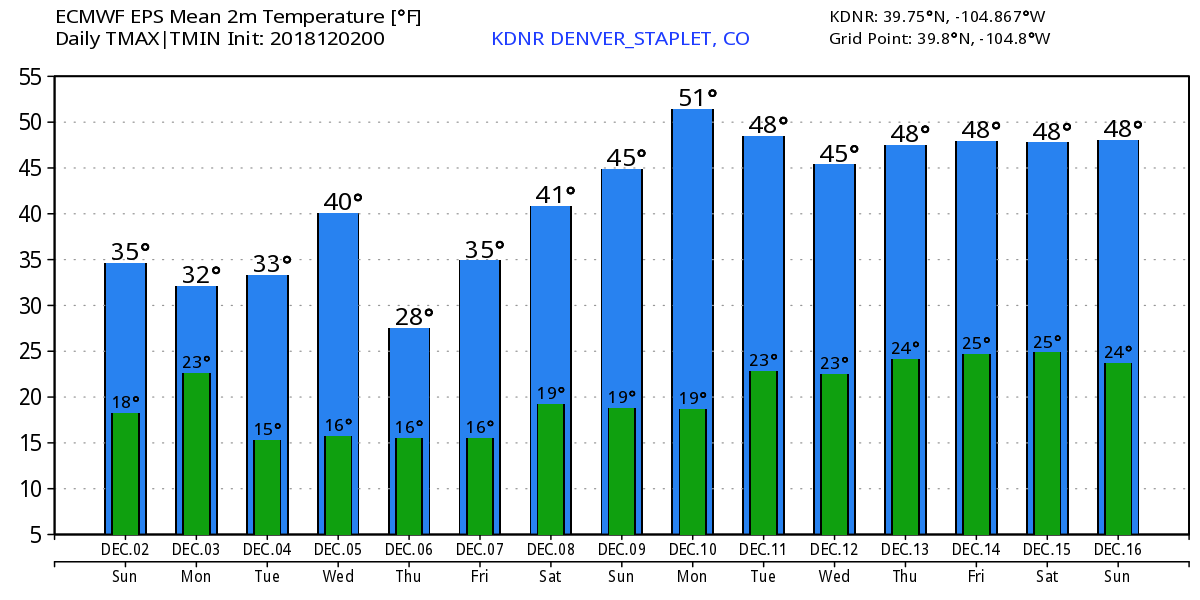 In short, keep an eye to the sky later today and tonight for those snow showers (let us know if you see any!) and keep those jackets handy this week. We'll take a bit of a closer look at the rest of December in our next Insider update.