For the second week in a row areas across the region saw a system over-perform. How about that! Of course, our area wasn't one of those areas as our station picked up about 1" of snow today despite some impressive snowfall at times.
South and west did best –– where some areas across the Palmer Divide tucked up against the foothills saw as much as 8" (!!). We saw several 3 - 4" reports from Denver's west side, and a couple 2 - 3" reports from Westminster that always seems to do well with these setups.
We certainly missed the boom potential thinking those 3 - 4" would be about the max produced. The models were quite dismal too. The NAM products were virtually dry for today as recently as last night, the GFS was showing who-knows-what, and the HRRR sort of picked up on things but not until after the band had gathered steam. The Euro did best, but still missed on areas around Monument that got socked today. Here was the HRRR run from early this morning –– definitely picked up on the heavy accumulation along the foothills southwest of Denver and the western Palmer, but missed in Denver and the northern suburbs: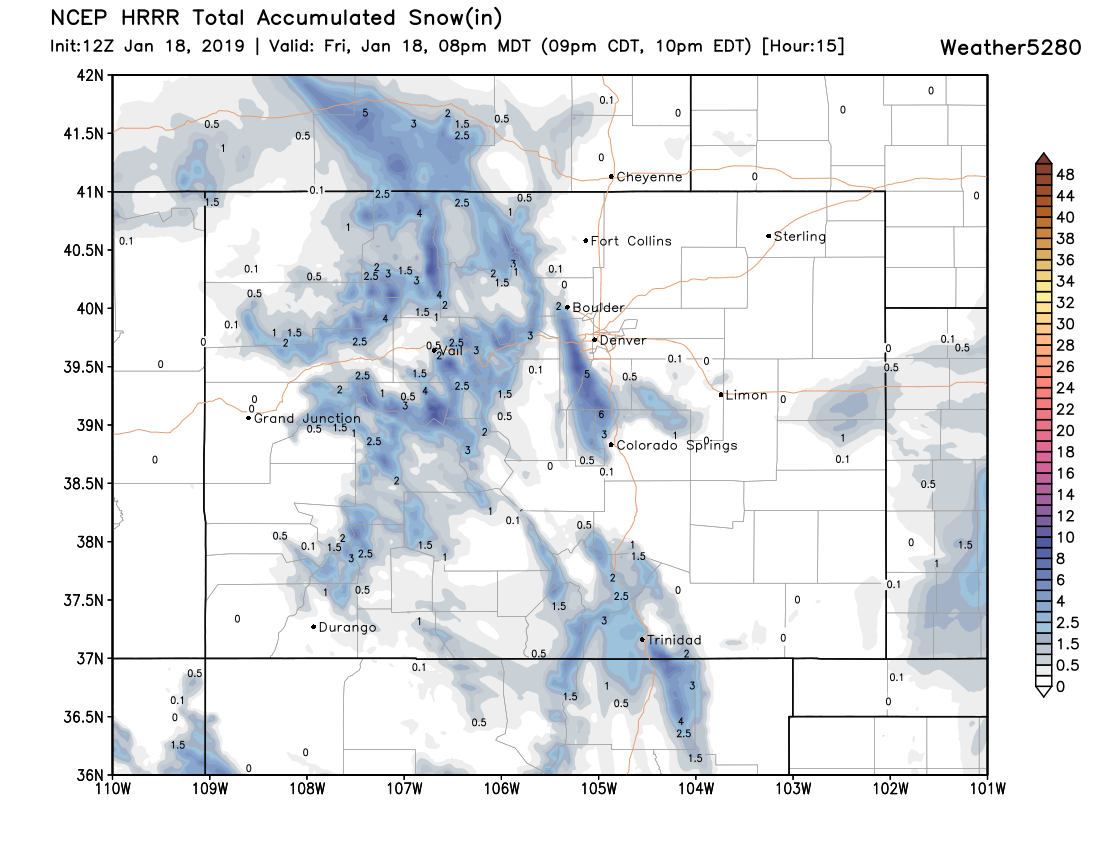 For all the commotion from last week and today... our station as only managed 4" of snow between the two storms. Worse, DIA likely didn't see any accumulation today, making the two-system total for Denver officially just 1". Areas to Denver's north (aside from a few areas today) saw more rain than anything else from the two systems combined and are (understandably) feeling completely left out.
Strange times.
The next system to watch comes Monday into Tuesday. It's a very similar set up to both last week and today, but may have some actual cold air with it, it may have better upslope associated with it, and the best snow chance may come Monday evening/overnight which would certainly help snow-lovers vs these daytime snows.
A quick peek at the gamblers this evening show signs of life too. Nothing crazy, but at least some potential for a few inches of snow along the Front Range as we sit today.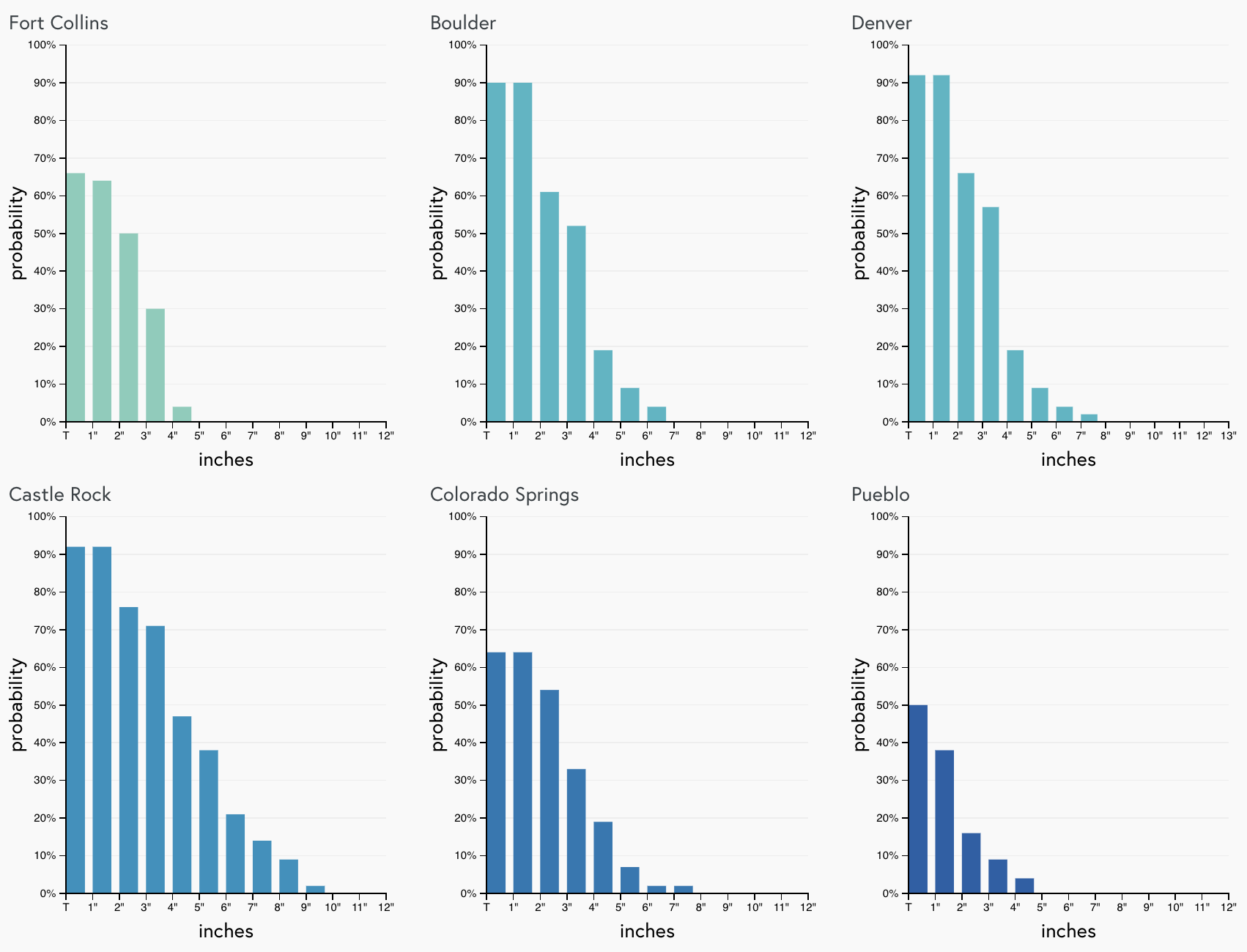 If we compare that to the EURO probabilities, we also see some decent probabilities for 3" or more of snow around Denver and across the Palmer Divide: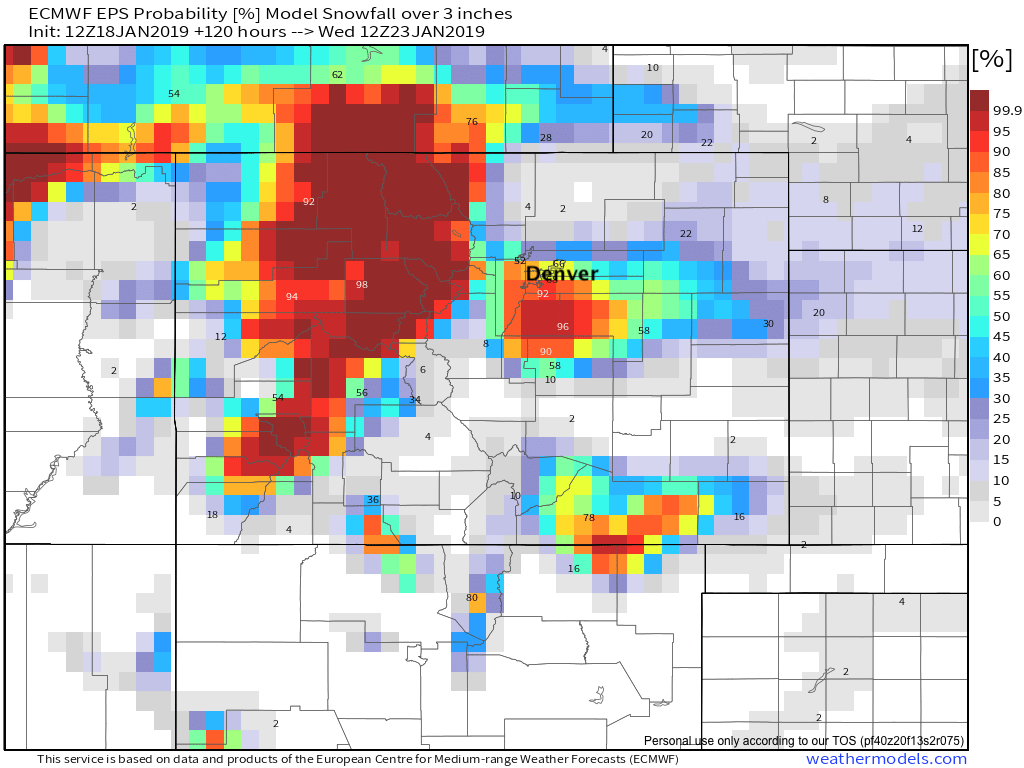 Given the setup is very similar to the last two systems we'd expect areas from Denver south/southwest to be favored as both charts above would indicate. Models also indicating very strong wind on Tuesday. Depending on how much snow is on the ground, or still falling Tuesday morning, travel conditions could be quite nasty when many will be going back to work and school. We'll be watching trends over the weekend and see how things change... if it manages to slow/deepen a bit perhaps a bit more areas would be included. Of course, alternatively we trend faster and the whole thing falls apart. After the last two systems, I'm feeling bullish on Monday so let's see how that shakes out.
Like I said yesterday, I won't get excited but I will hope for some snow early next week.
Enjoy your weekend!