Snowfall is never a fun thing to predict along the Front Range. Each storm that moves through presents its own challenges –– whether it's a banded snowfall event like we've seen so many of this winter, or we're dealing with downslope concerns for communities immediately adjacent to the high Rocky Mountain peaks, or increasingly this time of year trying to manage temperature concerns as a matter of miles (feet in elevation) can mean the difference between heavy rain or heavy snow.
This system has the added twist that it is forecast to be one of the strongest storms on record we've seen "bomb out" over eastern Colorado. So, to assume that NWP can handle that like a breeze... is likely misguided. The National Weather Service in Boulder touched on this in their latest discussion:
To put this storm into perspective, the NAEFS and GEFS both show the
MSLP across southeast Colorado and Kansas to be at the minimum
pressure for all hours in the climate database from March 3 through
The climate databases include 30-year (NAEFS) and 27-year (GEFS)
period of records. In addition, a tweet from the Dodge City, KS
office mentioned that they will be close to setting an all time
record low surface pressure with at least a 140 year period of
record. A quick look at the SPC sounding climatology page revealed
that Denver (DNR) may set a record low 700-mb height, among other
noteworthy records, depending on the exact track of the low pressure
system. Point being, this storm is quite an anomaly and forecast
models may be subject to more errors and worse forecasts compared to
more normal conditions. It is something to keep in mind for those
forecasting this storm.
Whether Bombogenesis (a drop of 24mb in 24 hours) officially happens or not, this storm will rapidly intensify late tonight and tomorrow across Southeast Colorado and into Western Kansas and in doing so will create a tremendous amount of wind across the plains well into Thursday morning. The latest FV3 model continues to show a drop of >24mb over the next 24 hours, which is a quite infrequent occurrence over land:
If Denver ends up with a foot of snow or an inch, I don't think it can be stressed enough how impressive this system that's set to move through Wednesday is. We've been saying for over a week the urban corridor will be the most difficult forecast of this event, and that remains true. Still, in either case the storm itself is going to be STRONG, and the winds –– especially east of I-25 –– but even up against the mountains where we may see less snow are going to cause big issues. Whiteout conditions will occur with 50mph+ winds whether there's 2" of snow on the ground or 15".
24 hour trends
Since our update yesterday, trends from some models have been toward less snow along the urban corridor, more rain, and a shift east in some cases with the heaviest precipitation given downsloping. Given the wind and how dynamic this system is, we continue to think downsloping and not rain will be the curse if we miss a heavy snow event for the Denver area –– especially for points north and northwest of town. A combo of the two would be devastating to our forecast!
The track of this tightly wrapped low on the GFS continues to show winds quickly shifting out of the northwest Wednesday which would shut off snow pretty quickly to the northwest of town, and perhaps, clear down into the city. Here's the forecast low position from the GFS Wednesday morning: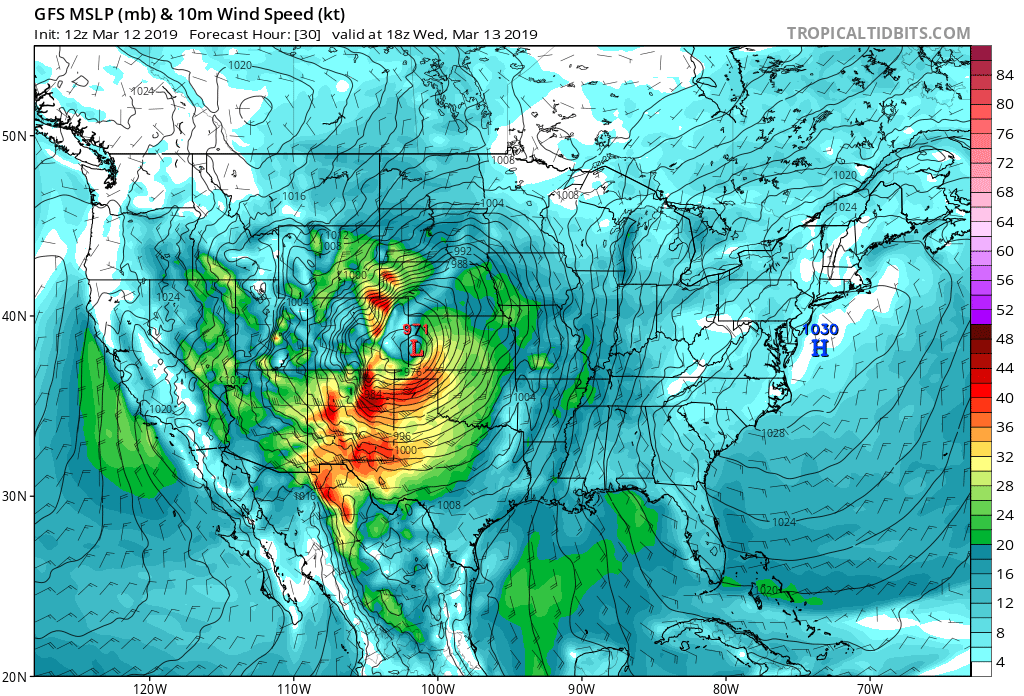 And Wednesday afternoon:
As you can see, by Wednesday afternoon the winds will be ripping across the Plains, which is why a Blizzard Warning is in effect all of Northeast Colorado. For the urban corridor... this particular model indicates downsloping winds, and a quicker shutoff of precipitation –– we shall see.
Another model showing that shift is the3km NAM. Take a look at the last four runs below. Yesterday upwards of 12" for some in west Denver. This morning 10" at DIA, but 0 - 3" west of I-25. Of course, if correct, this will leave a lot of people screaming "bust" –– even if 40 - 50mph winds are blowing those 2" on the west side horizontally, and a few miles east of their house folks are getting buried in a foot of snow and several feet deep snow drifts: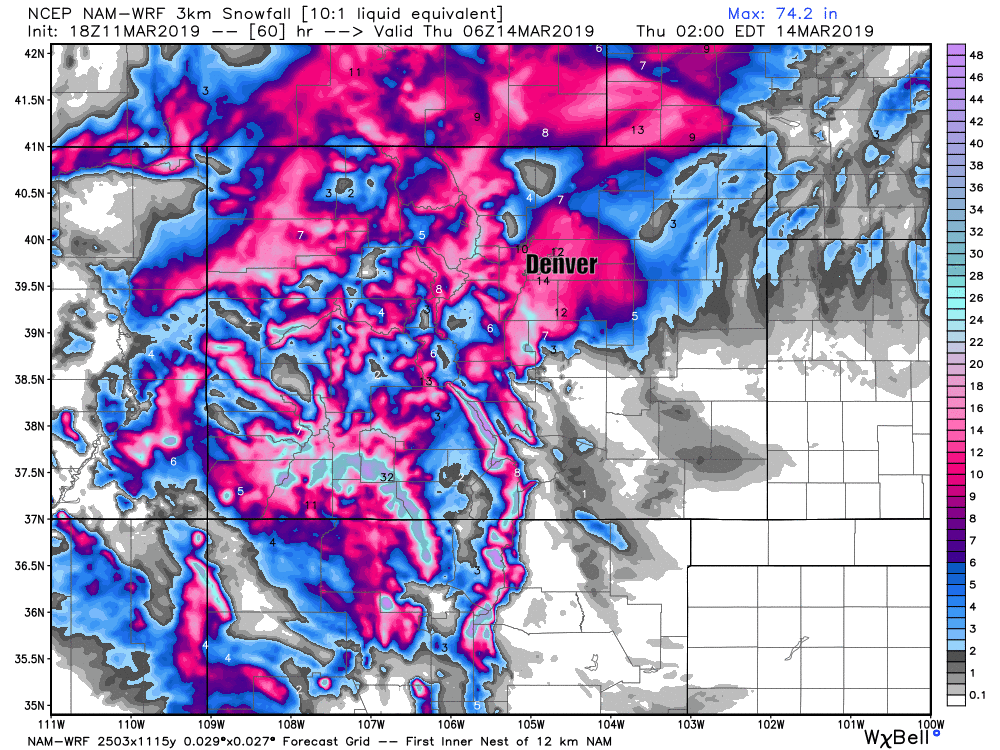 The trusty European gave us a bit of a scare last night as it both dropped total precipitation and showed more rain than previous forecasts, but is looking much better for the urban corridor to see heavier snow with its update this morning. What a rollercoaster.
Snowfall forecast
At this time we are not going to change our snowfall forecast from what we issued yesterday. Despite some models dropping snow totals (both moisture and more rain vs snow) we continue to think a near-record low over Southeast Colorado can't be ignored. If this system drops 30 miles further south than it is currently forecast by many models, it's a whole different storm snow-wise for Denver compared to what some currently have (only 2 - 4" in some cases for the city).
Again, this storm is all about the wind. It won't take 6 - 12" in Denver to make for a rather unpleasant an impactful day with wind gusts in excess of 50mph. A Blizzard Warning is in effect for much of the urban corridor now, and it has very little to do with HOW MUCH snow, but rather the wind combined with whatever snow does fall.
A blizzard warning is issued in lower elevations when the following conditions are expected for at least 3 hours...
sustained winds of 35 mph or greater.
considerable falling and or drifting snow lowering
visibilities less than 1/4 mile.
So, for Denver, Castle Rock, Elizabeth, Limon... we continue to go 6 - 12" with locally more possible. Areas north and northwest of Denver have the greatest potential to both boom and bust with this system. Everyone gets the wind:
At this point it's pretty clear someone in our forecast zone will bust... but there not enough evidence we should lower our forecast totals, so we're going to stick with them and see how things shake out!
Timing and impacts
I think we've stressed this enough for a week now, so not much to add here. Again, travel will not be advised Wednesday especially from say DIA east. In fact, we're likely to see many interstates close Wednesday, so it may not even be an option even if you decide you do want to head out.
Rain and snow will develop late tonight. Changeover from rain to snow will happen during the morning hours Wednesday. Needless to say: a quicker changeover means more snow, a slower one will greatly hurt totals. If you're still seeing rain at 11am, your totals are likely to not reach our totals forecast above. We are leaning heavily on the storm dynamics to encourage a quick changeover tomorrow.
Worst conditions for the urban corridor are likely between mid morning and midnight Wednesday with STRONG winds making for a tough to impossible travel day across much of Northeast Colorado, especially along and east of I-25.
Winds will continue across the eastern Plains into Thursday morning, but conditions should improve quickly as we head into Thursday for the urban corridor.
Addressing the hype
Look, there's been an awful lot of discussion around all the "hype" associated with this storm and if it's warranted or not. While I personally don't think we've done much of any hyping of this storm at 5280, we do live in an era of hysteria, and there has been an awful lot of excitement with this storm going around. It's true, the low end of a good percentage of our population area is just 2" to 3" which aren't exactly earth shattering numbers around here. We get twice that amount of snow on accident half the time, and we don't have the opportunity to talk about it for two weeks prior.
So, if Boulder/Loveland/Fort Collins get 3" of snow, and Denver busts low, was this system worth the hype? I think so. There's still a whole lot of area we forecast for across eastern Colorado, and there's little doubt some areas are going to get hit hard. Remember: this system has never really been about the snow, but instead the intense winds combined with the snow that are likely to cause issues. We've seen much bigger storms from a snow perspective, especially in March.
We've addressed this for a week now, but even if this doesn't work out for the urban corridor (I realize that's where most people live), regionally this is going to be a big time event. Take a look at the latest Wind, Snow, Flood, and Blizzard Warnings currently issued by the NWS!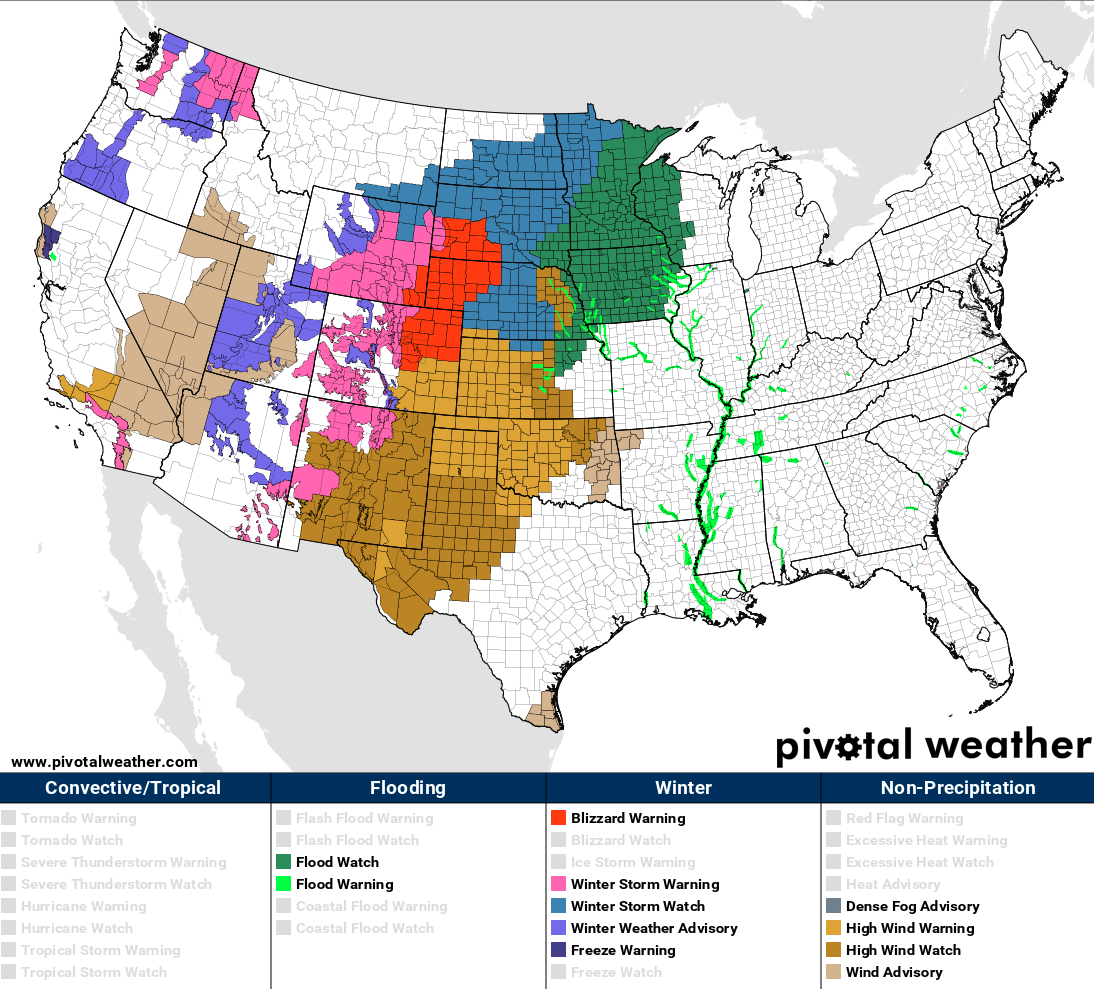 I realize this may not be a popular take for some, but I personally hope this storm backs up a bit, drops south a few miles, we overcome downsloping and temperature issues, and the city gets socked. I've lost way too much sleep over this one to read "bust" in the comments tomorrow! 😁 If you want snow, let's channel a little March 2016 vibe tonight, it could be we're going to need all the help we can get with this one to have it shake out exactly as forecast.
Please keep us posted in the comments below tomorrow!