No change this evening to our forecast issued earlier today. Everything looks on track to bring a round of wild weather to Northeast Colorado Wednesday, with wind, rain, thunder, hail, snow, whiteouts, and a solid 50+ degree temperature plunge from our (official) high of 78°F in the Mile High City today to tomorrow night.
Latest analysis shows our storm system taking shape in the west, with a large trough carving itself out and beginning its trek east tonight: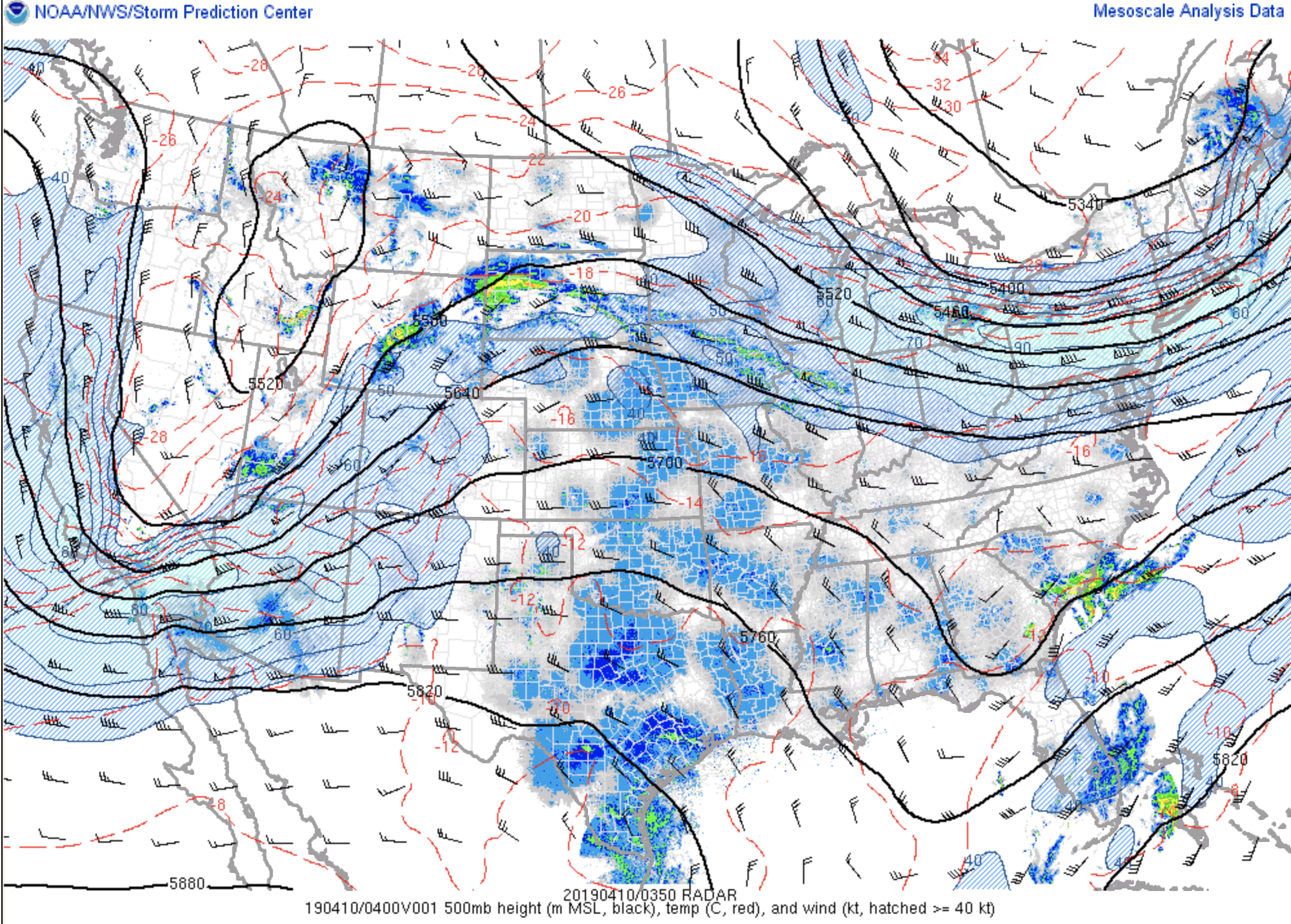 Ahead of the trough temperatures remain extremely mild, with readings in the 50s, 60s, and 70s across Eastern Colorado as of the 9pm hour: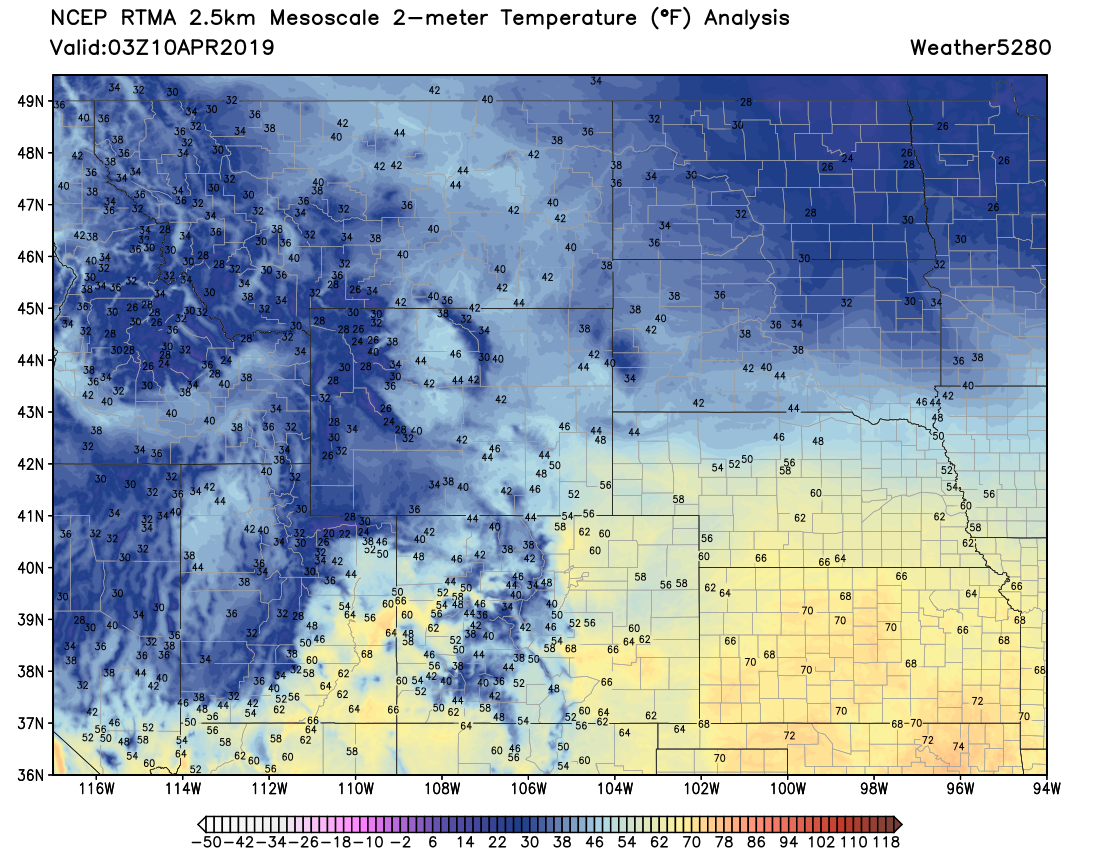 Over the next 24 hours things will change dramatically. As our storm system moves over Colorado and intensifies Wednesday it'll tap cold air currently over eastern Canada –– helping to deliver a change from rain to heavy snow across the region, and eventual blizzard conditions from Northeast Colorado across the High Plains Wednesday night into Thursday: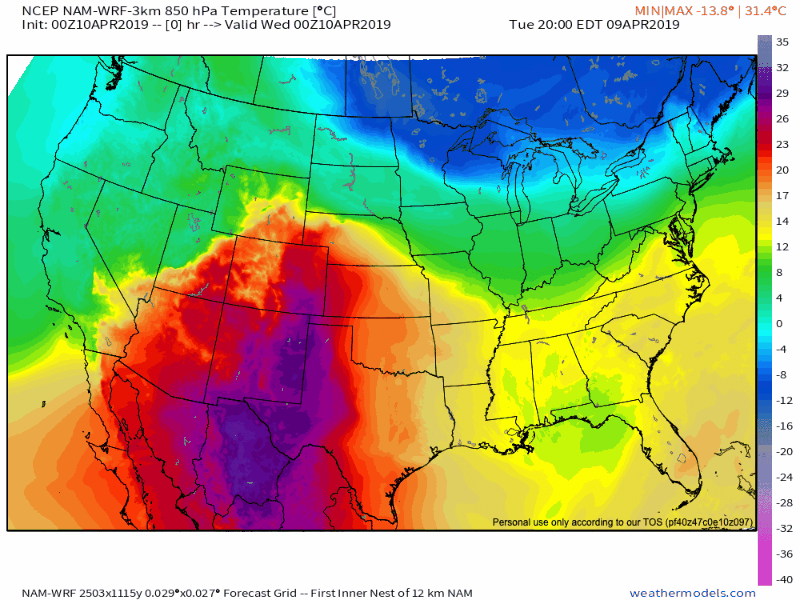 For Denver, it still looks like late afternoon into Wednesday evening is the best chance for snow. When that changeover occurs will be KEY. Latest guidance is again a bit faster with the changeover, so we've seen a few models more bullish with snow than they were this morning. The below timeline from the National Weather Service shows show in Denver by 2:30pm –– certainly possible. You'll also note the chance for THUNDER around the time of changeover, so certainly some thundersnow is possible Wednesday as well.

As a reminder our snowfall forecast is show below. Right now we think Denver has the greatest BUST potential. For areas north of the city it'll be hard to bust –– a trace seems doable, and if you somehow don't manage that, well, is it really a bust?
In Denver the timing of the changeover could mean the difference of a low-end forecast (or perhaps worse) or a boom. Nothing in the evening data says to me that 2 - 6" with plenty of wind isn't doable for the city. In fact, a few models suggest we'll be too low on the west side (Lakewood/Golden). If this system trends slower and more southerly as it develops tonight, Denver could easily hit the high end of our forecast or better. The March 2016 blizzard did just this, and it remains a top analog to the incoming system, so while maybe not likely is certainly a possibility.
We still like the idea of the heaviest snow ending up on the south and southeast side of Denver. 4 - 10" should cover these areas just fine, and where it doesn't the WIND here will make it too hard to measure anyway.
In short:
Big weather changes arrive to Colorado Wednesday
For some the WIND and dramatic temperature drop will be a bigger story than the snow
Rain changes to snow between noon and 5pm for most of the urban corridor
Snow will be heavy at times Wednesday afternoon and evening
A Blizzard Warning goes into effect at noon Wednesday, and continues Wed night for Northeast Colorado
Wednesday evening commute to be the commute most impacted by storm
Snow totals will vary GREATLY across the region. Rain, melting, compaction, wind... all will work to limit snow totals AND the ability to measure it
A good bet half of your write in tomorrow night and tell us it was a tremendous blizzard with a lot of snow 🙃, while the other half write in and say mostly rain, not much snow 😥
Worst weather conditions shift east/northeast Wednesday night
Overall confidence in this forecast is much lower than with our March blizzard, but looks like a wild weather day for the state one way or another tomorrow
A chilly, but quieter day forecast for the urban corridor Thursday, with only lingering flurries in the forecast
Oh, and this might hit the "bomb cyclone" criteria, and might not. It'll be close. Thing is, it really doesn't matter. This will be a strong storm, and the buzzwords from our last big storm in March has sort of run its course.
We'll see what changes between now and the morning and offer an update if needed. If things look on track in the morning we may not need another update, but if things look notably different, we'll pass those changes along as fast as possible.
Ah April in Colorado. Keep us posted with how things shake out at your place tomorrow in the comments below, and stay safe!