A look at the radar this morning shows drizzle/mist across the greater Denver area as we saturate and cool the air in preparation for this afternoon's heavier rain and snow. Up near Fort Collins we've already seen some snow and mixed precipitation with a heavier pocket of showers pushing off the Front Range mountains: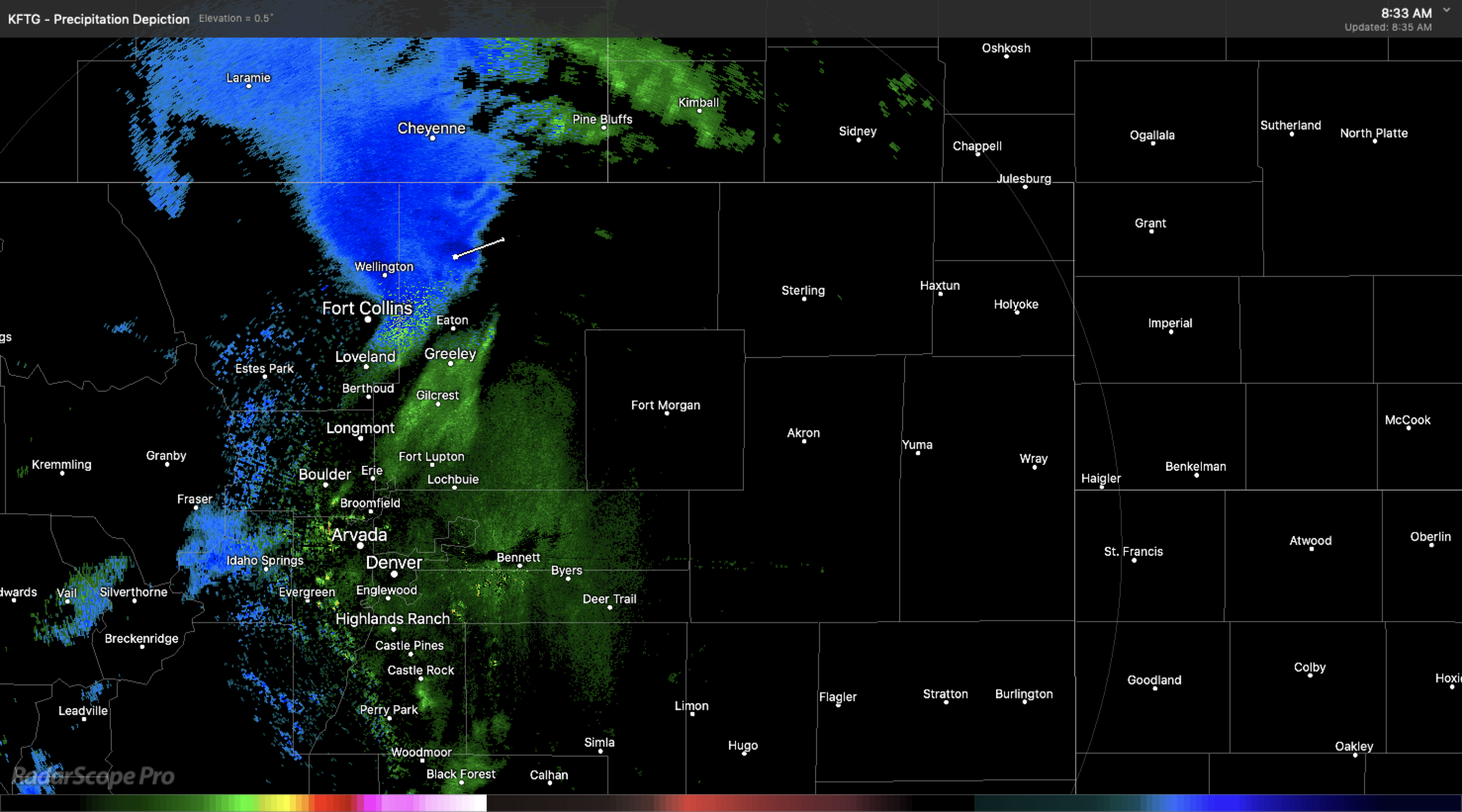 Overall we don't see much of a reason to change our forecast. We're still going with 2 - 6" for the Denver area, with a high bust index. Surrounding areas at higher elevations could do a bit better. Big story again is the dramatic change from yesterday, the anticipated wind which will be on the increase today and carry into Thursday, and the potential for several hours of heavy wet snow across the region Wednesday afternoon and night.
A Blizzard Warning goes into effect at noon for Denver. We still think it's a borderline call for Denver, but perhaps better than going with an Advisory given the wind potential. The latest high-res NAM model shows gusts from 25 to 35mph this afternoon as rain changes to snow: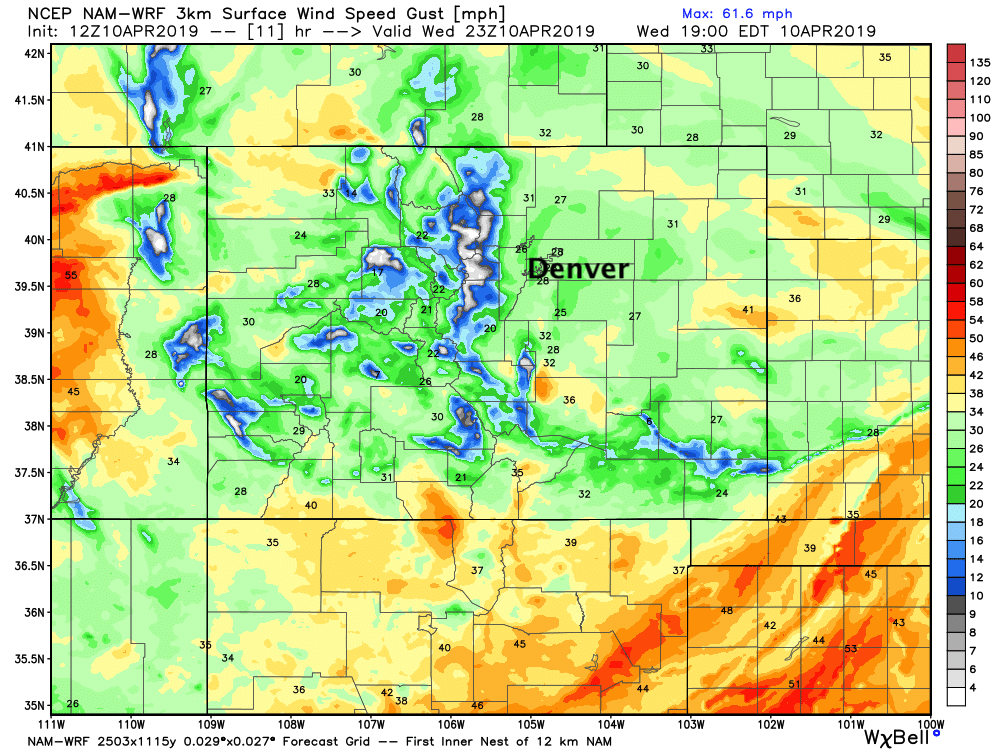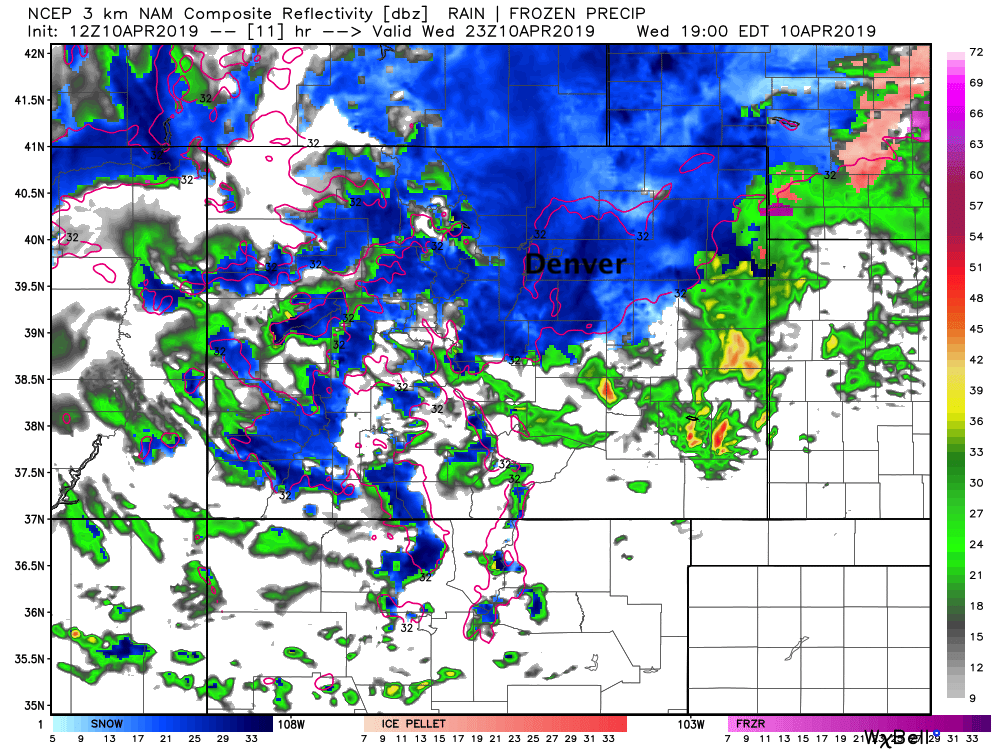 Models are still a bit all over the place with QPF and how much snow we might actually see. We of course like to stress the impacts vs exactly how much snow will accumulate in your back yard. This afternoon's weather will be impactful for all of Northeast Colorado, and travel will not be advised.
That said, a look at two of this morning's high resolution models show both the high end potential and of course the also possible BUST. The 3km NAM (top) shows 3 - 5" of snow for Denver, with upwards of 6" for the surrounding suburbs. It also shows a pocket of heavier snow for the Fort Collins area. Importantly, this is assuming 10:1 snow/liquid ratios, which is likely too high for this late-season snow. Nevertheless, this model, coupled with snow would be an impactful snow event for the region today, and matches pretty well with our forecast: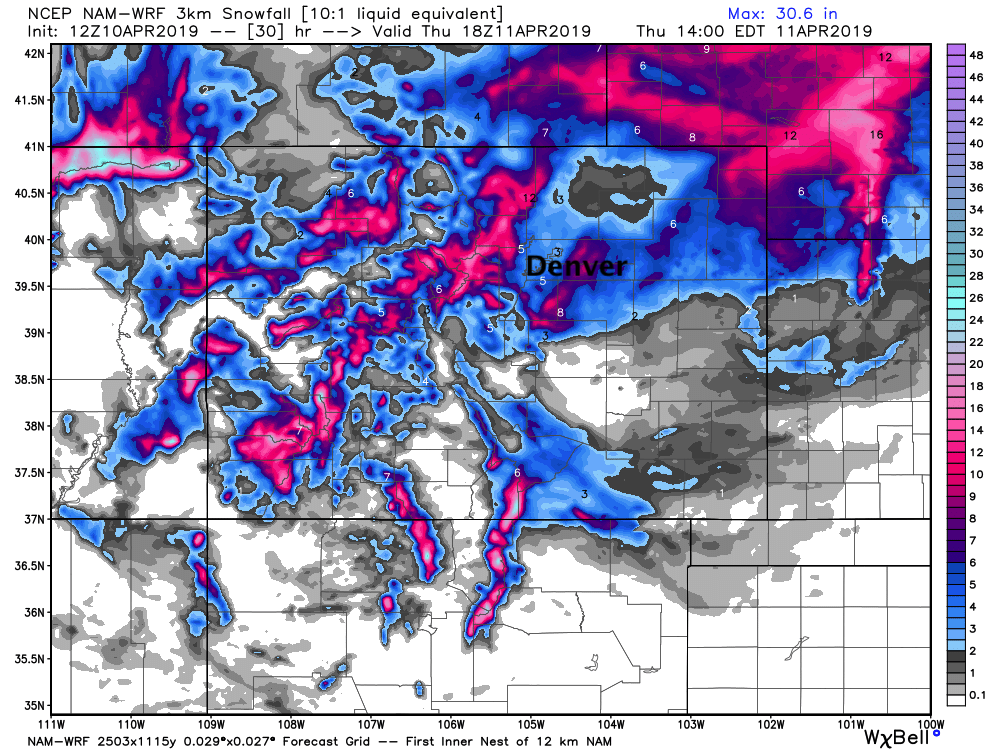 The HRRR meanwhile shows what MAY happen, especially if we have issues with rain changing to snow. It's got roughly a Trace to 1" for Denver and the much of the northern urban corridor. It's got pockets of 3 - 4" east of I-25 which we can't argue with, but is generally further NORTH than most of the other guidance, and has very little QPF and snow over the Palmer Divide: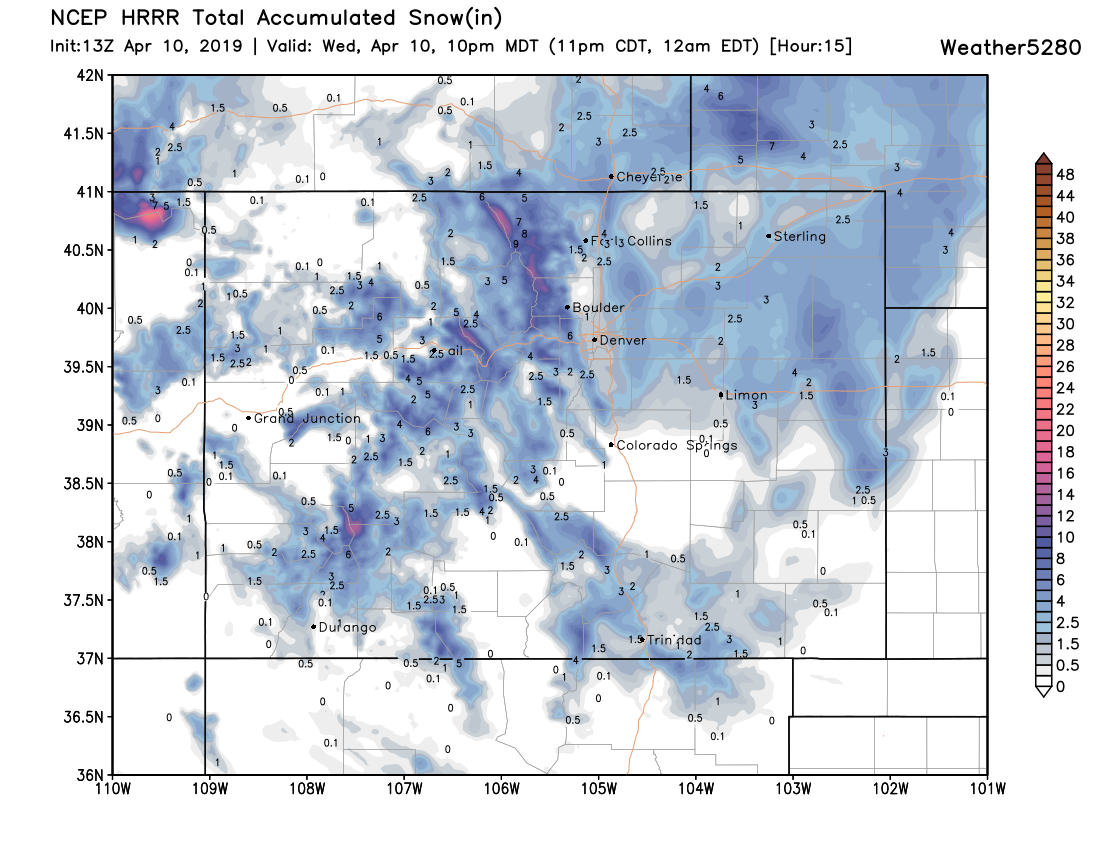 It is, however, still windy –– especially east of I-25: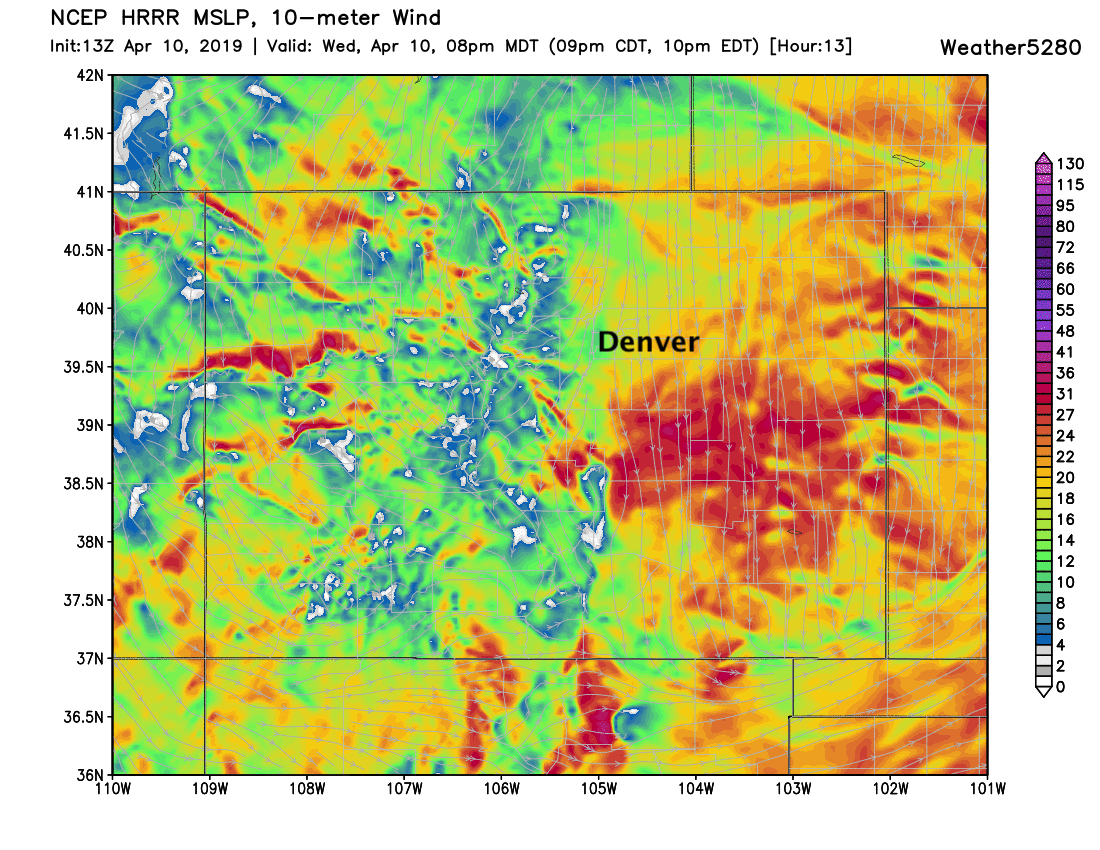 A look at our gamblers shows decent confidence most of the northern urban corridor manages a few slushy inches of snow today, with the POTENTIAL for a "boom" event with those trailing high-end probabilities. Again, Colorado Springs/Pueblo are much less likely to see the heavier snow potential today, but will see quite a bit of rain and perhaps some flash-freezing on the roads: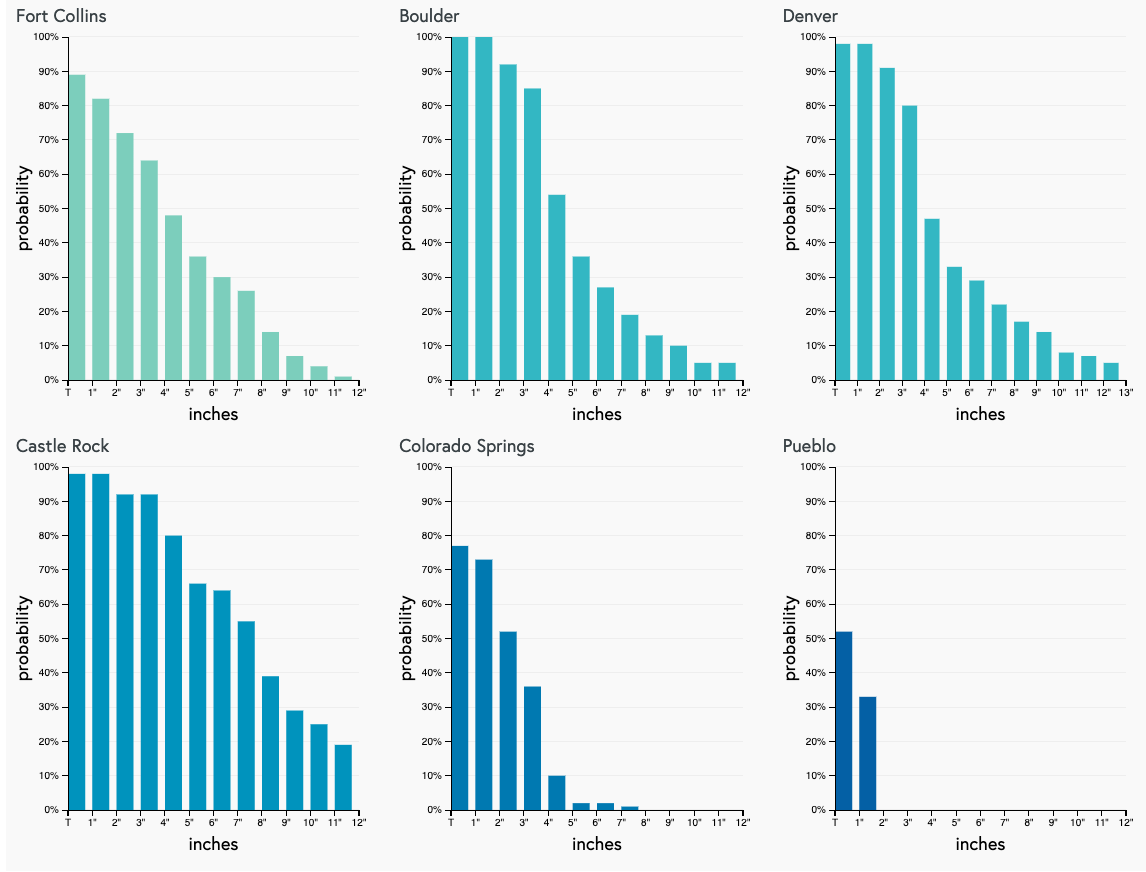 A finally, a look regionally at last night's European ensemble forecast shows the the worst of the snow will end up northeast of Colorado (perhaps over the far Northeast Plains as well), with lower totals in the means backed up agains the Front Range. For Western Nebraska and South Dakota this is a high-confidence, high-impact late season blizzard taking shape today: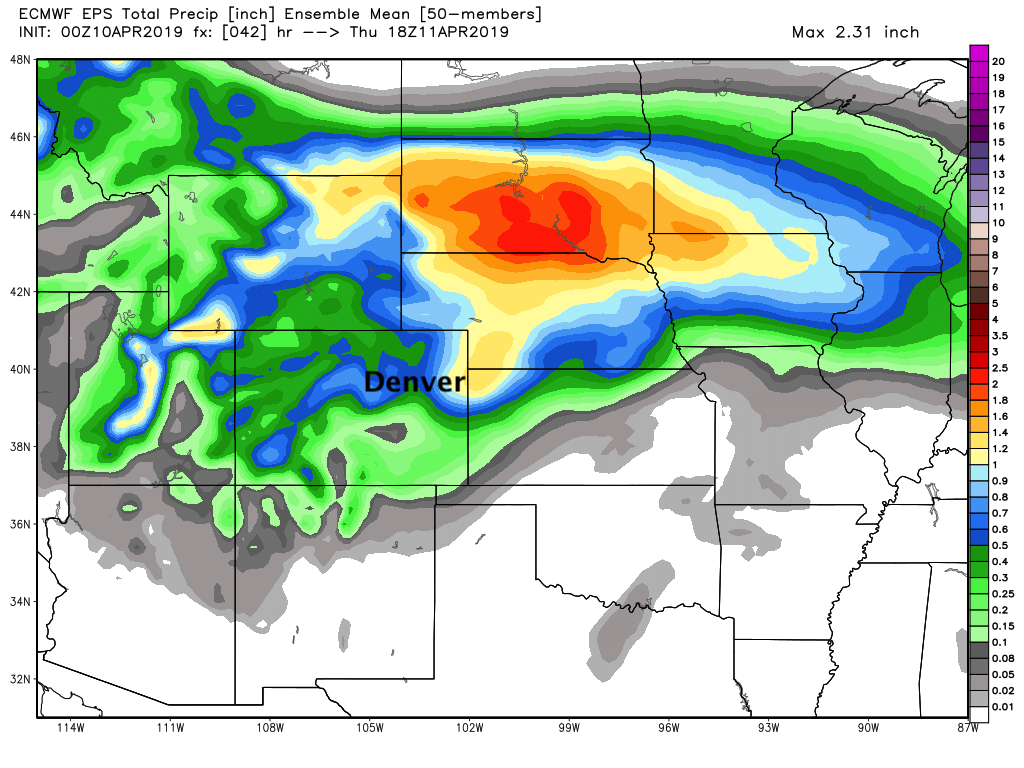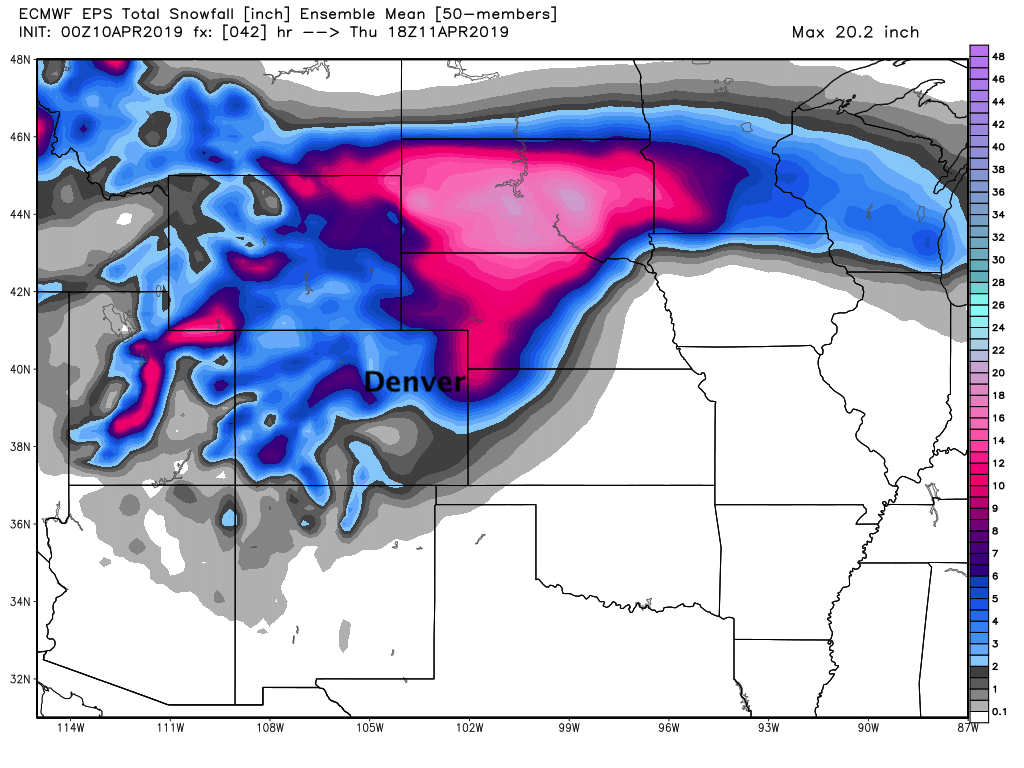 I have no doubt in my mind some of you will be deeply disappointed in the forecast as someone is likely to get robbed of snow (and therefore blizzard), but most of us should see some heavy snow move through by this afternoon.
A tough, low-confidence forecast, but... a BUSY and exciting day for weather across Colorado. Please keep us posted as to conditions at your house as the day progresses. Stay safe, and avoid travel later today if possible!