With this week's rain and snow now long gone, a look ahead shows beautiful weather on tap for the next several days, before the pattern turns cooler and unsettled by late Monday.
Much of the state has seen some appreciable moisture over the last seven days. This is especially true for the High Country, as well as communities along and west of I-25 at lower elevations. Across the Northeast Plains we saw more spotty storm coverage, with an overall dry week for Southeast Colorado:
The precipitation forecast through Monday morning for the state shows hit and miss showers will be possible, but not exactly a wet signal for most areas as a warm and relatively quiet weather pattern is in place for the weekend: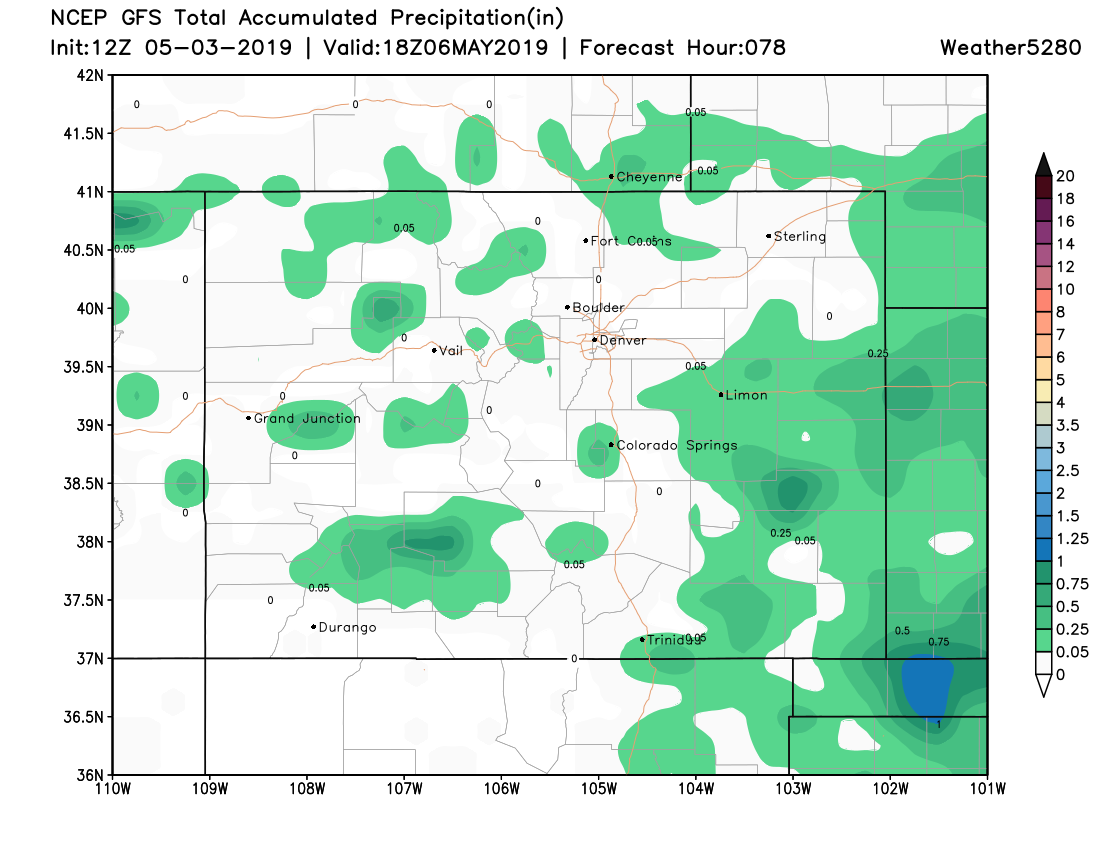 Where we see a bit better storm coverage over Southeast and East Central Colorado we could see some severe weather on Saturday. Right now the best potential looks to be east of the I-25 corridor, but across the Plains some isolated storms will develop Saturday and could become severe. Primary concern for those storm Saturday at this time is hail (yellow shaded area below):
MOS guidance has temperatures in the upper 60s for Denver today, near 70 on Saturday, and in the mid 70s both Sunday and Monday. If we look at the forecast temperature anomalies over the next 10 days or so, we see plenty of warmer than average temperatures showing up across eastern Colorado for the next several days (focus on the DEN), followed by several days of blues and whites, indicating a shift to cooler than average weather later in the forecast period: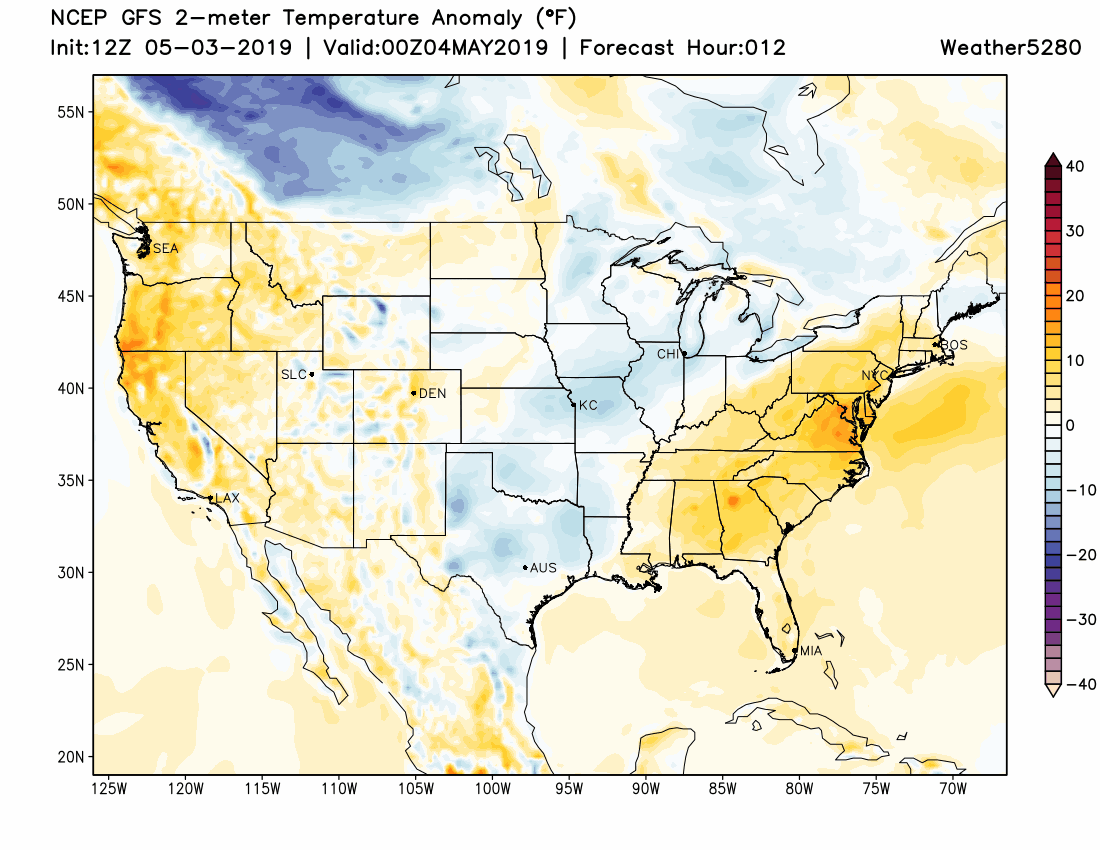 The GEFS ensemble forecast would echo this. The temperature chart (top red) shows temperatures steadily warming through Monday before cooling quite a bit Tuesday through the remainder of the week. The precipitation chart (bottom) shows the various ensemble members showing a chance of precipitation from really Monday evening onward next week:
At the moment we're not talking snow at lower elevations, but that could certainly change. For the mountains and foothills, more accumulating snow looks like a pretty good bet next week. And, just because we aren't talking snow, doesn't mean there's no model support for snow at lower elevations. In fact, the European ensemble mean shows several inches for Northeast Colorado next week. If we are to see snow next week at lower elevations, the most likely timeframe at this time looks to be in the Wed-Thur period.
For precipitation, the Euro is quite wet, and hopefully this holds up better than models did with the last round of wet weather. This model has 1 to 2" of QPF in the forecast for a good chunk of the state between Monday evening and Friday next week:
For snow... well, more good mountain snow looks like a good bet. Some potential across the plains, but as we saw last week, models aren't going to be great at sniffing out actual snow potential at lower elevations this time of year.
Our gamblers are picking up on some potential as well, so we won't completely ignore it... but, for now let's plan on "chilly and unsettled" but the middle half of next week, and not "epic May snow!".