Not a huge amount of news to discuss on the weather front this week as our drier than average summer pattern remains in place. Daily temperatures ranging from just below average (mid-upper 80s) to just above average (low to mid-90s) will continue as will those daily storm chances, albeit not all that high of chances some days.
For the workweek the warmest days will come through the first half, with cooler temperatures expected for Thursday and Friday. MOS guidance has highs in Denver in the low to mid-90s through Wednesday, dropping into the low 80s Thursday, with upper 80s expected for your Friday.
Not surprisingly, the precipitation chances this week will follow this same pattern. There will be 10 to 20% storm chances in Denver Monday and Tuesday, increasing at least a bit by Wednesday, with the best storm chances (at this time) looking to come Thursday with those cooler temperatures.
As we've discussed quite a bit last week, those daily storm chances this time of year greatly rely on the placement of the ridge and how much moisture is able to make its way into Northeast Colorado.
If we look at the placement of the ridge to start the week, we see it centered over the Four Corners region: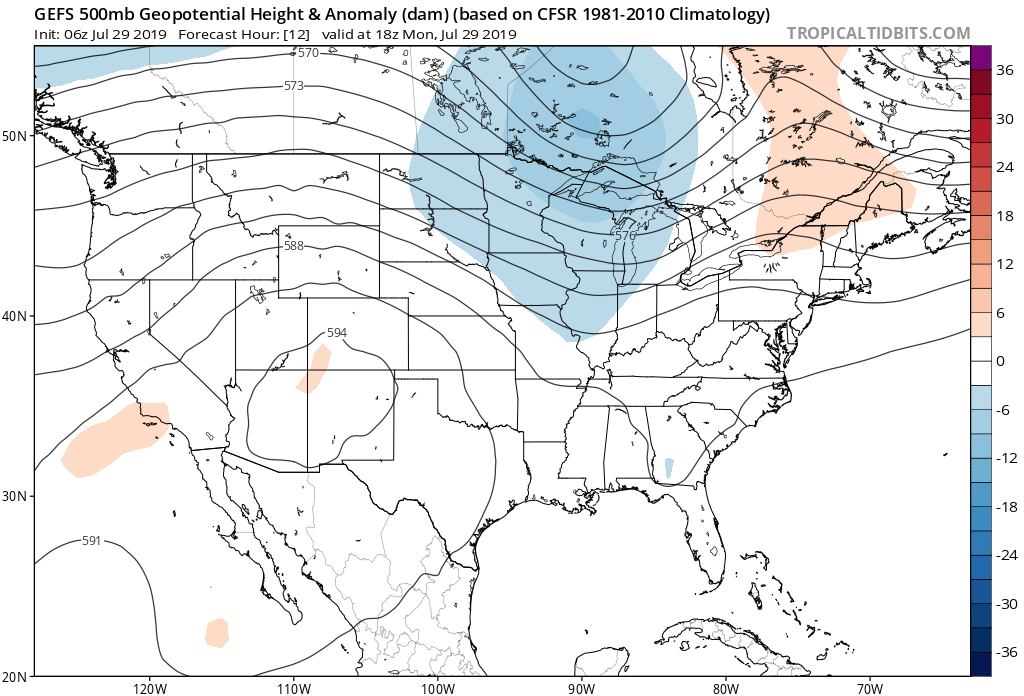 The corresponding PWAT anomaly map (a measurement of how much precipitable water is available), shows browns (drier that average) over Colorado: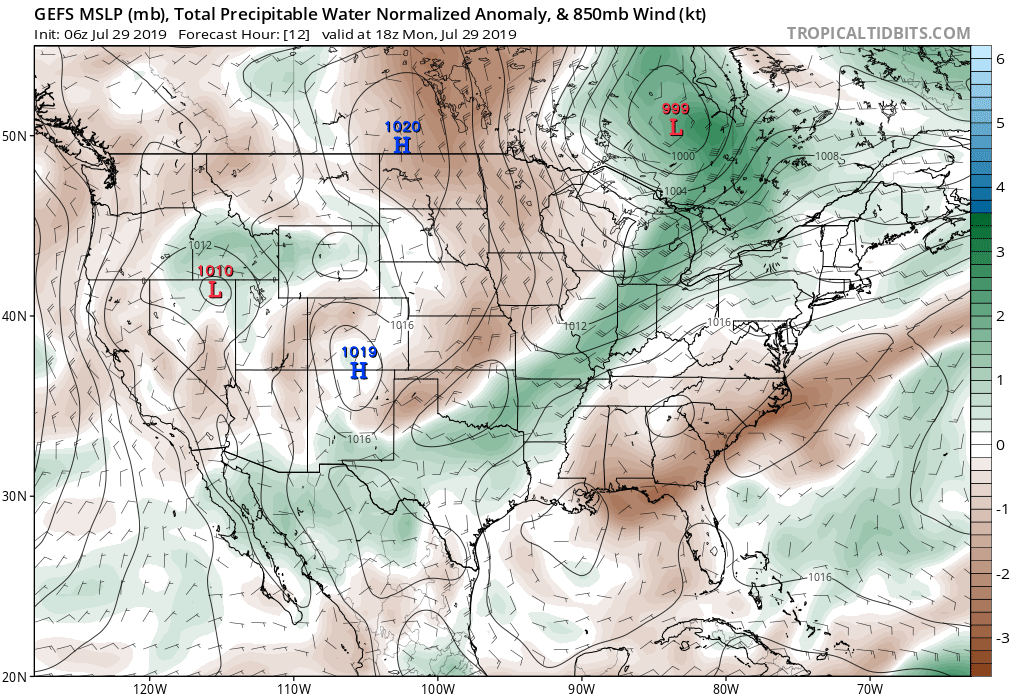 By Thursday we see the ridge has shifted just a bit further east: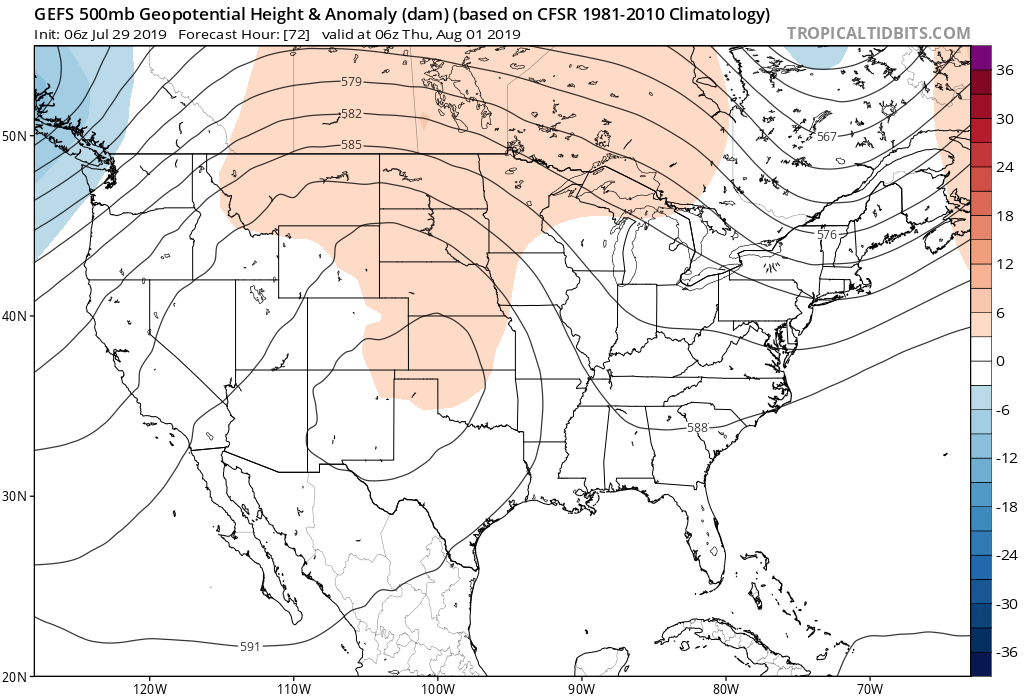 And the corresponding PWAT anomaly map showing quit a bit more green –– indicating a better supply for moisture being pulled northeast around the backside of the ridge: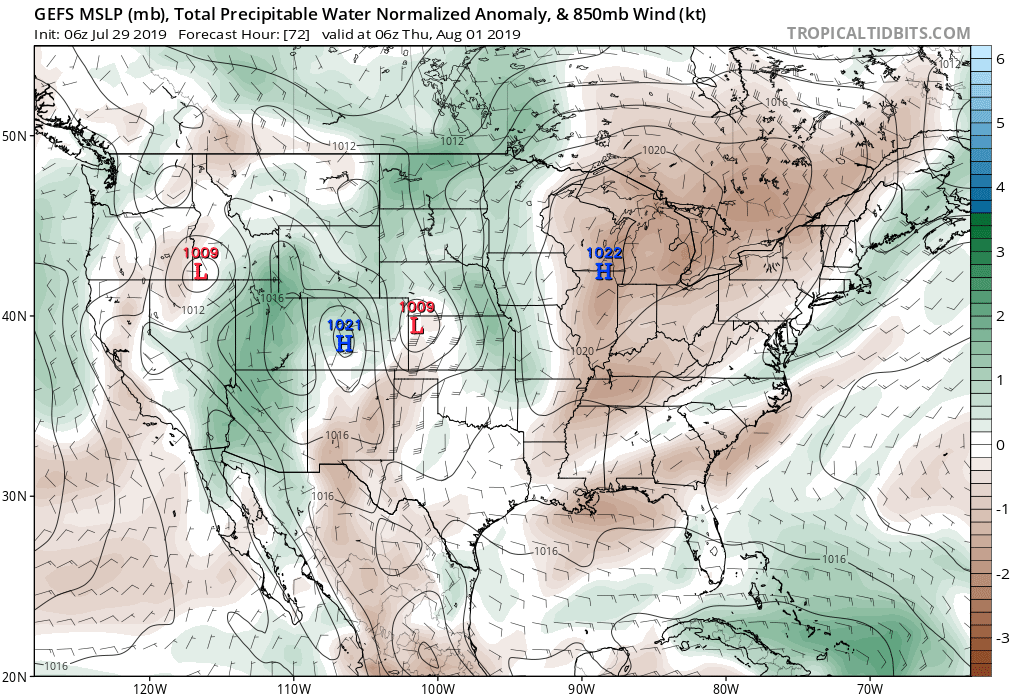 The mid/late-week cool down looks short-lived, as the ridge is expected to again retrograde a bit this weekend, and with that we should see temperatures again climb into the 90s along the urban corridor.
So, for precipitation look for much of eastern Colorado to see below average precipitation this week, the exception being perhaps along The Front Range foothills and Western Palmer Divide. Thursday we could see pockets of heavy rain across the Plains, but not widespread enough to really show in the global models this far out: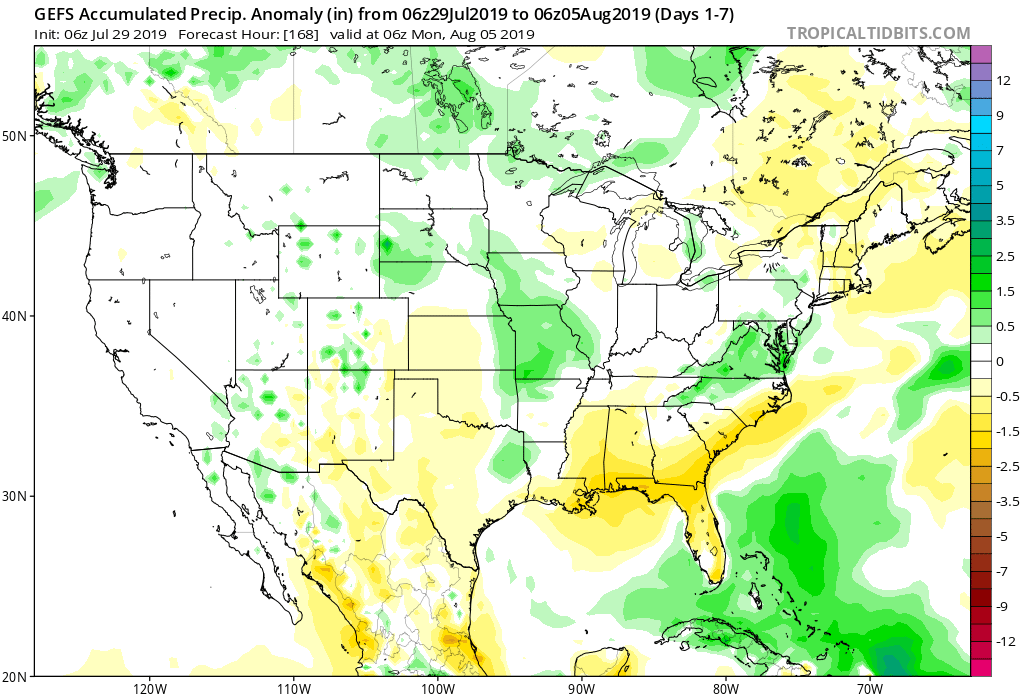 Next week (below) still looks to feature better storm chances across Central Colorado and the Northeast Plains (as we discussed on Friday), but let us get through the next five days or so before getting all too excited about this prospect.