Even as snow continues to fall across the High Country this afternoon, we continue to look ahead to the next blast of wintry weather due to move through Wednesday into Thursday.
This next system, unlike the one that moved through the state this weekend, is likely to bring a higher chance of snow for the urban corridor, though plenty of uncertainty as to how much, remains.
At 500mb we see a trough drop out of the Northern Rockies along with the northwest flow aloft Wednesday during the day, then swing east as it moves over Colorado early Thursday. You can watch its progression below by finding the yellows/reds and buckle in the flow at 500mb first over Montana, then sliding south/southeast over Colorado and Kansas in later frames: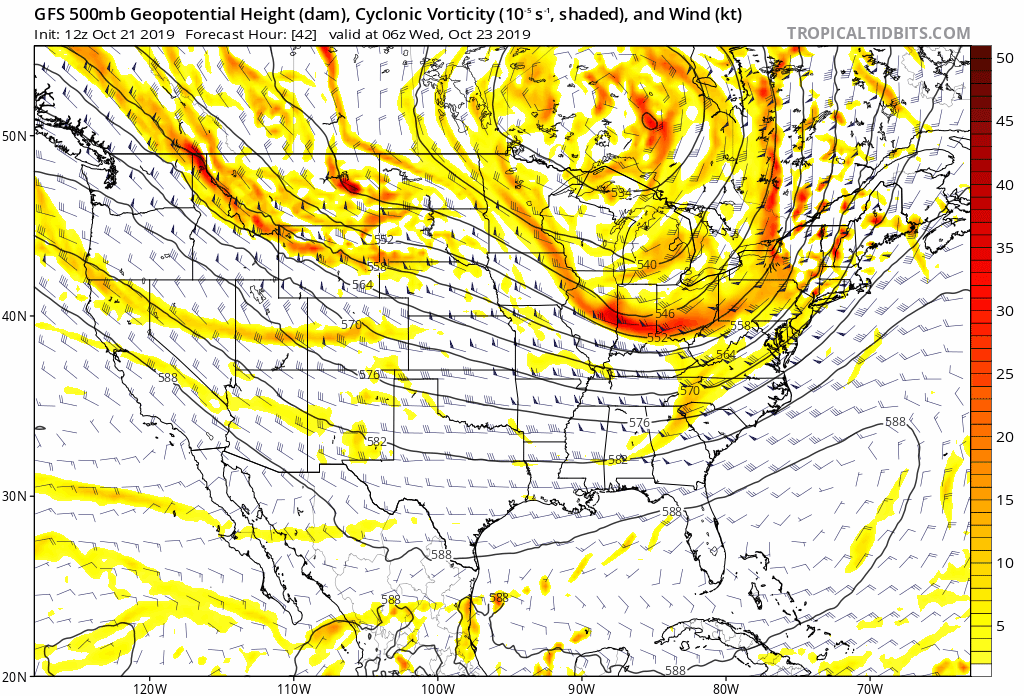 At 700mb you can easily see the surge of colder air that will accompany the trough. It's expected to push into Northern Colorado Wednesday morning, through the Denver area around midday (assuming timing doesn't change and it very well may) then eventually through Southern Colorado Wednesday night.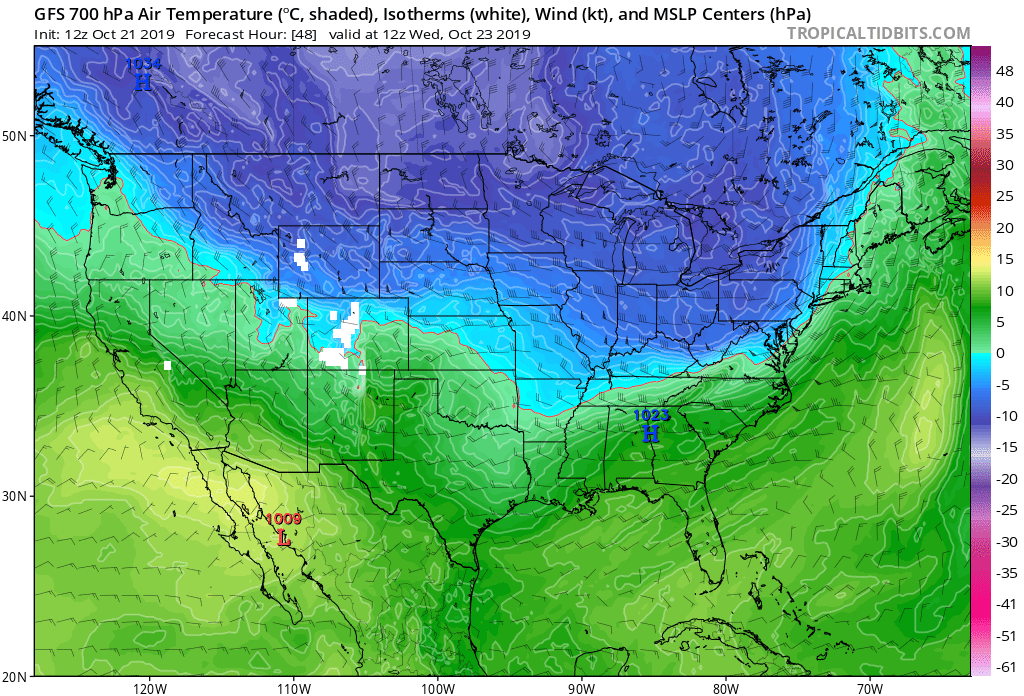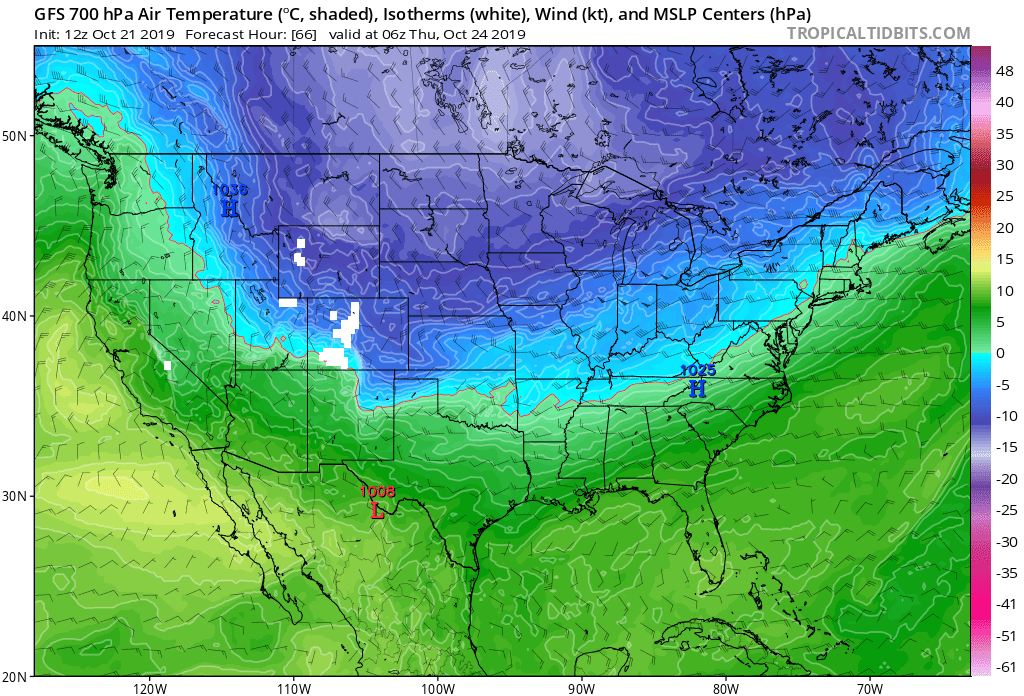 Behind the front upslope flow will develop. That, coupled with jet dynamics overhead, should lead to a period of snowfall from Wednesday afternoon across the higher terrain to the west, through Thursday morning –– with that snow spilling off the hills Wednesday evening and overnight. Snow, will be heavy at times across the urban corridor Wednesday evening, potentially impacting the evening commute for some depending on eventual timing.
The GFS, and most other models, shows the best forcing ending up along and west of I-25, mainly from Boulder County, down through the Western Denver suburbs, and across the Palmer Divide. That's not to say that won't change, and it's also not to say no one else sees snow (they will), but the heaviest totals at this time look to favor these areas. Here's the latest GFS precip/type forecast for Wednesday morning through Thursday morning. Note rain and snow will move from north to south during the period, with this particular model showing lesser of both across the northern areas (Fort Collins, Greeley), with more south and southwest: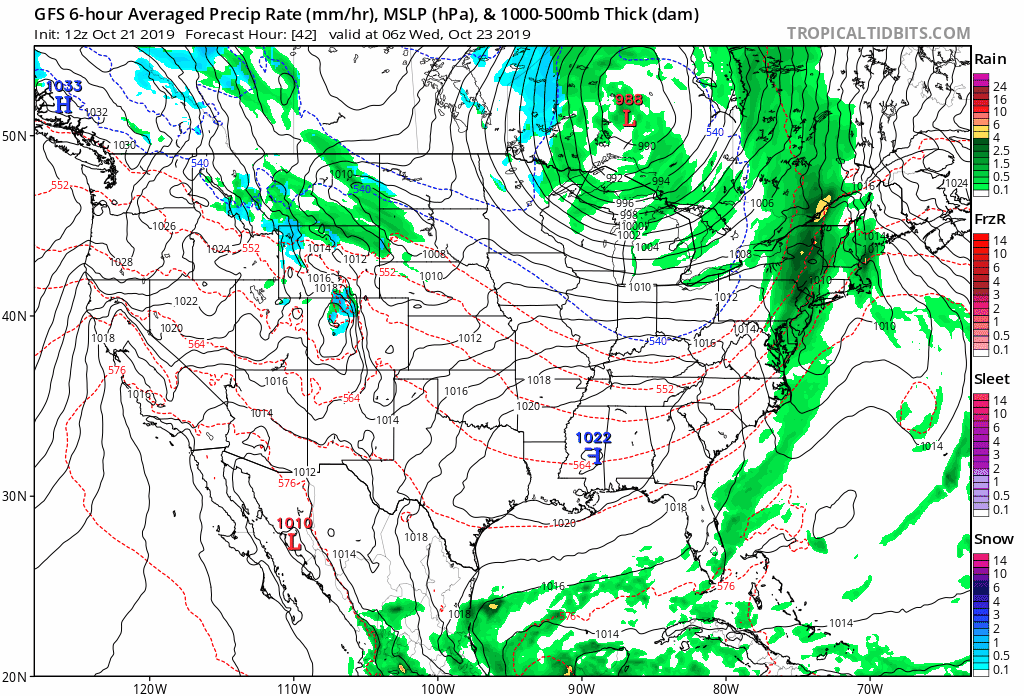 With that said, the gamblers below make some sense. We're not showing high odds for much accumulation in Fort Collins at this time, with greater odds for Boulder, Denver, Castle Rock, and even Colorado Springs. The trailing higher-end probabilities we see for each of these cities indicates some high-end potential this system holds. Similarly, the lack of all that impressive probabilities on the low-end shows the bust potential. It's a tricky setup, as these troughs that move through along the northwest flow can sometimes over-deliver, but often... don't. It's also worth noting here that those probabilities for Denver are focused on the east side, with probabilities for areas like Lakewood, Golden, and Highlands Ranch being higher.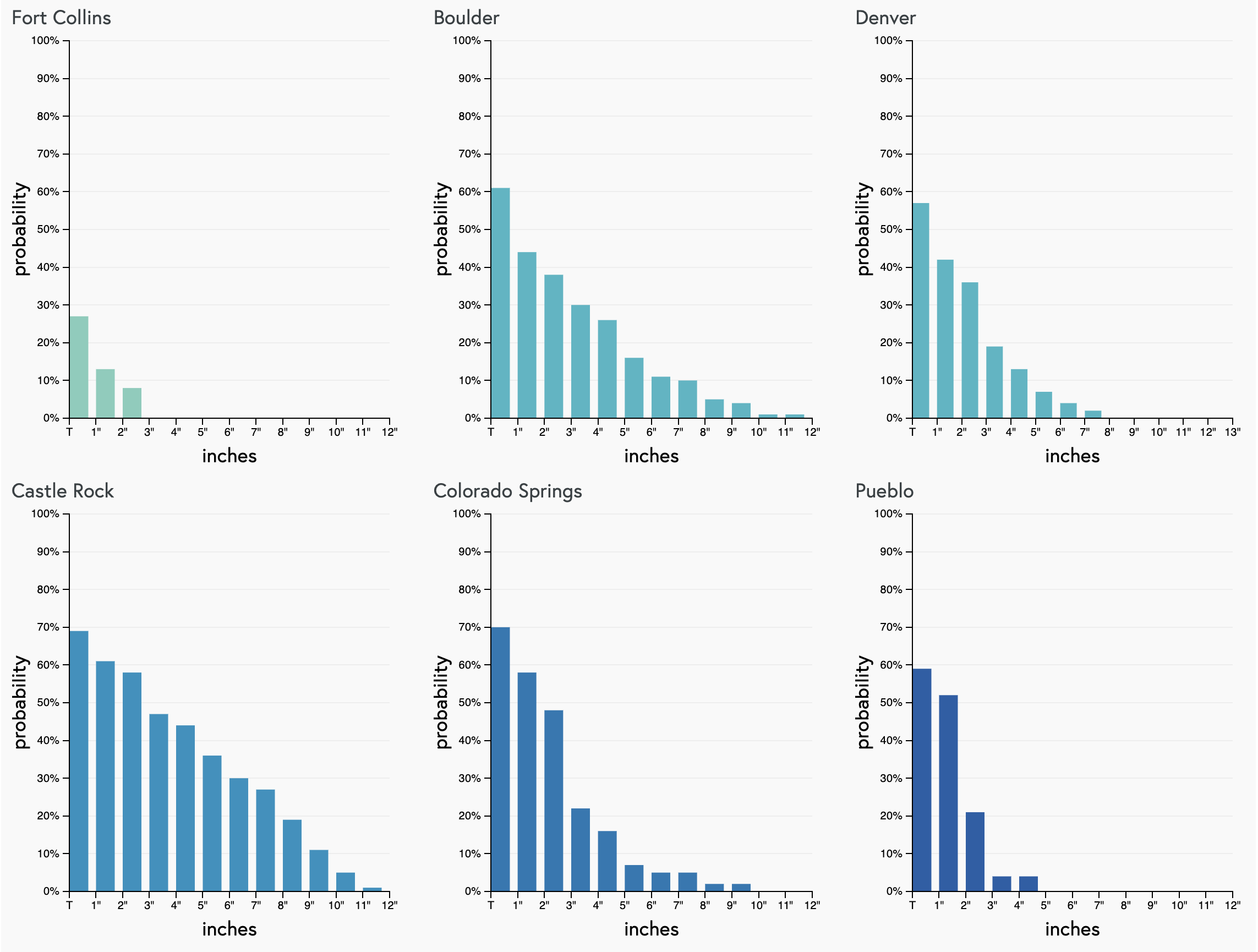 For areas south of the Palmer Divide, namely Colorado Springs, we'll see how much snow potential ultimately you end up seeing. Right now modeling is pretty excitable, with many showing more snow in COS than downtown Denver. That said, given the northwesterly fetch, we remain a bit skeptical as to how much snow actually makes it south of the Palmer. Typically we'd see downsloping hurt totals down south with these setups.
The image below may not be a bad opening bid for a snowfall forecast... of note, Boulder, Golden, and Southeast Denver metro do well in this scenario, points north generally see less snow. Good snow across the Front Range mountains and Western Palmer Divide too, with northern COS potentially seeing higher-end totals as well. For COS proper, hard to tell here, but again likely to be some downsloping issues:
We'll continue to watch things and pass along updates as needed. For now, plan for wintry weather across much of the state Wednesday afternoon through Thursday morning. First to the north, then sliding south and southeast overnight Wednesday. The latest planner for Denver shows precipitation chances on the increase Wednesday afternoon, peaking Wednesday evening through about midnight, before dropping into Thursday morning. Again, some snow bands are likely to be heavy Wednesday evening, so plan accordingly. Let's see how the timing of the Front Wednesday looks as we get closer, and adjust these timelines accordingly.