For the Denver/Boulder/Fort Collins corridor a Winter Storm Warning goes into effect Thursday morning and remains in effect through Thursday night. For Castle Rock, and most of the Northeast Colorado Plains, a Blizzard Warning is in effect for the same period.
This is not to say the Denver area won't see wind –– but the strongest sustained winds will likely be east of I-25 and across the Palmer Divide. Still, even for the Front Range urban corridor, the heavy snow and gusty winds will reduce visibility at times.
Here is a look a the latest alerts from the National Weather Service: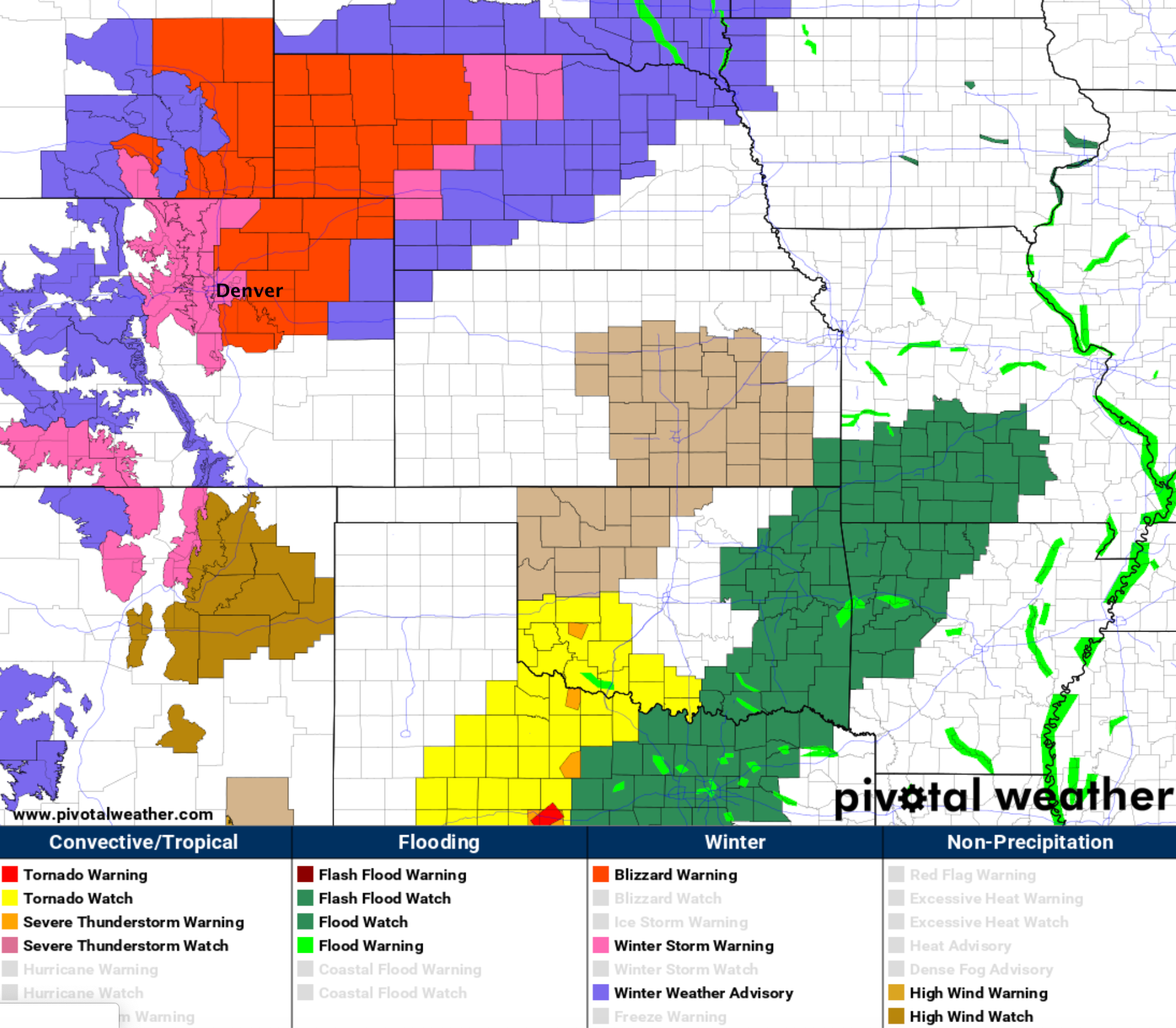 Snowfall forecast
We continue to think melting and compaction (heck, the wind too!) will make measuring what falls vs what sticks two different things... however, we'll bite a bit this evening and up totals in a few spots. This is mostly to account for what looks like a period of very heavy snowfall tomorrow afternoon/evening IF things pan out as expected.
Our forecast as of Wednesday evening is as follows:
Fort Collins (west): 3 - 8"
Fort Collins (east): 2 - 4"
Denver (downtown): 3 - 8"
Denver (West/South/Southeast): 5 - 10"
Boulder: 5 - 10" (could manage a foot here...)
Castle Rock: 5 - 10"
Monument: 7 - 14"
Colorado Springs (downtown): Trace - 3"
Foothills/Front Range mountains: 7 - 14"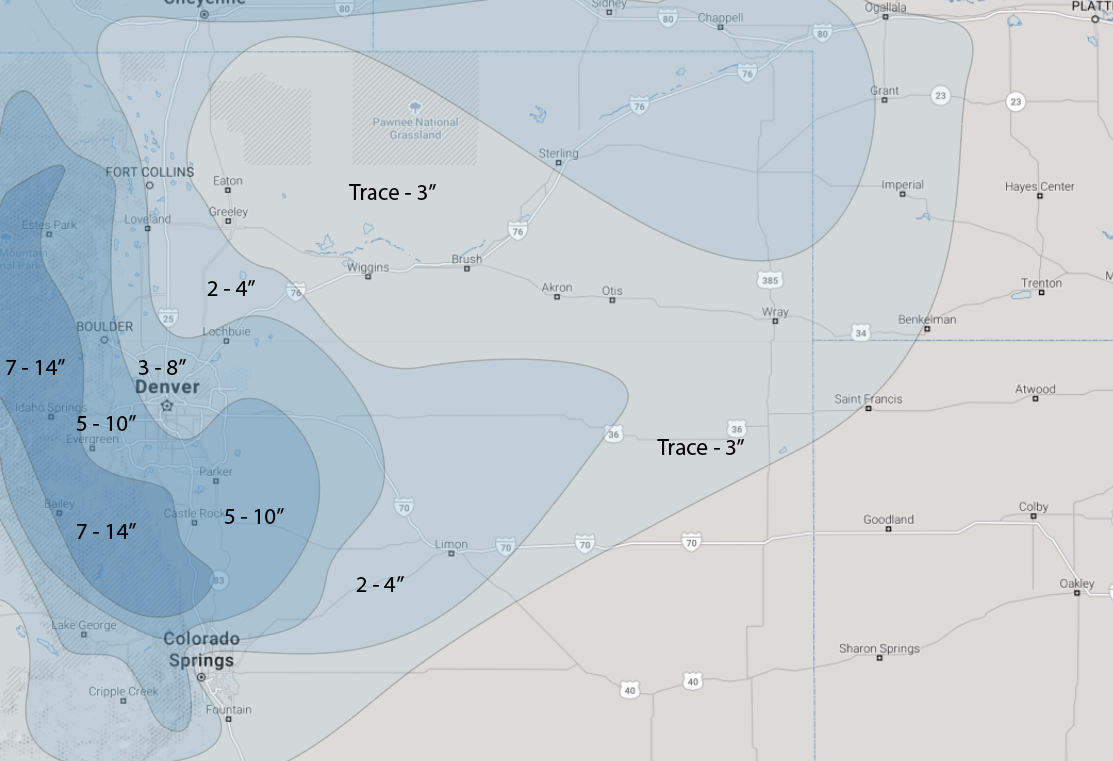 Timing
The hourly planner for Denver shows those precipitation chances on the increase overnight tonight, and becoming likely tomorrow morning and well into Thursday night. Tomorrow morning some of that will likely be in the form of rain or a rain/snow mix, but by late morning that rain will transition to snow for most locales. Thursday afternoon and evening will be all snow, and it will be heavy at times.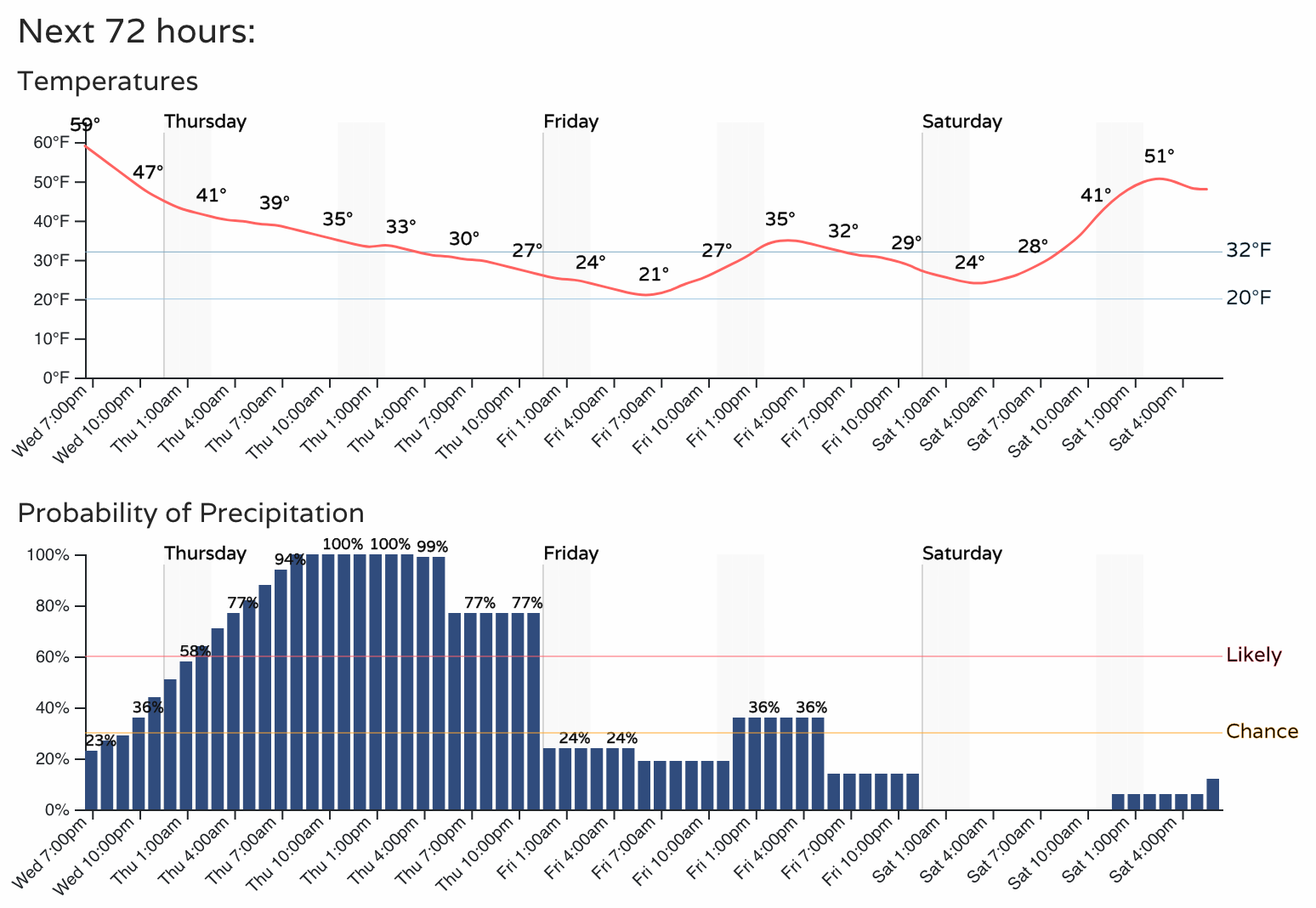 For the Fort Collins area those precipitation chances are higher tonight and in the morning (you're already seeing some good rain showers in the area this evening!). Your precipitation hourly outlook is as follows:

The 3km NAM shows precipitation picking up early Thursday morning. It shows snow for the Palmer Divide and Southeast Denver metro, but rain for Denver and points north: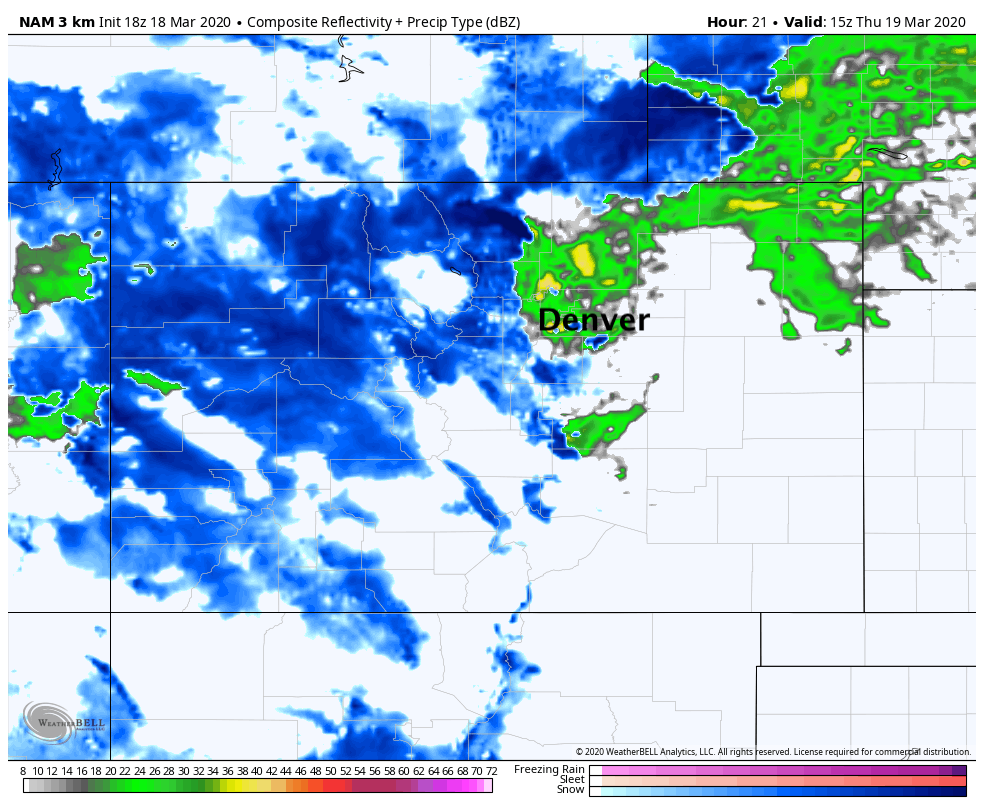 By midday the transition to snow is done, and it could be snowing quite hard for a few hours –– perhaps 2" and hour or so at times: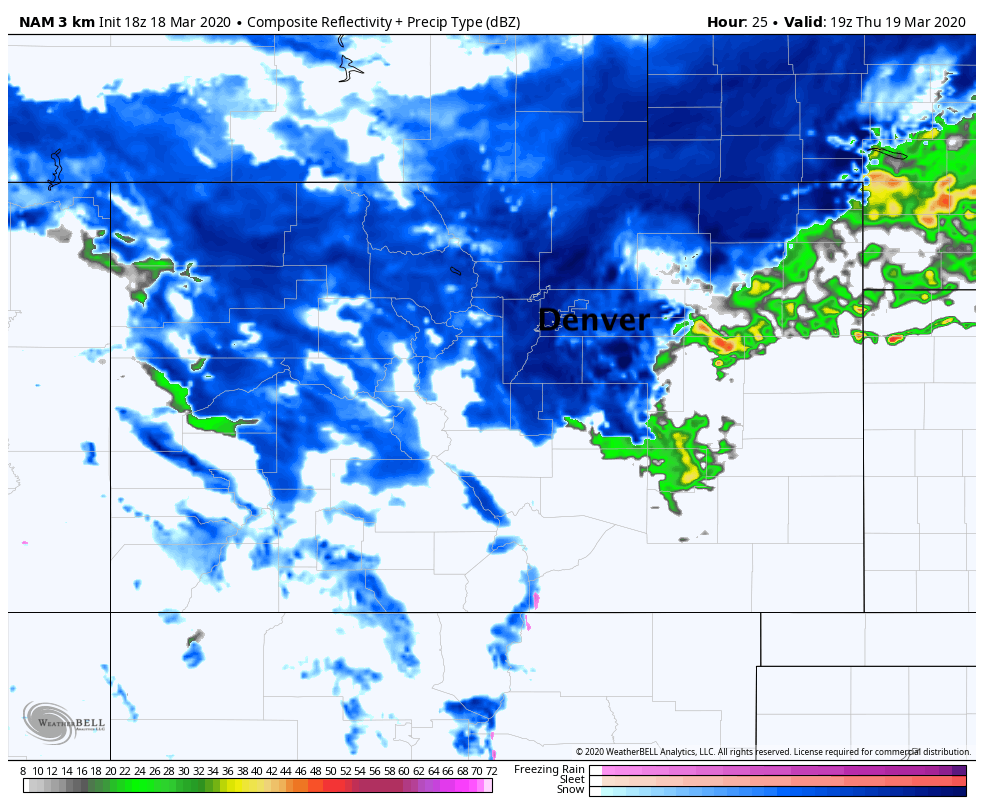 Thursday evening snow is widespread, but the heavier snow is beginning to move east: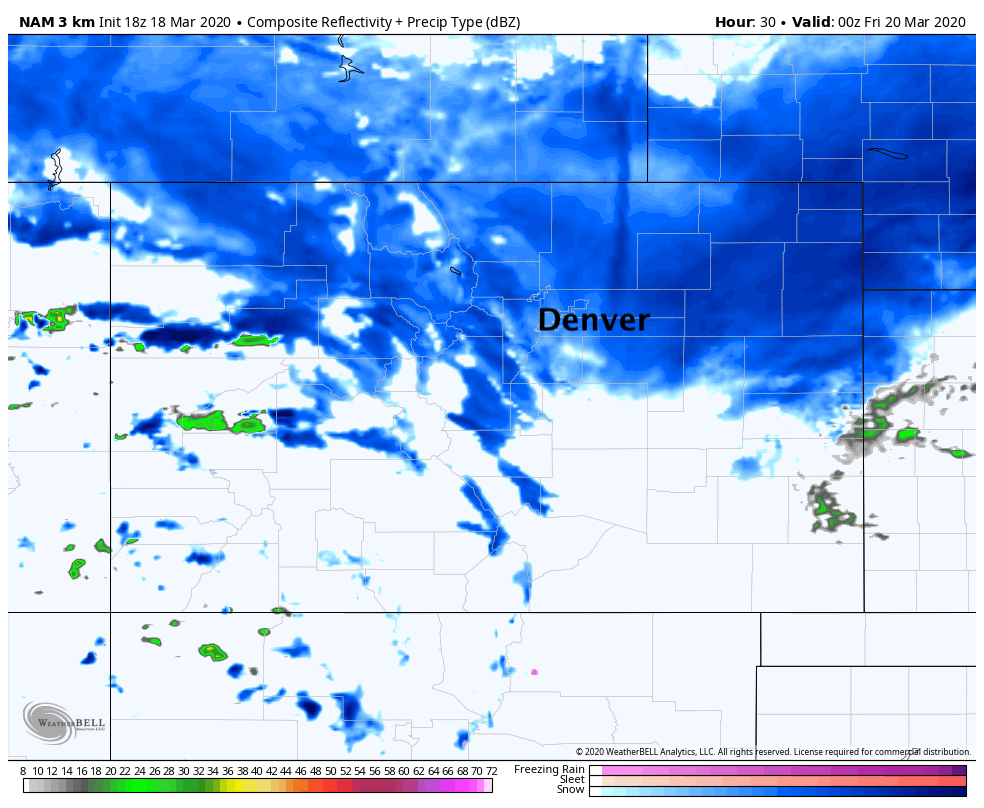 By early Friday morning the worst of it is over, but still some wrap around snow showers continuing. In fact, we're likely to see off and on snow showers throughout much of the day on Friday.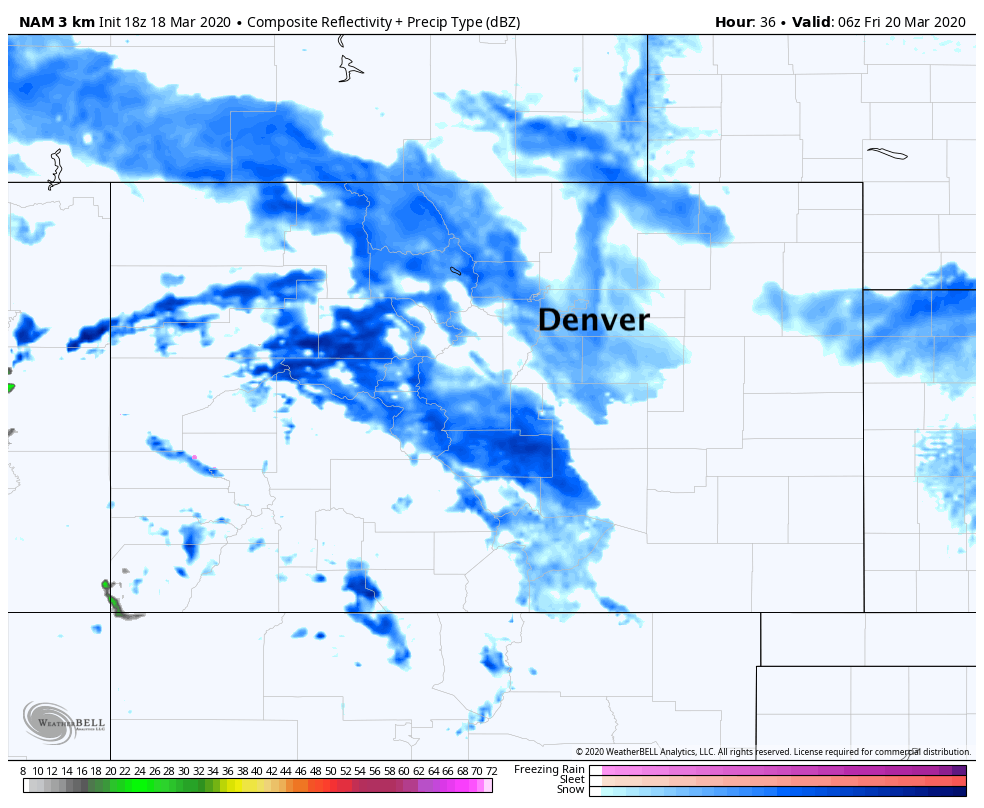 In short, Thursday and Thursday night will be a good time to stay home and not travel across Northeast Colorado. Between the pockets of heavy snow, and wind to 50 mph at times, the roads are likely to be not much fun at all. That's just in case anyone had plans to go anywhere anyway!
Related: Denver's Top Five March Snowstorms

Whether or not the snowfall forecast aspect works out or not tomorrow... this does look like it'll deliver some great moisture to much of Colorado, aside that is from Southeast Colorado. The latest European ensemble mean shows odds of a half inch or more of precipitation through Saturday upwards of 90% for most of Northeast Colorado which is fantastic!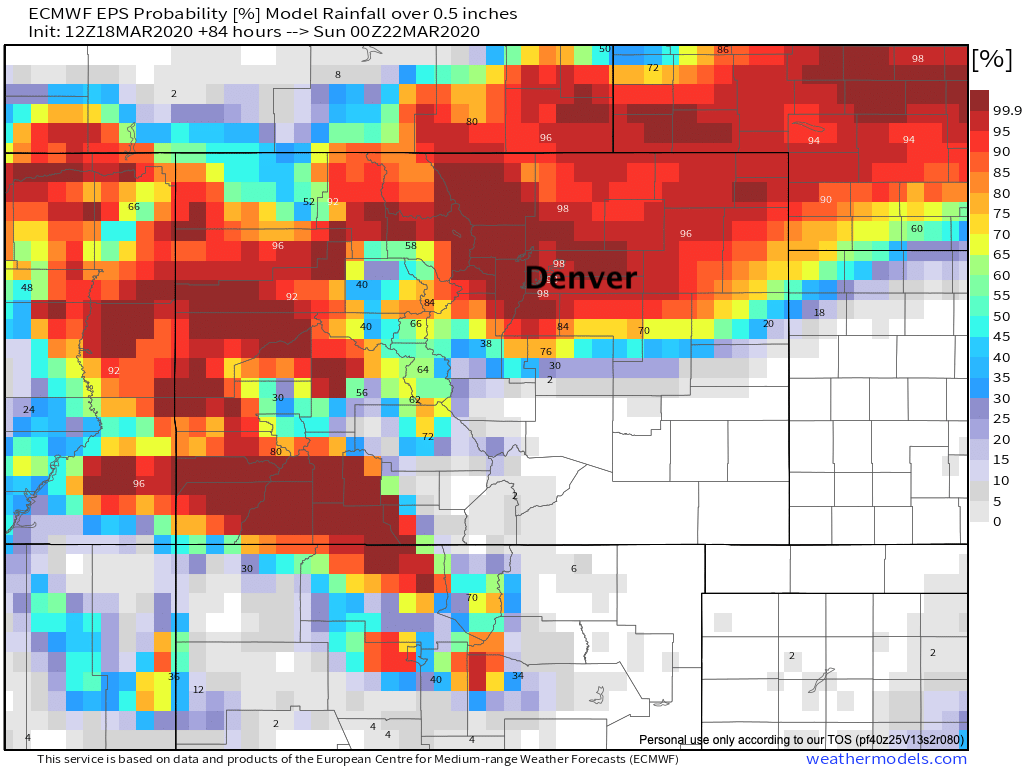 As for those totals... let's see if the heavy snow can overcome warm surfaces, sun angle, and "warm" surface temperatures for much of the day. We think perhaps it may, and therefore some areas are certainly in play for high-end totals. A look at the European ensemble probabilities for 6" of snow or more show about a 50% chance for downtown Denver, much lower north of Denver, and some pretty good odds if you live in Denver's western, southern, and southeastern suburbs. The northern Front Range mountains should do quite well as well: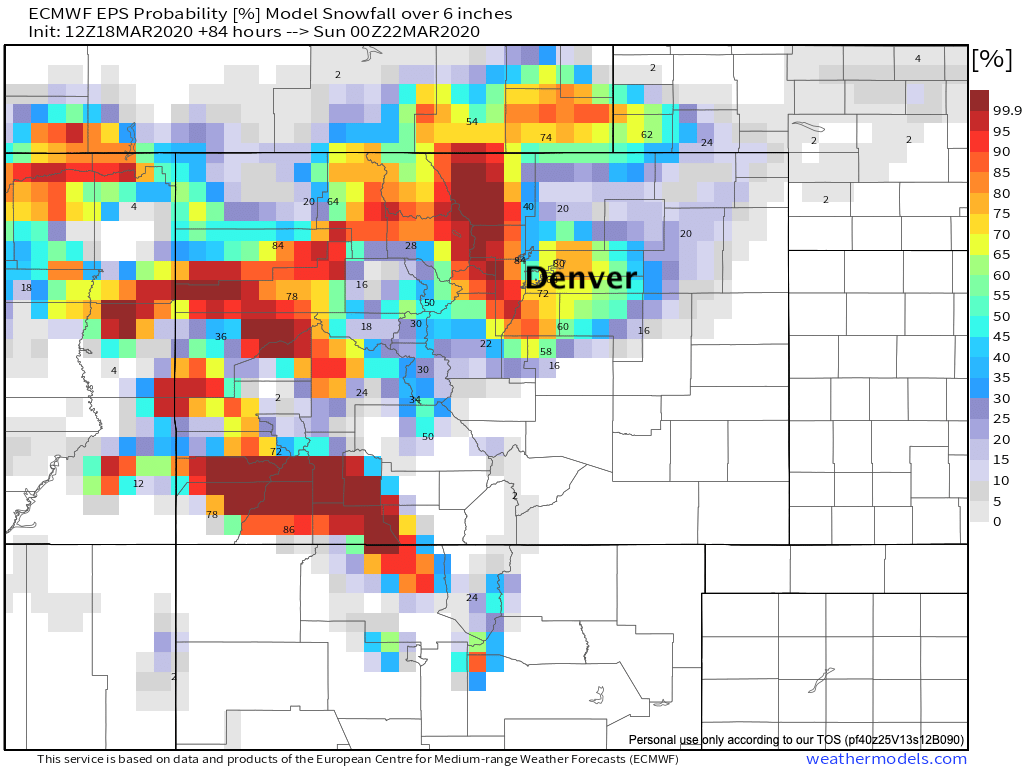 Ah, March in Colorado! Let us know how things shake out at your place, and stay safe!