Yesterday's incredible wind storm which formed over the Great Basin Saturday morning then raced across the Colorado and into the High Plains Saturday afternoon was an impressive event for this region, and one that will be classified as a derecho in the history books.
What's a derecho? From the Storm Prediction Center:
A derecho (pronounced similar to "deh-REY-cho" in English, is a widespread, long-lived wind storm associated with a band of rapidly moving showers or thunderstorms variously known as a squall line, bow echo, or quasi-linear convective system. Although a derecho can produce destruction similar to that of a tornado, the damage typically occurs in one direction along a relatively straight swath. As a result, the term "straight-line wind damage" sometimes is used to describe derecho damage.
By definition, a derecho must include wind gusts to 58 mph along the length of the event, which must extend 250 miles or more. Yesterday's event surely met that criteria, with winds in excess of 58 mph reported from south of Pueblo, Colorado north to the Wyoming/Montana state line as the system pushed off the Front Range of the Rockies Saturday afternoon.
Here's a look at the storm reports from Saturday, featuring 412 wind reports, with those in excess of 65 knots across being reported in Utah, Colorado, Wyoming, Nebraska, and South Dakota: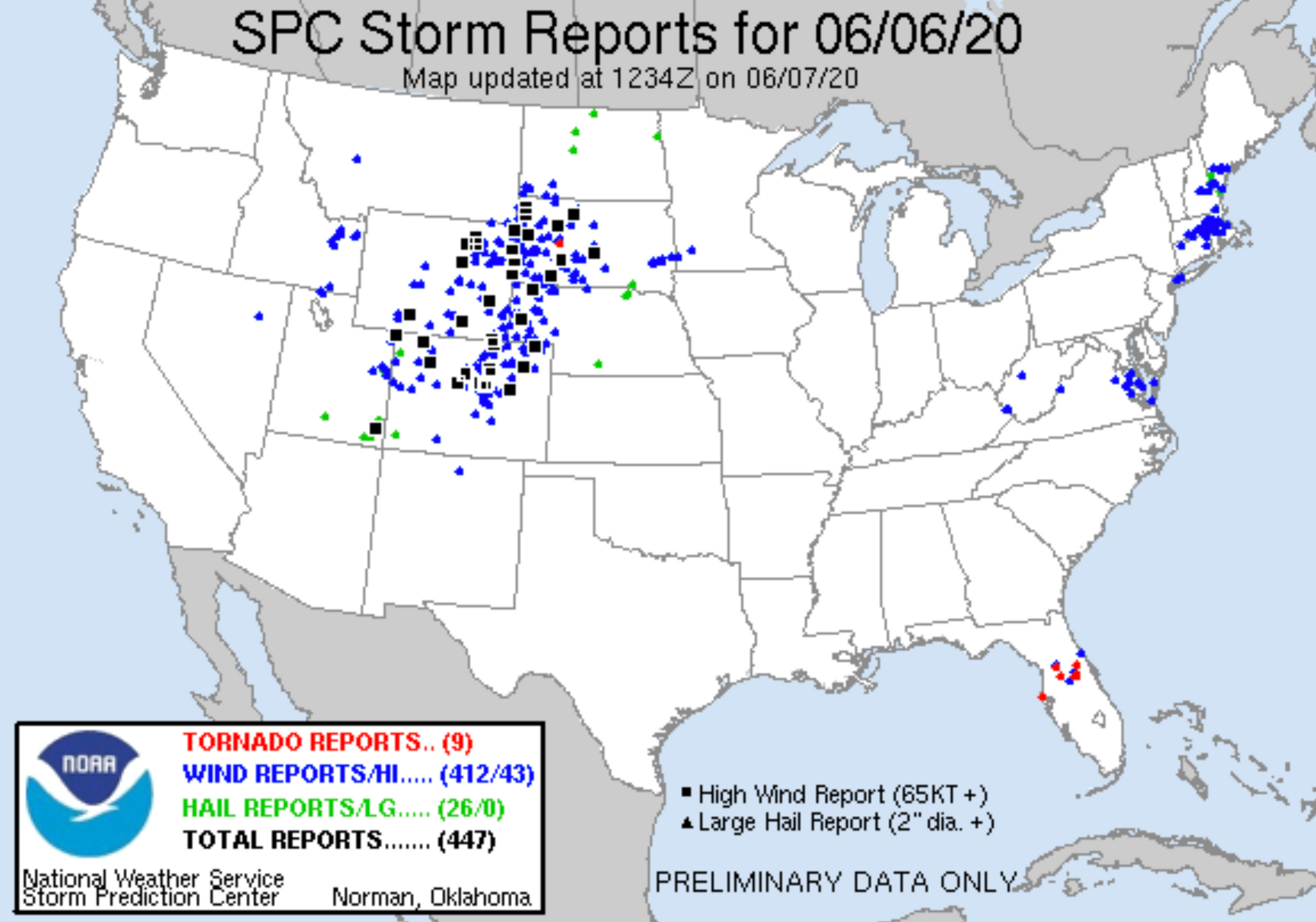 Most derechos feature winds less than 100mph according to the SPC, but some have featured gusts to 130 mph. Yesterday's event featured a gust of 110 mph in Winter Park, Colorado! From the SPC storm report archive, it looks like the report came from one of the peaks at the resort:

While derechos themselves aren't all that uncommon – for one to pass through Colorado is extremely rare. If we look at derecho climatology, we see extreme eastern Colorado will see these events every four years or so, but most commonly they occur over the Southern  Plains states and up through the Ohio Valley. For one to move through the Rockies as we saw yesterday is a rare event indeed: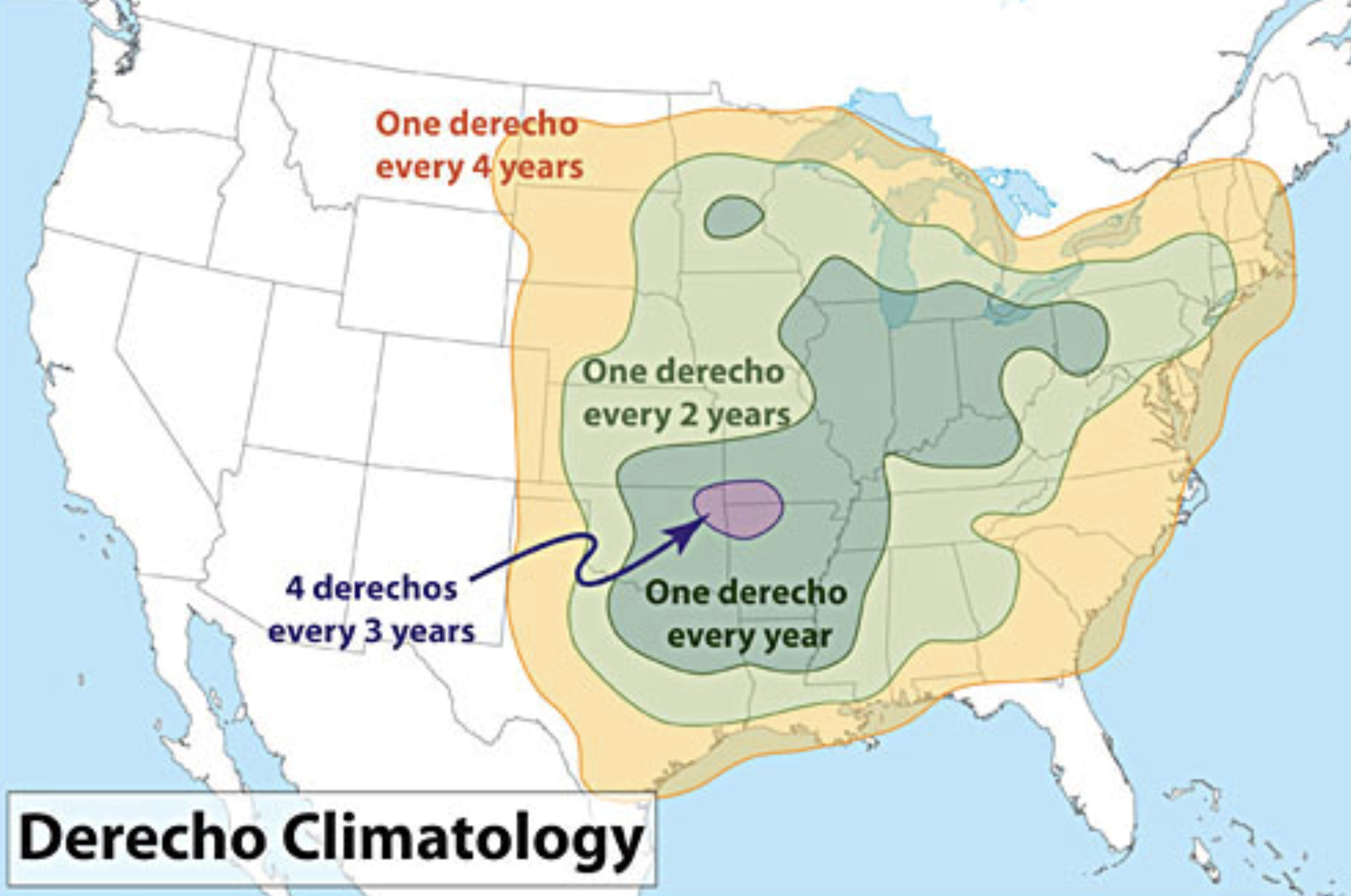 While rare, there are at least a couple derechos on record for our region. One of the most notable occurred on May 31, 1994, and was one which pummeled Utah and Wyoming, but just the very northwest corner of Colorado. You can read more about that event here.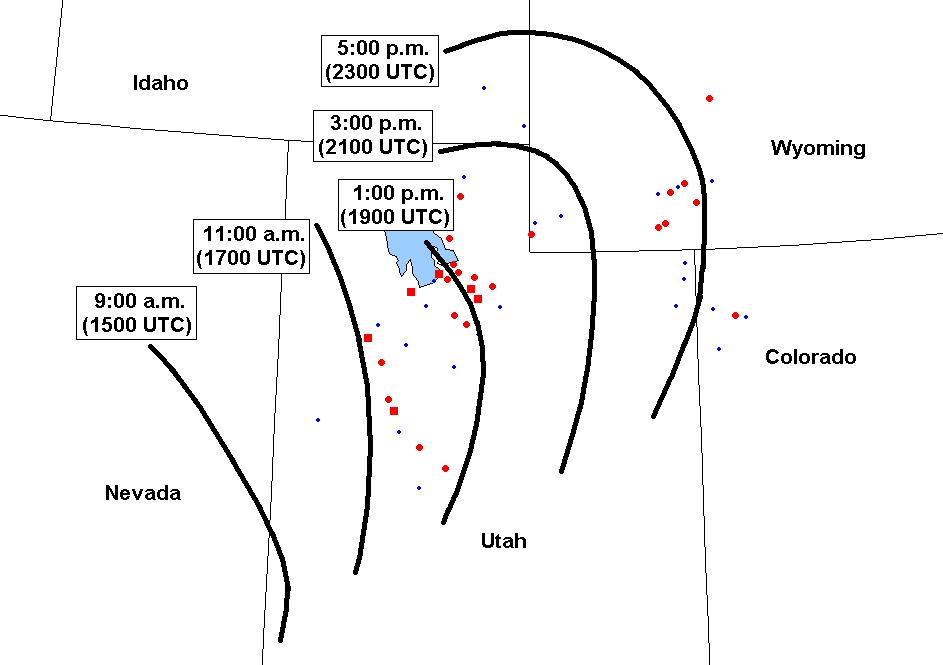 Not only was the derecho itself rare, but yesterday was the first time in five years that the Grand Junction NWS office issued a Severe Thunderstorm Watch –– wow!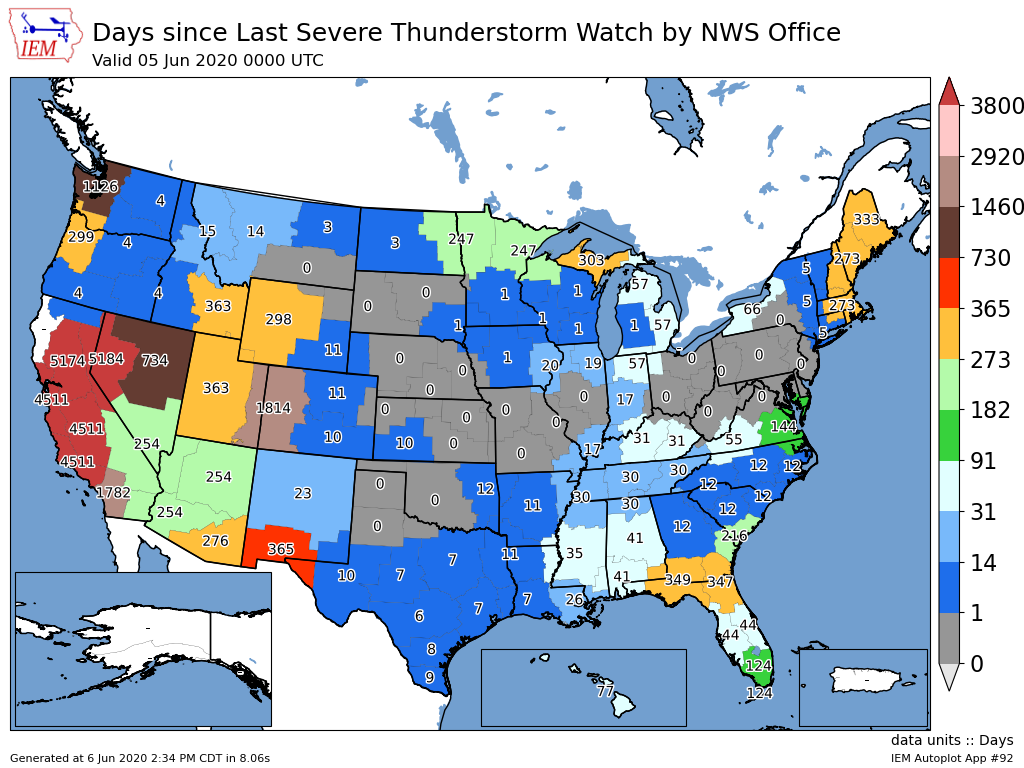 There were so many other remarkable aspects to Saturday's event, all the way down to the size of the Severe Thunderstorm Warning polygon issued by the National Weather Service in Boulder: the largest ones they've ever issued by far, one of which included 3.8 million people at one point. Here's a look at the warnings issued ahead of the line of severe storms as they got ready to push off the foothills and across the urban corridor: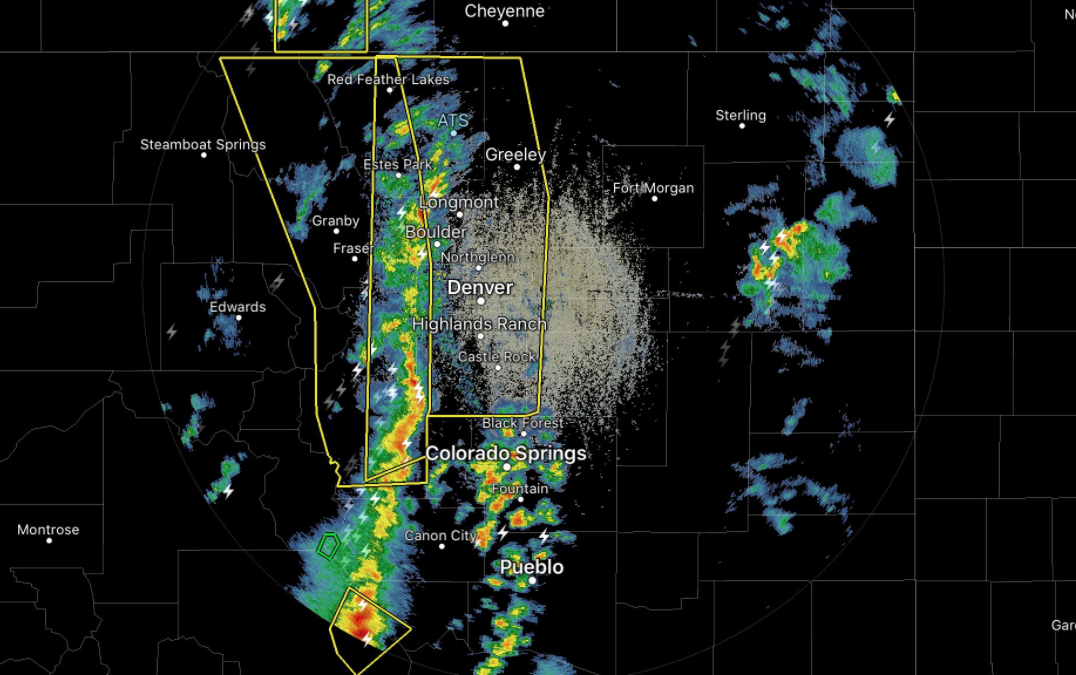 A long-lived animation of radar from yesterday shows how the derecho progressed. First through the Colorado Rockies, then onto the Eastern Plains, ejected north/northeast into Nebraska and the Dakotas Saturday evening:
No derechos in the forecast for Colorado today, but plenty of wind for many folks as hot, dry weather takes hold to end the weekend and pushes the fire danger extremely high across the Southeast Plains. Winds of 3o to 35 mph are expected to develop today across much of Southern Colorado, with relative humidity readings in the 5 - 10% range. Here's the latest fire weather outlook from the SPC for today: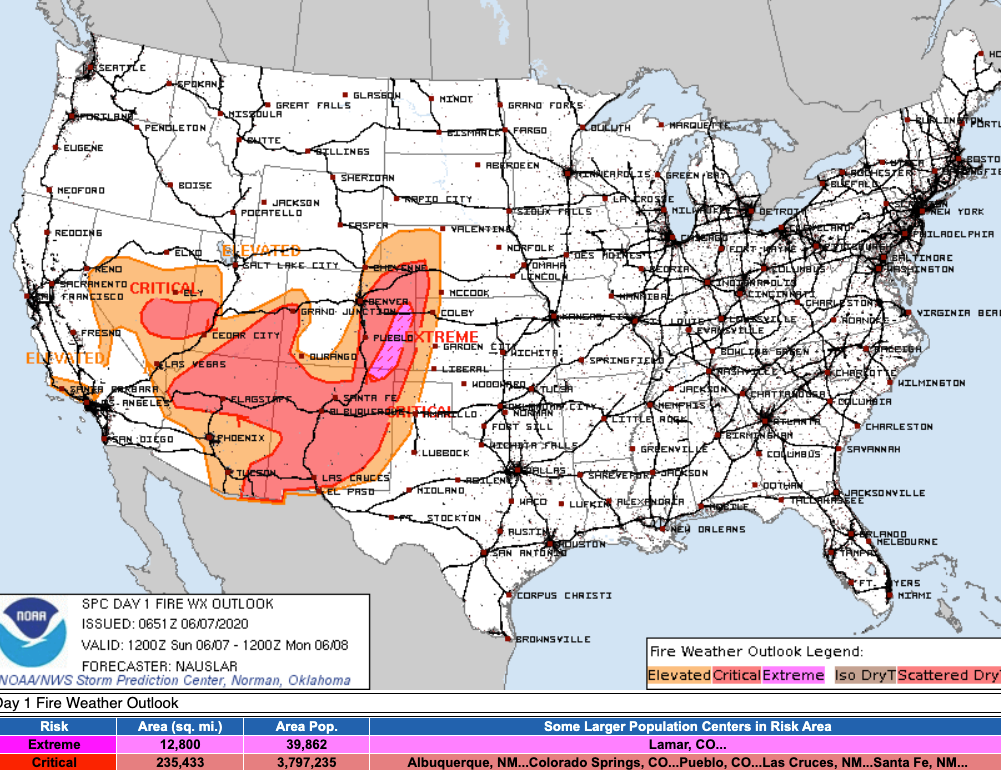 We'll see a cool down to start the work week across the region... but it'll be brief. Temperatures in the 60s and 70s for most of the on Tuesday, but quickly back into the 80s and 90s for the latter half of the upcoming week: