A well-earned cool down is on the way tonight and Tuesday, but it won't come without issues. For one, we'll have another round of strong winds to work through later today and tonight.
A High Wind Warning goes into effect for most of Eastern Colorado this evening, and remains in effect through early Tuesday. North winds from 30 to 40 mph will be possible, with gusts to 60 mph. Across Southern Colorado, another Red Flag Warning day today, with gusty winds and low relative humidity making the fire danger high: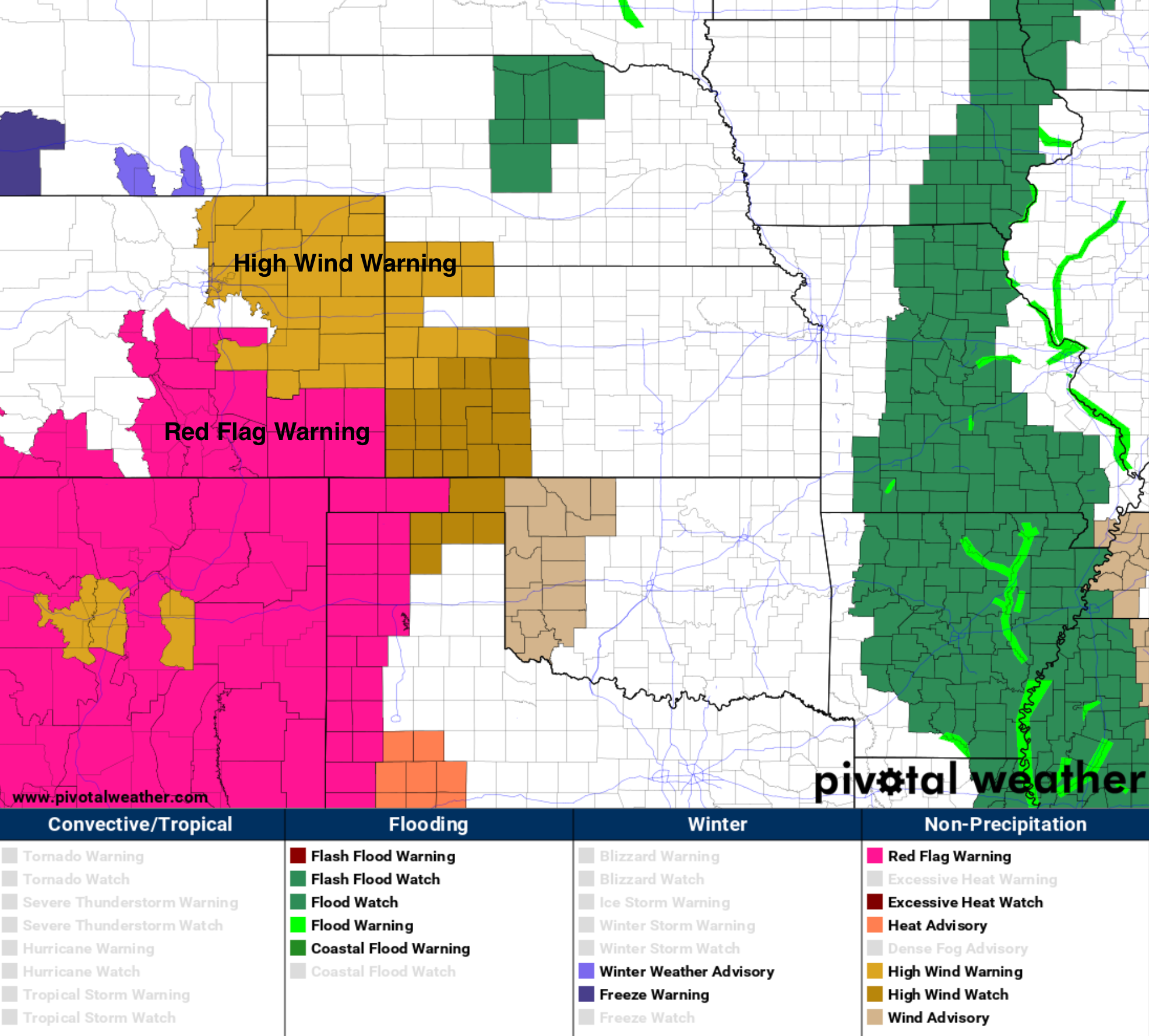 The cool down will be short-lived. A look at forecast high temperatures across the region show highs a bit cooler today than we've seen in some time, and cooler yet tomorrow behind tonight's front. Many cities will be in the 60s on Tuesday, before a quick warmup gets underway by the latter half of this week. For Denver, look for highs near 70°F on Tuesday, but back into the low 90s by Friday: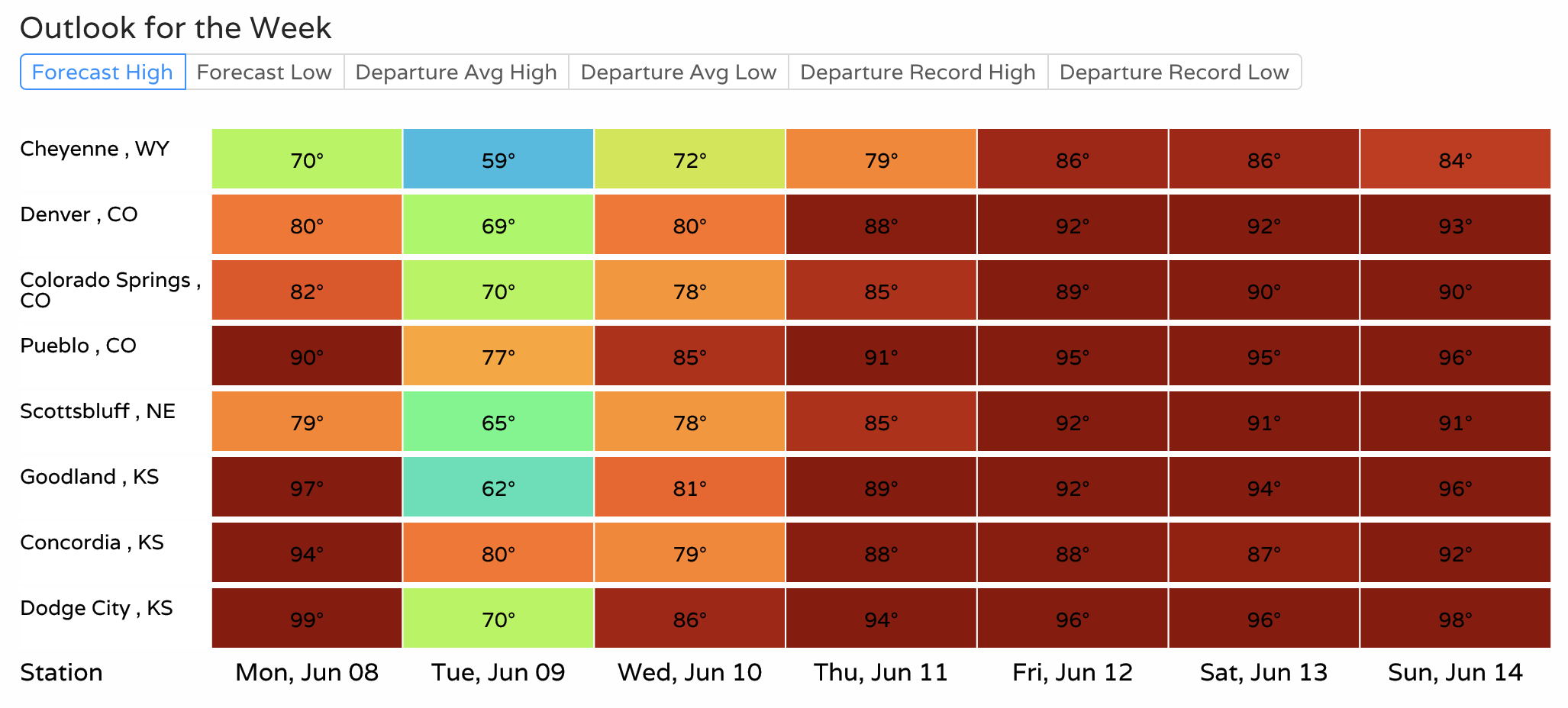 Overnight lows tonight will be quite chilly. Across Northern Colorado and the Front Range foothills look for lows to dip into the 30s tonight. Delicate vegetation in these areas should be covered tonight just in case. Here's a look at expected lows regionally, 30s for Cheyenne, with the mid 40s forecast for Denver: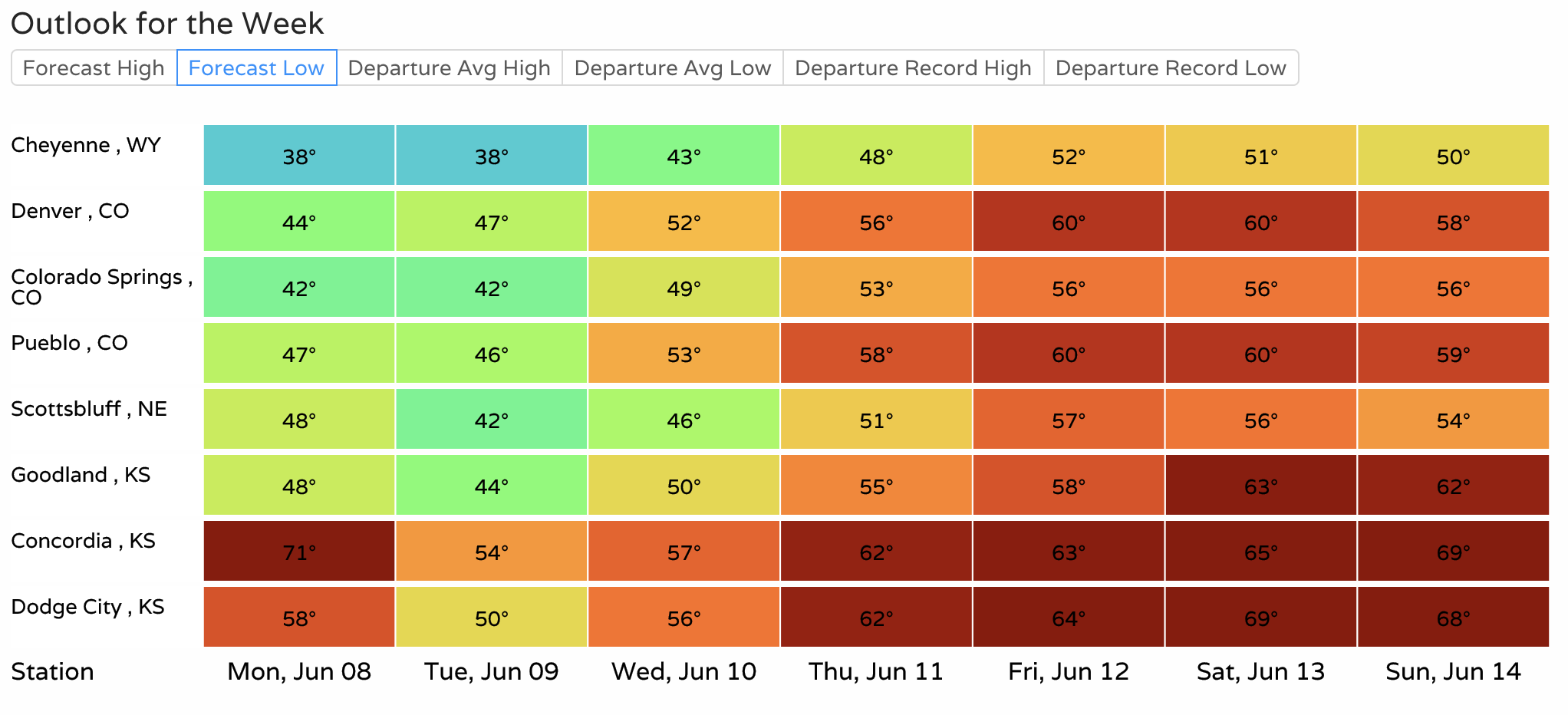 The latest HRRR model shows tonight's cold front moving into Northern Colorado between 6 and 8pm: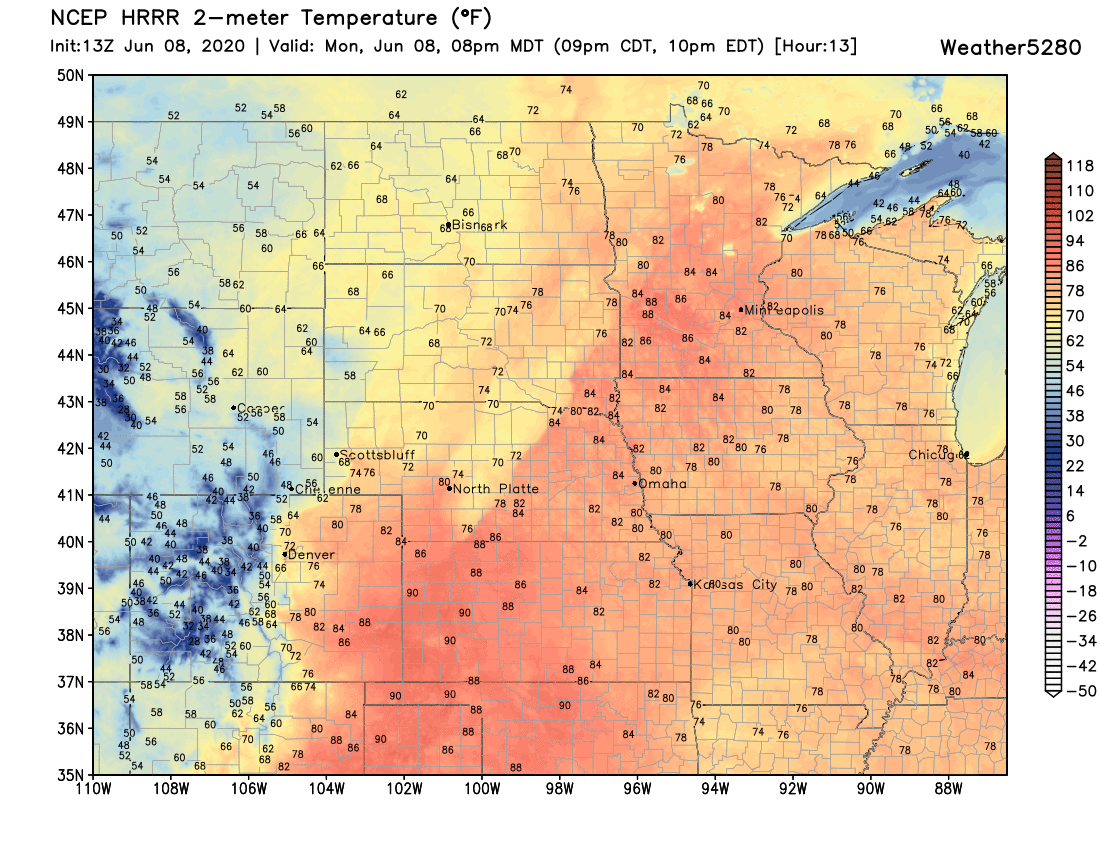 Then through the Denver area between 7 and 10pm. It's pretty easy to spot the front in the image below, stretched southwest to northeast across Northeast Colorado, with a stiff north wind delivering the change: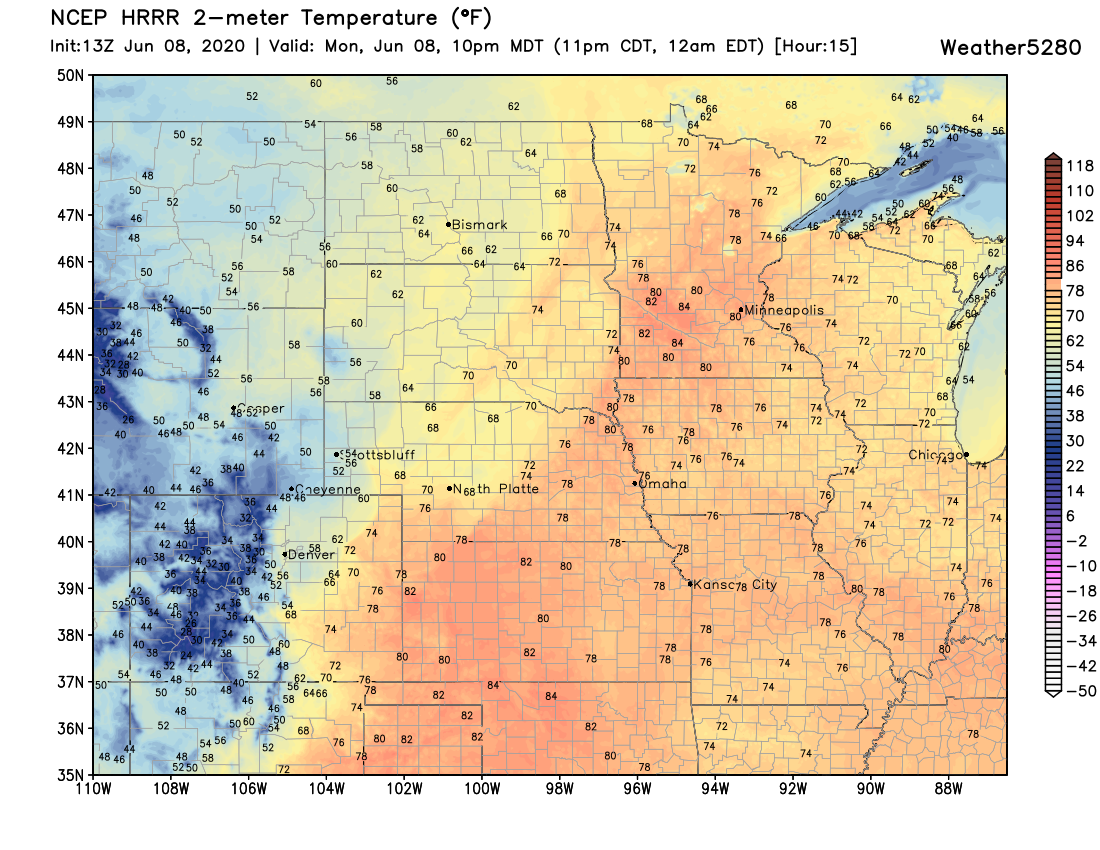 We will also see some showers and storms as the next system blows through later today and tonight. For the Front Range we'll see the chance of precipitation on the increase through late afternoon, and continuing in the 40% range (or so) through the overnight hours.

If we look at the GEFS 10 day planner, we see the sharp drop in temperatures tonight (top chart below), followed be a quick warmup. The red line represents the mean temperature forecast of all the 21 ensemble members.
In the bottom chart below, we see good agreement between the members that we'll see some precipitation later today and tonight. Perhaps not heavy for all areas, but something. Models show as little as a tenth or two along the urban corridor, to a good 1/2" to 3/4" soaking. We are a bit skeptical of the high-end totals given the drought we're facing, but even a little moisture will be welcome news after a dry and windy start to the month. As we move beyond Tuesday, a pretty dry outlook at this time: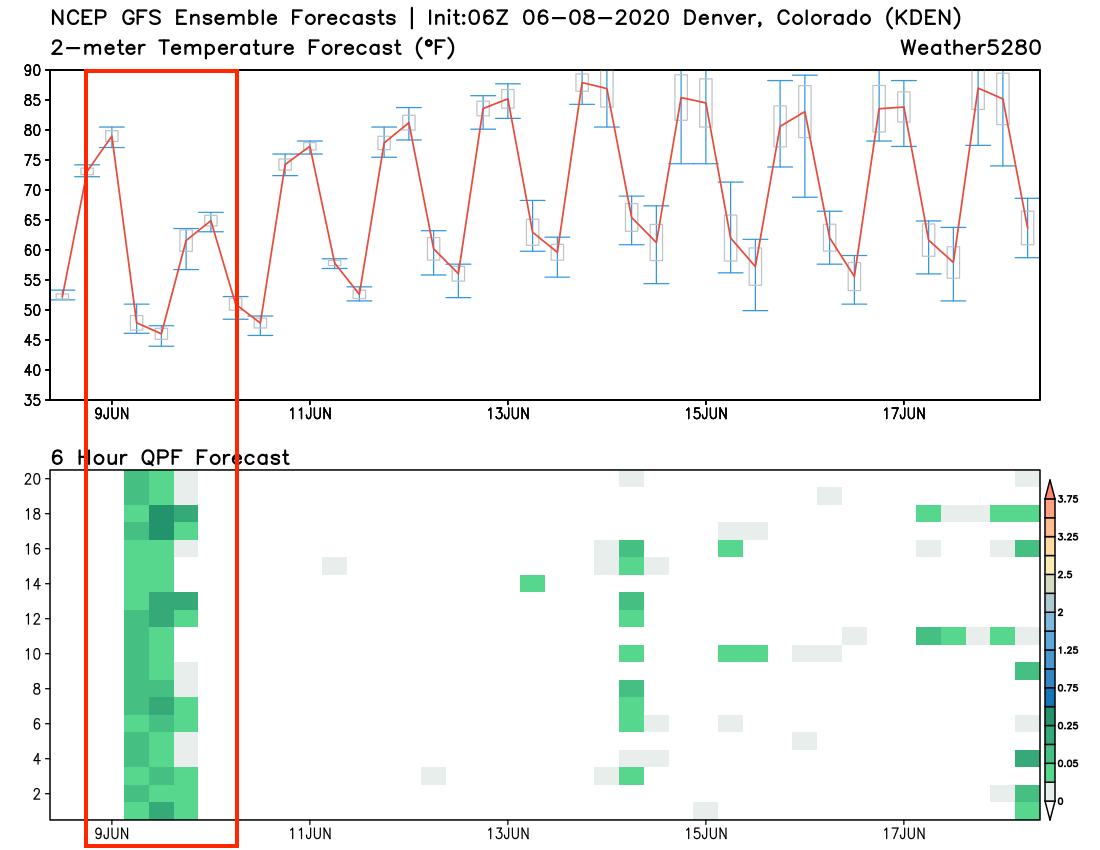 Might some of this fall as snow? It's not outside the realm of possibility that some higher elevations west and south of Denver see snow, or at the very least a rain/snow mix. The high-resolution NAM is quite bullish on this potential, as you can see it has snow for the Front Range foothills and Palmer Divide early Tuesday morning (oh, and some nice rain for the urban corridor and plains!):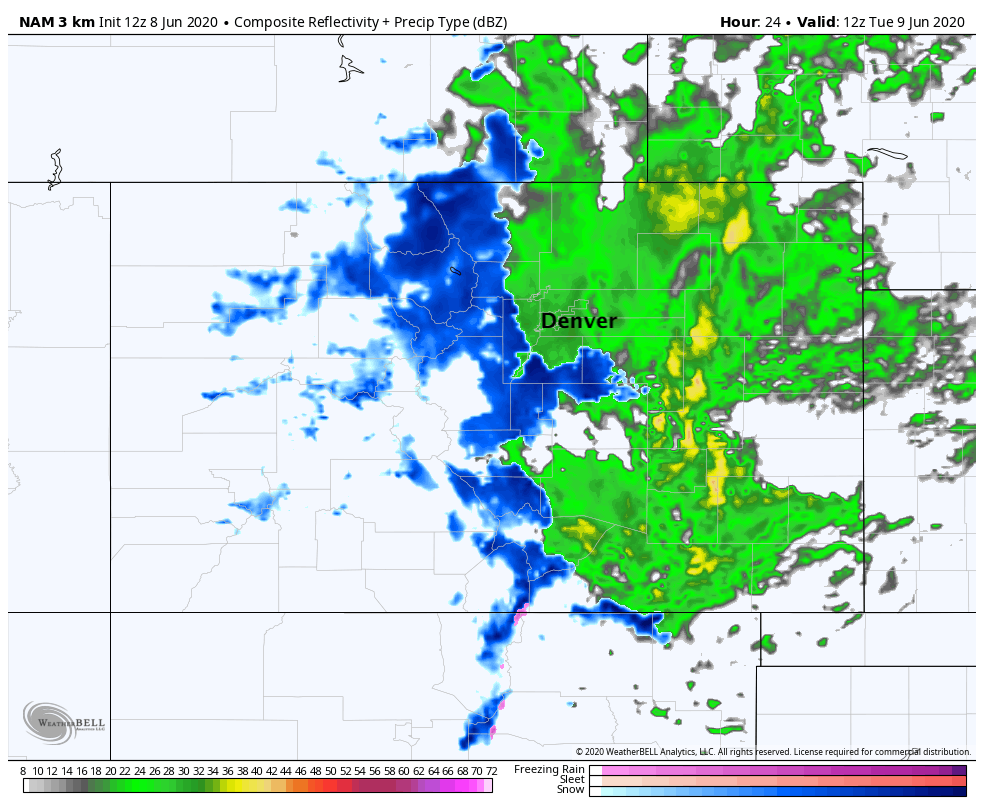 This particular model even shows some accumulation may be possible across parts of the Palmer Divide if the snow can come down heavy enough for a time. Ground temperatures are obviously quite warm, and air temperatures will be marginal, but some quick slushy accumulation on raised surfaces doesn't seem out of the question for places like Monument tonight/earlier Tuesday.
For the Front Range mountains, snowfall totals may add up in a few spots even with plenty of melting. Totals from 4 - 8" will be possible for the higher terrain, with a mix of rain and snow as you move lower in elevation.
While the urban corridor should be okay with temperature staying well into the 40s, its the surrounding areas that we'll need to watch for the snow potential and perhaps a bit of a hit to sensitive vegetation.
Sorry to report more wind is on the way, but enjoy the cool down and let's hope we can snag some rain out of this thing!