Our concerns about a hot and dry summer have unfortunately been nothing short of reality through the first two weeks or so of June.
To date, Denver is running 5.3°F above average for the month, and at 0.54" of precipitation is sporting a -0.4" precipitation deficit as well.
As we outlined for our Pro clients this week, drought conditions continue to worsen across the region, with those areas of Colorado classified as under Extreme Drought by the U.S. Drought Monitor increasing by 6% over the last week.
Red Flag Warnings have been a regular staple to the daily forecast across the Great Basin, Four Corners, and South-Central Plains to start this month, as gusty winds and low humidities exacerbate the drought and increase fire danger. Here's the outlook for today from the SPC, with large swaths of Elevated and Critical fire danger spanning several states: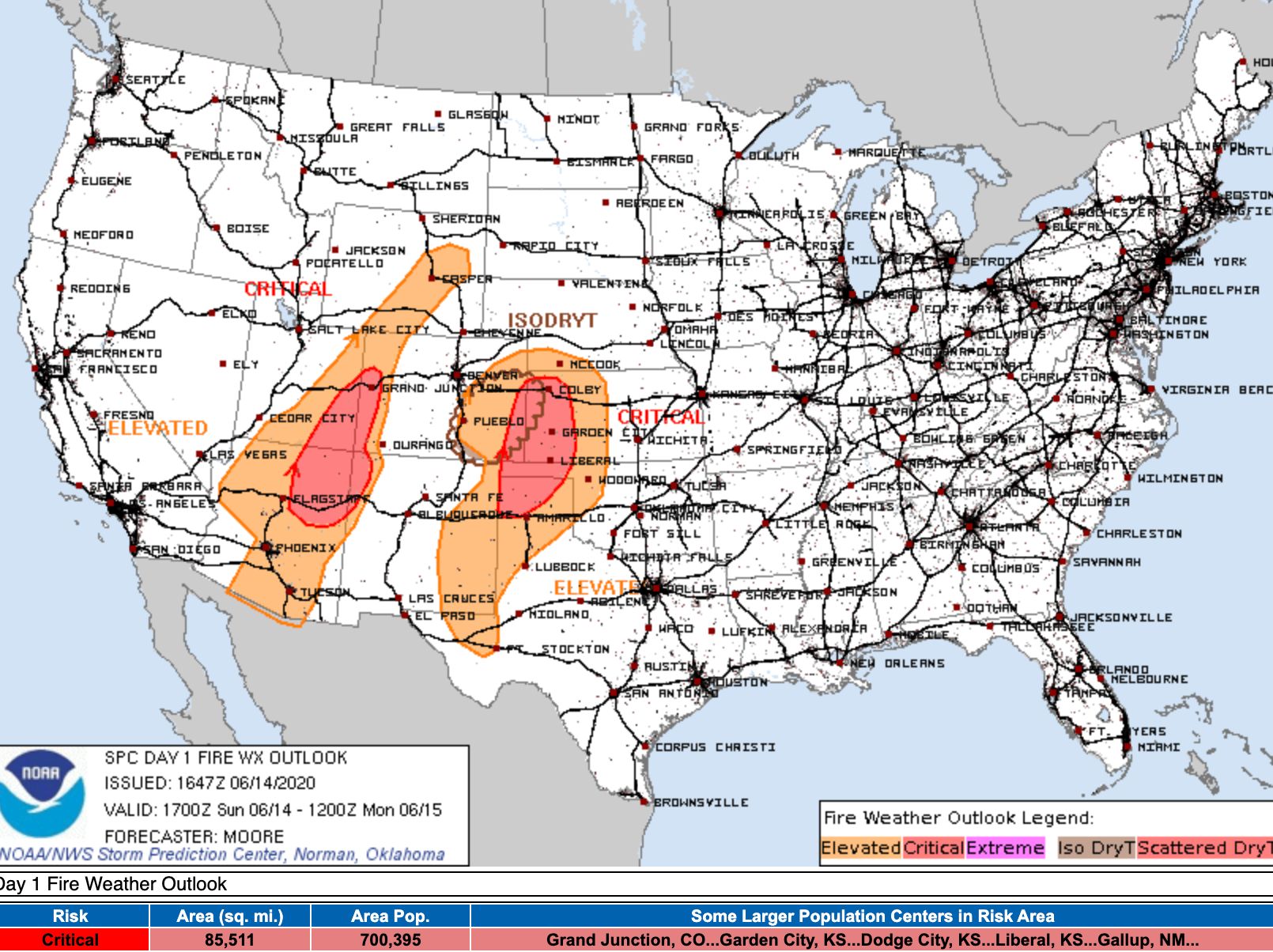 The Front Range managed some gusty storms on Saturday but they didn't amount to much in the way of water. While the cool down was welcome, a look at two day precipitation totals from across the state show only a few isolated locations have picked up any beneficial moisture: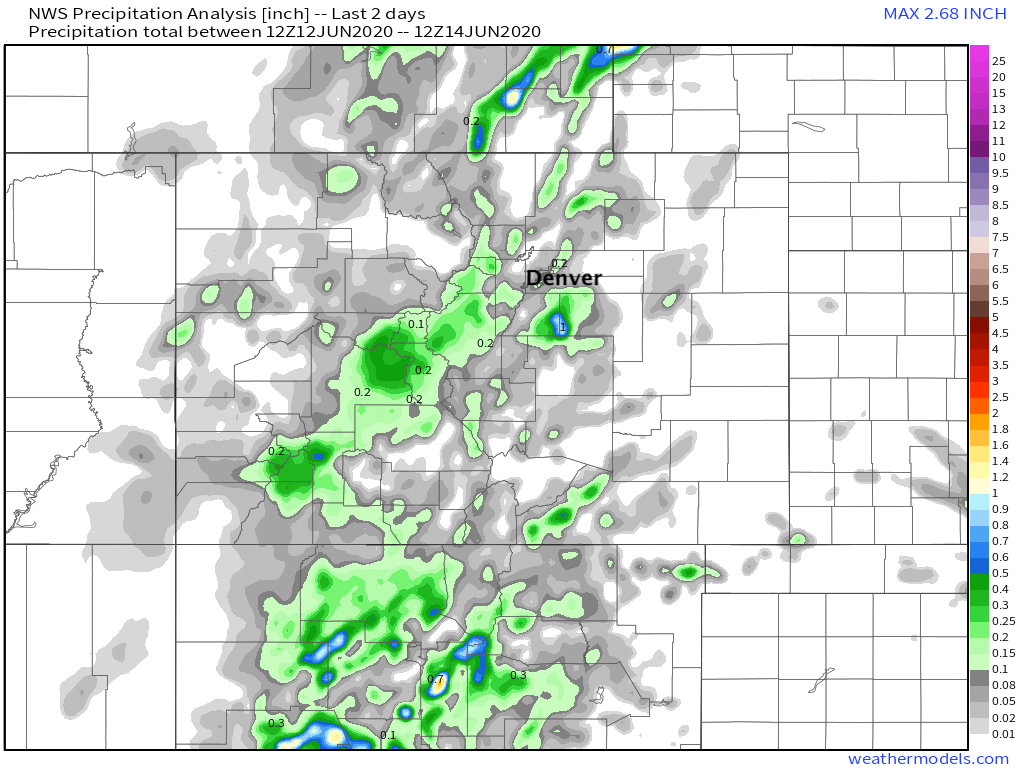 The week ahead fortunately features some relief from the heat, but not before another couple of afternoons with temperatures well into the 90s across Northeast Colorado.
Highs through Tuesday in Denver will be in the mid 90s, dropping into the lower 90s on Wednesday before we should finally be able to string a few days in the 80s together by the latter half of the week. Here is a selection of high temperature forecast for the week ahead:

Monday and Tuesday will feature near-record heat for the urban corridor. Denver is forecast to break its previous record high of 95°F on Tuesday (set in 2017) by one degree. Cheyenne and Colorado Springs will also be close to their respective record highs to start this week. Here's a look at the departure from record high each forecast high will be this week:

The cooler weather set to arrive later this week will coincide with an uptick in storm coverage as well. A look at the 10 day GEFS outlook for Denver shows this well. In the graphic below, the red line in the top chart shows the ensemble mean 2 meter temperature forecast for the next 10 days, the green blocks in the bottom chart represent 6 hour precipitation totals from each ensemble member (y axis).
Pretty good agreement between all members that today through Wednesday will be quite warm and dry... but then we see the mean temperatures dip, and more precipitation showing up by Thursday and Friday: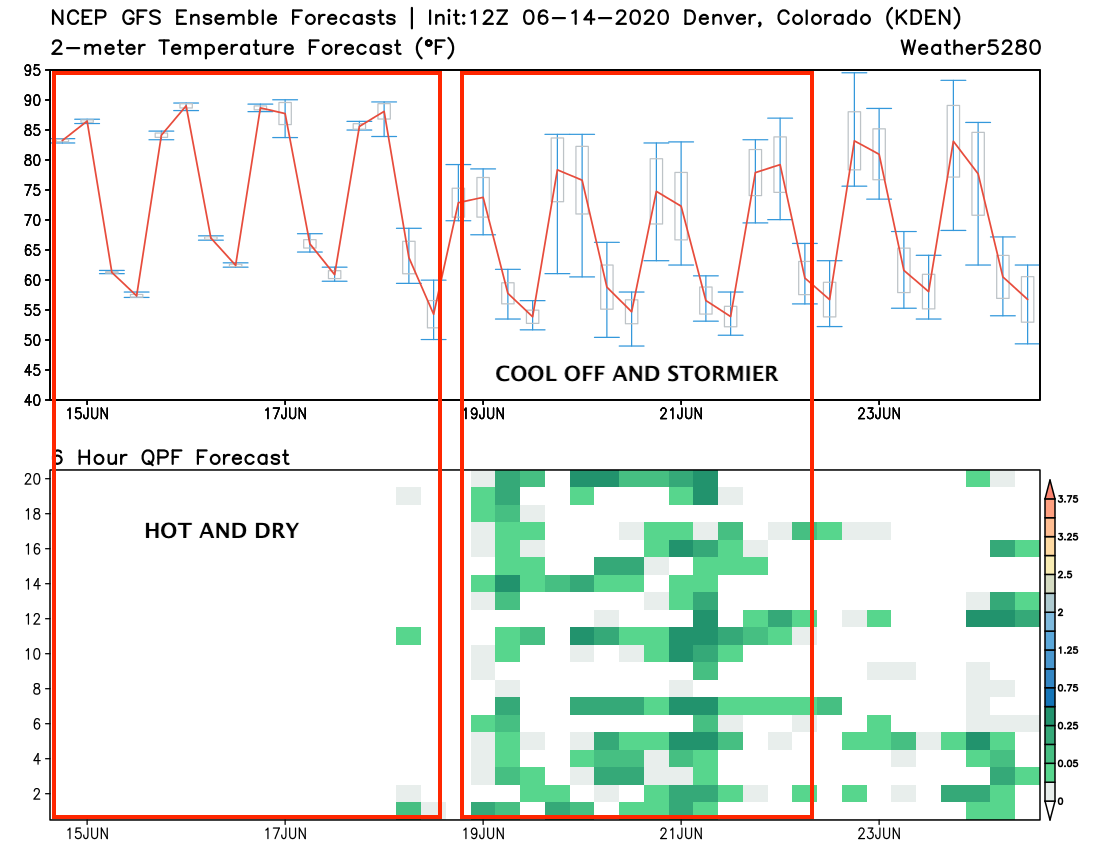 Still, as the trough swings by to our north later this week and delivers a bit of a cool down and better storm chances... it's seemingly going to fall short of anything close to what we need to make a big impact regionally.
A look at the 5 day European precipitation anomaly forecast valid early next week shows the best moisture will end up across the Northern Rockies, with a continued dry signal across Colorado: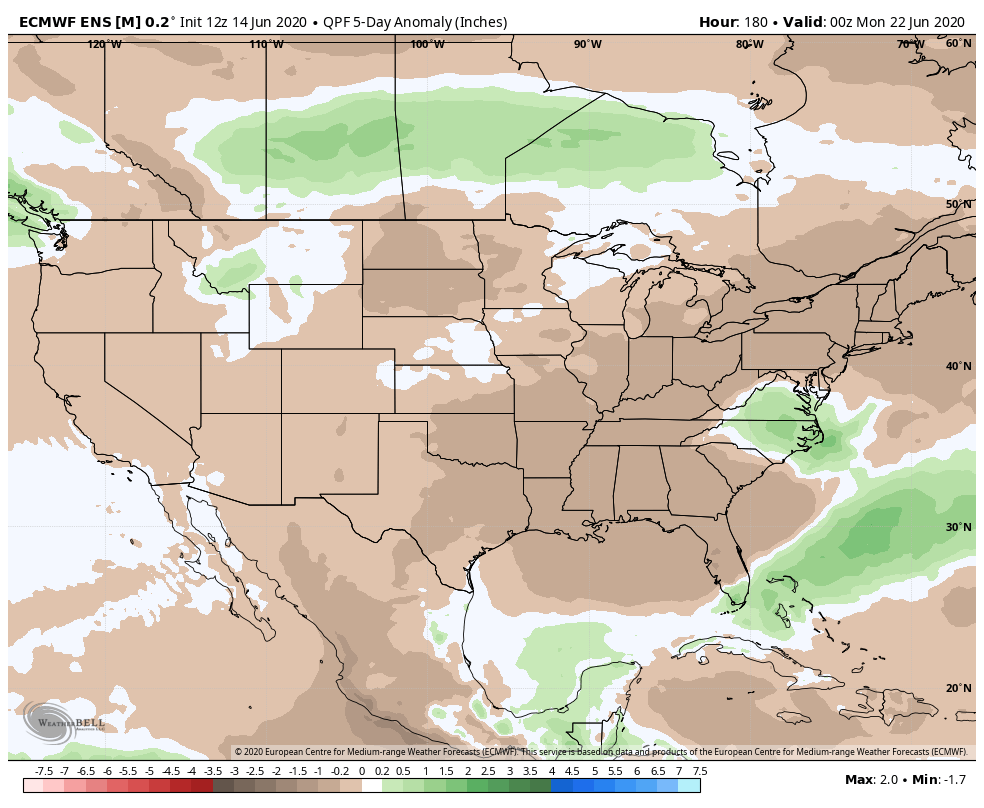 And temperatures over those 5 days near average for Northeast Colorado, but anything with sustained below average temperatures at this point likely to stay north of the state barring a change in the track of this low.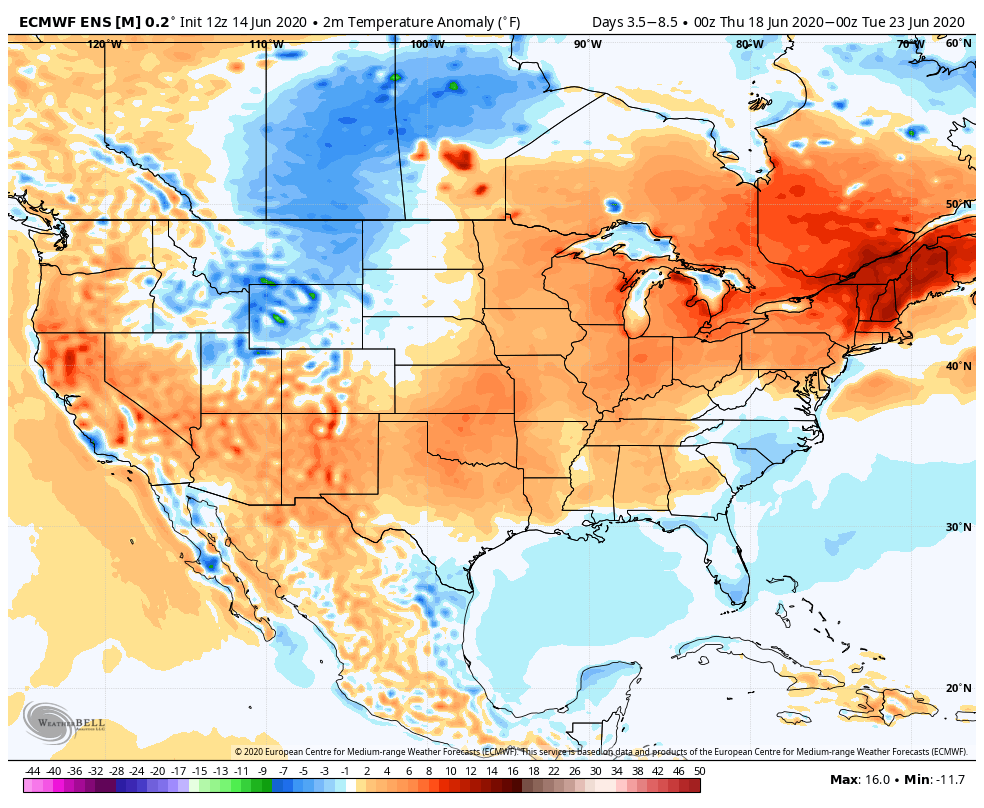 Whatever cool down we see this week isn't likely to last. A look at 5 day temperature anomalies valid next Friday shows nearly the entirety of the CONUS is expected to be baking under some early summer heat: