As we outlined for Insiders on Monday, we indeed saw record high temperatures across the region on Tuesday. Denver broke its previous record of 95°F by one degree on Tuesday as our early summer hot streak continues.
As we've mentioned a couple times this week, changes arrive tomorrow. But not before another hot afternoon across the region today. GFS MOS guidance has a high of 92°F today in Denver, while NAM MOS has a high of 96°F. A safe forecast is to split the difference and assume Denver will climb to around 94°F this afternoon. Regionally, plenty of heat as well –– with widespread 90s across the plains states: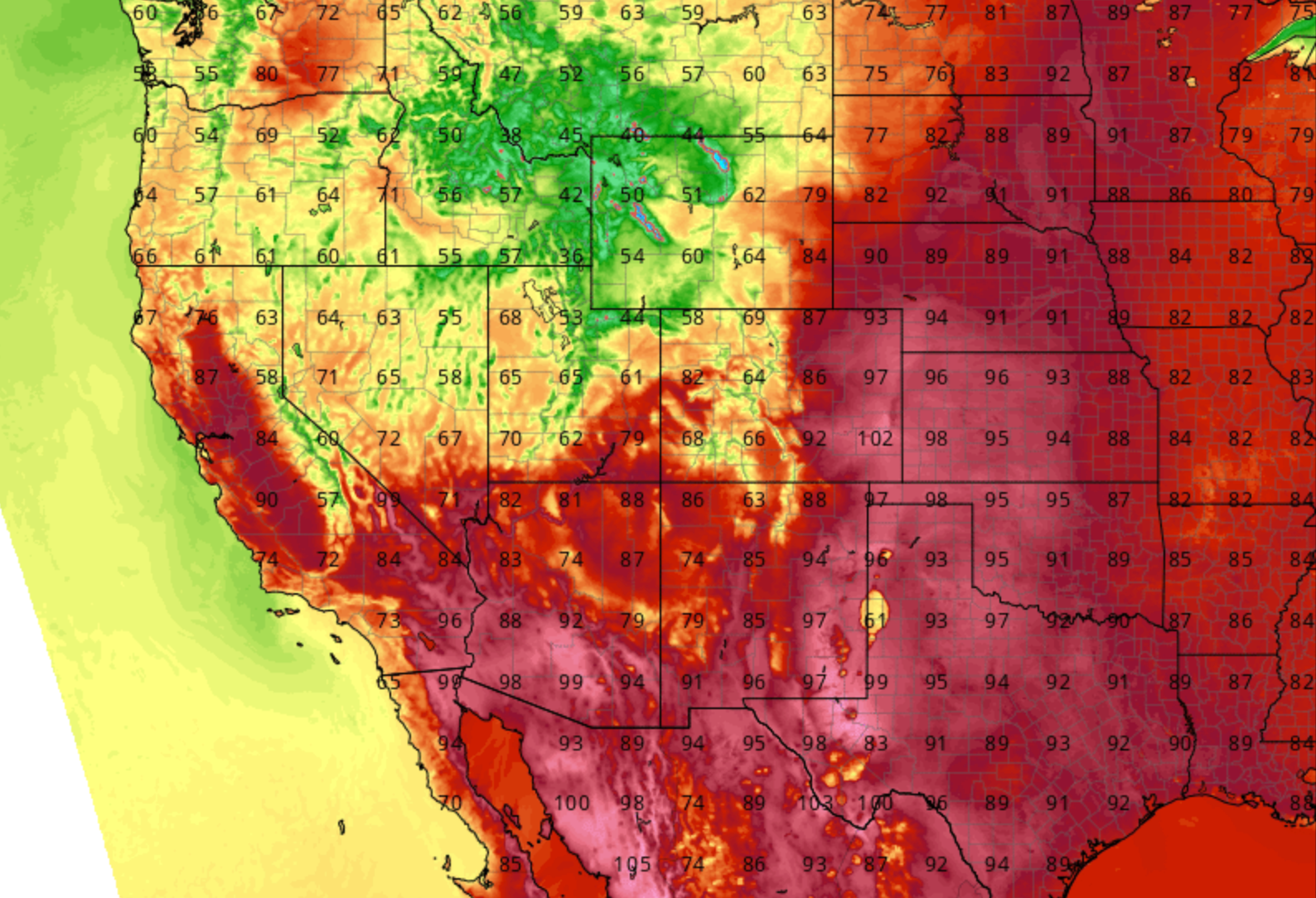 Along with the heat will come another day of poor air quality, as smoke from fires burning across the Southwest continues to funnel into the state. An Air Quality Alert is in effect through this afternoon for much of the Front Range and urban corridor the smoke continues to impact us before a wind shift tonight and tomorrow. Here's the latest HRRR smoke forecast, showing the smoke plumes pushing across the state today: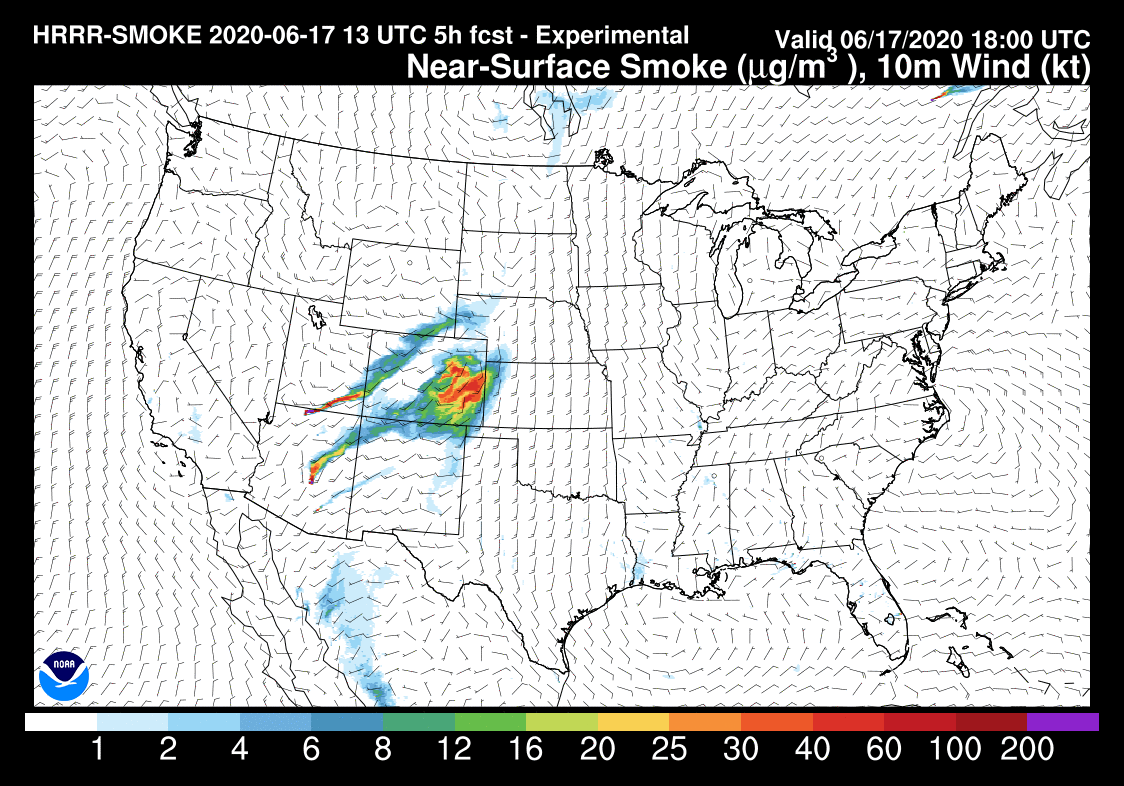 Thursday temperatures finally cool, and considerably for some. For Denver look for temperatures to cool almost 20 degrees Thursday, with temperatures even a degree or two cooler for Friday before warming again for the weekend. Cheyenne will be down into the mid 60s by Friday:

With the cool down we see two other positives as well: a wind shift to help mitigate smoke issues across the region, and a better chance of rain on Tuesday as well.
A look at the GEFS shows considerable agreement between the ensemble members that we'll see rain Thursday. Of course even with good coverage it won't rain everywhere. The rain chances for the Denver area, however, will be in the 60 to 80% range Thursday afternoon.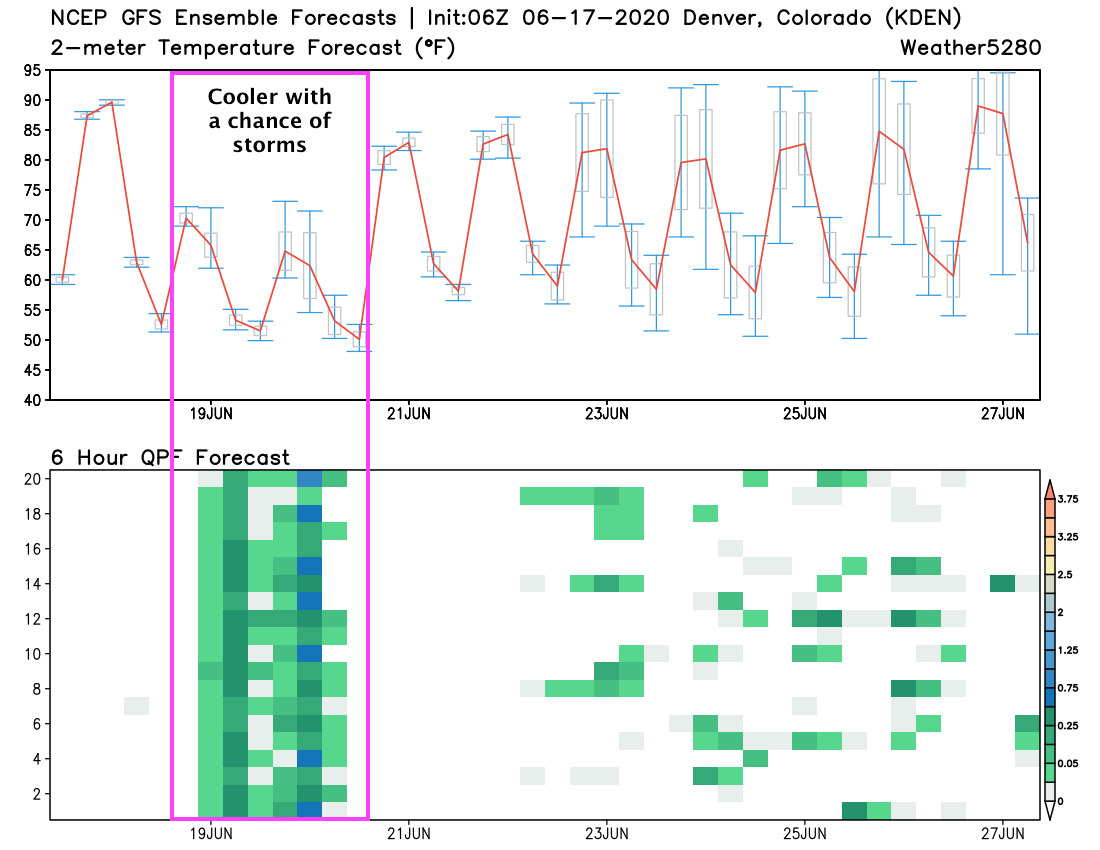 A look at modeled precipitation, shows perhaps the focus of the shower activity will be along the Front Range foothills and urban corridor, especially focused around the Denver area. The NAM, GFS, and European models agree on this.
We don't expect the severe threat to be all that great this go around, but some stronger storms can never be ruled out this time of year, especially if we see better instability than currently forecast as tomorrow rolls around. Instead, areas of light to moderate rainfall as storms move off the foothills on Thursday afternoon can be expected, with mostly cloudy skies and scattered showers again on Friday.
Below is modeled precipitation forecast from the European model (top) and GFS (bottom). The GFS is certainly wetter (as is the NAM, by the way), but perhaps better to hedge lower with totals, especially of the widespread variety.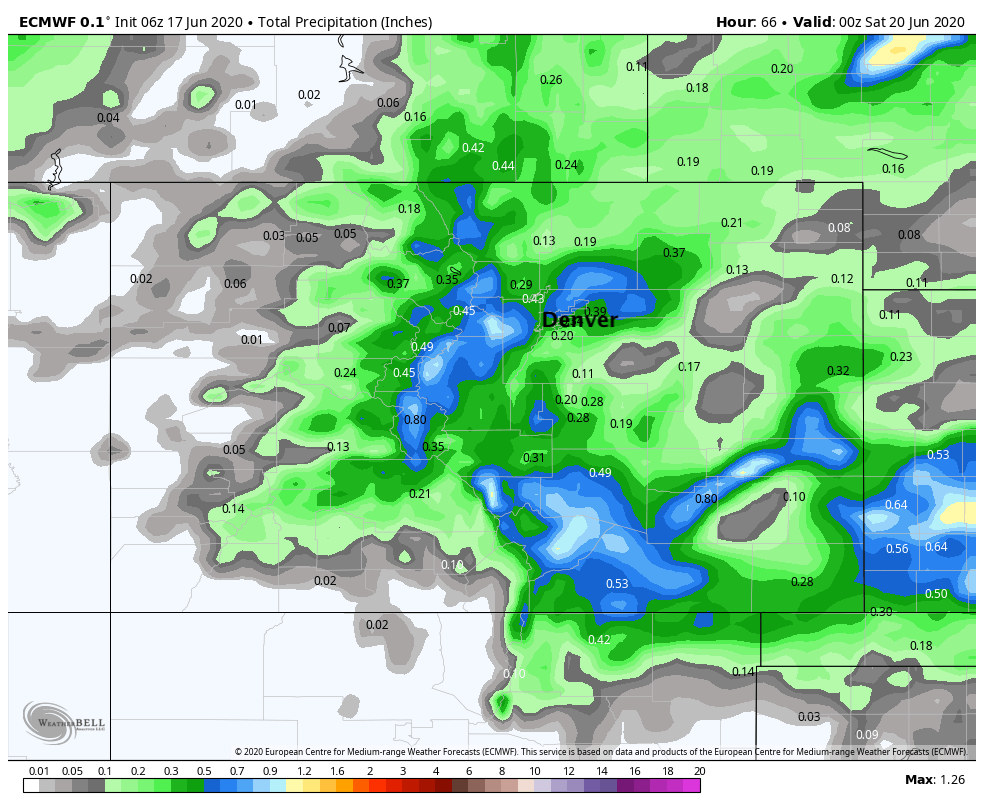 Whether the rain pans out or not, certainly a change on the way after the recent heat. A combination of the temperatures, rain, and cleaner air will be a welcome break to end the week.