Dry conditions across the region are helping fuel two large fires across Western Colorado this week forcing I-70 to close near Glenwood Springs, and evacuation orders to be made as multiple fires burn out of control.
The Grizzly Creek fire as of Wednesday evening was nearing 5,000 acres and is the fire that has forced the closure of I-70. Meanwhile the Pine Gulch Fire is nearing 60,000 acres, putting it at number 6, as of the morning of August 13, on the list of largest wildfires on record for Colorado. The Pine Gulch Fire is estimated at 7% contained as of Wednesday evening.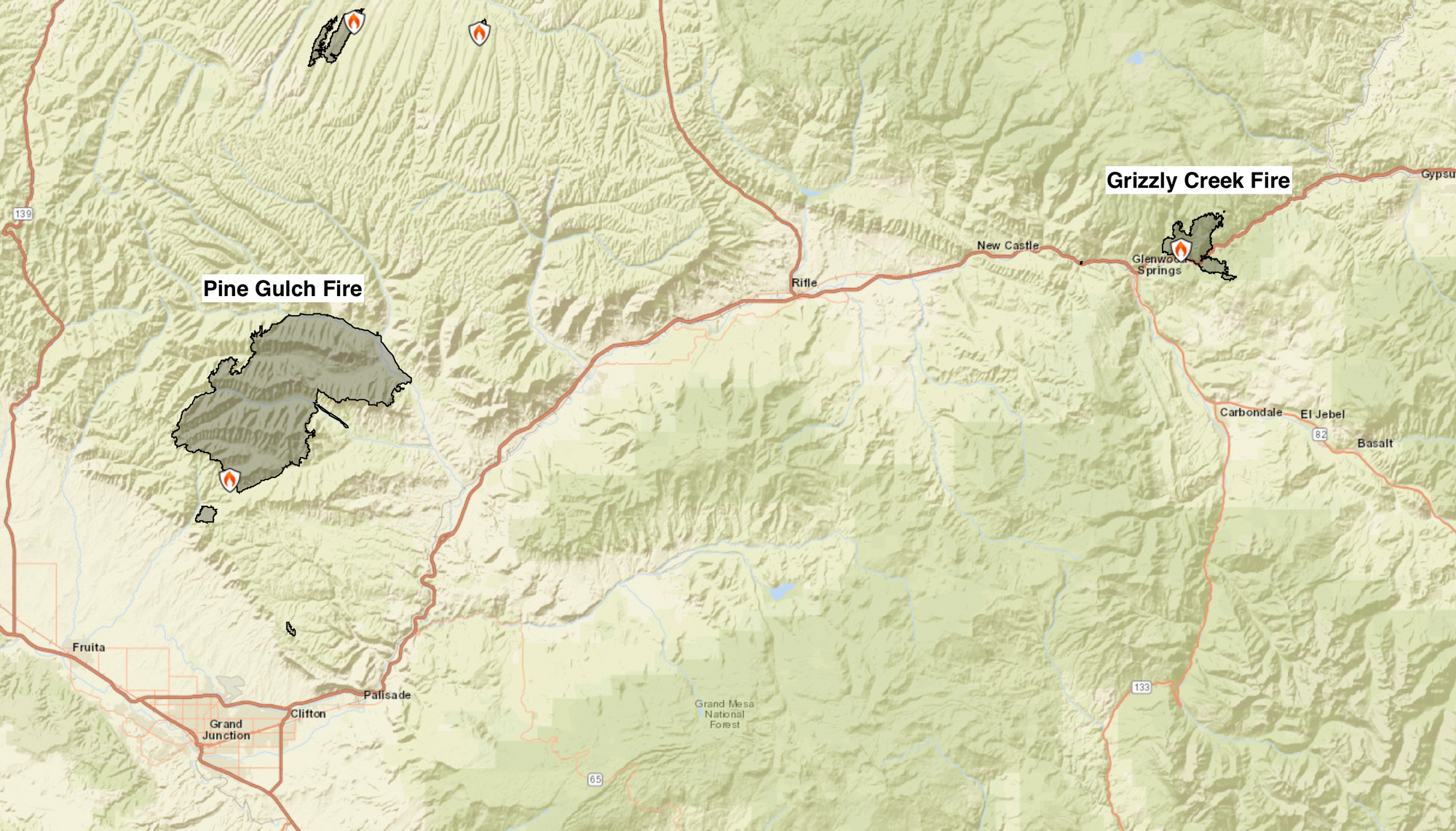 Conditions aren't expected to improve much any time soon. The Fire Weather Outlook from the SPC for today shows Northwest Colorado under the "Elevated" category for fire danger today: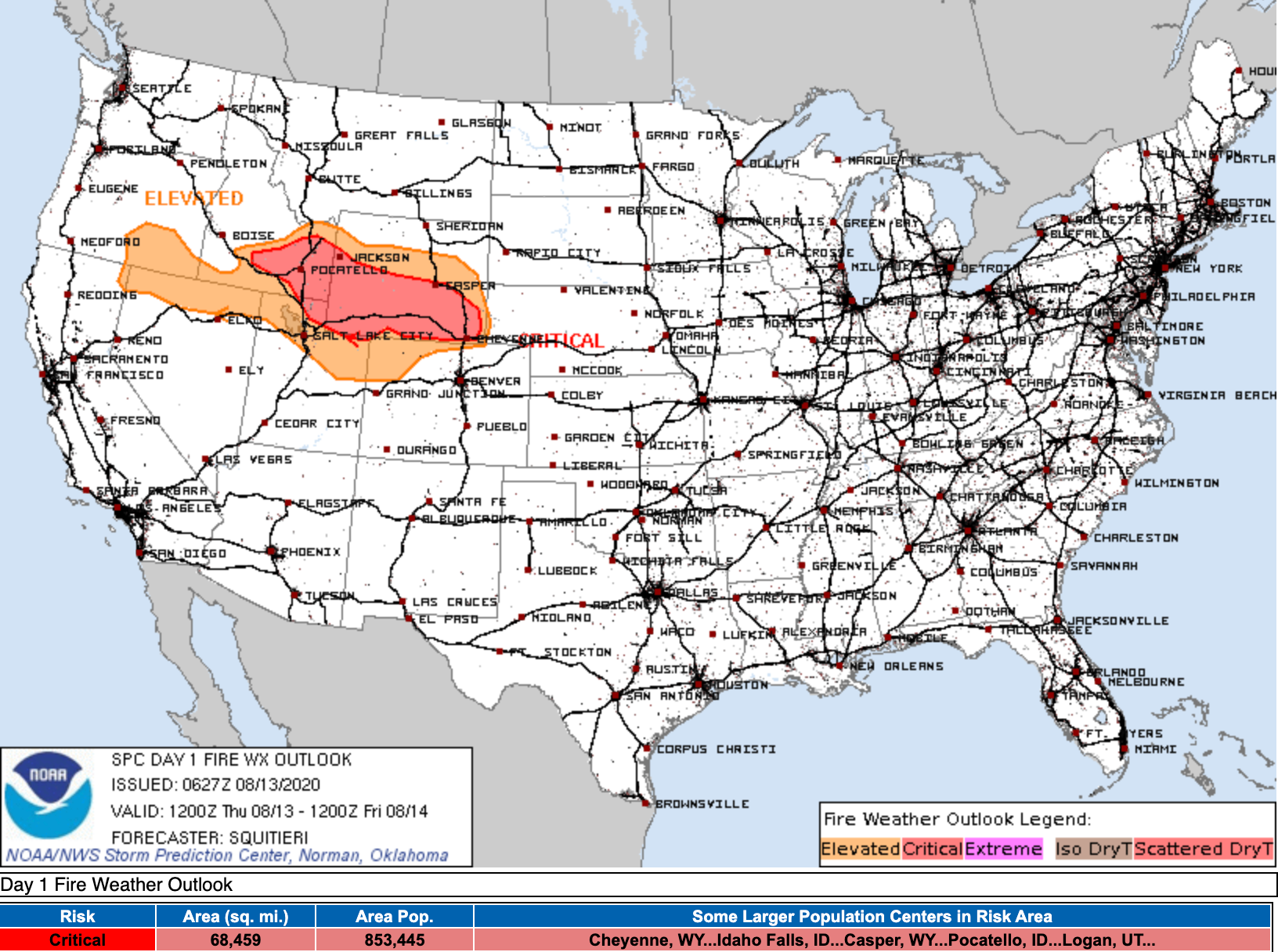 With all of Northwest Colorado under a Red Flag Warning through this evening. From the National Weather Service:
...RED FLAG WARNING REMAINS IN EFFECT FROM 11 AM THIS MORNING TO 8 PM MDT THIS EVENING FOR GUSTY WINDS, LOW RELATIVE HUMIDITY AND DRY FUELS FOR FIRE WEATHER ZONE 485...  
* AFFECTED AREA...In Colorado, Fire Weather Zone 200 Little   Snake Forecast Area, Fire Weather Zone 202 White River   Forecast Area and Fire Weather Zone 203 Lower Colorado River.   In Utah, Fire Weather Zone 485 Eastern Ashley National Forest.  
* WINDS...Southwest 10 to 20 mph with gusts 25 to 35 mph.  
* RELATIVE HUMIDITY...6 to 11 percent.  
* IMPACTS...Conditions will be favorable for the rapid ignition,   growth and spread of fires. Agricultural burning is strongly   discouraged.
Along the Front Range and much of north-central Colorado this equates to another day of very poor air quality. A Poor Air Quality Alert is in effect through at least early evening today, with smoke expected to continue to be an issue across the region for the foreseeable future. I don't know about everyone else, but I've been feeling the smoke burning my eyes and throat all week, which while never ideal, is really not needed in the midst of a pandemic causing respiratory illness!
Here's an excerpt from the Air Quality Alert currently in effect for our region:
HEALTH INFORMATION...INCREASING LIKELIHOOD OF RESPIRATORY SYMPTOMS IN SENSITIVE INDIVIDUALS, AGGRAVATION OF HEART OR LUNG DISEASE AND PREMATURE MORTALITY IN PEOPLE WITH CARDIOPULMONARY DISEASE AND OLDER ADULTS. PEOPLE WITH HEART OR LUNG DISEASE, OLDER ADULTS, AND CHILDREN SHOULD REDUCE PROLONGED OR HEAVY EXERTION.
The near surface smoke forecast from the latest HRRR model shows ongoing issues across Northern Colorado today, with much of the smoke from the fires out west focused along the I-70 corridor through the mountains and spilling into the Front Range urban corridor: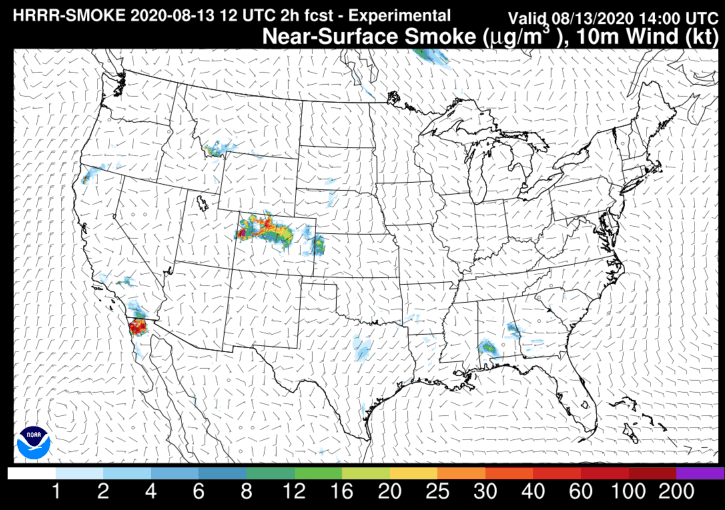 For Denver, and much of the state, the smokey days will be accompanied with more heat as well. The Mile High City will hit the upper 90s today and Friday before "cooling" a bit as we head into the weekend.

Not much relief in sight either. The next 10 days on the European ensemble outlook show temperatures well above average across the West (including a big time heat wave for California), some cooler temperatures spilling into the Plains states, but mostly warmer than average for the majority of Colorado through the mid range outlook: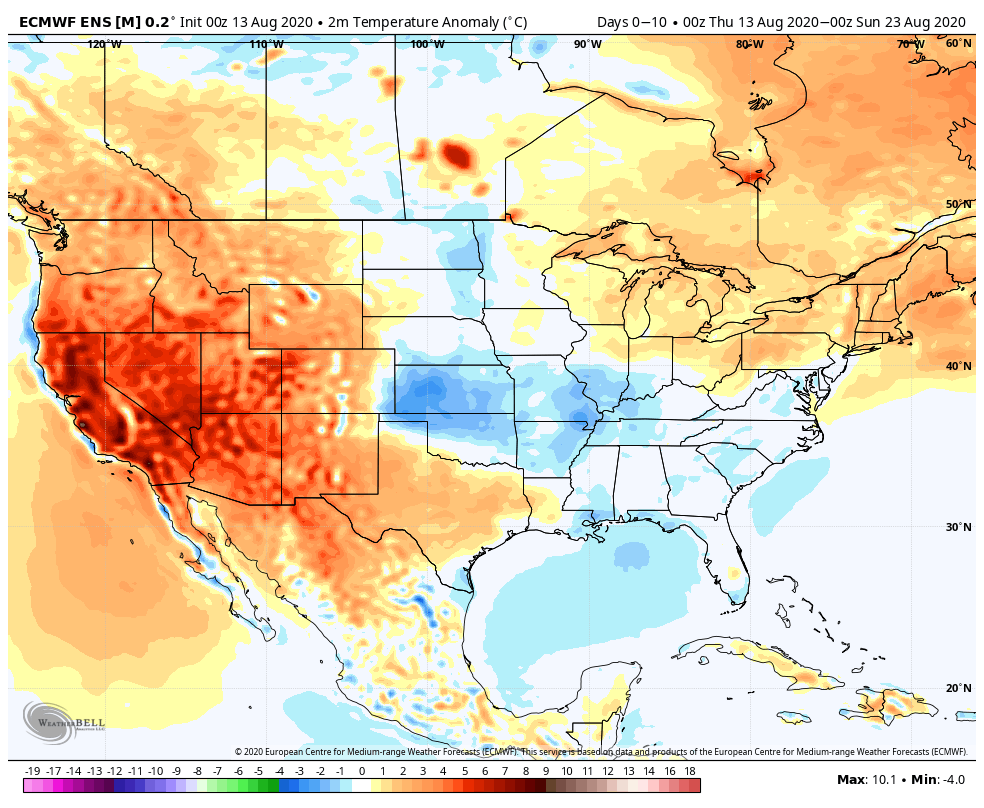 Stay safe, stay cool, and please be mindful of the high fire danger if you are headed to the hills this weekend.