It's always a bit of a coin toss on how much weight to give modeled total precipitation when dealing with the kind of cold we have in place this weekend. The best bet is to undercut the moisture that models forecast.
Even still, with cold temperatures will come the higher snowfall ratio to give the appearance that things are wetter than they are. We'll see how that pans out.
We went a bit heavier on totals than we may otherwise given the setup, but hoping the night and Sunday will get us where we we need to be for our forecast, and at the end of the day... -20°F wind chills and 1" of snow or -20°F and 5" of fluff and the impact is going to be about the same. Uncomfortable, and travel not advised.
So, we'll see how the snowfall forecast shakes out. This post will serve to reiterate the cold we will see over the next couple of days, and give a brief update on expected snowfall overnight and timing.
Cold!
Let's look at Saturday to Sunday low temperatures. Quite frigid to say the least.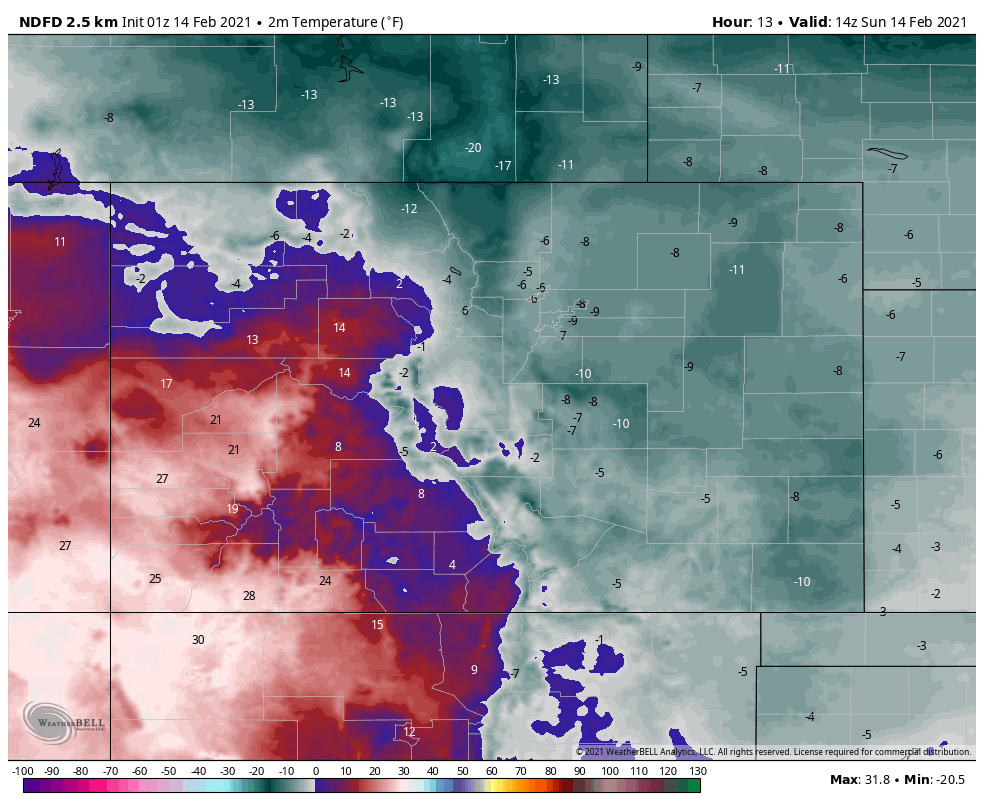 And, then again for Sunday afternoon's "highs." Many areas may very well remain below 0°F through the day Sunday.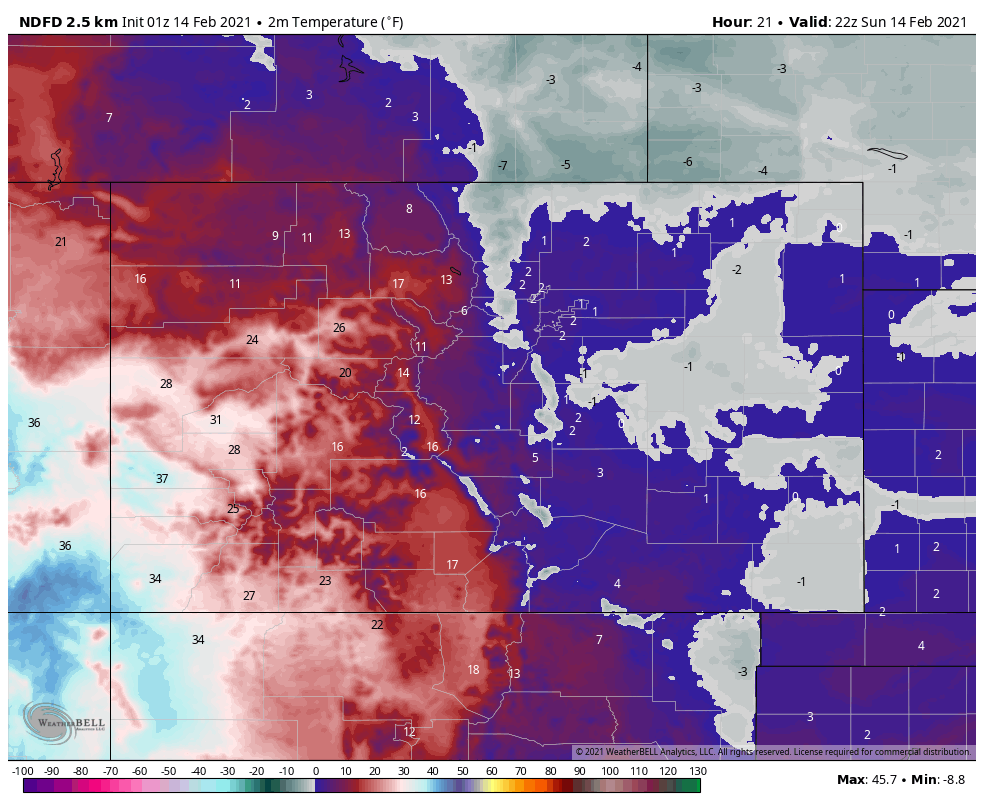 BUT, then look at the low temperatures Monday morning!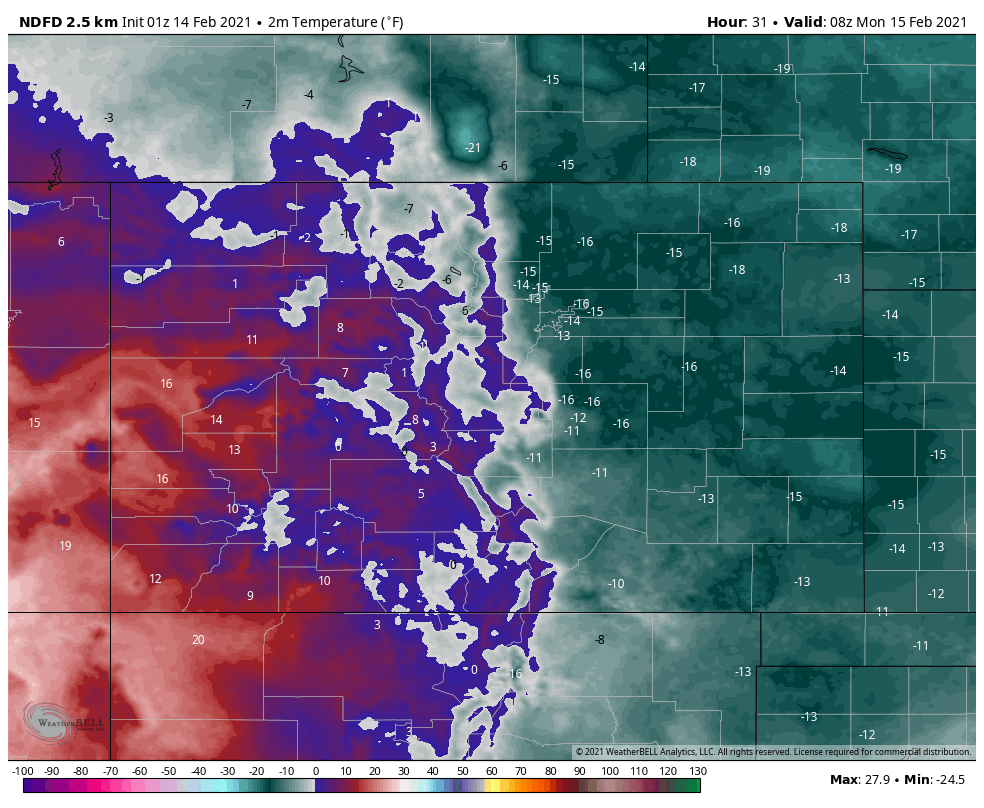 We will be double digits below zero Monday morning as the snow will have cleared and many of us have a clearer sky allowing the temperatures to be colder than with cloud cover. Yet, for most areas this isn't record setting, the record low for Denver on Monday is -20°F.
Wind chill values will be even lower by Monday morning, with a Wind Chill Advisory in effect for all of Eastern Colorado through 11am Monday. Here are some of the wind chill values expected early Monday across the Plains: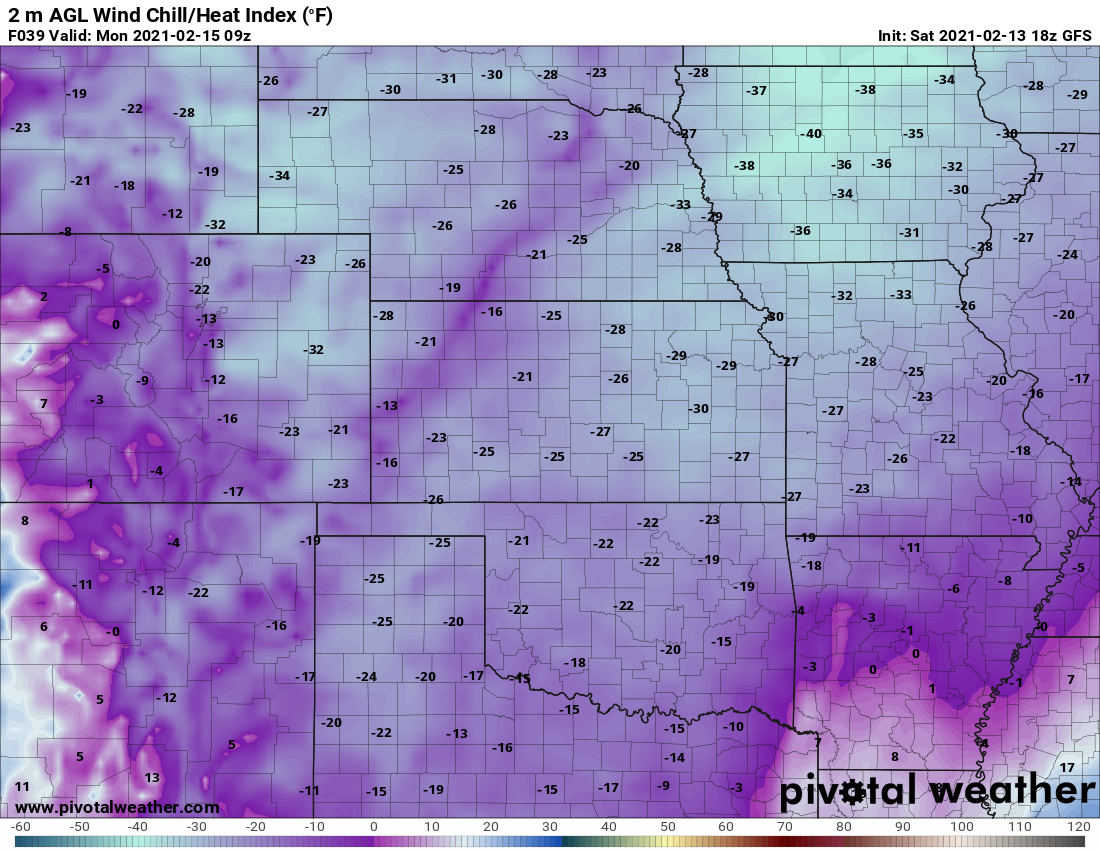 Speaking of snow clearing Sunday night, here's a timeline of the snowfall chances.

The highest chances appear overnight into Sunday. However, with the tremendous cold we have in place, it is hard to see our snowfall forecast bust on the high side, rather we may struggle to reach the low end in some cases.
Keep in mind that cold temperatures will mean a much higher than normal snowfall to liquid ratio, so for a rough estimate you can double what you see indicated on the following two maps. The first is a high resolution short term model that indicates an inch or two for Denver and maybe several inches north of Fort Collins near Wellington, as well as out east across the Plains: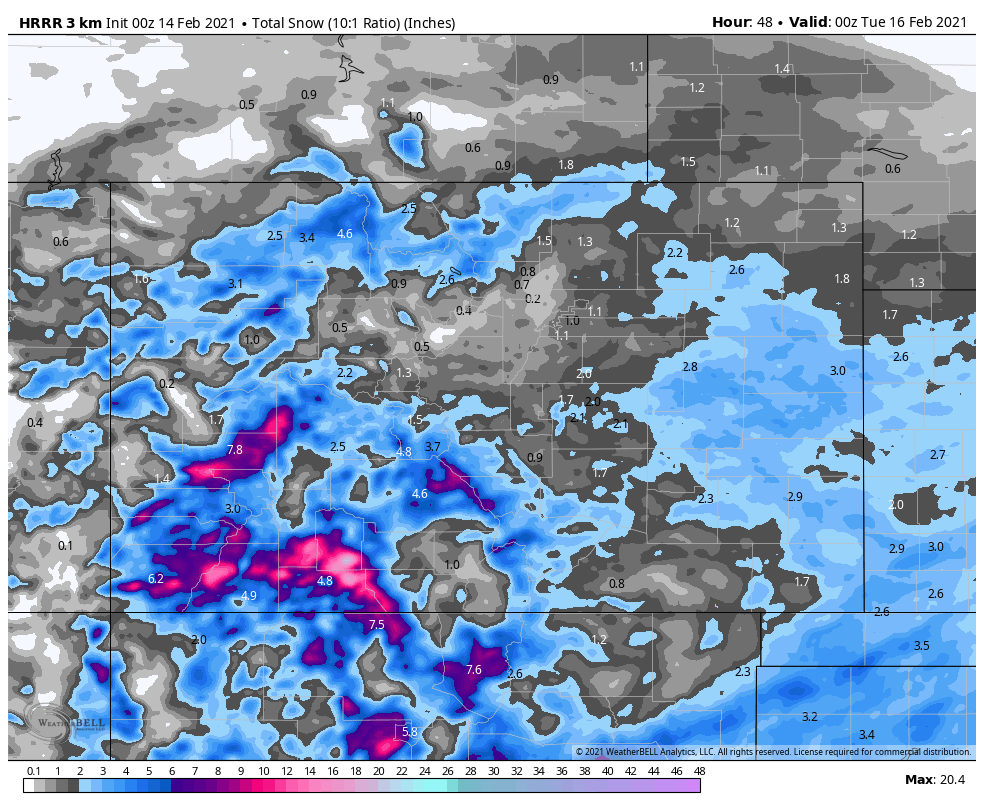 The second model here is onto a similar theme.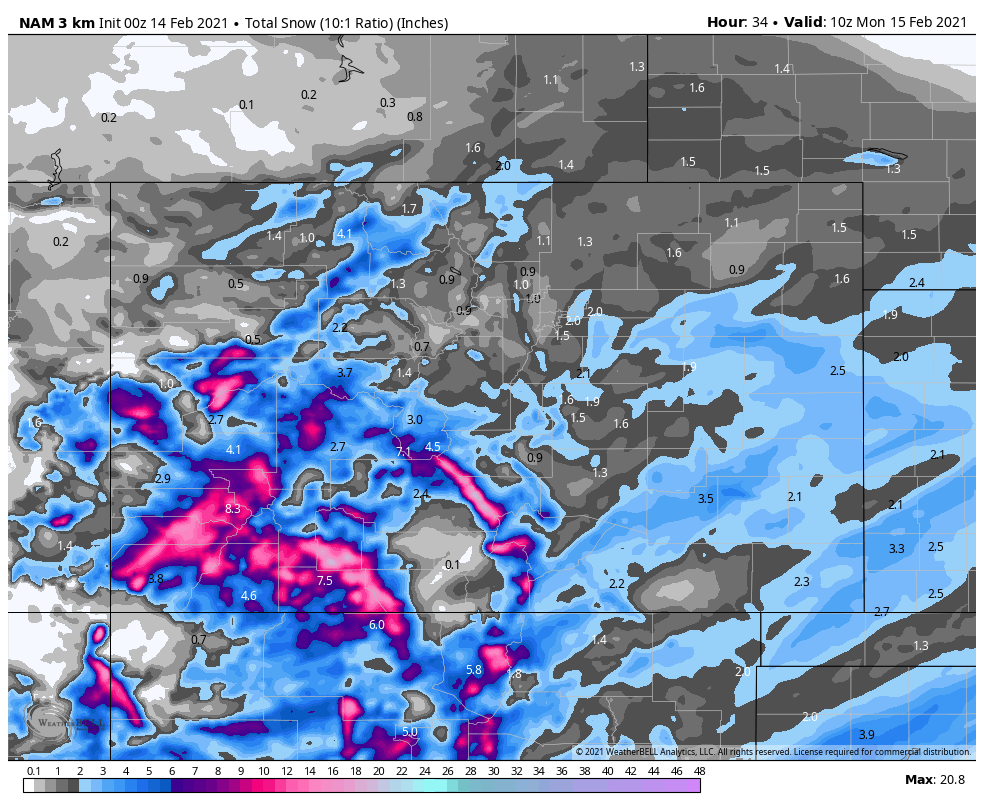 Again, these two estimations are similar to other models and indicate reaching, at least, the low end of our forecast.
The most probable totals are shown here, clearly a bias toward our low-end forecast totals: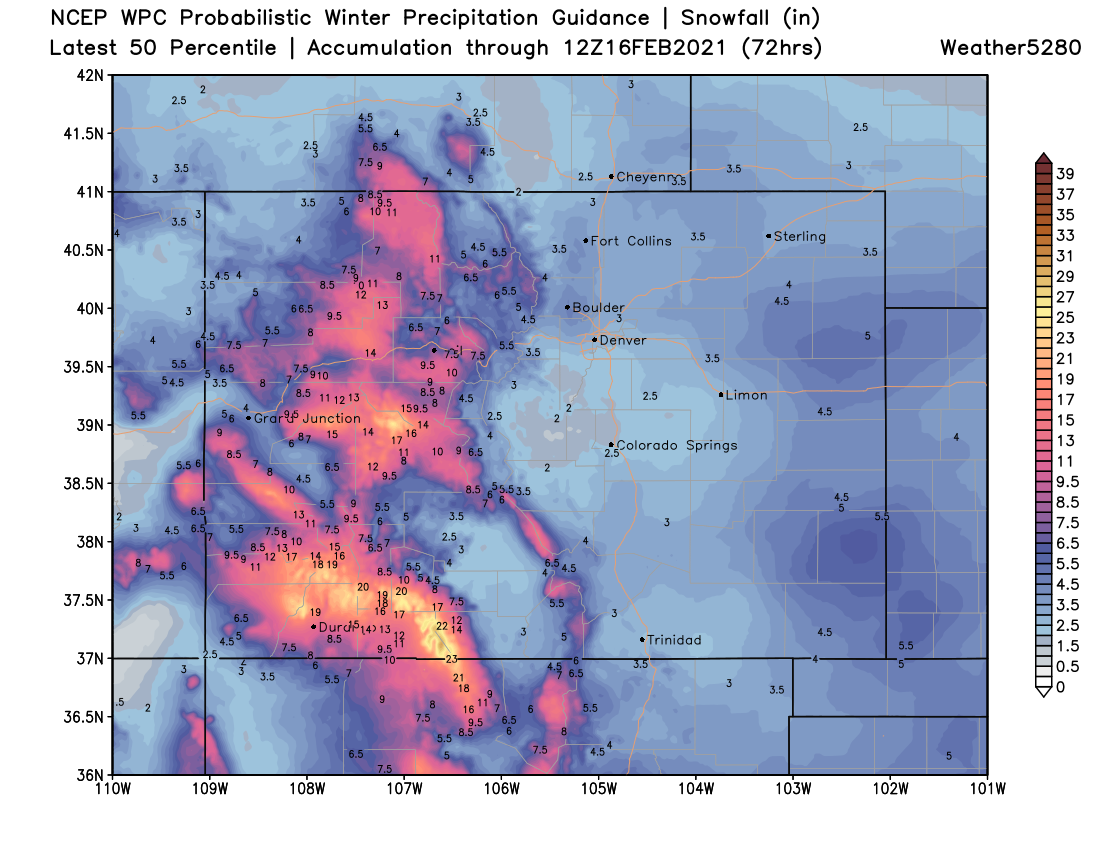 Bottom line, it is cold! We wish we had more water coming to the eastern half of the state, but hard to argue when we do have heavy wet snow in the mountains at least.