What a week of weather data watching it's been. Plenty of anticipation tonight ahead of what will likely be a significant snowstorm across north-central and northeast Colorado this weekend.
To all of our new readers that have joined us this week, please consider subscribing to Weather5280 to continue receiving weather updates and geeking out with us on weather long after the last flake flies with this storm.
We haven't seen much change in the data this afternoon or evening, and certainly nothing to make us make any meaningful adjustments to our going forecast. The couple of slight tweaks we made we address at the end here. Otherwise, things for now remain on track.
With that, we thought it would be fun to take a look at what each model is forecasting for snow this weekend on the eve of this event!
If you are looking for our snowfall probabilities or snowfall forecast map, you can jump to the end of this post or head to our full analysis from earlier today here.
GFS v15
We'll kick things off with the tragic, soon-to-be-retired GFS v15. After leading the pack all week with big time snow for Denver, its latest runs want to make it rain for much of the storm at lower elevations, and therefore have really pulled back totals for the urban corridor. This puts Denver International Airport at about 5" by Monday morning (Yikes!), with considerably more as you move west of I-25. It continues to absolutely crush the Front Range mountains and foothills, with upwards of 3 feet for many areas.
GFS v16
In a big test for v16, which is set to take over for the old version next week, the new GFS remains much colder (and in line with basically every other model in that regard as you'll see below), and much snowier. Bullseye here is across Boulder County, with a good 18 - 24" for Denver as well.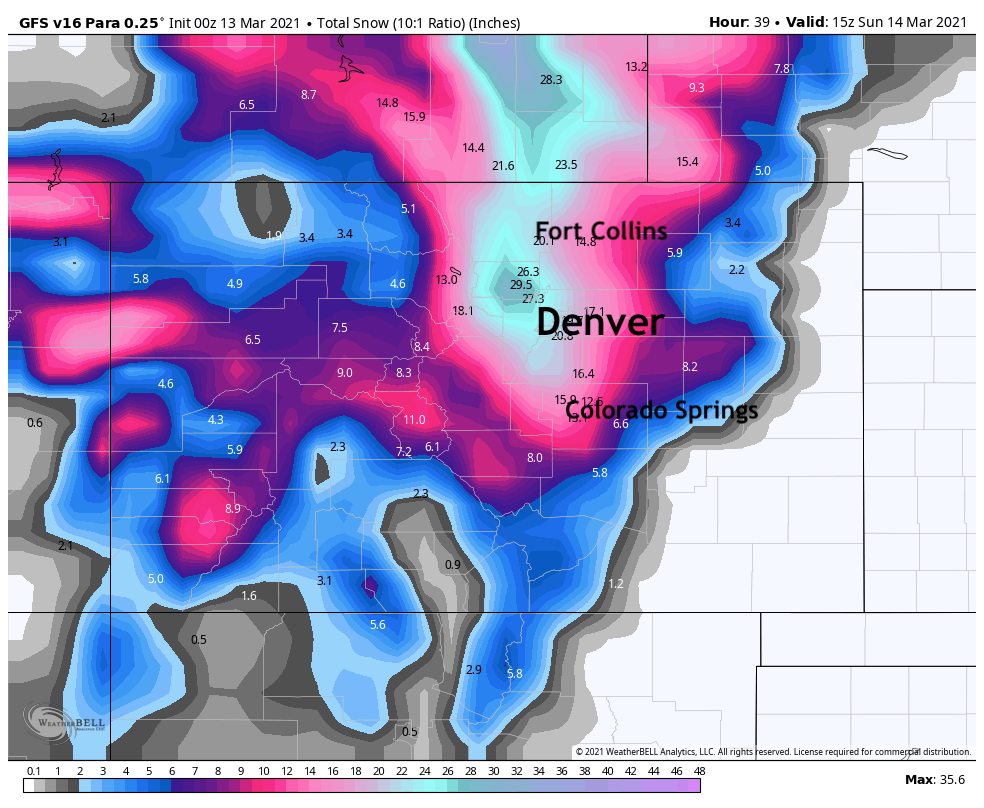 The Euro
The European model has been pretty consistent in recent days, and in good agreement with its ensemble. The latest run is one of the snowier its had, especially for south Denver, and paints 20 - 24" across the city.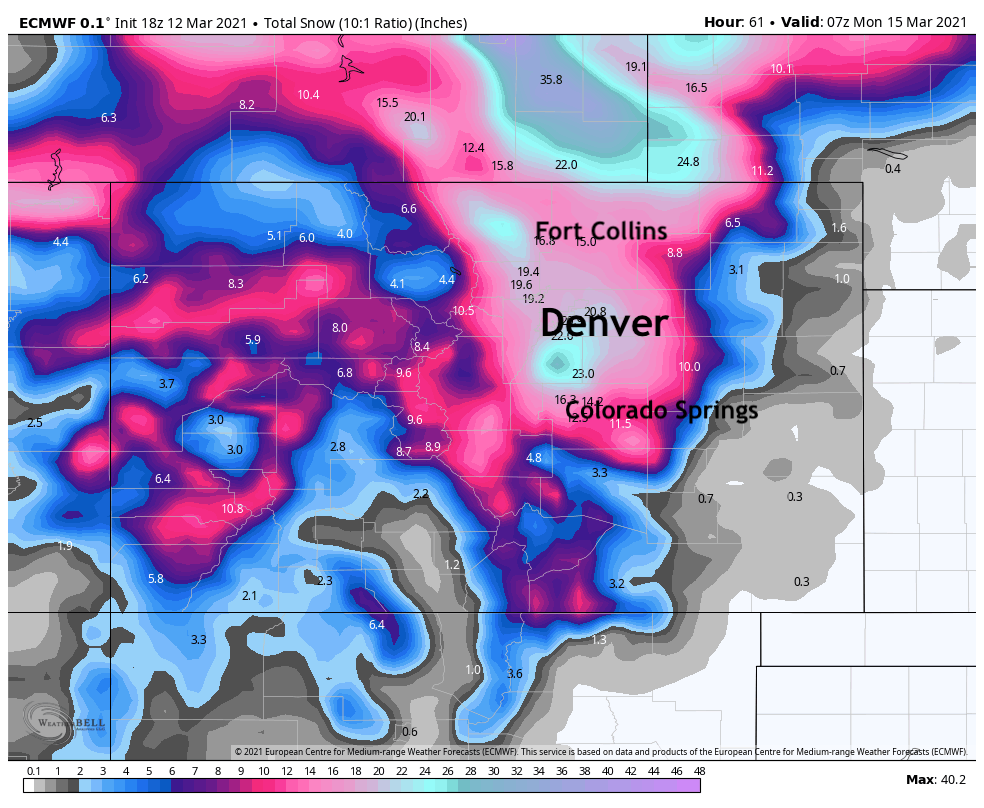 Euro Ensemble
Another very stead run from the ensemble mean this evening, putting most areas in the 15 - 20" range for this storm, including Denver. Greater totals up north of the state line and west of Fort Collins.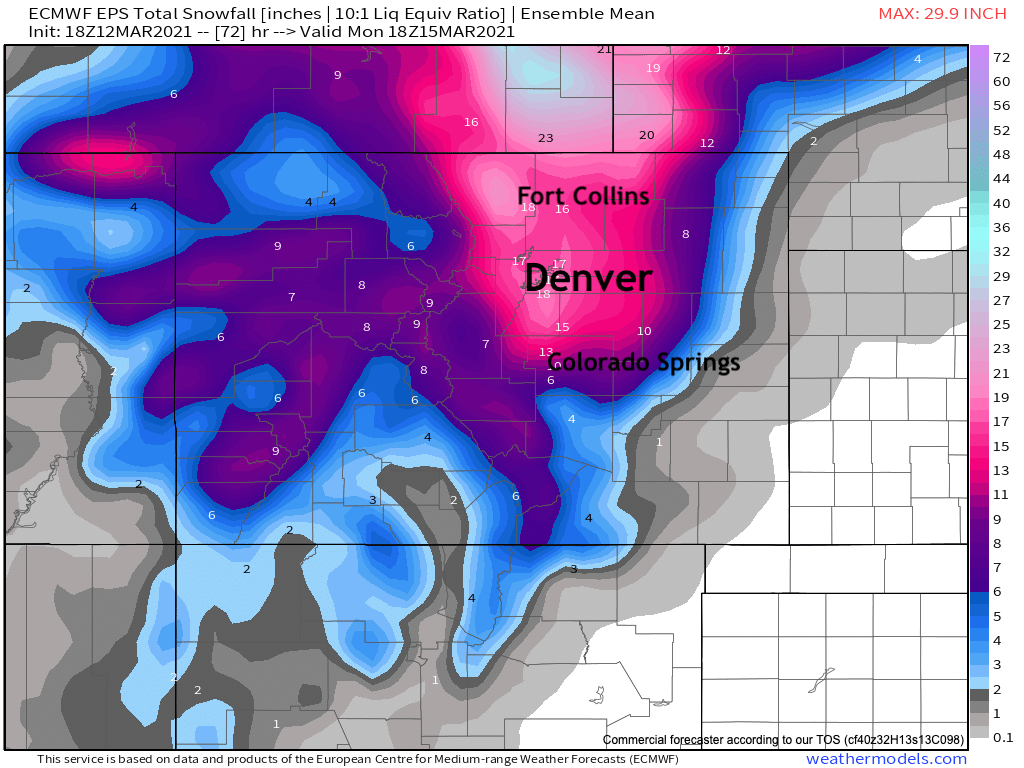 12km NAM
The 12km NAM has recovered quite a bit in its most recent run. Totals from 10 - 14" for most areas, with pockets of heavier snow for Colorado Springs and west of Fort Collins.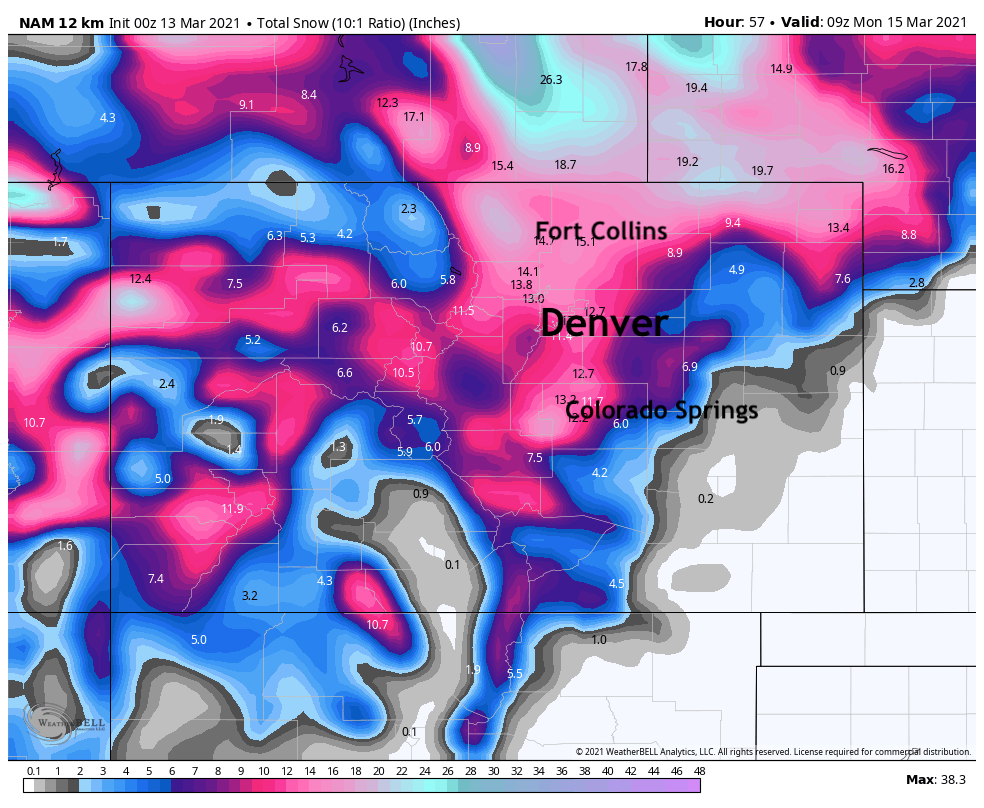 3km NAM
The 3km NAM keeps the Denver metro area more in the 8 - 12" range, but has pockets of 2 feet plus up and down the Front Range foothills.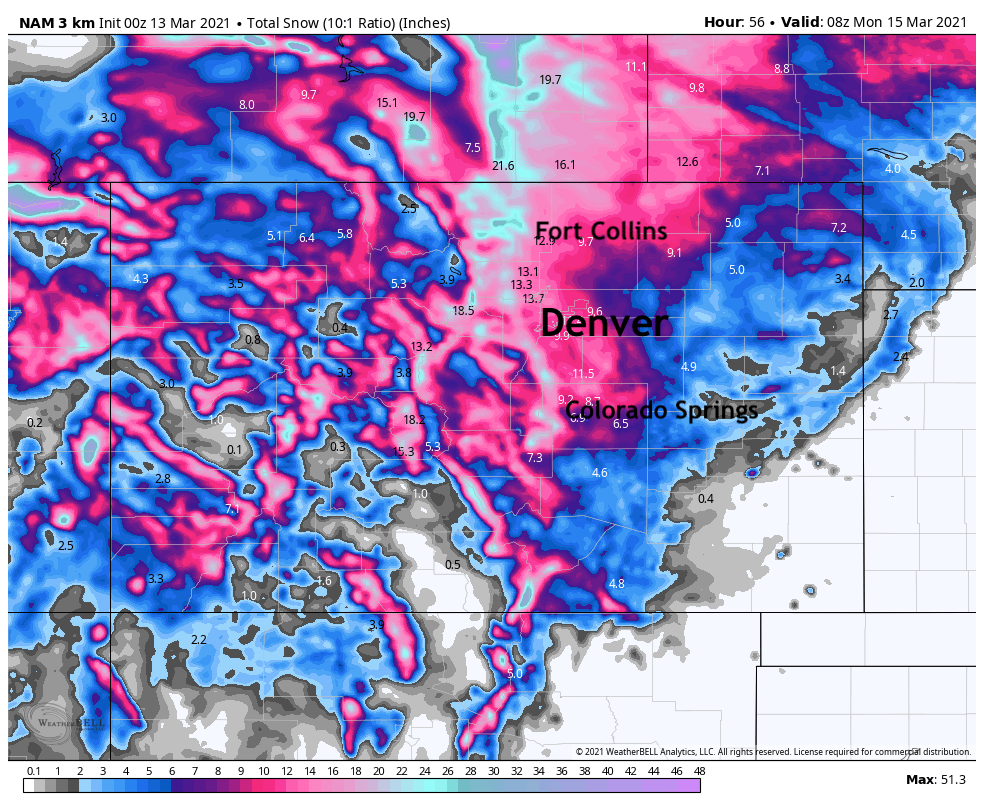 Canadian
One of the snowier models as we head into the event, and has been consistently so. This model has 18 - 24" for the Denver area, and upwards of 2 feet for areas north and west of Denver.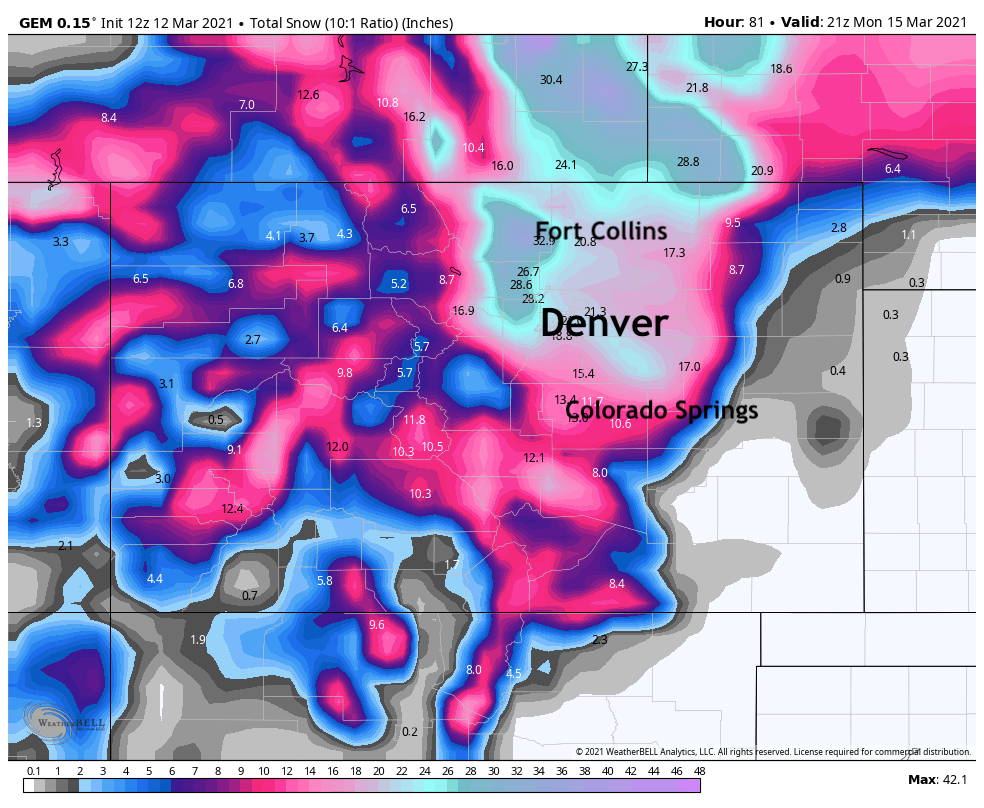 SREF mean
A pretty solid look from the SREF mean tonight as well. Looks like 18 - 20" for Denver, and upwards of 20" the further north and west you go. Lookout Fort Collins and Southeast Wyoming say the SREF!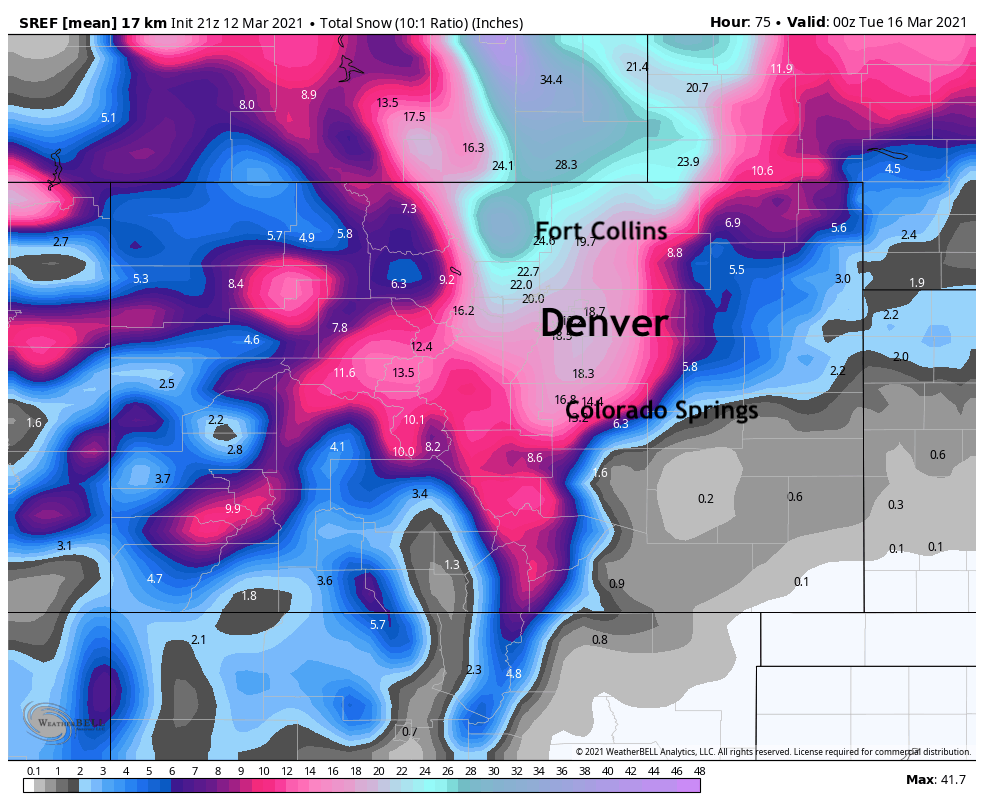 RGEM
Similar to its parent the GEM, a pretty snowy look. Remarkably how far south it wants to pull the heavy snow, much further than most models and our forecast. Big time snow again for Fort Collins, and about 20" for the Mile High City.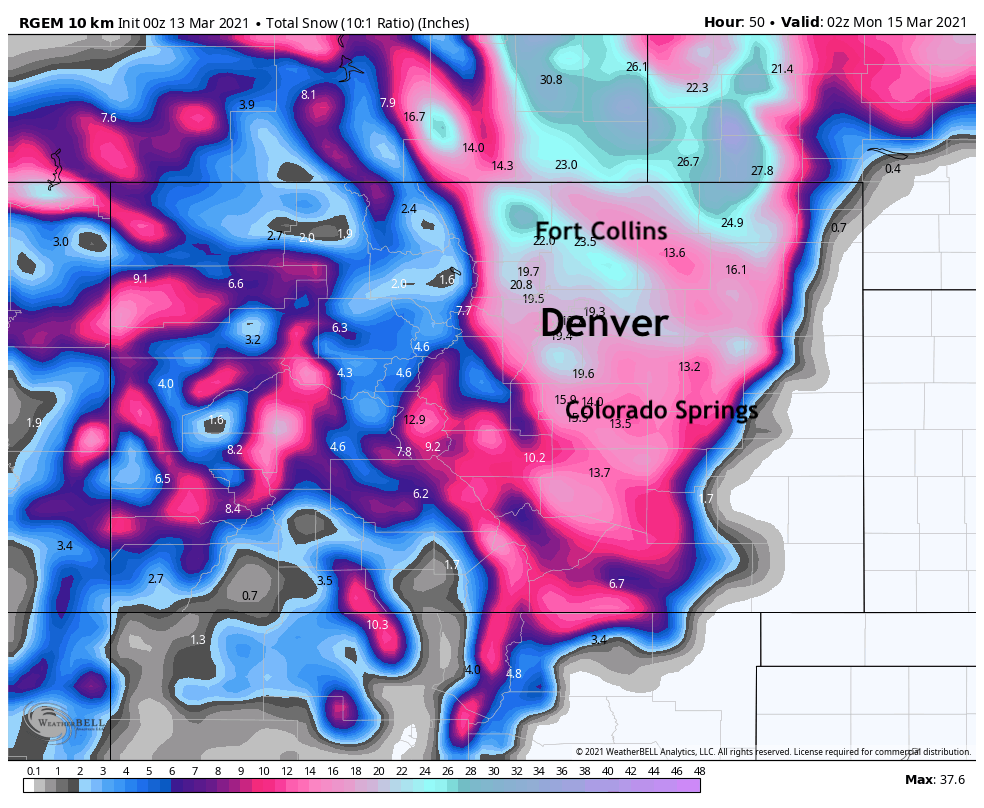 The HRRR
The HRRR is pushing Denver proper toward 20" by Sunday evening, with pockets of 2 - 4 feet easily for the Foothills west of the urban corridor. Similar to the SREF it buries Southeast Wyoming.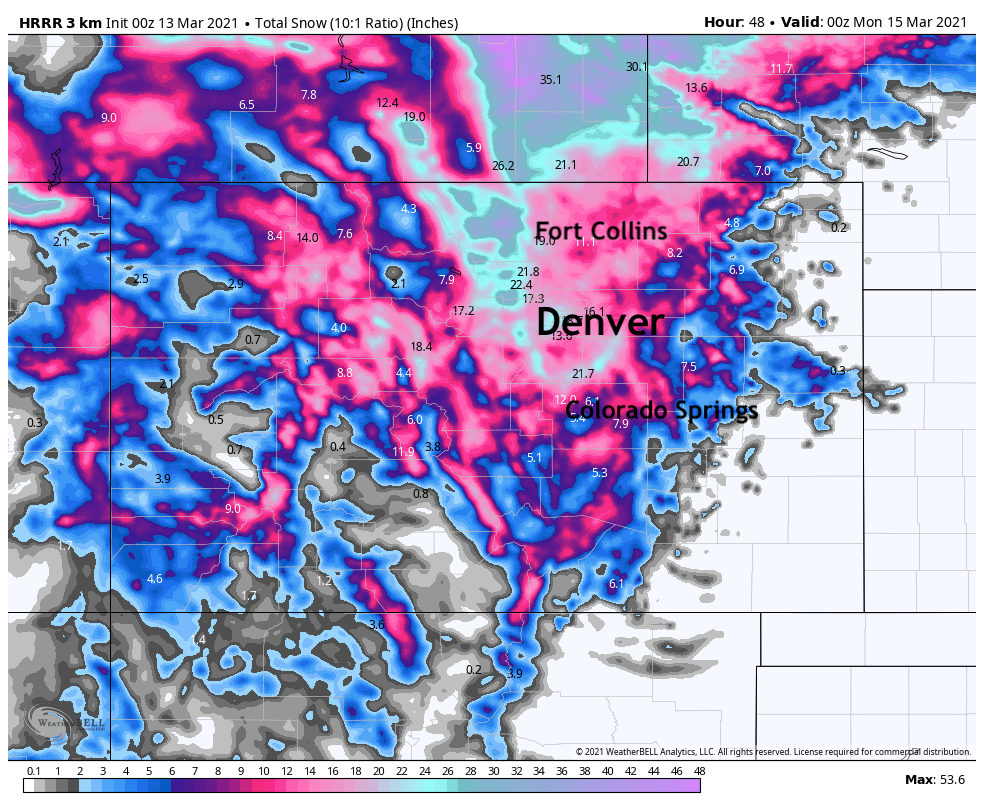 NCEP WRF
Big snow for the Fort Collins area again with this model. Totals from 15 - 20" for the Denver metro area. Absolutely buried in southeast Wyoming and Western Nebraska!
National Blend of Models
The NBM shows what theoretically would be a good forecast as it's blending many models to come up with this forecast. It covers the foothills in FEET of snow, with lower totals but still a good storm for the urban corridor. Looks like 12 - 16" for Denver, upwards of 15" for Fort Collins (substantially more on the west side there), and a pretty quick cutoff south of the Palmer.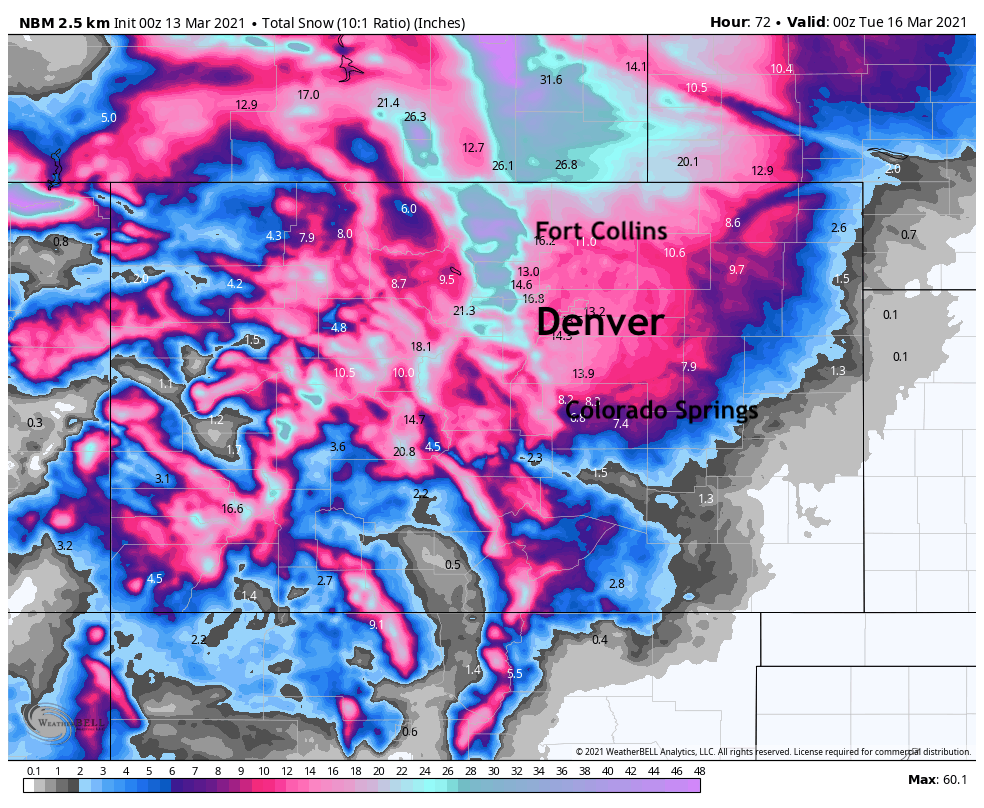 As you can see, plenty of variation, but overall not horrible agreement in the modeling. It looks like a go for a good snow event across the region this weekend, with most areas picking up a foot of snow or more by Monday morning it would appear.
---
As promised above, below are our probabilities and snowfall forecast map we issued earlier today. For Colorado Springs we have increased odds for 6 - 12" as data tonight is certainly more bullish for the Springs than prior runs. The only other thing to watch for is things possibly getting going a bit quicker Saturday, with some folks seeing several inches of snow by midday it would seem – but not all.
You can find our full from earlier today here: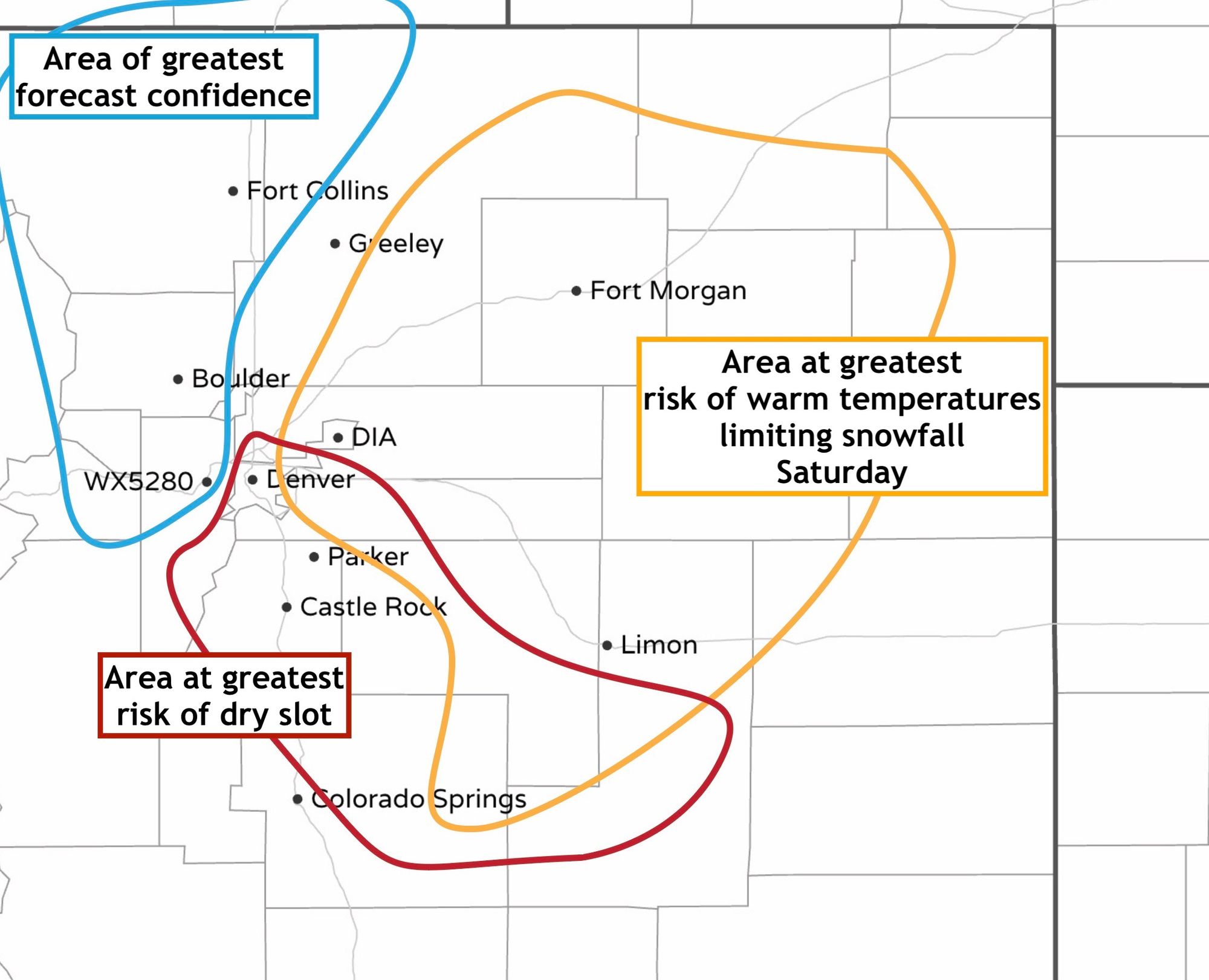 Weather5280 snowfall forecast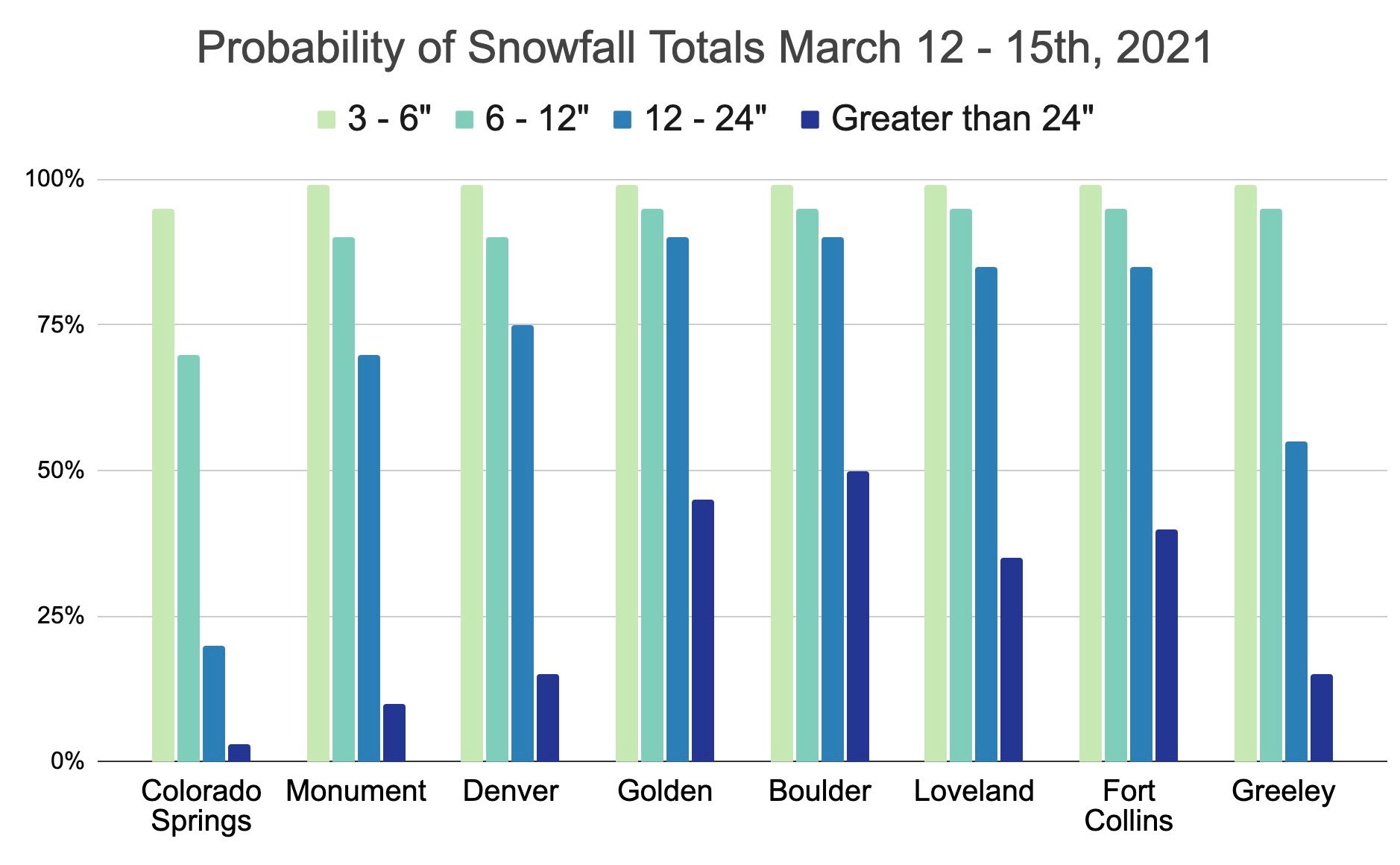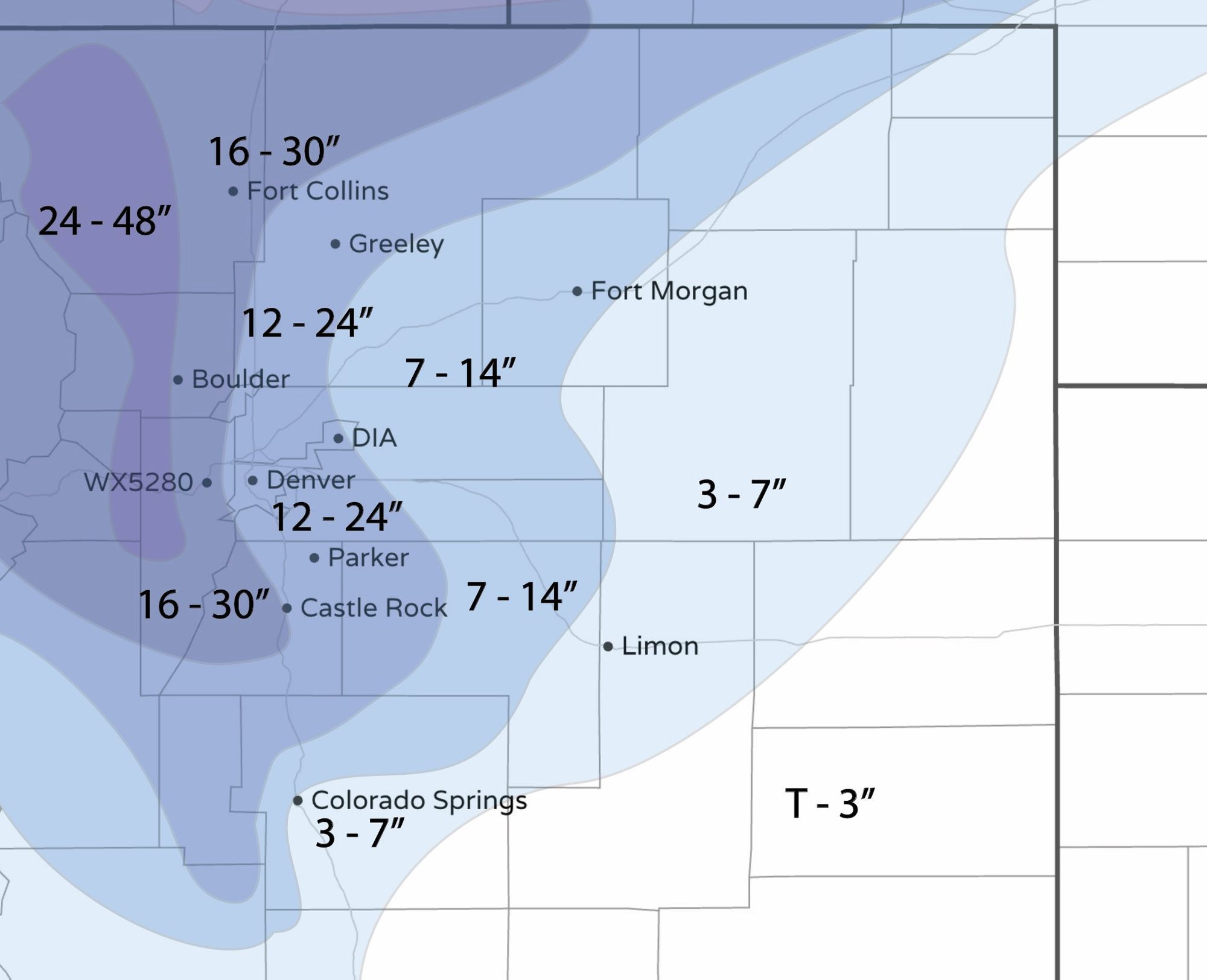 We will plan another update in the morning, so definitely look for that! Beyond that we'll update as needed, but hopefully get out and enjoy some snowfall for ourselves as well!
Models continue to pull another system in right on the heels of this one. Too much to try and parse that all that much at this point, but it could be we have a bit more snow to work through during the early/mid part of next week before we really clear things out. We'll touch on this more tomorrow if need be.