Well, we've made it to Friday. The incoming winter storm that has captured our attention all week has come ashore across the Southwest United States, and will slowly move up through the Four Corners and across Southern Colorado this weekend.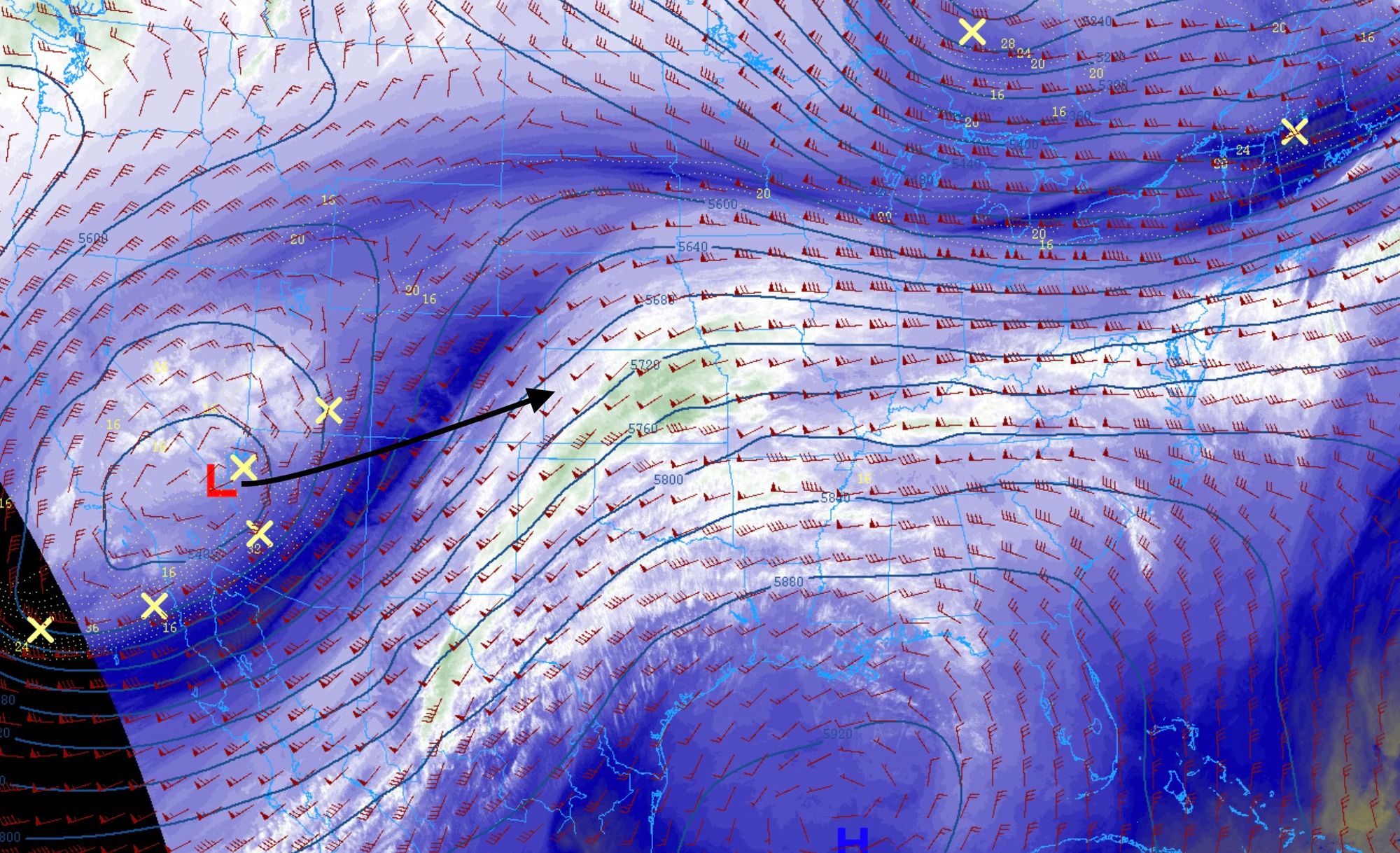 As it does, it will draw ample moisture out of the Gulf of Mexico and throw it, if you will, up against the northern Rockies of Colorado and Southeast Wyoming, delivering plentiful heavy, wet snow to many folks across the region this weekend.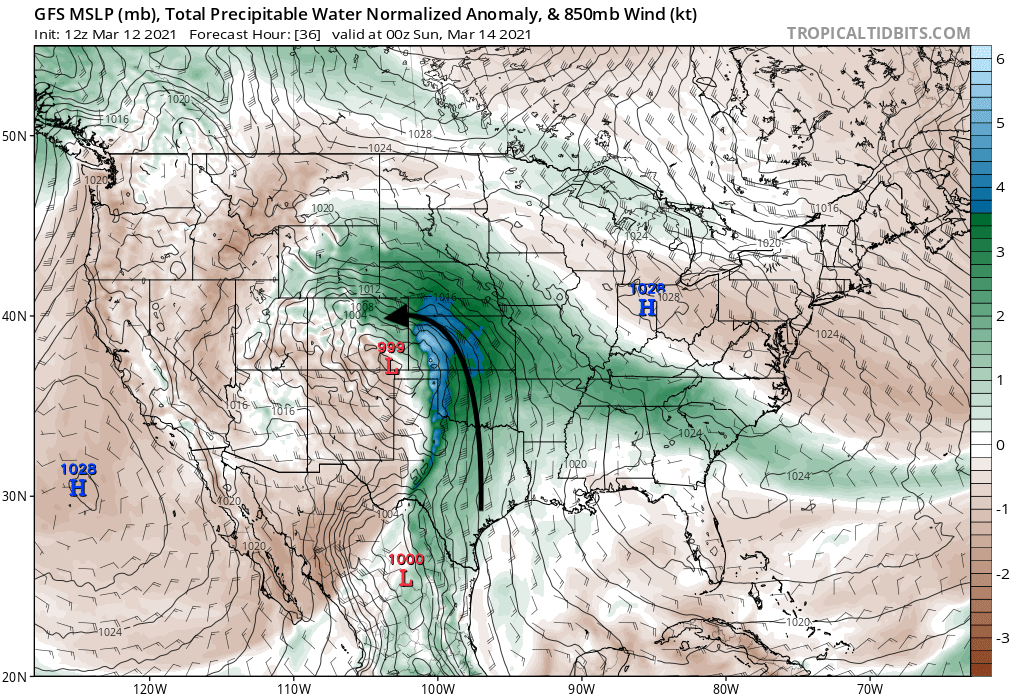 The slow movement of the storm means we'll see rain and snow across Northeast Colorado for several days – with chances increasing through Friday night, greatest on Saturday and Saturday night, then slowly diminishing Sunday evening and overnight.
What you need to know
This will be a long duration event, with a Winter Storm Warning in place for the entire urban corridor and Front Range foothills from tonight through Monday morning. Please do not wake up Saturday morning and expect all the snow to have fallen! Snow really appears to wind down Sunday evening.
Drizzle and freezing drizzle will be possible throughout the day and evening, eventually changing to snow early Saturday.
Snow will be heavy at times this weekend, with rates in excess of 2" an hour at times. The best window for the greatest accumulation we feel is from late Saturday afternoon through Sunday afternoon.
Wind will increase on Sunday, with the strongest wind likely felt from Cheyenne to Greeley and from Monument to Pueblo. So, what snow falls could end up blowing considerably adding to the travel headache. Blizzard potential exists for those areas...especially, the south side of the Cheyenne Ridge and across El Paso County. We encourage everyone to stay put this weekend.
Bust? There is potential for this to end up a significant snow event for our region, but there are uncertainties with the forecast that remain unresolved.
Factors that could limit snowfall in your back yard this weekend
There are three, all connect, factors that could limit snowfall this weekend in any given location from Colorado Springs north to the state line. Those are: temperatures, storm track, and dry air.
Temperatures Saturday could hurt snow accumulation for some, especially those east of I-25. While we think many of the models showing highs in the 40s Saturday are likely too warm, even mid 30s could have a significant limiting factor to snowfall totals, as ratios could end up well under 10:1 (snow to liquid ratio) for many hours Saturday. We continue to think most of the greater Denver metro area will be all snow Saturday despite what some models are indicating, and the greatest risk for rain or mixing would be well east across the Plains. The current operational GFS model has been the warmest in recent runs, but interestingly the new version which is set to replace it next week has remained much colder (and snowier). This seems like it'll be a GREAT test for this new model, and we'll see if it can out perform the old one.
As you'll see in the graphic below, should those warmer temperatures materialize, they could take a sizable chunk out of our total snowfall either by rain or low snowfall/liquid ratios, especially across the eastern portions of the metro.
The storm track still wobbles in each model run. This is anticipated, and again, where that track ultimately ends up will no doubt impact our forecast in some capacity. Some models remain north, most seem to want to hedge south, which is in line with where we think the low will ultimately end up. We've been saying all week, models tend to overdo the northerly track – then drop south as the storm moves in.
The dreaded dry slot! While on the whole we saw the high precipitation models decrease those totals in the last several runs, we don't see that as too concerning. The GFS today looks much more realistic, frankly, and better aligns with our snowfall forecast. Still, the concern for a "dry slot", or pocket of dry air working into the mix Saturday could be another limiting factor. The main concern for this to occur would be south of I-70, and is rather pronounced in some modeling. We'll see.
Below is a map to help explain the above, and hopefully not confuse! Denver, sorry to say, is in two high-risk groups! We won't adjust our totals down, but lookout!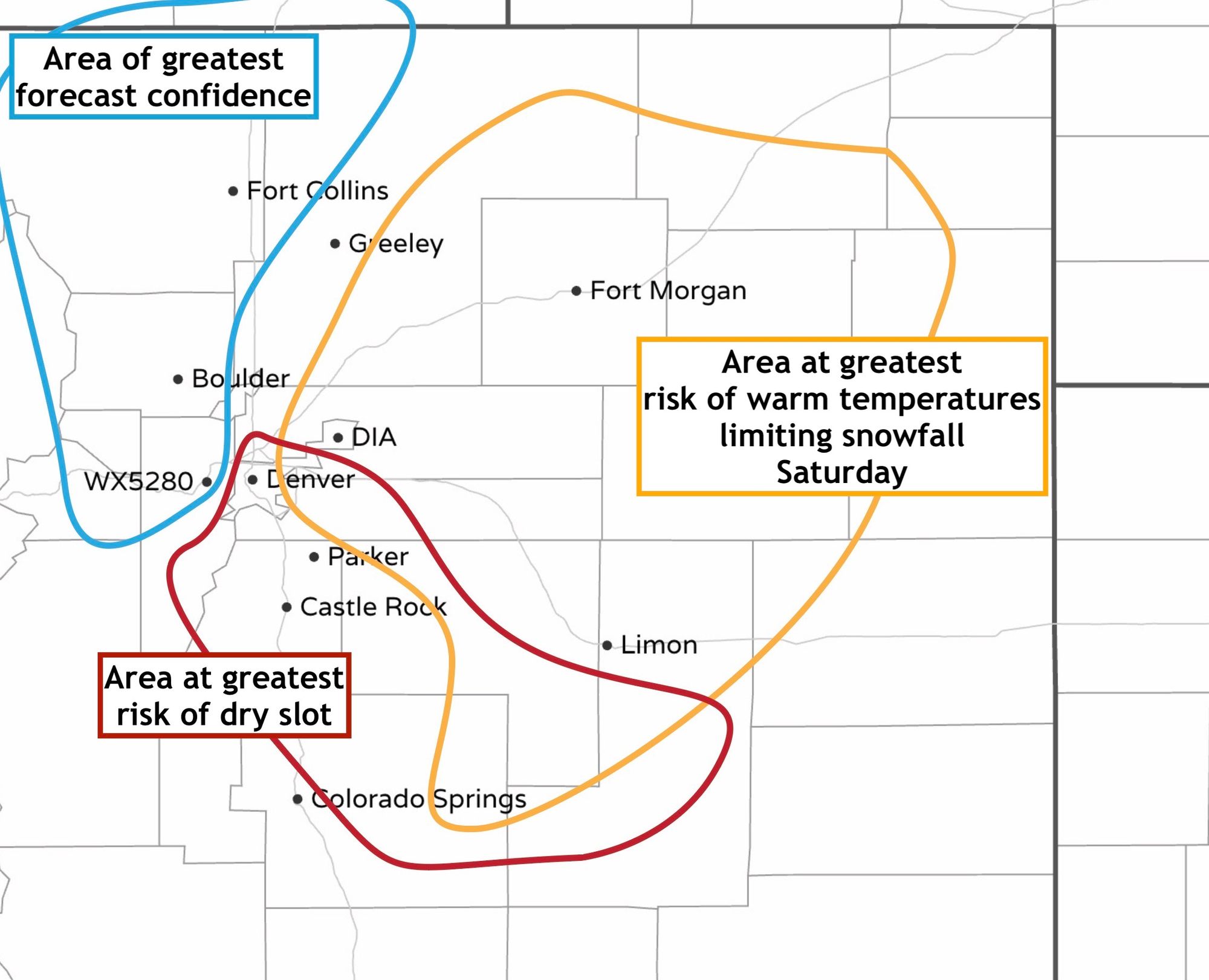 Snowfall totals
Despite my nerves we've opted to not adjust totals all the much from what we've already put out. We've tweaked the map slightly, mainly pulling the edge of the heaviest totals west a bit, but... otherwise, we'll stick with 12 - 24" for the vast majority of folks, which is where we've been all week.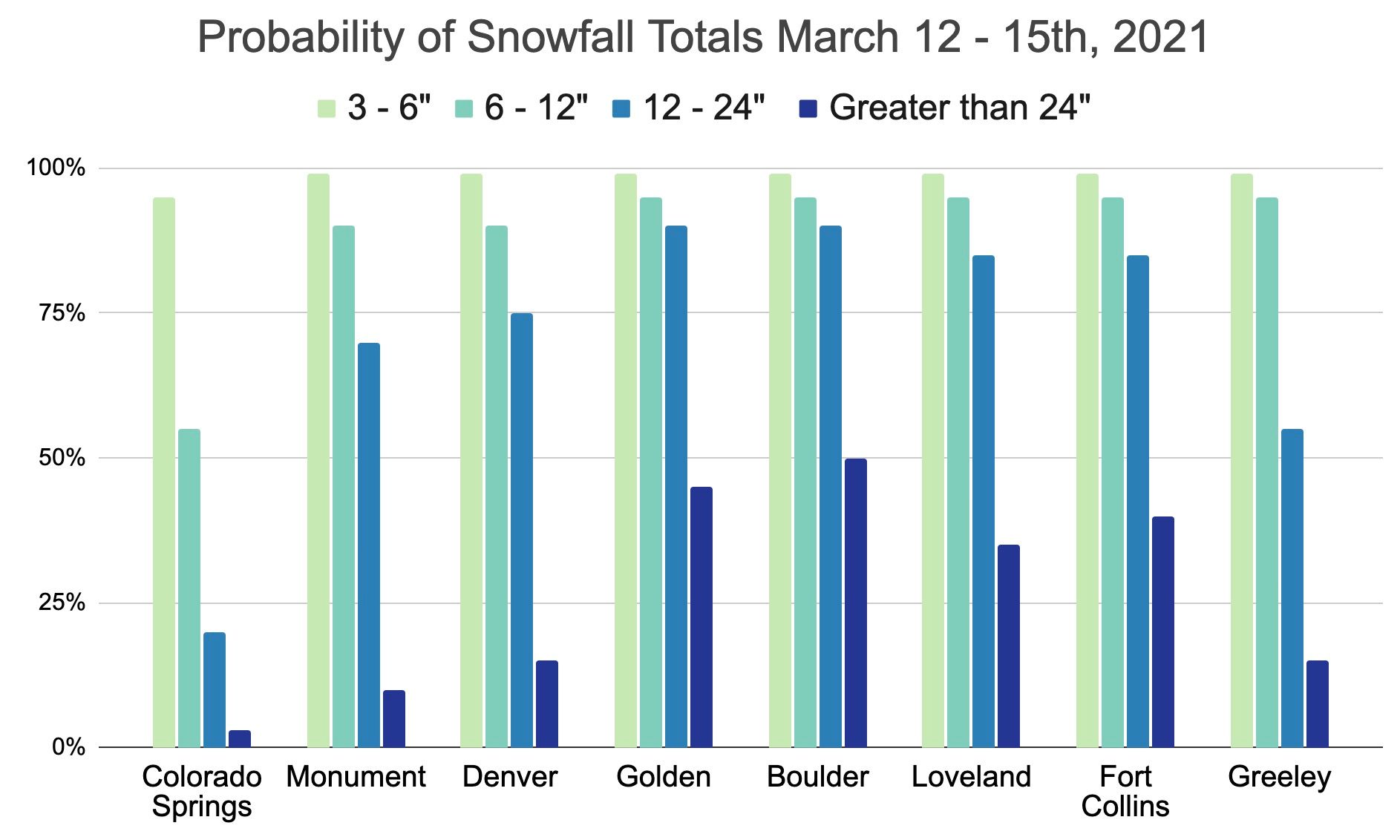 And here is our snowfall forecast map as of Friday morning: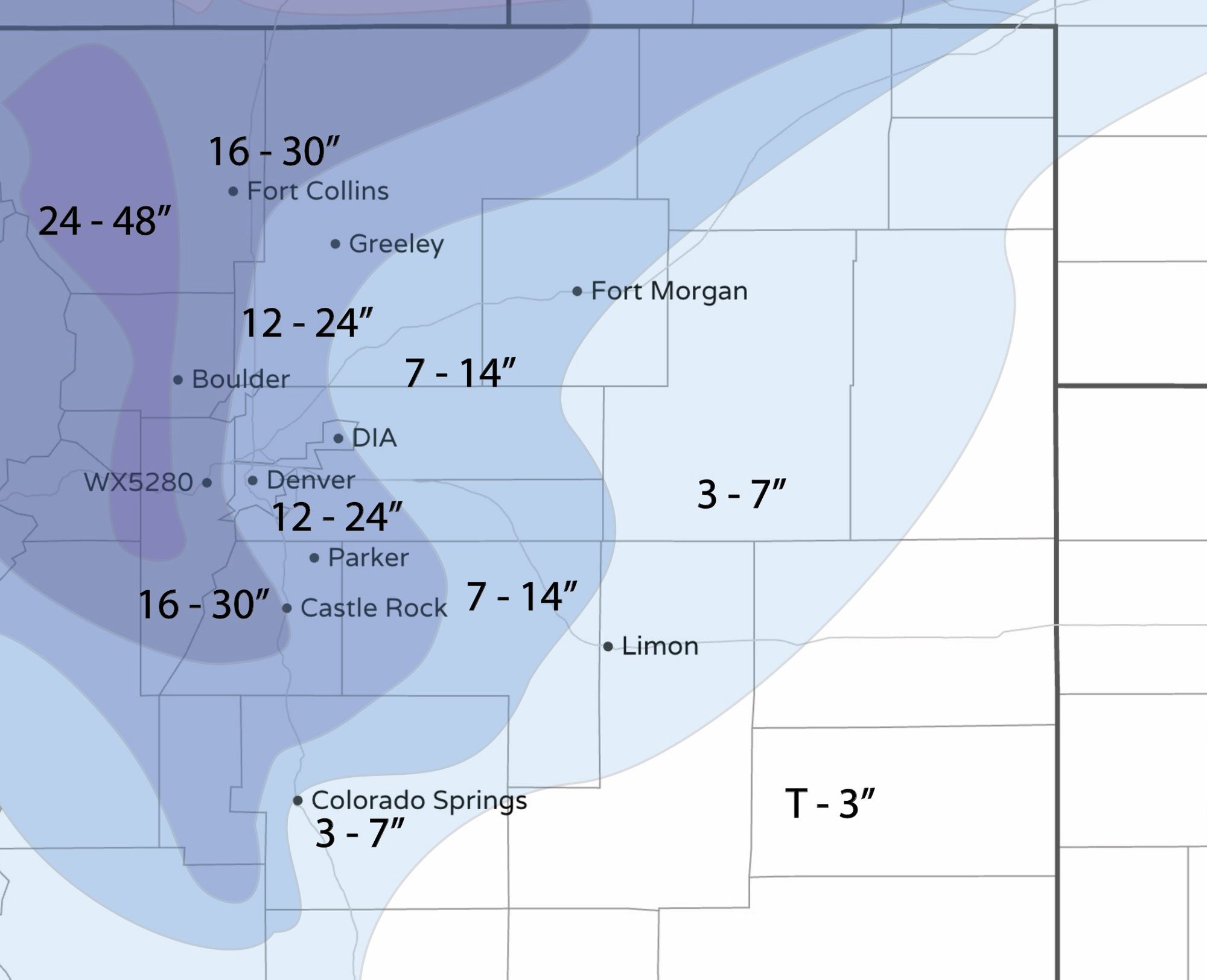 A top 10 storm?
Denver's biggest snowstorm on record is 45.7", set back in December of 1913. Of the top 10 storms, nine of them feature totals of 20" or more. The storm to beat to make it into the top ten is from January 1883, when 19.3" accumulated in the city.
Right now we think odds of breaking the 20" mark in Denver are on the low side. As you saw in our map above the bust potential is highest over the city, and if the fact that only nine storms on record have managed 20" or more isn't a tell on how hard it is to do – I don't know what is!
Of the top 5 March snowstorms, #5 is 16.9", so a bit more doable to make it into this list. Still, if we struggle to accumulate snow on Saturday, or get dry slotted Saturday night, we won't end up anywhere near the top 5 March list either.
With a forecast of 12 - 24" we have a shot at both lists, but just about everything would have to go right! The Euro, our preferred model, has had about 20" for Denver by Monday morning over the last six runs or so, which is perhaps our one confidence boost to snow lovers in this post. 🙃
What we're watching today
We'll of course be watching things closely today and adjust totals if need be. Our concerns we listed above aren't enough to make us adjust just yet, but we'll see if that holds true tonight.
Another thing that's concerning is the NAM and other high-resolution, short-term models are for the most part considerably less snowy than most of the globals we've been tracking all week. For perspective, many of those models are showing more like 5 - 10" or maybe 7 - 14" across the metro area, and shut the snow off much quicker on Sunday. Given the relatively steady outputs from the GFS/Canadian/Euro, and given what we see as the overall setup, we won't choose to react abruptly today but instead stay the course for now. While the NAM remains north, we think eventually it will correct south, and for the sake of our forecast we hope that's true!
With this continuing to be such a fluid situation it is imperative that you stay current with the forecast – subscribe to Weather5280 here.