We continue to track our next chance of rain and snow set to arrive late in the day Sunday and stick with us off and on into Monday.
While there have been no big shifts in guidance since our update yesterday, there are a few slight shifts in timing and impact that are worth watching.
The main thing seems to be a slightly slower arrival of the heaviest precipitation, which would likely mean more snow vs rain, and less melting if the heavier snow does in fact hold off until after sundown this evening. Given warm surface temperatures and marginal air temperatures with this system, we continue to think the city-centers will see a fair amount of melting and compaction (especially on roadways) which will limit snowfall, even if we don't have sun angle issues with a possible delay in start.
For Denver the National Weather Service has issued a Winter Weather Advisory, it goes into effect at 6pm tonight. An Advisory is also in place for Colorado Springs, it goes into effect at 8pm. Higher elevations to the west, and the Palmer Divide between Denver and COS will be under a Winter Storm Warning tonight, with heavy snow possible.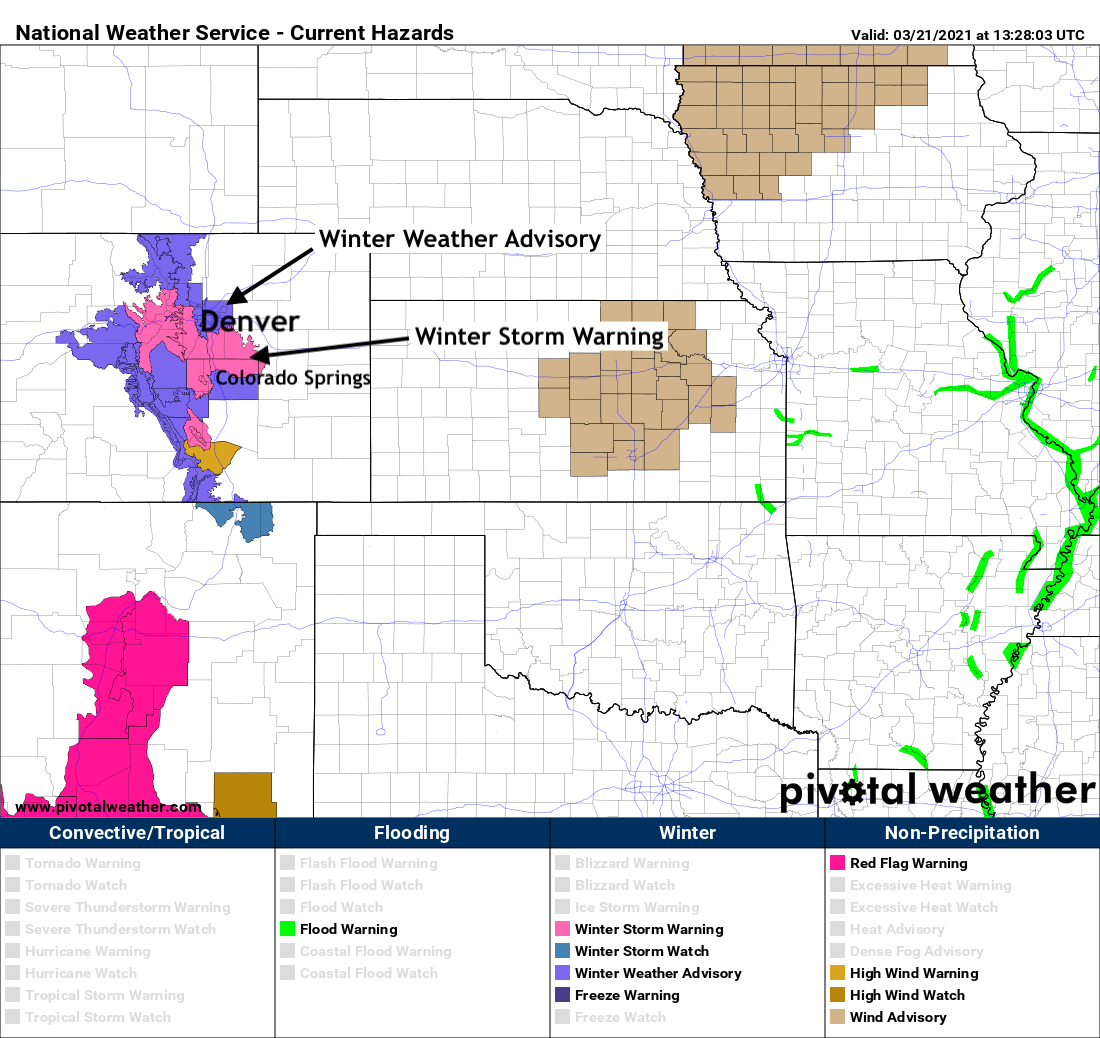 Timing
Looking at latest guidance today it would appear the best chance for rain and snow will be between 4pm this afternoon and 8am Monday morning, with the bulk of the heaviest snow expected between 5pm and 2am for Denver. The hourly planner below shows gradual increase in precipitation chances through the afternoon, and gradually decreasing after midnight tonight. This timing will be similar for the entire region.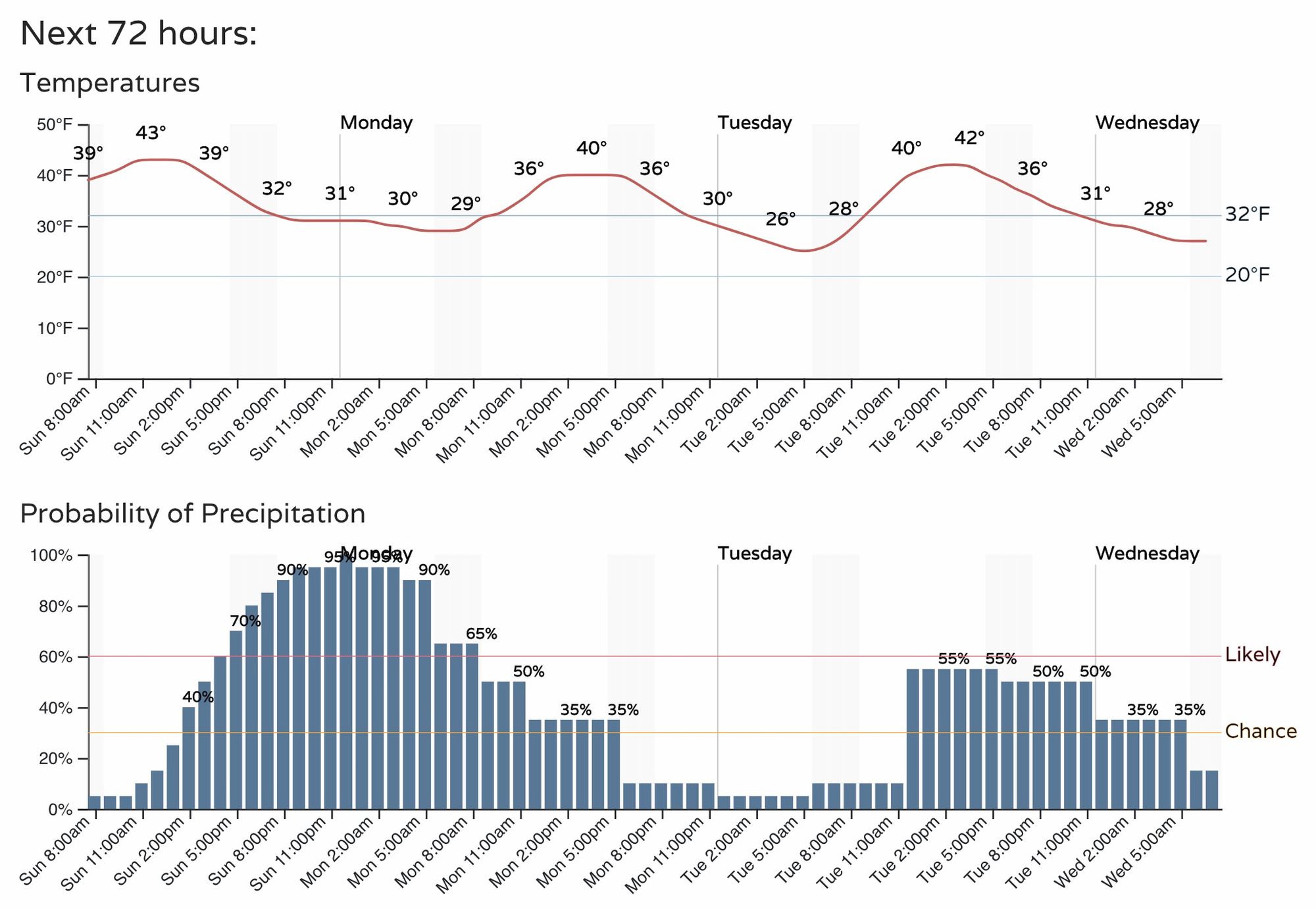 The latest short term HRRR model would agree with this assessment. It has showers starting around 5pm, mainly up north of Denver (Fort Collins) and a band kicking up over the Palmer Divide as well: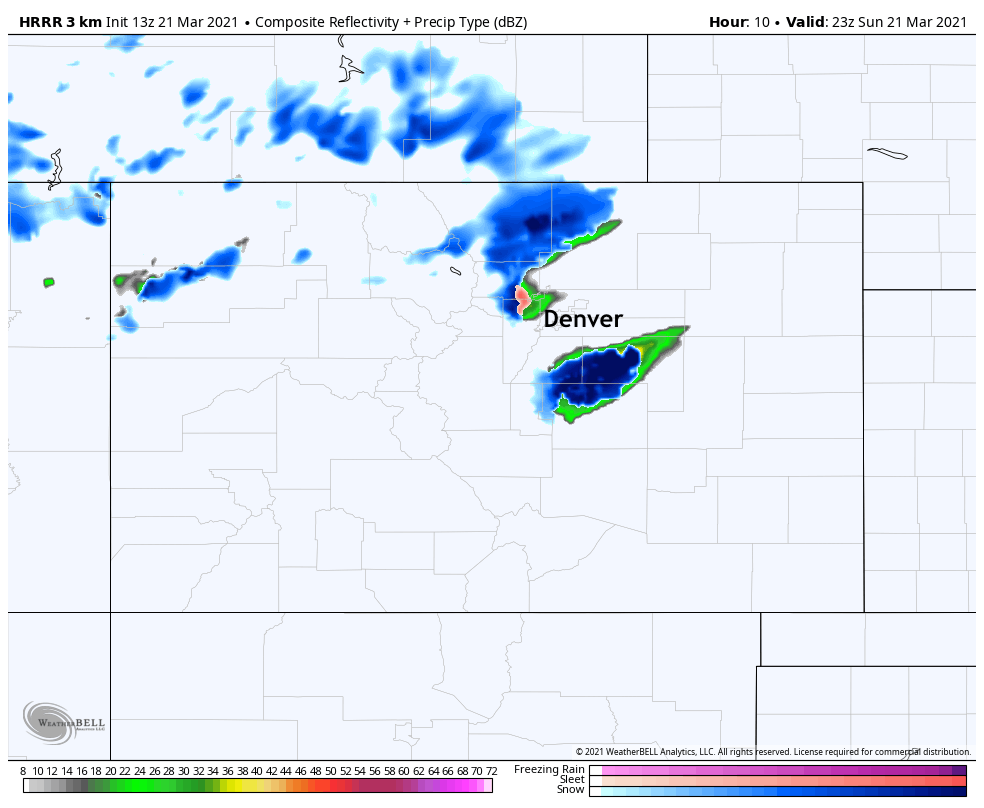 By 7pm this particular model shows snow from Monument north to the state line: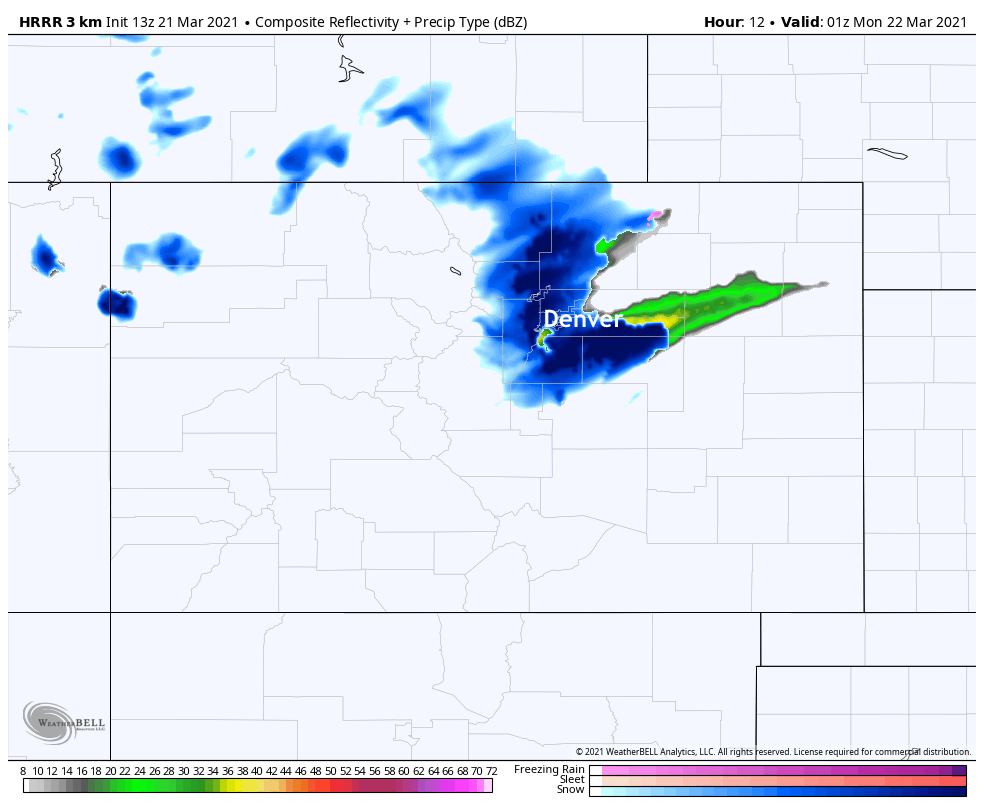 By midnight we see the heaviest snow starting to sag south. It's basically over for northern Colorado, still snowing in Denver, and increased snow rates and coverage across the Palmer, eastern plans, and Colorado Springs region: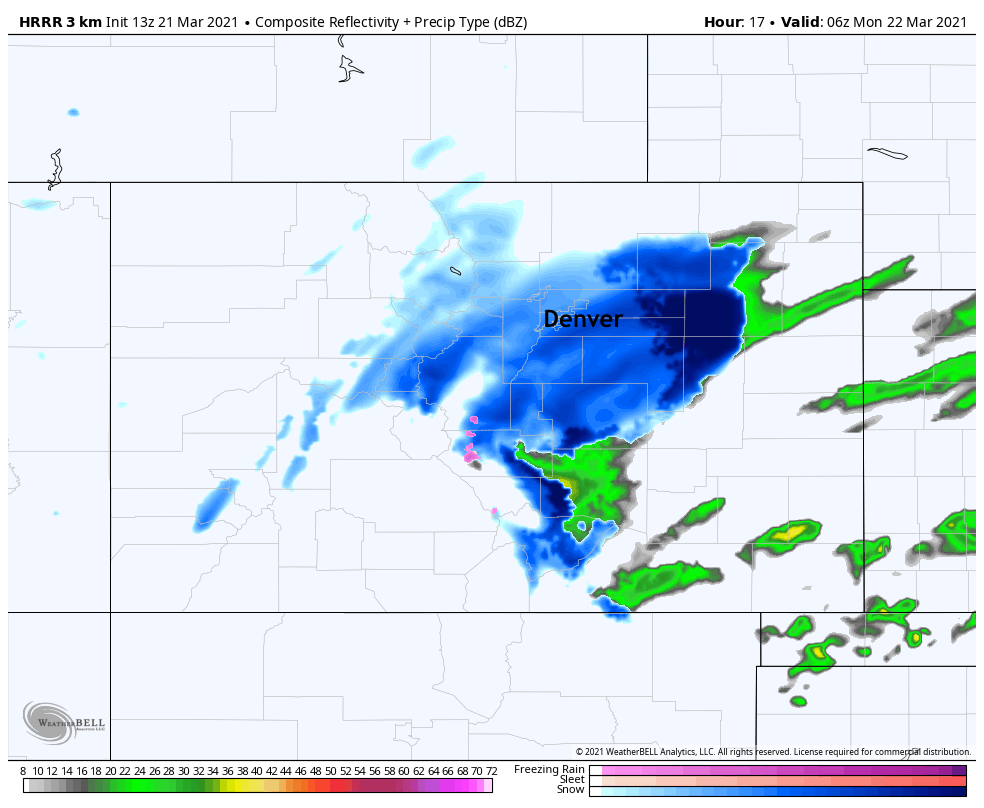 This southerly/southeast trend will continue into the morning hours Monday, with widespread snow gradually coming to an end toward daybreak.

Impacts
The main impacts from this event will be between 5pm tonight and 9am Monday morning. Travel will become increasingly difficult late this afternoon and evening as the snow increases and temperatures drop. Wet and slushy roads should be expected up and down the Front Range urban corridor.
Snow will be heavy at times. This is especially true for wherever the main snow band sets up this evening, which as of now looks to be south and southeast of Denver across the Palmer Divide. Should the position of that band ultimately shift north or south, the area with greatest totals and worst impacts would of course also shift. Right now model guidances is pretty consistent with its placement, and shows snowfall rates in excess of 2" an hour for at least a brief time this evening.
Below is a look at the 1 hour snowfall totals valid at 8pm this evening, showing a swath of pretty good 1 hour totals to Denver's south: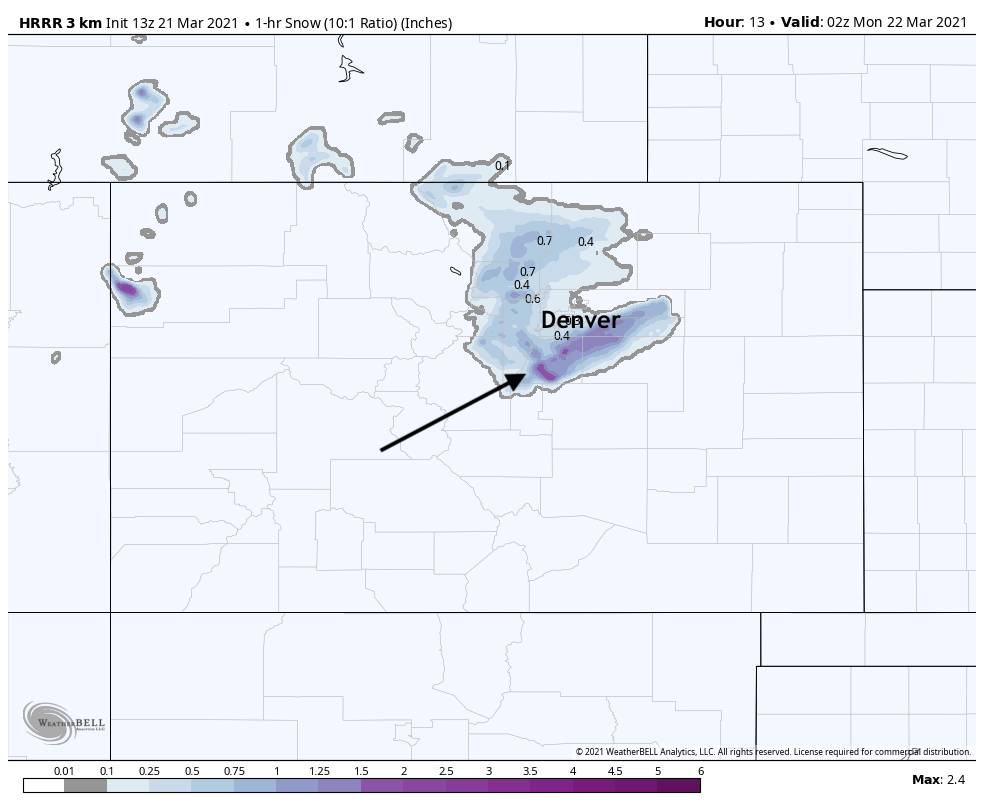 Given the timing of this system, and at least areas of moderate to heavy snowfall expected, look for a slow commute for many across the greater metro area Monday. Please give yourself extra time on the roadways Monday morning, or stay home!

Snowfall forecast
This remains a tricky forecast. Given plenty of guidance uncertainty, from just and in or two for Denver to upwards of 10", confidence is on the low side. While there's certainly some high-end potential, we think the most likely area for the heaviest band to set up is not over Denver proper, and that warm temperatures will knock down totals at least initially as well.
With that, we won't be changing our forecast all that much at this time. We continue to think high-end potential is roughly around 6" for Denver and Colorado Springs, and 9" across the Palmer, with locally 12" for our 4 - 9" area outlined below. A shift in where the heaviest snow band sets up would through this forecast out the window, but there's not much support to change the placement of the heaviest snow at this time, so we'll hold tight.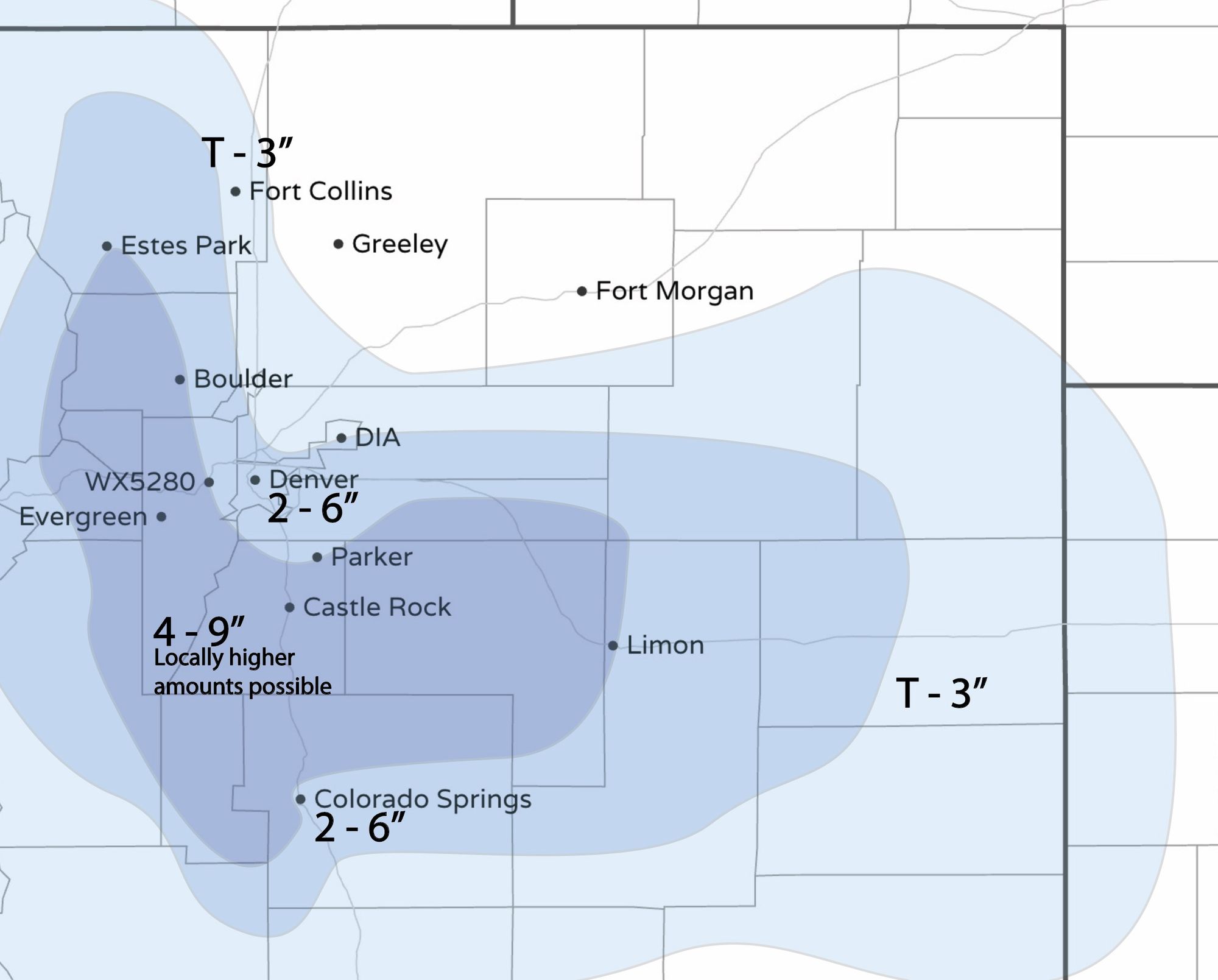 Meanwhile our gamblers remain pretty bullish. This morning they have 50% odds of Denver hitting that 6" mark, 30% for COS, and 70% ore more for Boulder and Castle Rock: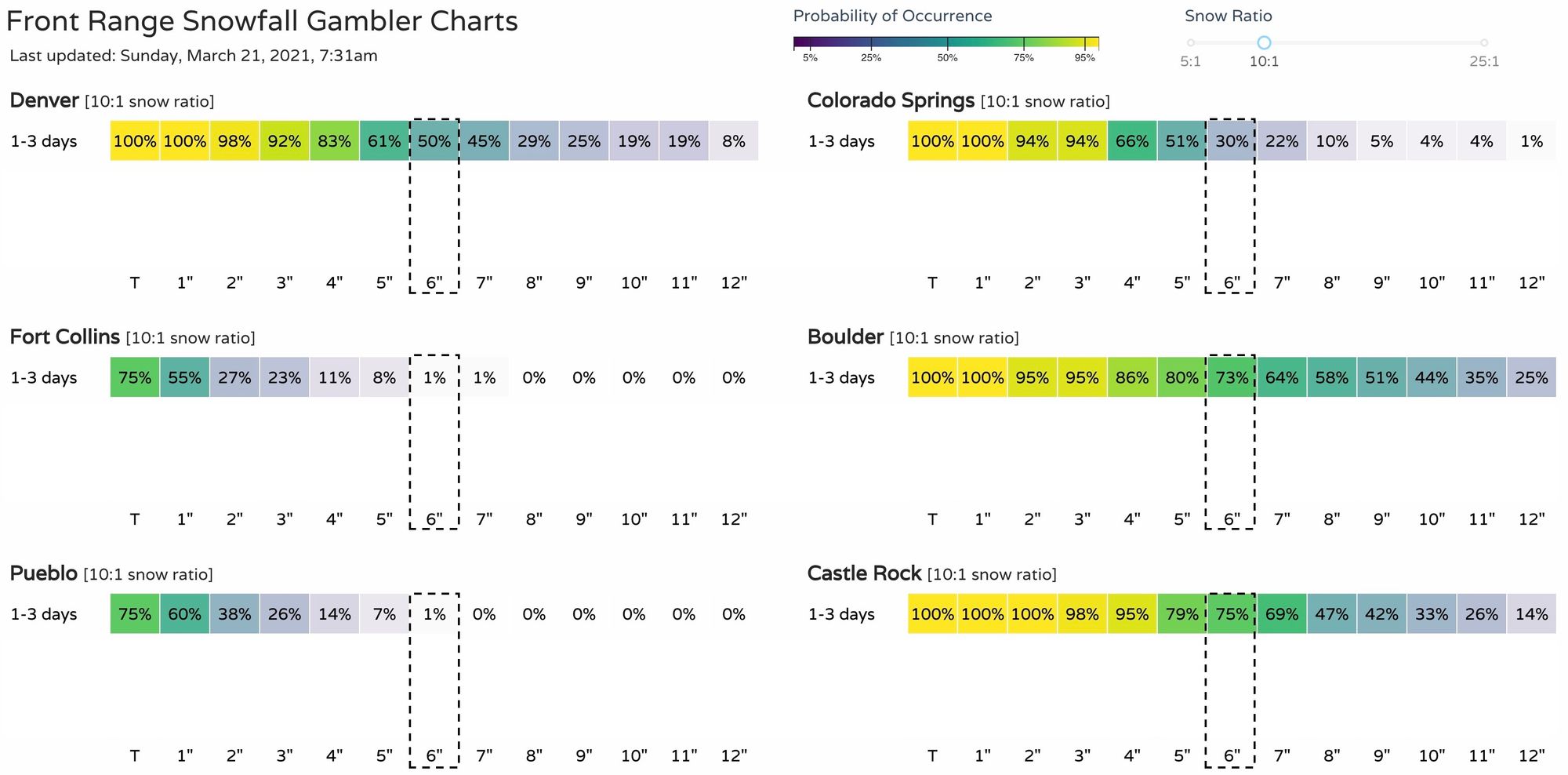 Looking ahead
This system is just the first of three that will swing through this week. While perhaps the most impactful for our area, likely not the last rain or snow we'll see through next weekend.
Our next system moves through Tuesday afternoon and night, and another system moves in to end the week/start next weekend. Both could bring additional snowfall to the region, but their overall impacts remain uncertain – let's get through tonight first!
The takeaway should be cool and unsettled this week. Clearly the next area of focus will be the Tuesday event, which at this time shows the best energy dropping pretty far south, but as you can see in the ensemble forecast below most members show more moisture for Denver during that period, with less agreement (but still wet looking!) late week:

With several systems on the way it's not surprise that temperatures will remain on the cool side this week as well. Not frigid, but cool. Highs today in the 40s to near 5o across northeast Colorado, then low 40s the next couple of days. A briefly warmer day Thursday ahead of the end week/weekend cool down again:

Let us know how things shake out at your place tonight, and we'll pass along updates if needed.