While we will continue to see snow showers off and on today, the bulk of the accumulating snow from our most recent event has come to an end. Areas that see heavier showers today could see another 0.5" to 1.5" or so, but snow will be less impactful during the daytime hours. Some models show better snow shower activity returning this evening to the foothills, so something we'll need to watch for. The HRRR has another T - 3" for areas west of Boulder after 5pm today, we'll see if it materializes or not.
The forecast we put out for last night's snow event worked out quite well. The glaring disappointment is from Boulder. Not so much that we were too high with the forecast, but that we changed it at the last minute yesterday! Our original forecast from Saturday had Boulder in the 2 - 6" range, then yesterday pulled the 4 - 9" range about 5 miles east, which proved incorrect. Boulder picked up 2.6" of snow, nicely within our original forecast range.
You can see most other locations fit very well within our forecast ranges. Here's a map showing totals reported this morning vs forecast ranges: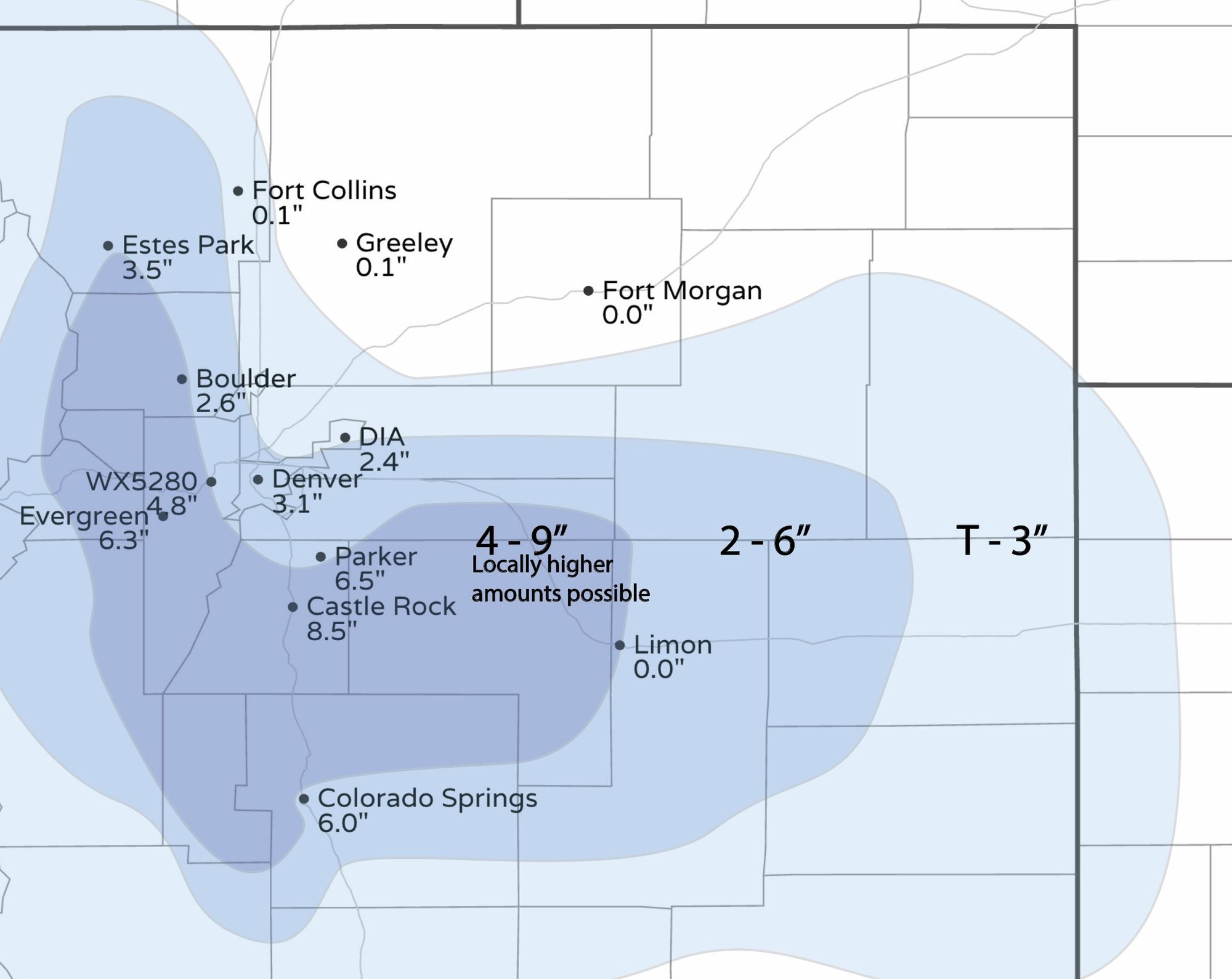 And a breakdown by cities across the region: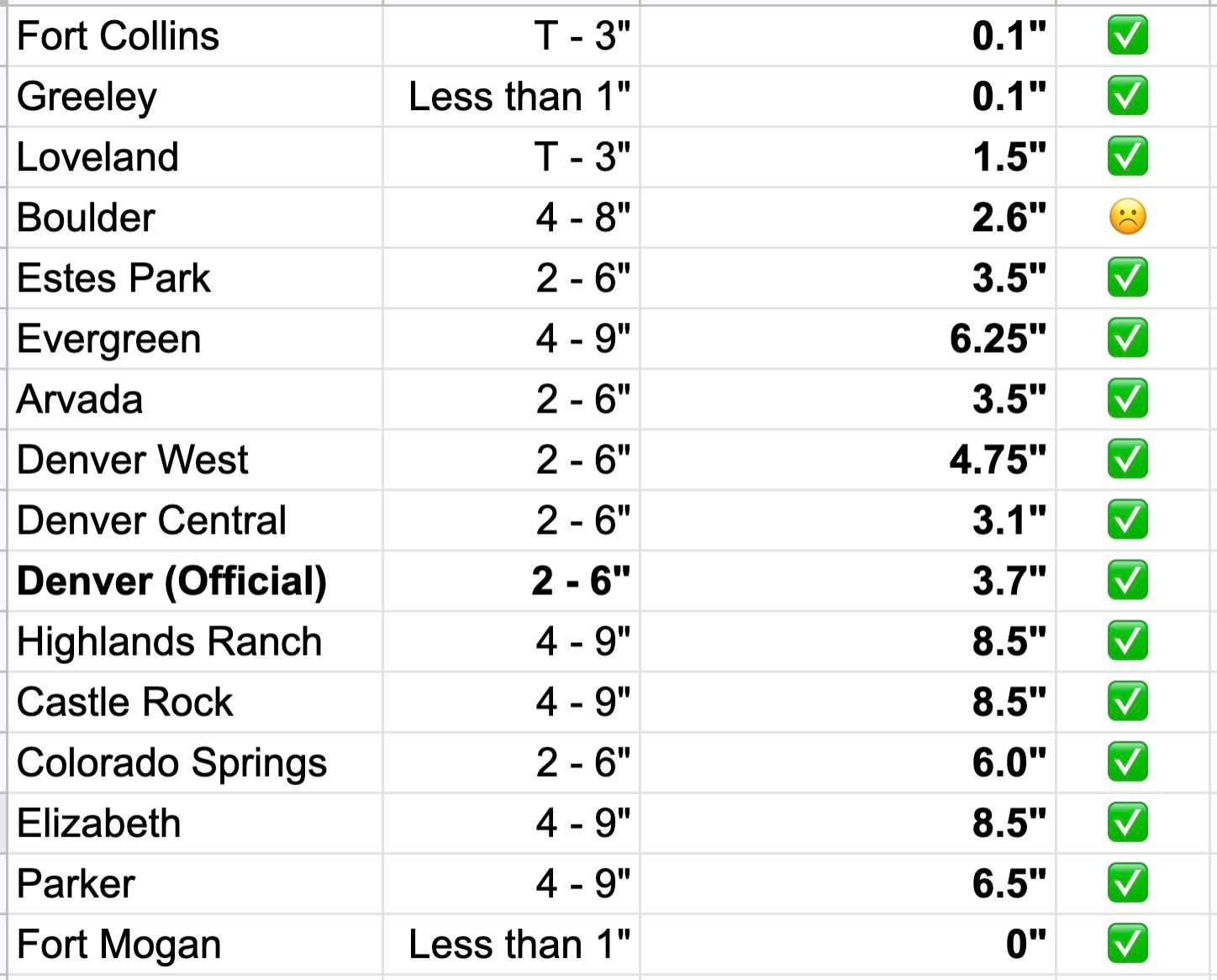 Officially Denver picked up 3.7" of snow at DIA from this event. That brings the month-to-date total to 30.9", which is 4th snowiest on record for the month of March!
The remainder of the week
We are still tracking two more systems that will bring wet weather to Colorado through the course of the remainder of this week.
The first will follow quickly on the heels of our departing storm this morning, with increasing rain and snow chances Tuesday afternoon and evening, and the second set to arrive late Thursday into Friday.
The animation below takes us from this morning through Sunday afternoon. By the final frames things start to look much drier around here!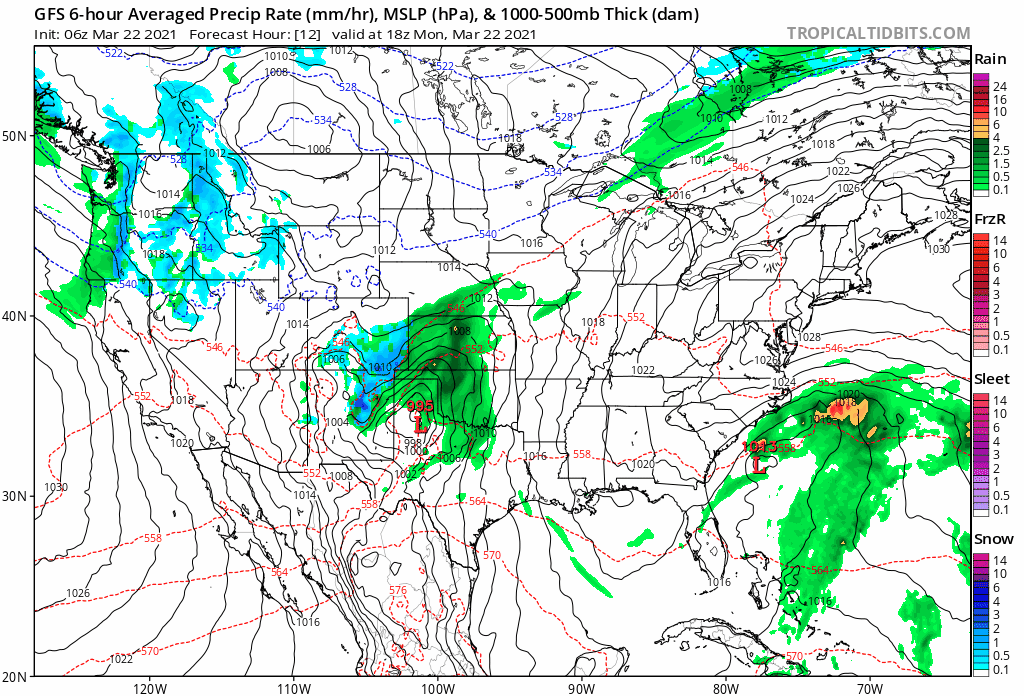 The two systems we're watching look similar to this most recent one in that they will favor the Front Range foothills and Palmer Divide for the greatest snow chances. Between the two Denver and Colorado Springs could see a bit more accumulating snow, but cities like Fort Collins, Greeley, and Limon may continue to miss on the more impactful snow.
Both systems also appear to be generally less impactful, with less snow and less folks impacted as compared to last night's snow.
Still, it'll be enough to keep us chilly and at times unsettled through Friday. The hourly planner below shows snow chances decrease by mid morning today for the Denver area, then increase again by early Tuesday afternoon, continuing Tuesday night: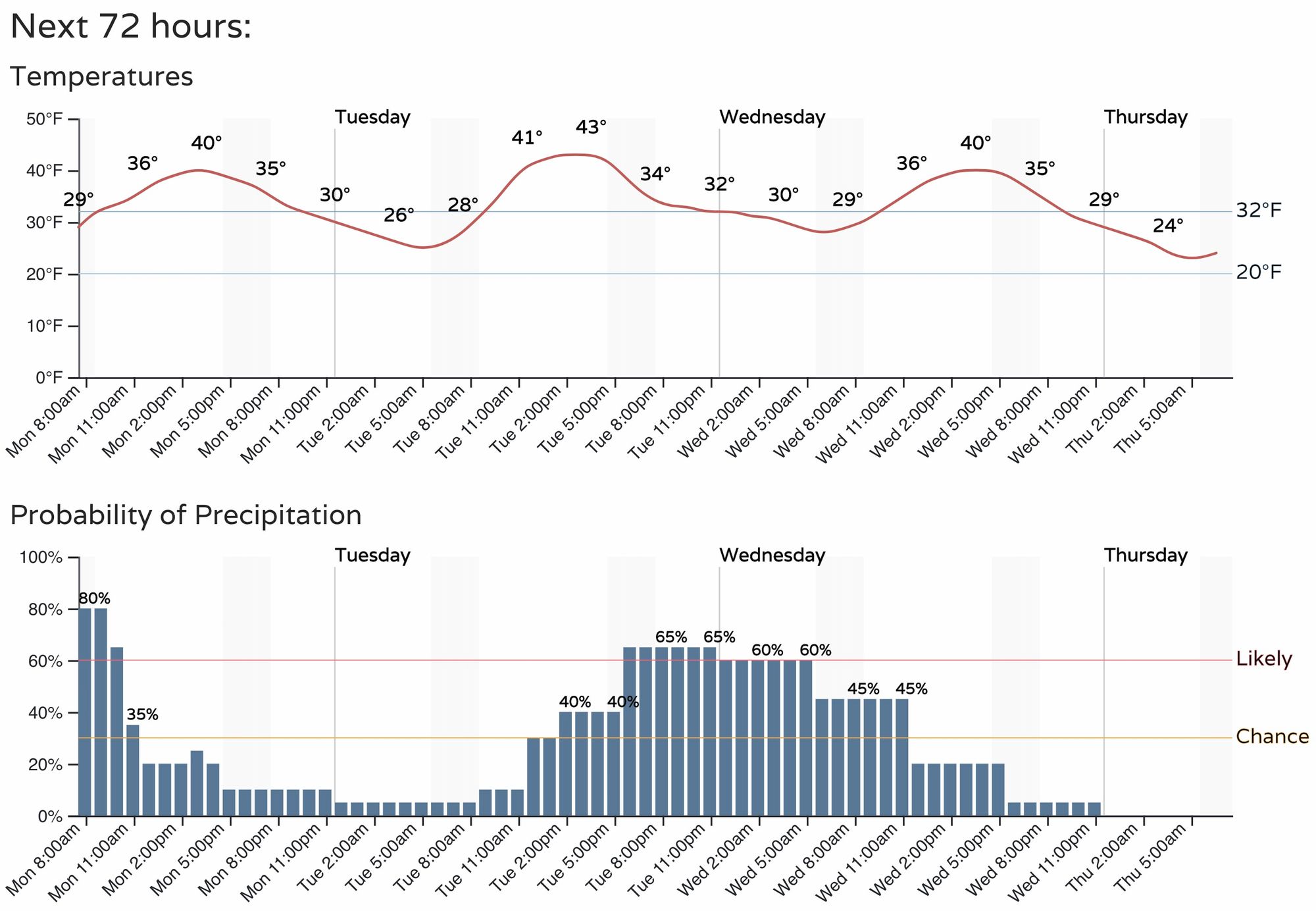 As for totals with the next round? There's still quite a bit of uncertainty there, actually, but in general we should see about half the snowfall we saw with last night's round of snow. Both the European and GFS models show about 3 - 4" for the foothills southwest of Denver, with a Trace to 3" for the Denver metro area, and a Trace to 1" for the Fort Collins area. The European is drier than the GFS.
We'll go ahead and broad-brush Boulder, Denver, Colorado Springs with a Trace to 3" of snow from Tuesday afternoon to Wednesday morning, and 2 - 4" for Evergreen, Castle Rock, Elizabeth, and see how things look after another round of data today.
Warmer by the weekend?
As things look this morning the late week system looks to move through a bit faster than in once did. Should this hold true, it looks like we'll start our warmup by Saturday, with many 50s and 60s starting to show up in the grids for both weekend days across the region. Here's the latest regional outlook for high temperatures:

The way things look right now, this trend will hold with us into the first days of April, with a generally warmer and quieter pattern for the U.S. showing up to start the next month. We shall see.