We continue to work to piece together how the remainder of the week will pan out, with models continuing to diverge on when and just how much snow we might see at lower elevations.
Through Wednesday there's reasonable agreement that indicates the foothills and Front Range mountains could see several inches of snow but in all likelihood we won't see too much accumulate along the I-25 urban corridor. We will chat more on snow in a moment.
First, temperatures are chilly across the region today. Looking at early afternoon temperatures across Northeast Colorado we see most locales in the 30s and 40s: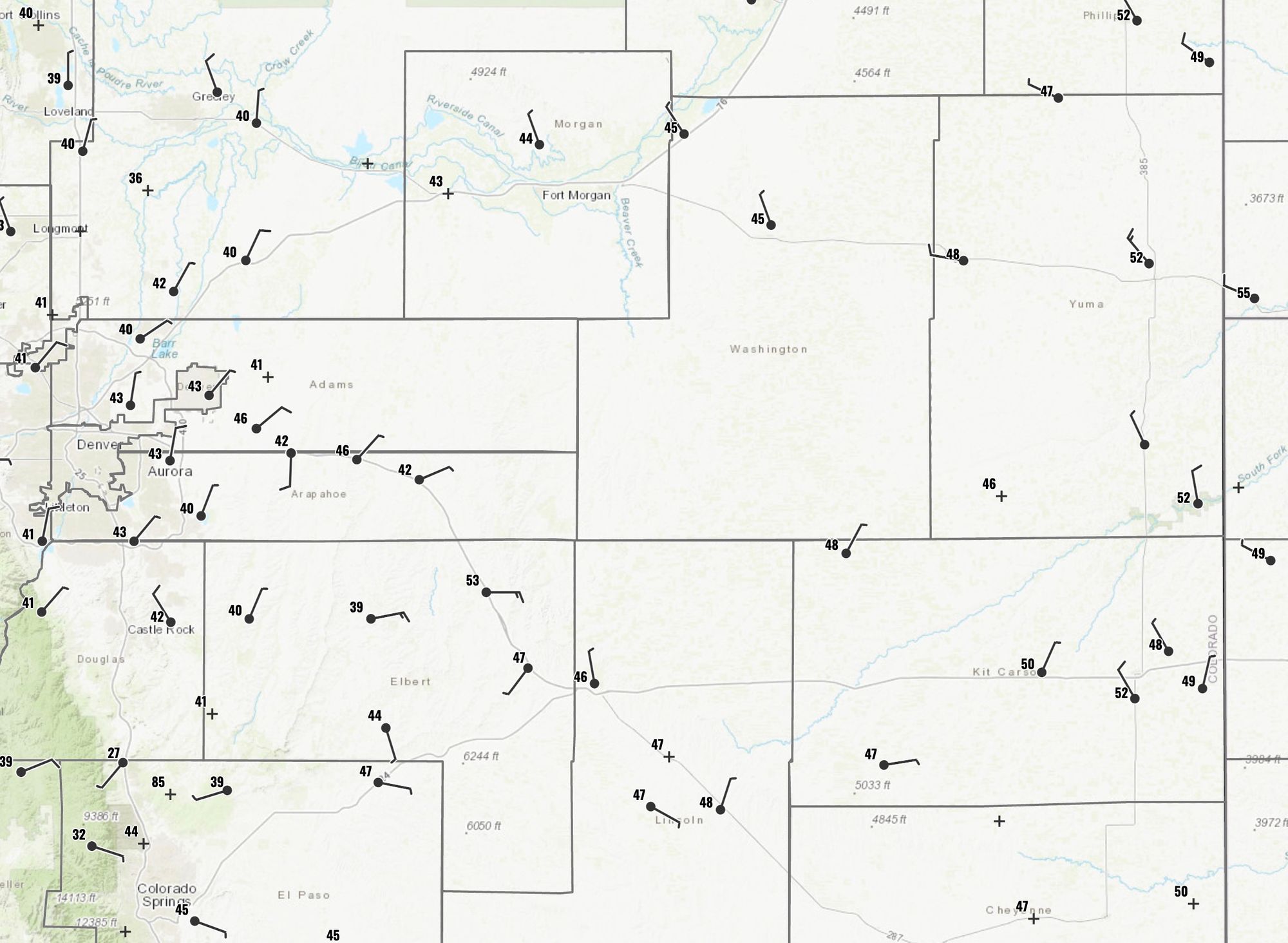 The cold front that moved through our area is now located across north-central Texas, and has delivered a shot of much colder than average air across the plains – a feature which is likely to hold true into the weekend.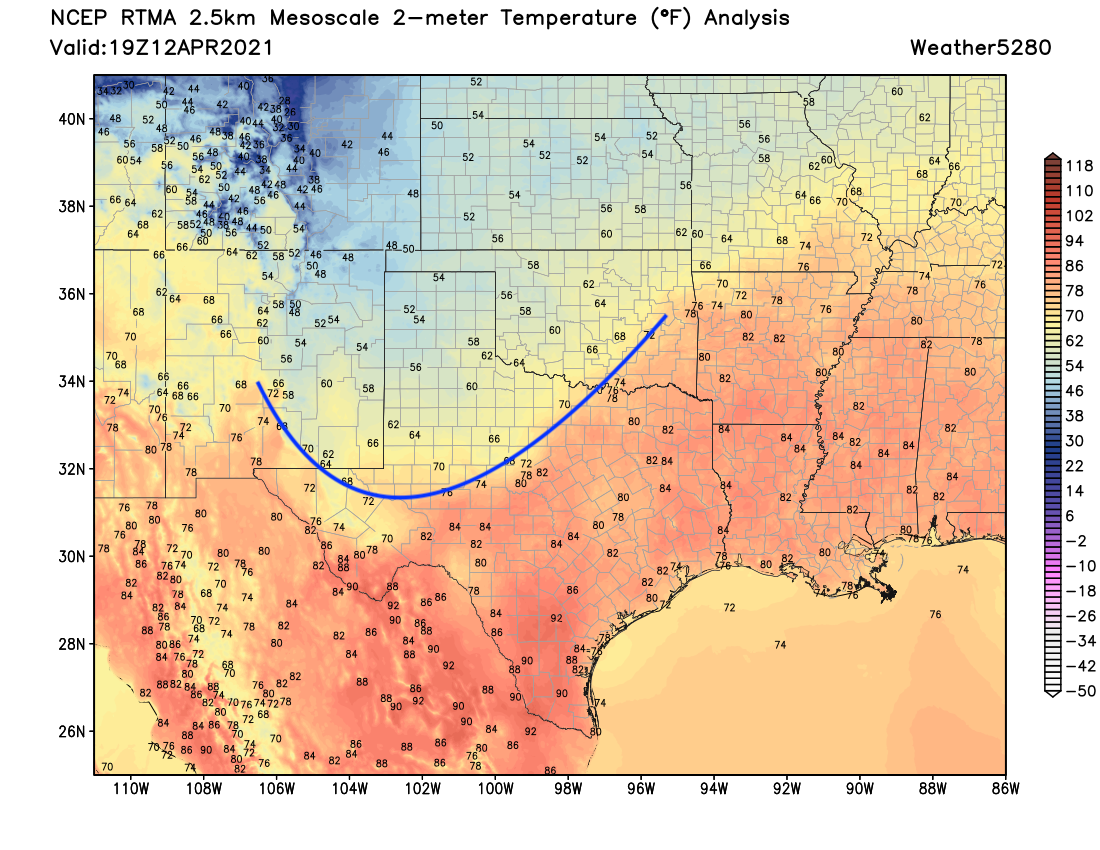 As we discussed in yesterday's SOTA, the Denver area expects a gradual increase in rain and snow chances through this evening into Tuesday morning. After, perhaps, a bit of a break during the day Tuesday those rain and snow (generally snow) chances increase again Tuesday evening: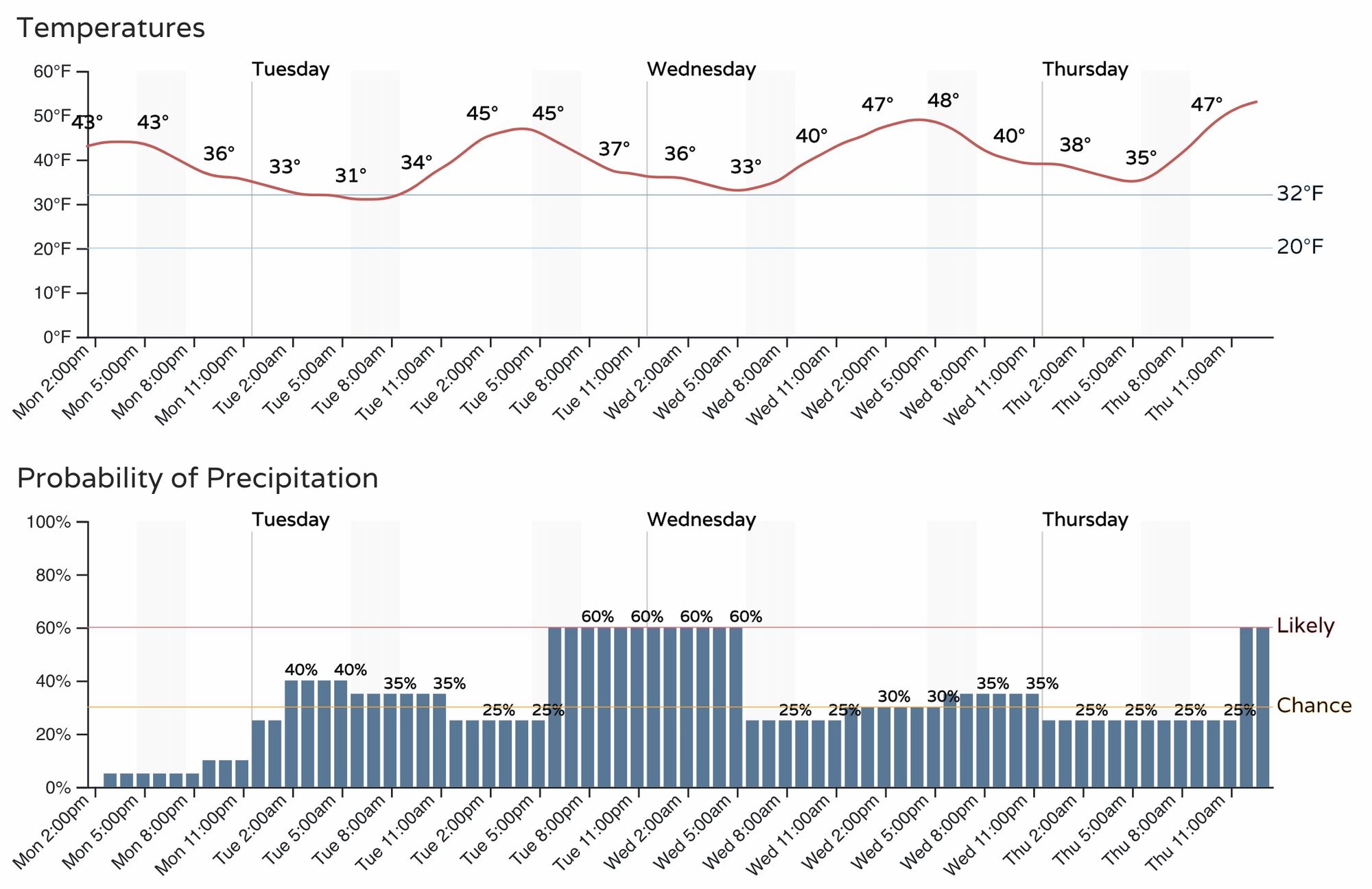 It still looks like only a Trace to 1 or 1.5 inches for the Denver metro area by Wednesday morning, with most of that on grassy surfaces.
The GFS and NAM models are bit more bullish but again mainly focus the best snowfall potential for the foothills west of I-25 and the Front Range mountains.
Through Wednesday morning here's what we currently expect for snowfall totals, with most of this coming Tuesday afternoon through Tuesday night:
Cheyenne: 1 - 4"
Fort Collins: T - 3"
Fort Collins (West): 2 - 5"
Boulder: 2- 6"
Denver (downtown): T - 2"
Castle Rock: 1 - 4"
Colorado Springs: T - 2"
Fort Morgan, Sterling, Limon: T - 1"
These numbers will need to be watched as we move into tomorrow, and of course we'll adjust as needed.
Wednesday through the weekend
Still a lot of uncertainty with the remainder of the week, as we outlined yesterday.
We anticipate the rest of the week to remain chilly and unsettled, but how snowy it will be remains very much in question.
There are mainly two camps, both focused around the Thursday/Friday timeframe. The GFS (and its ensembles) remain pretty snowy. In fact, very snowy. The European and Canadian, and their ensembles less so – dramatically so in some cases. GFS has been notoriously too wet this season.
The latest GFS (below, left) pulls the trough through southern Colorado Thursday night and Friday. With that, it brings another round of moderate to heavy snow to the Denver metro area and eastern plains. Meanwhile the European (bottom, right) is more progressive with trough, and quite a bit further north.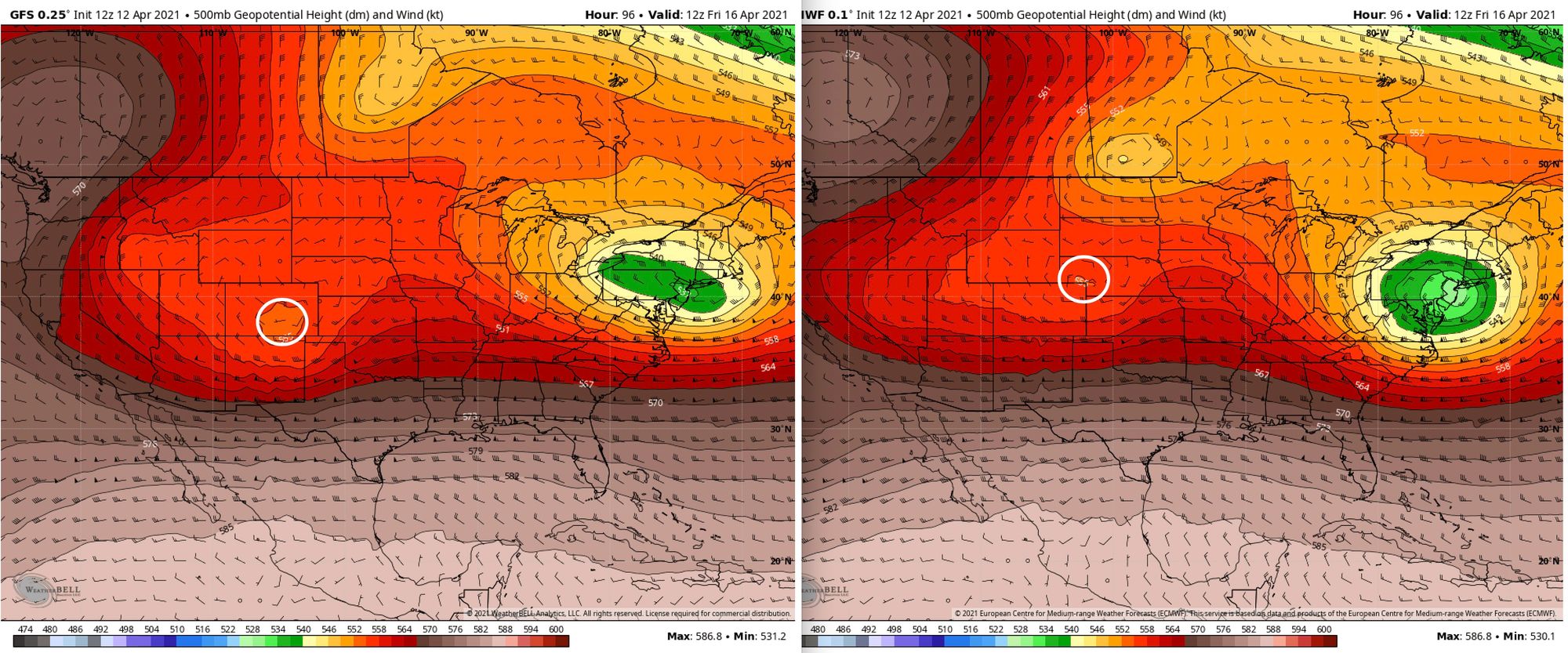 Consequently, we see a dramatically different look between the two model's snowfall output. 24 hour snowfall totals ending Friday evening from the GFS (bottom, left) paints more heavy snow across the metro areas and east-central Colorado, while the Euro (bottom, right) shows most of the heaviest snow staying well north.

Which will prove correct? Hard to say, but we'll lean Euro. Even if the GFS is right its liquid (and subsequent) snowfall output seems overdone. Given the overall pattern it's hard to see the GFS verifying.
For its part, the Euro probabilities for 3" of snow or more through Saturday morning are UP from our post yesterday, but remember this includes the entire week's worth of snow, so some of this is likely to come Tuesday/Wednesday.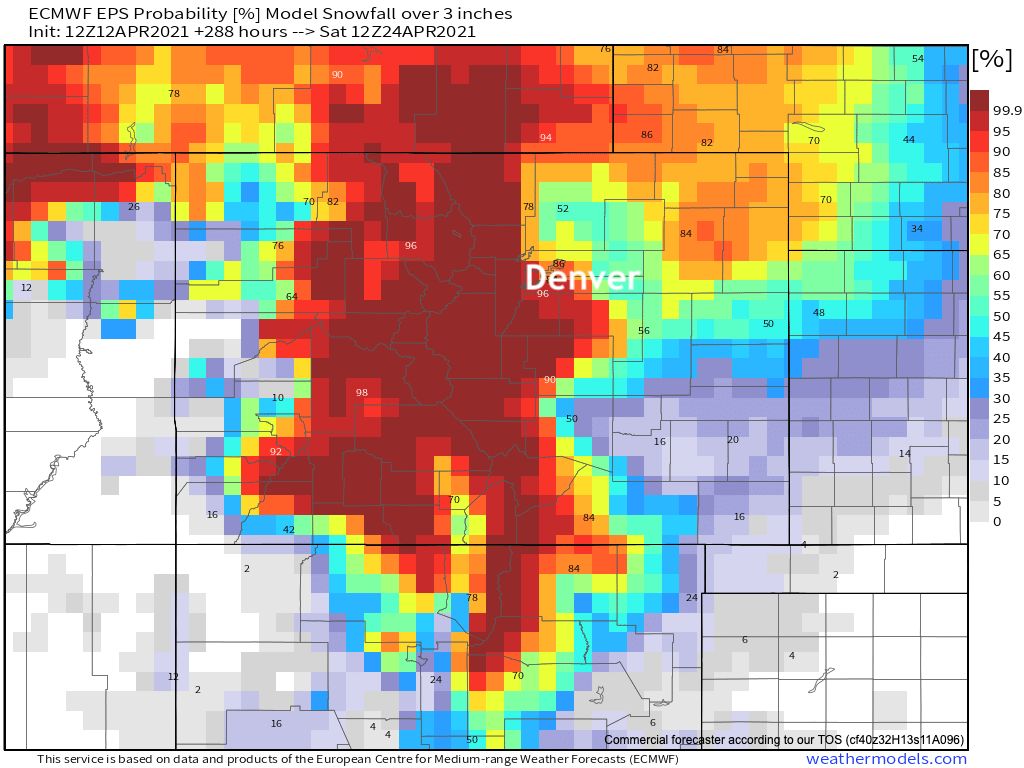 Heavy snow or not, some appreciable moisture for many this week especially the Front Range mountains and Texas. Below is a look at the last two runs from the European ensemble model for total precipitation through Sunday evening.
It indicates from 0.4 to 0.7 inches for the eastern plains of Colorado, 0.8 to 1.3 inches for the Front Range foothills and mountains. To our southeast, it's painting 0.5-inch across the Texas Panhandle, with 1 to 3 inches of liquid for the central and eastern portions of the state.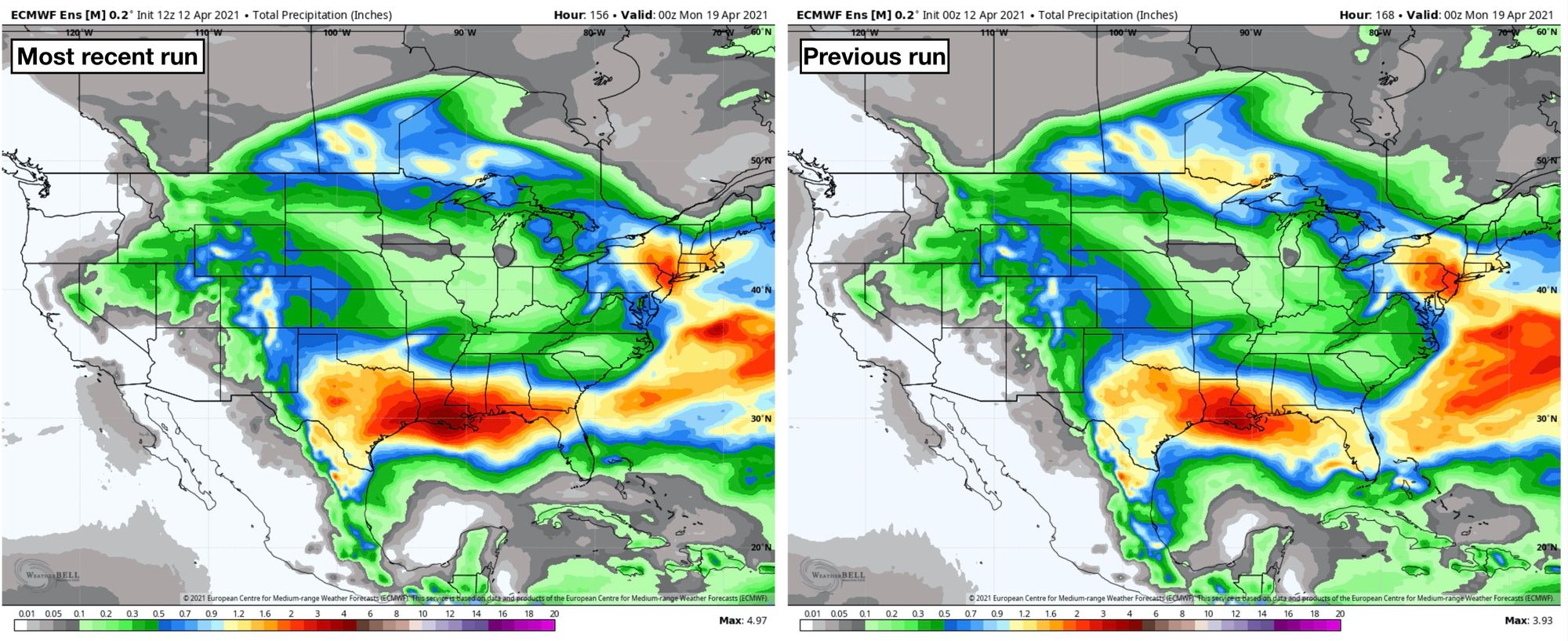 In the current drought situation, any amount of moisture is welcome. We will be back soon with another post to address what happens later this week.