For the first time since last September, we may record 100 degrees early this week.
As discussed in Sunday's SOTA, hot weather sticks around a few days this week with records to fall across the area and across the Western US.
Just a quick read through today's weather discussion from NOAA, look at those hot statistics!
Meanwhile, a strong upper-level ridge is in place across western and central parts of the U.S., causing hot temperatures that will continue for several days in some areas. Temperatures well into the 110s are forecast for the next few days in the Desert Southwest, and temperatures exceeding 100 as far north as Montana especially tomorrow will be 25+ degrees above average. Dozens (possibly hundreds) of daily record high maximum and minimum temperatures are likely to be set over the next few days in California, Intermountain West, Desert Southwest, Rockies, and High Plains. Excessive Heat Warnings and Watches as well as Heat Advisories are in effect. Given the heat, dry conditions, and gusty winds, Elevated to Critical Risks of fire weather are in place across the Great Basin and portions of southern California through at least Tuesday. The exception to the Western heat will be in the Pacific Northwest, where a cold front is expected to cause cooler temperatures and rain chances that could shift into the Northern Great Basin as well by Tuesday.
There is a large number of excessive heat related alerts in place across the West, even into Montana.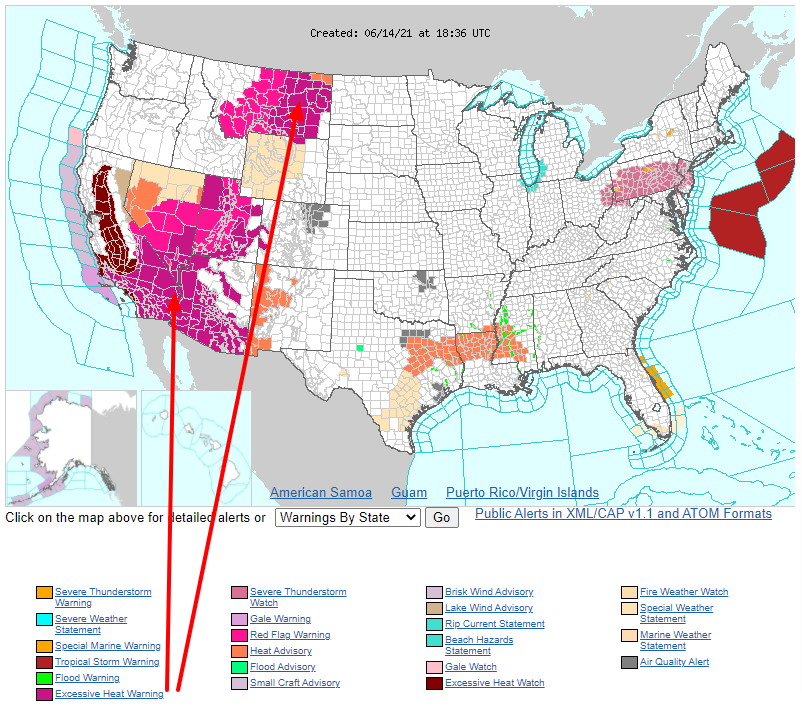 Denver is one of many locations in Colorado to potentially break some records.
That is not likely today, however.
95 is the hottest temperature of the year so far, but today will likely beat that. 97 is the current target for this afternoon which is several degrees cooler than the record 102 degrees from 2006.
Tuesday gets hotter and will be on track to hit 100 degrees and that will be a record high. Denver, on average, will hit 100 degrees once or twice a year. We feel as though this year may see many more than that.
Look at a few other locations for the forecast the next couple of days. (the temperature observations in the top right at the noon observations)

That's toasty.
Well, that's relatively toasty. The truly hot weather is over the desert southwest. Look at what's headed to Southern California: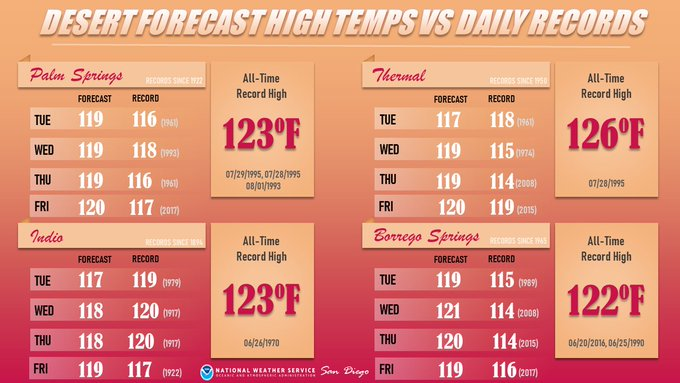 As far as precipitation, like we mentioned yesterday, the chance of storms is rather hit and miss the next couple days.