As we discussed in this week's SOTA, today is likely to feature the best chance of storms across the area for the week, with a cold front dropping temperatures a good 10°F (or more) from where most of us have been to start the week.
For the urban corridor this works out to about a 60% chance of storms by early to mid afternoon, some of which could produce heavy rain and some hail.

Storms are forecast to initiate by early to mid afternoon somewhere along the Front Range then move east through the late afternoon and evening. Some questions on where we'll see the greatest storm coverage along the urban corridor, but the latest HRRR has storms starting along the western Palmer Divide/southwest metro area around 1 or 2 pm...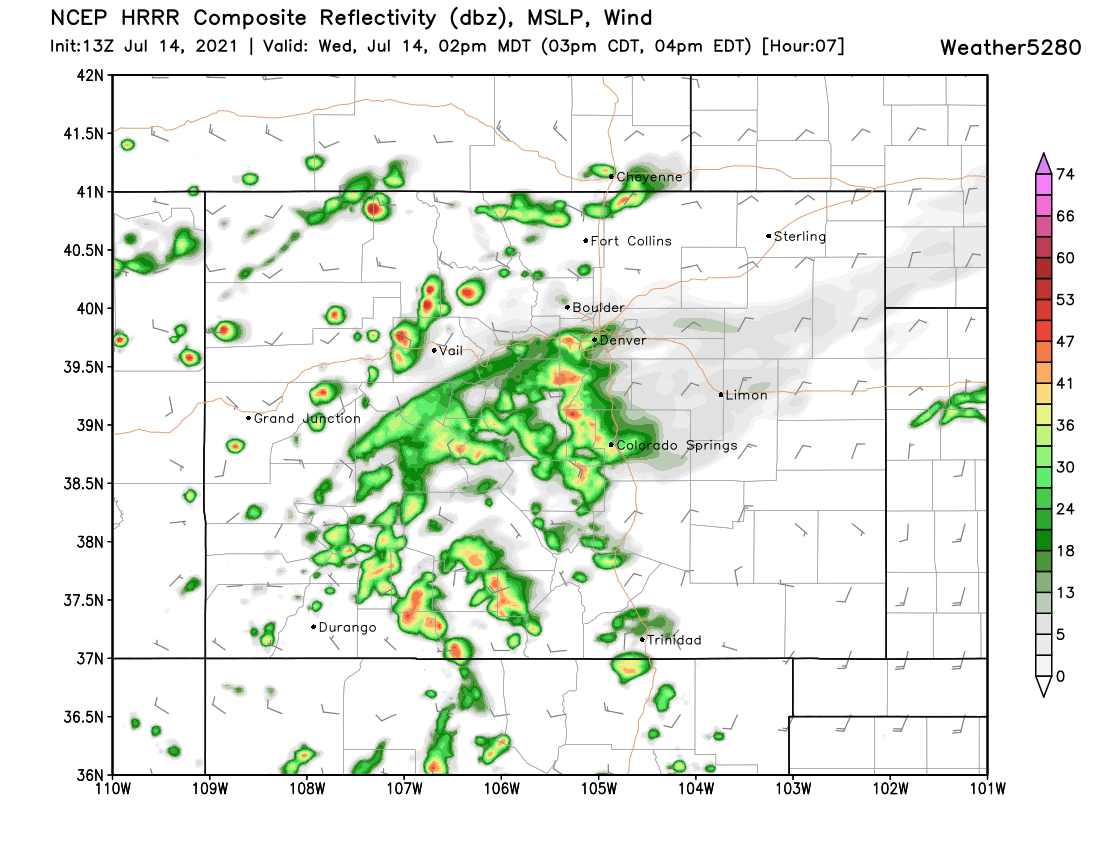 With a line of stronger storms developing north across Loveland and Fort Collins by 3 or 4 pm...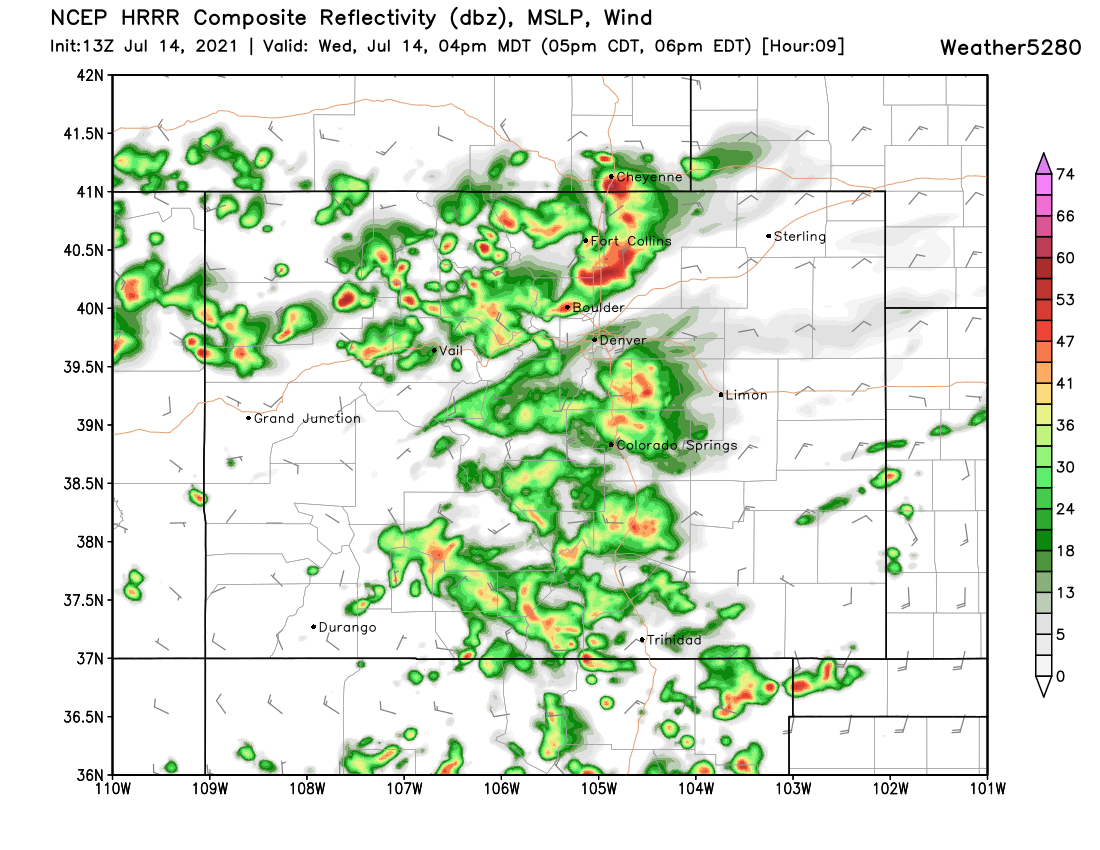 And then moving the activity east of the urban corridor by 6 or 7 pm: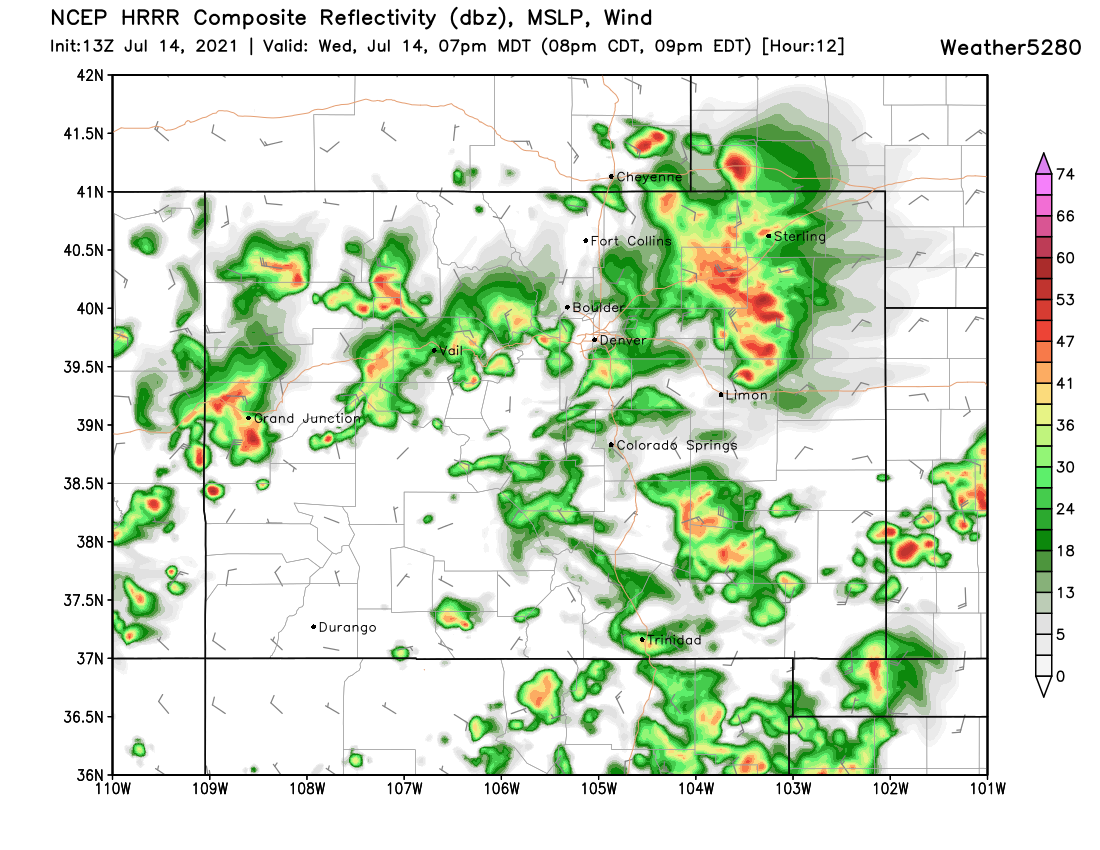 While the exact placement of these storms will no doubt change through the day, what storms do develop will be capable of producing 0.25" to 0.75" of rain for the given area, with perhaps some more isolated 1" totals or so if stronger storms are able to materialize.
Regionally we see in addition to our cold front and passing shortwave an influx of monsoonal moisture across the Southwest United States today as well.
This will mean a heightened threat of flash flooding across portions of Arizona, New Mexico, and Southwest Colorado: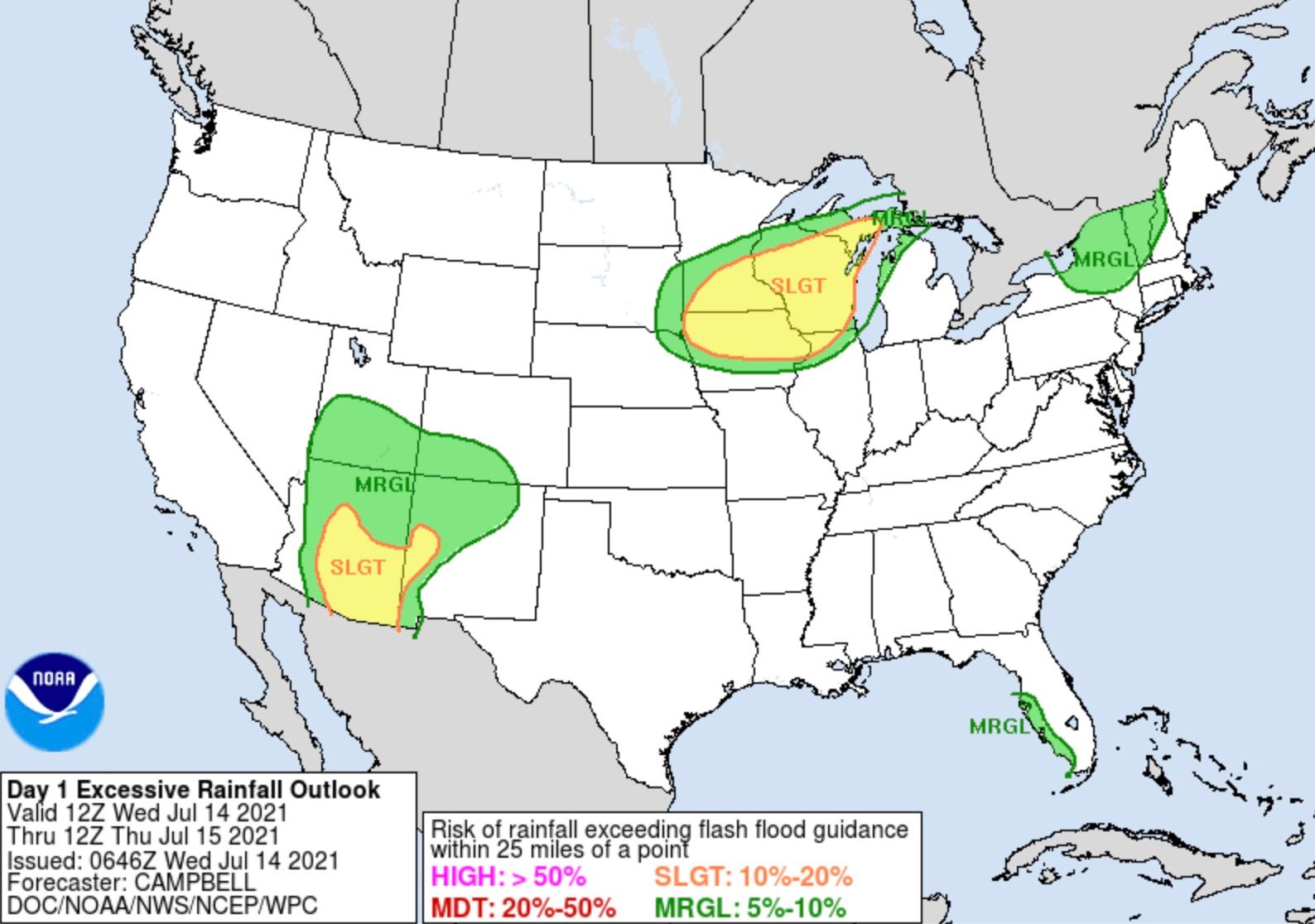 Here's the latest Flash Flood Watch statement from the NWS for Southwest Colorado:
* Flash Flood Watch for portions of central Colorado and southeast   Colorado, including the following areas, in central Colorado, Central Chaffee County Below 9000 Feet and Western and Central Fremont County Below 8500 Feet. In southeast Colorado, the Sangre de Cristo Mountains, the Wet Mountains, Huerfano County including Walsenburg, and the Wet Mountain Valley.  

* From Noon MDT today through this evening.  

* Strong thunderstorms capable of producing locally heavy rainfall and flash flooding will be possible today across the southeast mountains. Burn scars such as Decker, Hayden Pass, Junkins and Spring will be particularly susceptible today, as well as areas which have received recent heavy rainfall.  

* Mud and debris flows will be possible in and near burn scars. Rock slides and quick rises in creeks and streams will be possible with heavy rainfall in steep terrain.
Thursday will also see a good chance of storms across Eastern Colorado, though perhaps not quite as great of coverage as we expect today. Storm chances for Denver will dip into the 40% range tomorrow vs 60% chance today, but still a good chance of storms all things considered.
By Friday and the weekend we see ridging better establish itself across the area, and with that lower storm chances and warmer temperatures – with highs back in the low to mid 90s for the weekend.