Hurricane Ida makes landfall in SE Louisiana as a Category 4 storm
All eyes of the meteorological world, and thoughts of our nation are focused on the Gulf Coast today as hurricane Ida made landfall this morning as a major Category 4 hurricane southwest of New Orleans.
The storm brought with it 150mph winds at its core as it moved onshore today, and will batter the region with hurricane-force winds, storm surge, and for some areas over a foot of rain through the night.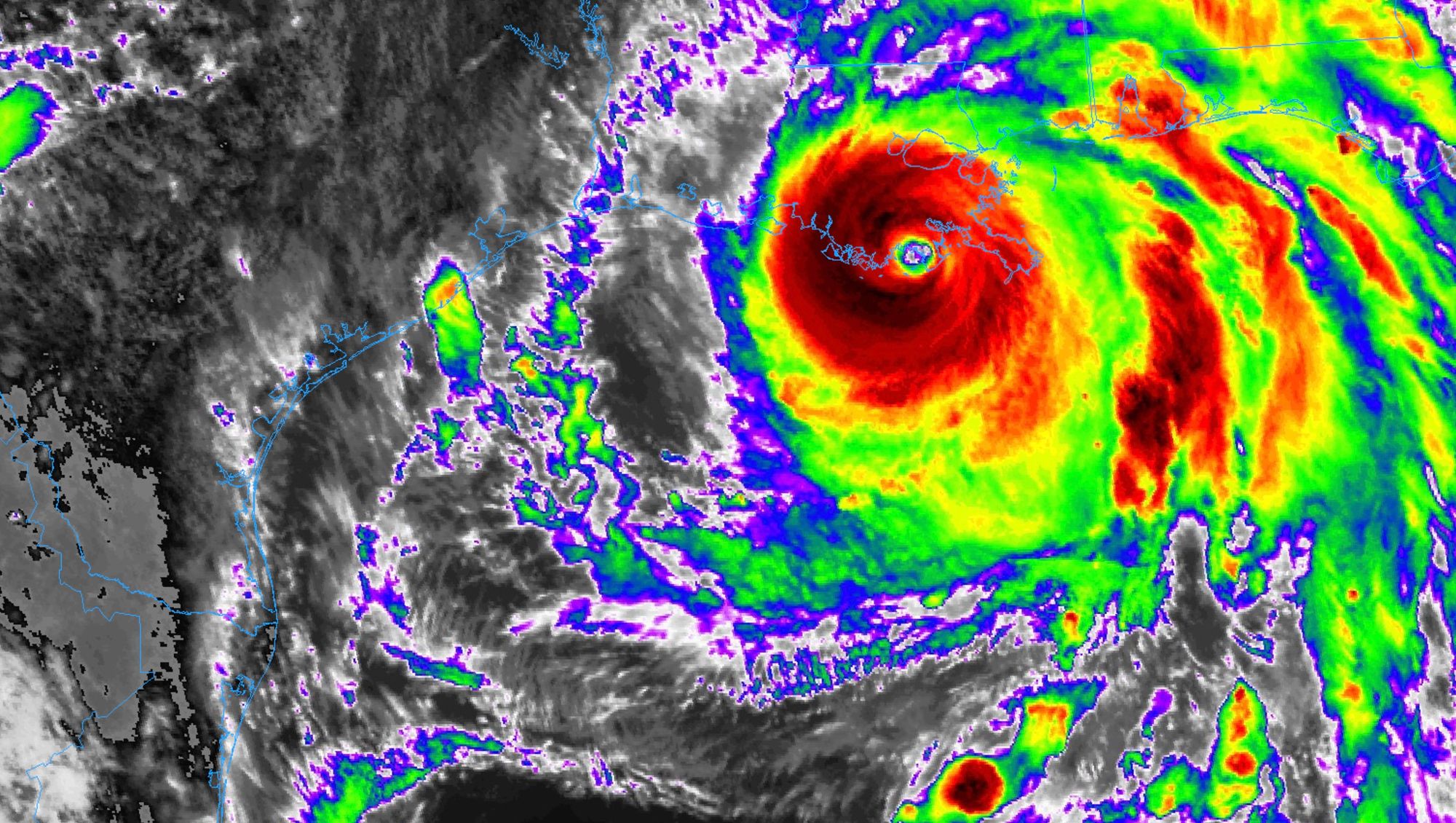 Forecast rainfall totals will bring widespread flooding to the region, in addition to devastating storm surge of 9+ feet or more on the eastern side of the storm.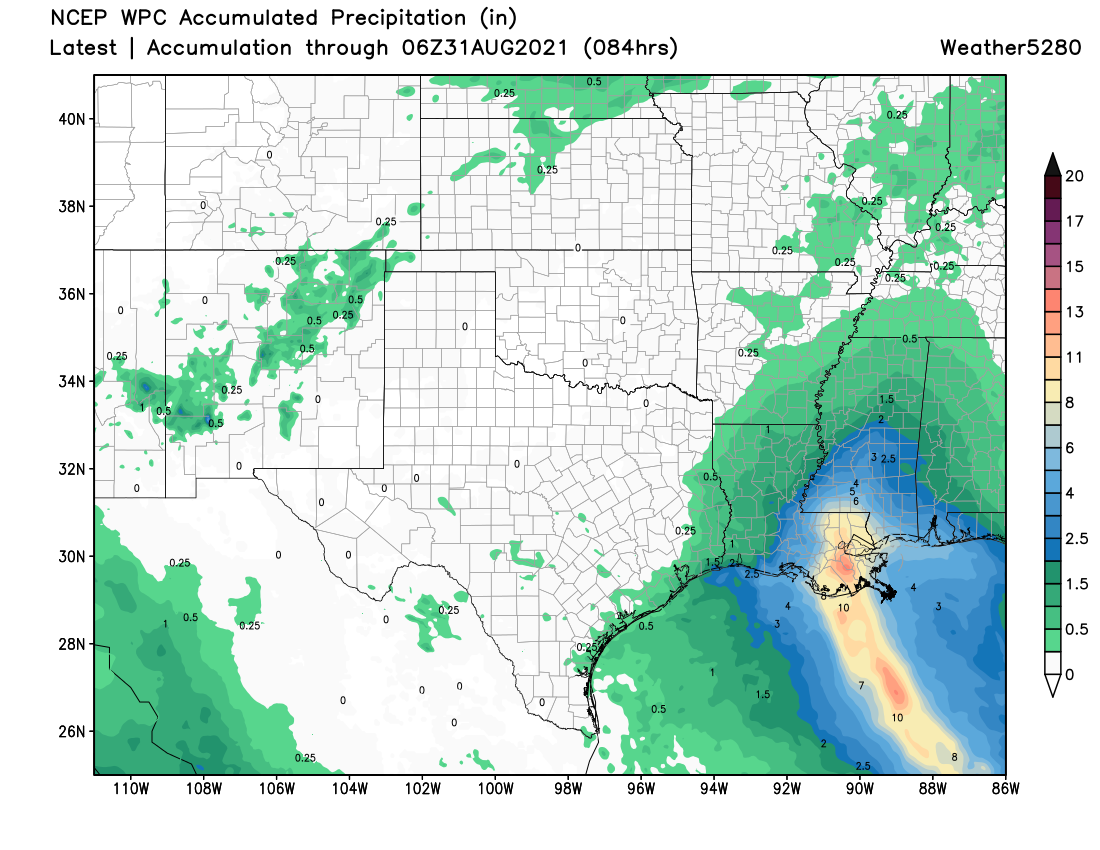 This graphic, prepared by the Washington Post, shows where the greatest storm surge is expected to occur given the latest positioning and forecast track as Ida moves inland.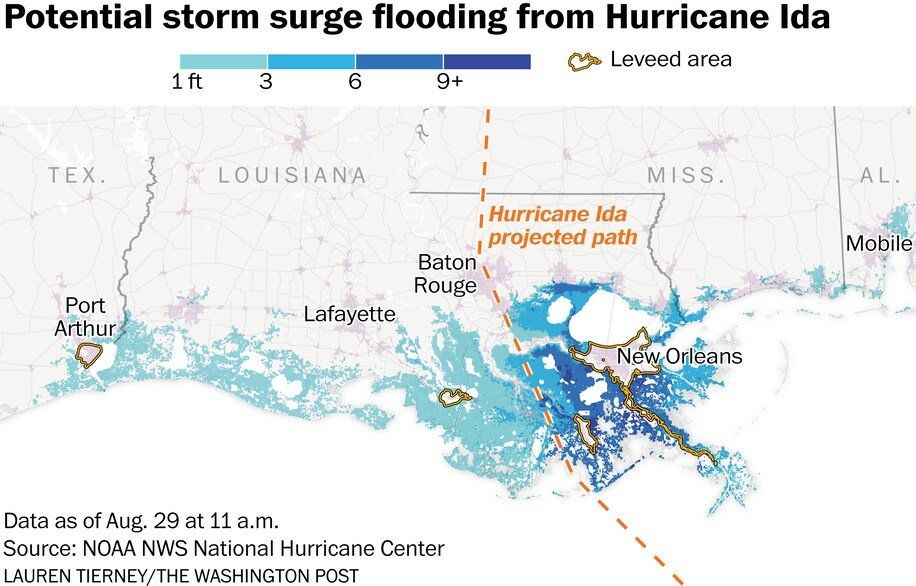 As a Category 4 storm, it'll be the catastrophic winds in addition to the rain and storm surge that will batter southeast Louisiana today. Here are the latest key points from the National Hurricane Center as of late Sunday morning: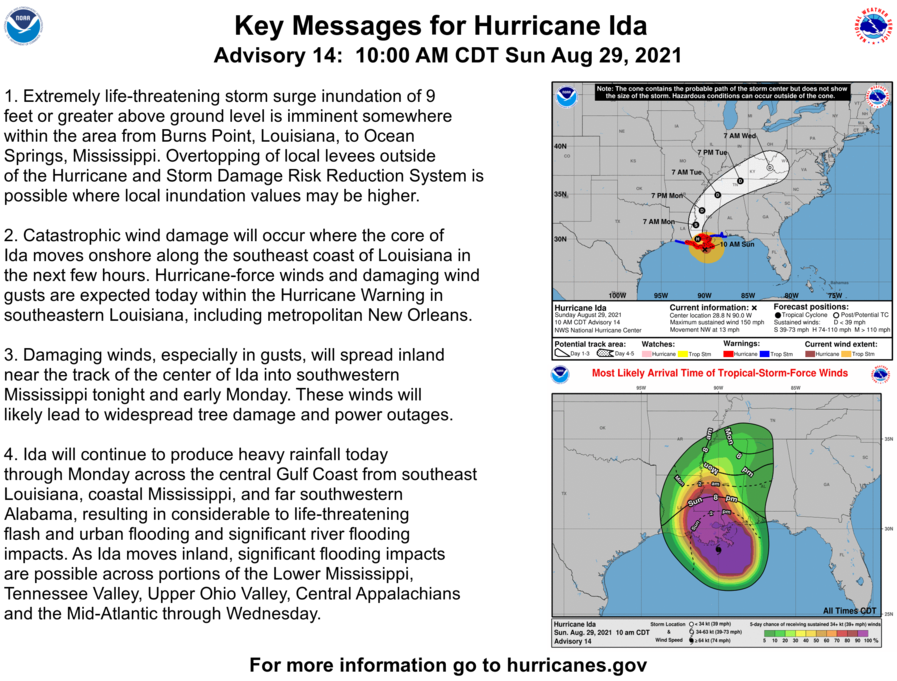 And finally, here's a map of the latest forecast strength and track for Ida as it moves inland and eventually ejects north and east this week.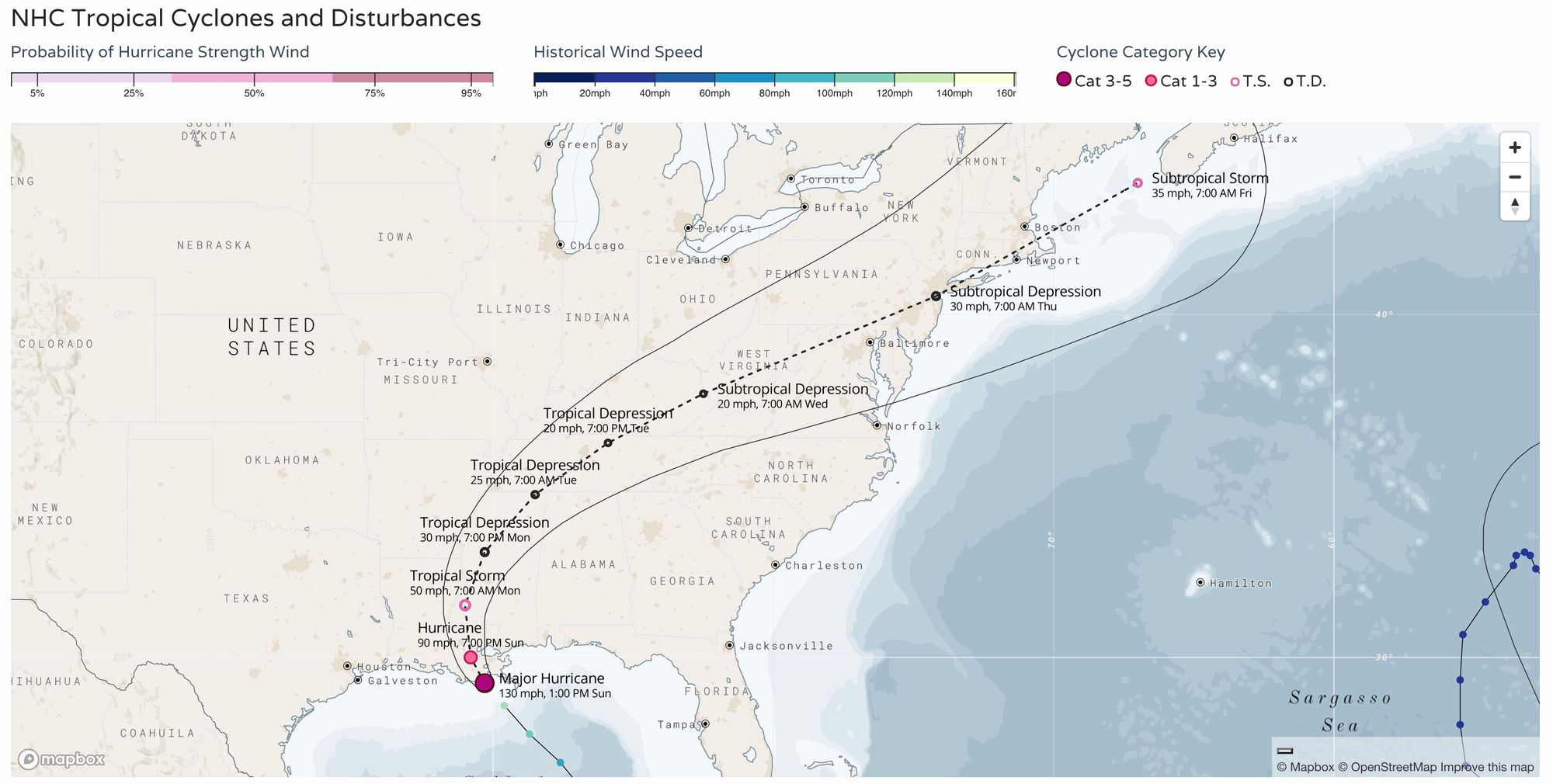 As always, you can find the latest hurricane forecast maps for the Atlantic here:
Closer to home...
Believe it or not, but we'll also be watching the tropics for potential impact on our weather for the upcoming week as well.
Remnants of Hurricane Nora, a tropical storm located along the west coast of Mexico, will eventually work its way into our area, and in combination with a late monsoonal push of moisture could deliver some heavy rainfall to portions of the state by the middle to latter half of the week.
First, the short-term, where today's "cooler" temperatures will be quickly erased Monday as temperatures climb back into the lower to mid 90s across the urban corridor for Monday and Tuesday, as well as periods of smoke.
Yesterday Denver hit the 90-degree mark for the 50th time this year, which ties us of 13th most overall on record. Still a ways to go to challenge the most 90-degree days on record for a year in Denver, but it's very likely we'll climb into the top 10 this year unless things cool down in a hurry.
Denver's 72 hour forecast: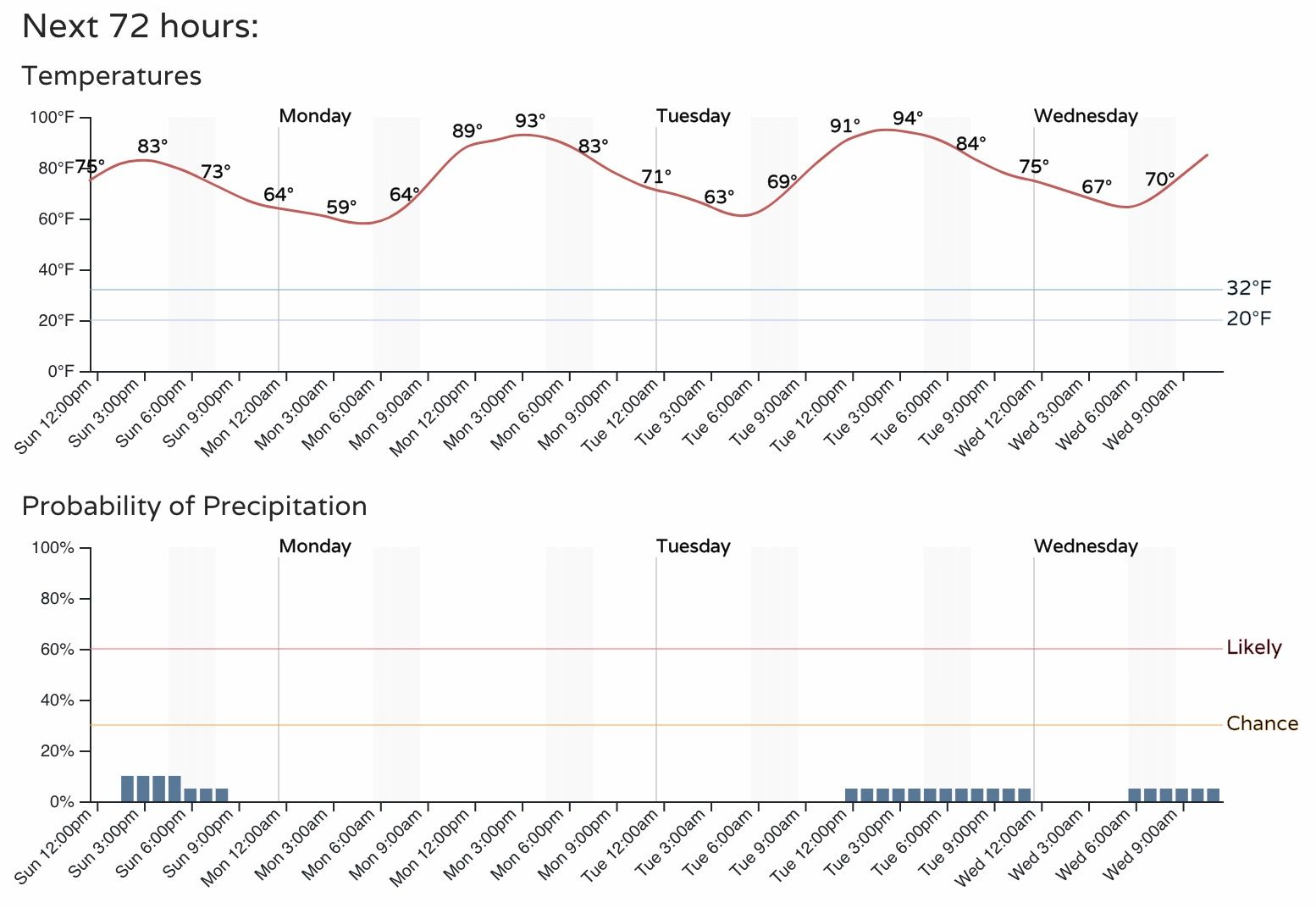 By the middle to latter half of the week we start focusing on enhanced storm chances across the region and with any luck some cooler temperatures too.
If we look at an animation of precipitable water value anomalies from Tuesday morning through Sunday morning, you can see a healthy push of greens moving up out of the southwest and extending over Colorado between Wednesday and Saturday before the pattern dries out again.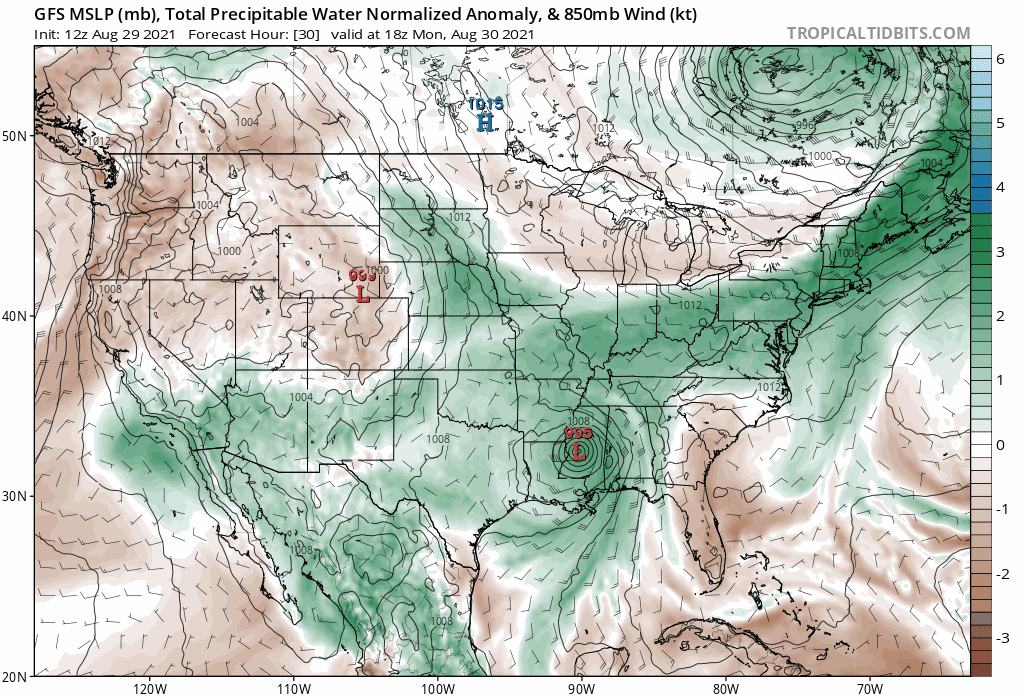 With that, we see a boost in precipitation probabilities for Thursday and Friday, after a dry upcoming two days in Denver:

With a bit of a better signal for rain (and likely flash flooding) across western Colorado for the same period:
September, just a few short days away, is a bit of a wildcard month around here. For the better part the last two decades the month has been nothing but an extension of summer around here – but that's not always the case.
You'll recall that last year we saw measurable snow on September 8th (that's less than two weeks away!), which tied the second earliest snow on record for the city.
While we don't see snow in the outlook just yet for Denver, it's a good reminder not to sleep on the forecast either this time of year. While it's likely we have more hot than cold in the forecast for the coming weeks, the occasional tropical-wildcard for enhanced rainfall as we see this week, or an early season cold shot down the plains can make an otherwise quiet, summery month anything but.