We continue to watch signs of a change next week toward much colder temperatures and the possibility of rain and even some snow, too.
Denver's last freezing temperature was on May 12th and the city could hit that freezing point again next week; certainly a first frost for many areas is on the way. And, the last time snow was measured was April 21st; there's a chance for some areas to see snow next week as well.
What is setting off these changes is the first strong system to develop in the West and move overhead. That system will gain most of its strength by mid-week over the Four Corners region before it moves toward the Dakotas Thursday.
Tuesday: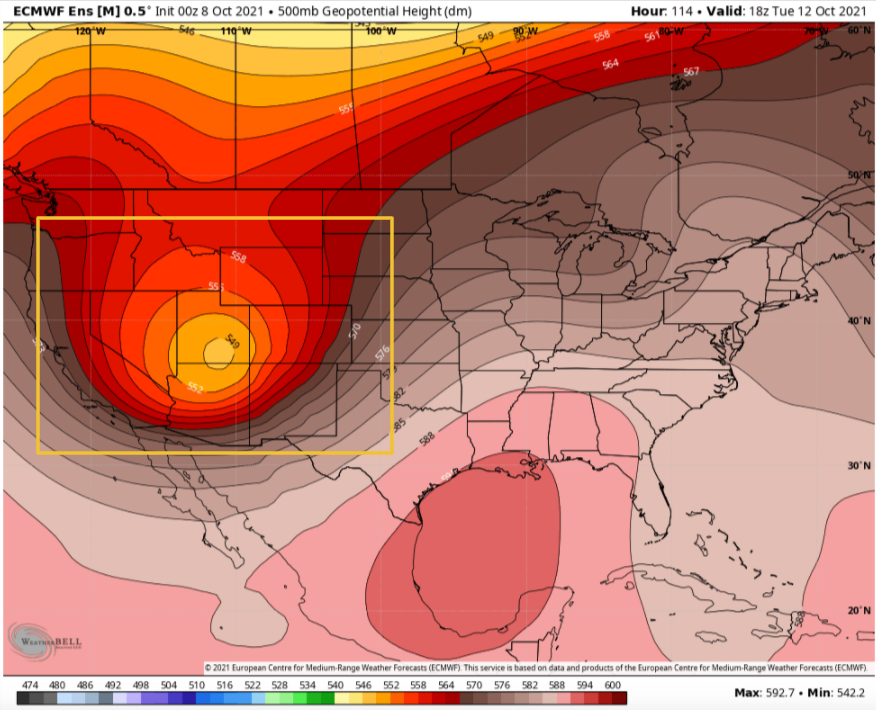 Thursday: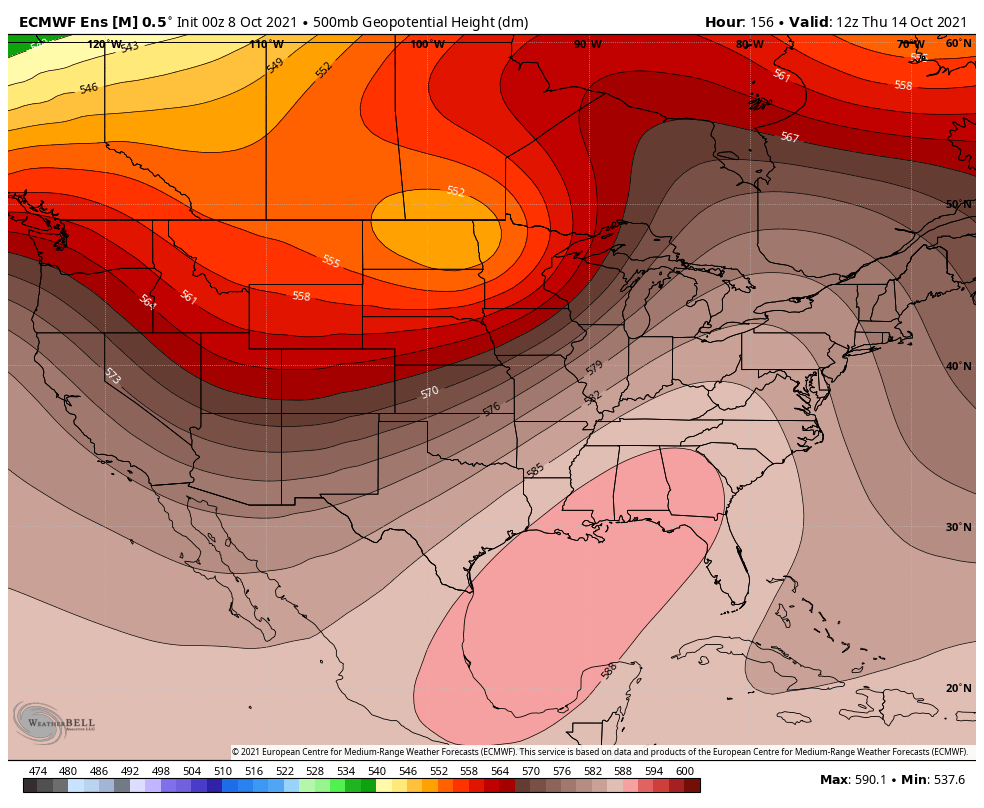 That system will have moisture ahead of it, and behind it will be plentiful cold air.
Tuesday temperatures more than 20 degrees colder than average over parts of the west: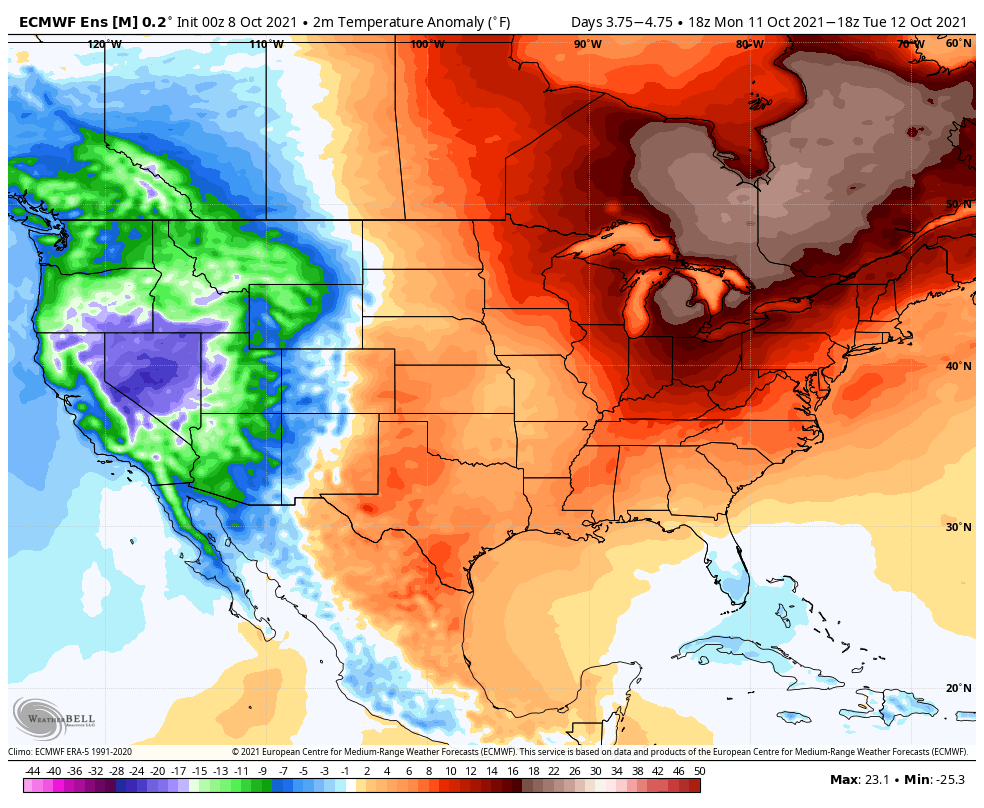 Total precipitation of over two inches for parts of the Dakotas: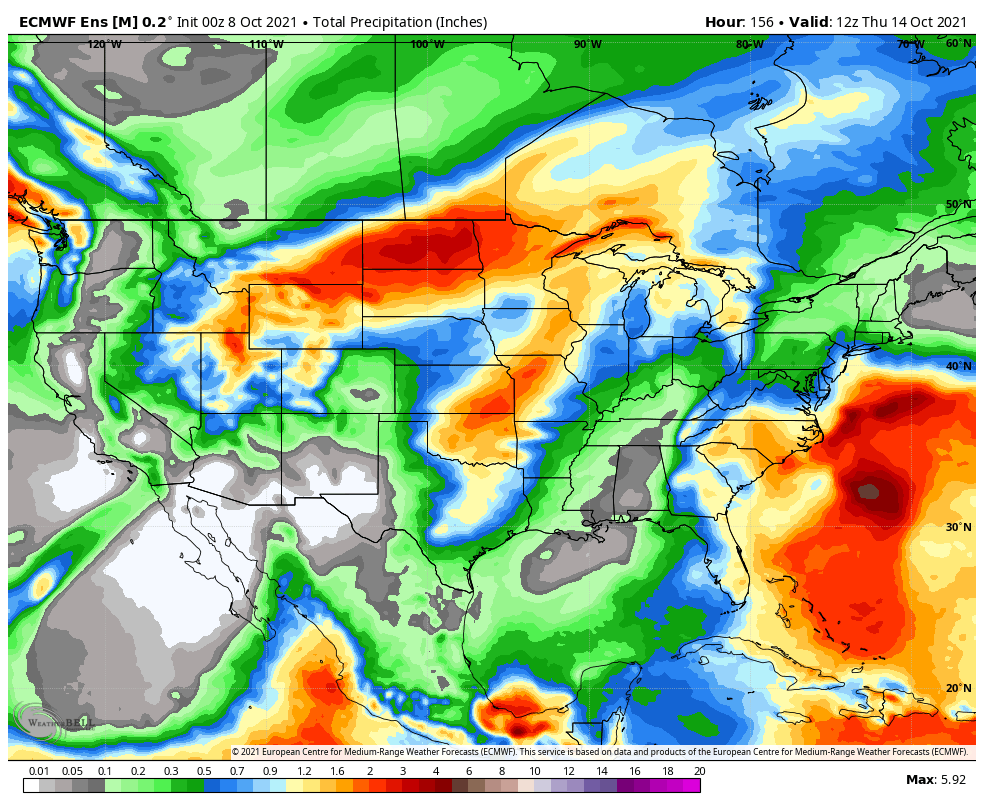 What this means for Colorado is to be one of the first freezes and frosts for many of the metro locations, which for the Denver area is right on time.
Many spots from Colorado Springs to Fort Collins have their first average frost in the first two weeks of October, and first average freeze in the middle two weeks. Here is a link to the first frost and freeze dates for dozens of Colorado locations:
https://www.ncei.noaa.gov/data/climate-normals-deprecated/access/clim20supp1/states/CO.pdf
For Colorado, it's currently more probable to see the greatest moisture totals across the central and northern mountains, and lowest totals over the plains. A sign of things to come this winter?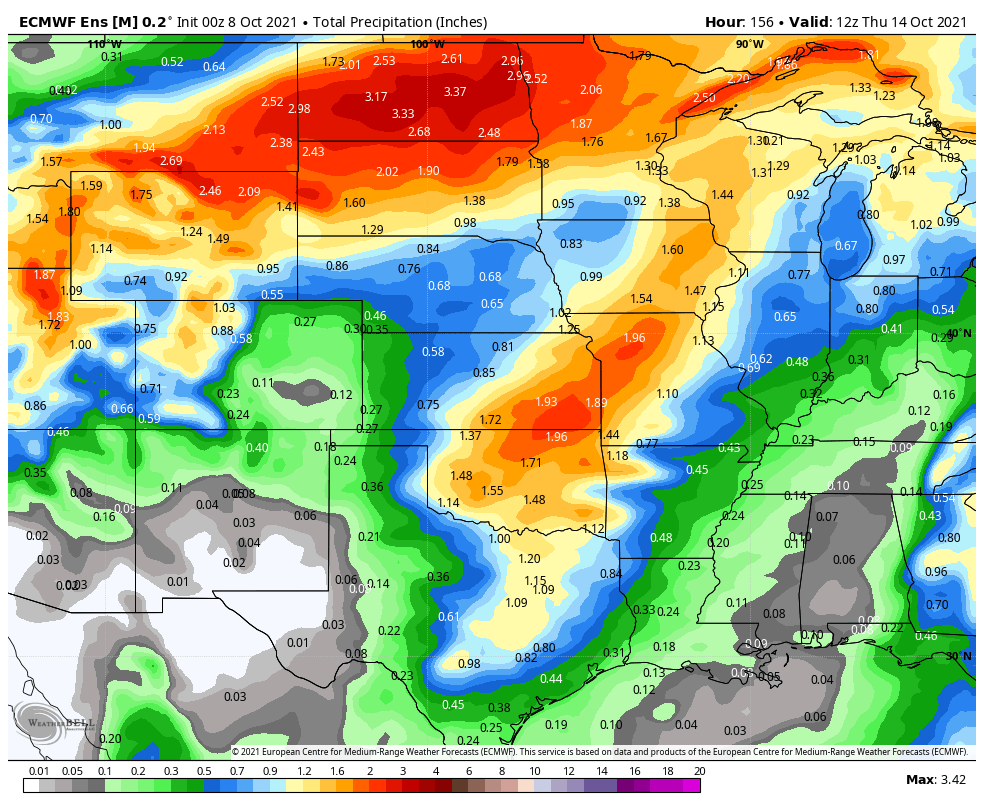 It's too early yet to be specific about snowfall across the state, but for generalities it is possible the mountains will measure more than six to 12 inches in spots.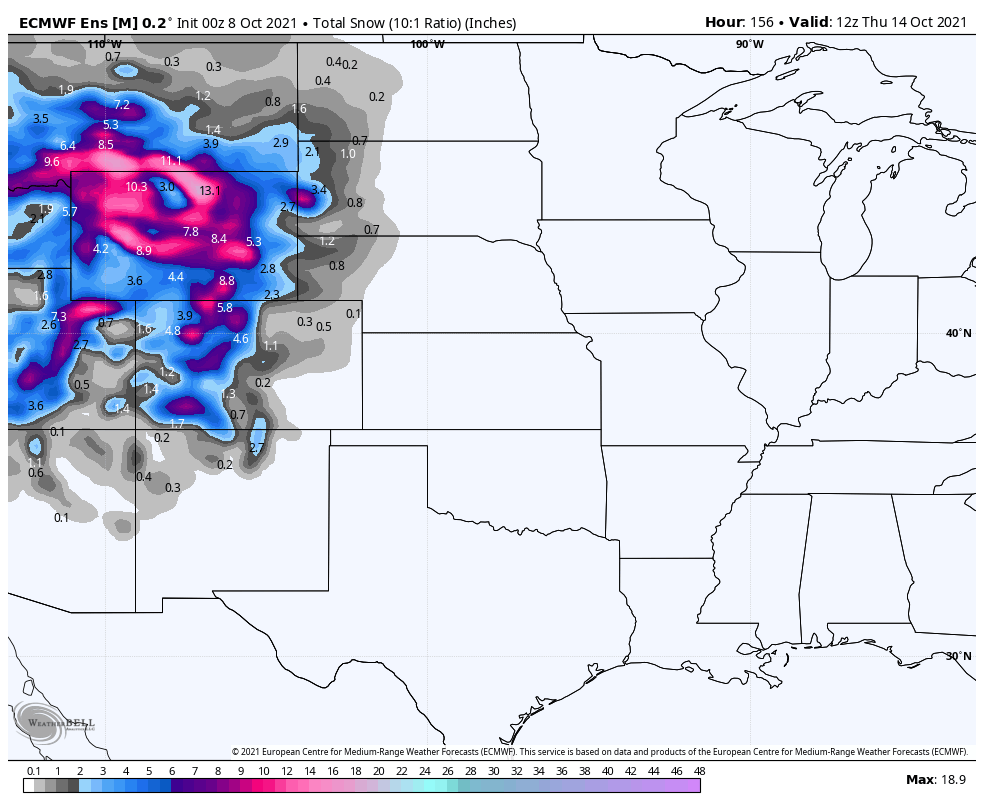 Although possible, it is still too early to discuss snowfall potential in the metro area for late Monday through Wednesday. There will be some showers passing through during those days but may stay mostly in the form of rain. (I, personally, am not excited enough to throw down fertilizer on my lawn just yet. I'll wait till Monday and do it then if things look wetter than they do presently.)
Denver's average first measurable snowfall is October 18th. Last September broke the streak of two decades without a September snow in the city, but clearly we are still waiting on the first measurable snowfall this year.
We will have moisture total forecasts for you, and snow details, later this weekend. For now, let's plan on some chilly weather next week.
Denver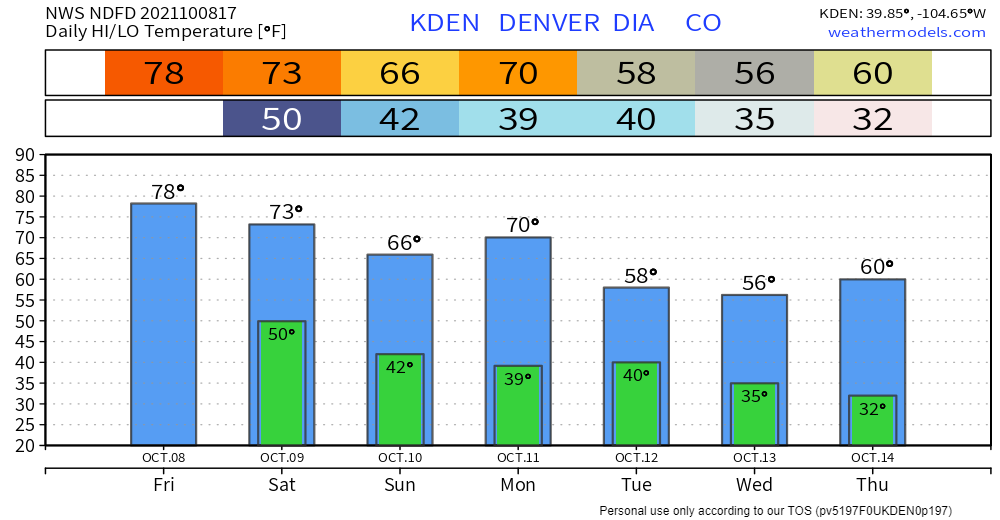 Colorado Springs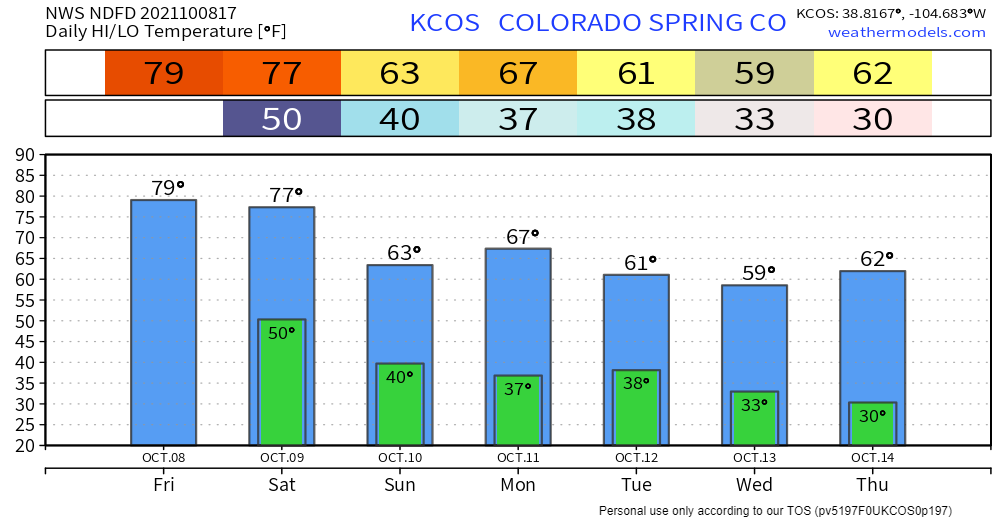 Fort Collins
Steamboat Springs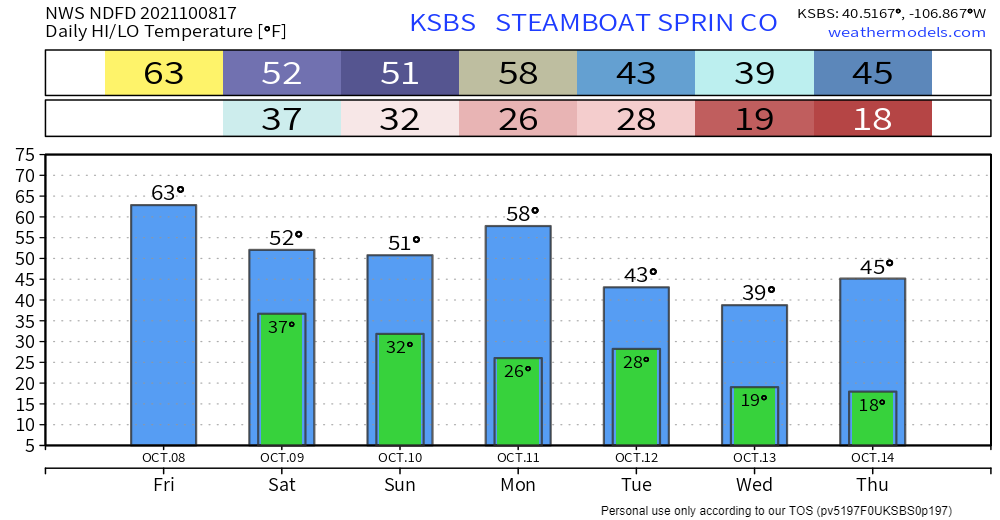 Bottom line:
For the metro area locations, be aware of potentially frosty to frozen conditions in the mornings Monday through Friday next week. Showers will be possible - based on current timing - late Monday through early Wednesday of both rain and snow for much of the state.