As we discussed in this week's State of the Atmosphere, the week has featured more wind than anything else across the northeast plains of Colorado. Denver, and most cities along the Front Range, continue the wait for the season's first snow – and what shower activity we see tonight isn't likely to get the job done.
Fortunately the pattern has delivered some snowfall to the high country this week, with more on the way today and tonight. Snowfall totals between Monday and Wednesday (below) were modest for most locations, but some higher elevation totals topped the 10 inch mark, which is of course welcome news!
Many mountain resorts across the central mountains reported from 4 - 8" of snow Wednesday morning, with beautiful and wintry pictures starting to fill our social media timelines!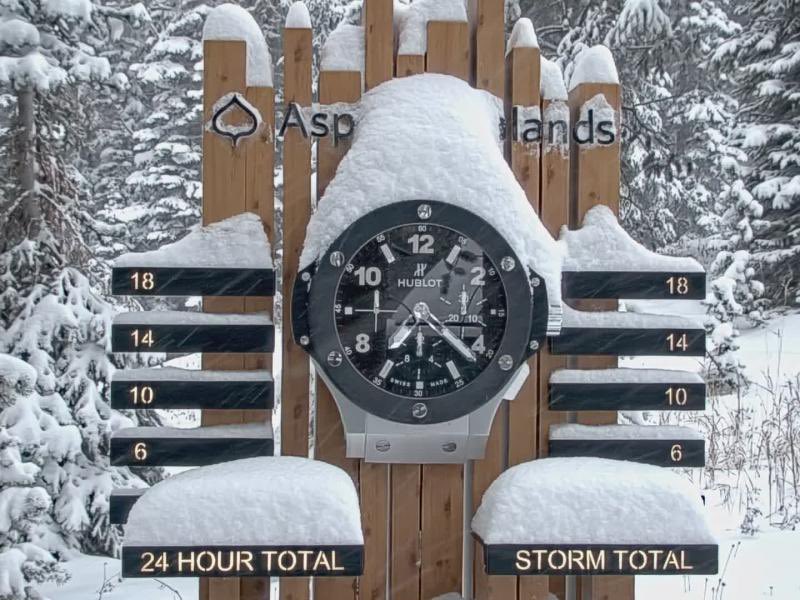 The next 24 hours will feature more WIND across the state. Along with the wind we'll see more mountain snow, though no highlights are in effect at this time.
Snowfall from today into Friday will favor the higher peaks of the northern and central mountains once more, with very little of that expected to make its way off the hills and over the plains. Still, should you see a flurries tonight or a brief shower, you need not be surprised!
Below is a look at the blend of models snowfall forecast through Friday morning, showing 6 - 12" possible for some of the highest passes, but coverage not exactly great, and an optimistic take at best to say we have a chance of accumulating snow across the plains as well...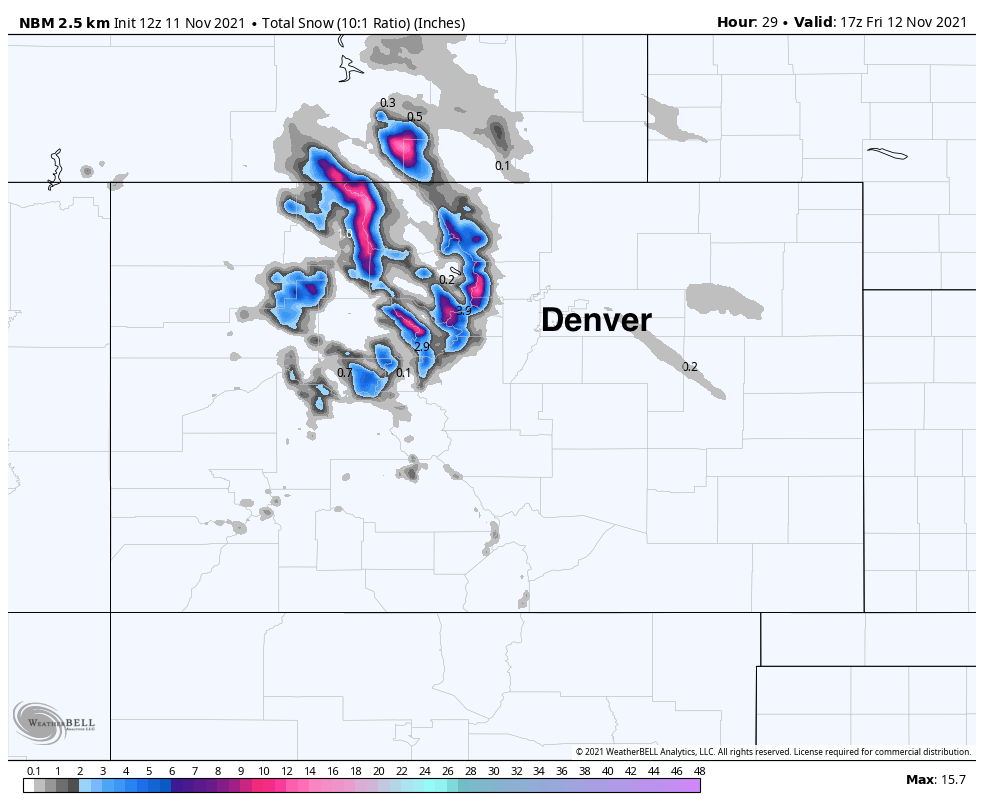 The hourly outlook for Denver shows a slight increase in chance for rain/snow this afternoon and evening, but pretty low odds overall. Temperatures stay cool – in the 50s today and tomorrow, with gusty conditions remaining the theme of the week. We warm a bit for the weekend, with highs forecast to be in the 60s both Saturday and Sunday.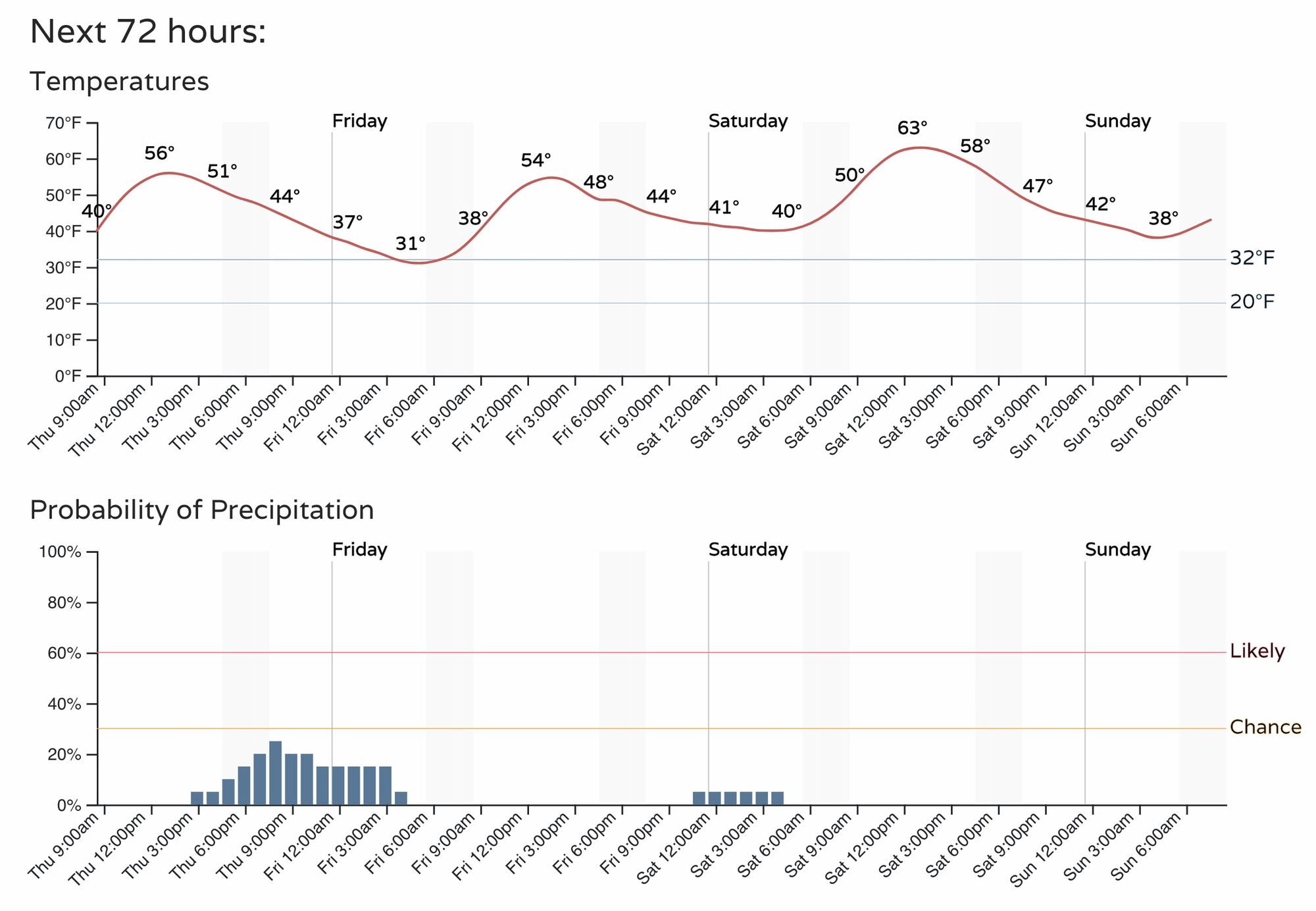 When will it snow in Denver?
Data continues to flip-flop on snow chances for next week, with really no agreement between the models on the exact evolution of this pattern. Still, it looks like we'll remain active enough to at least keep the chance we see some snow before November 21st (date of latest first snow on record).
The Euro (which also happens to have some 1 - 2" snow totals across the eastern plains tonight, by the way) is currently more bullish on snow chances by late next week but it's far from a lock. Yesterday it had our best shot of snow arriving Wednesday, today it's pushed that to Saturday the 20th. The GFS had been advertising a similar system around the 20th, but has since backed off.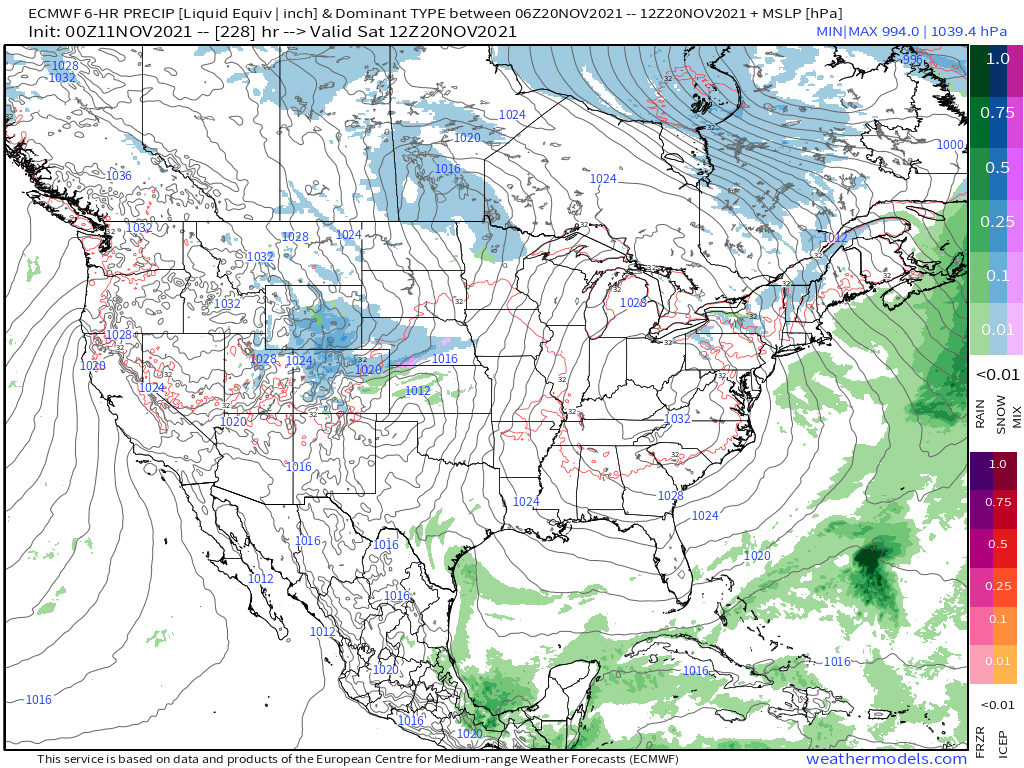 Looking at our precipitation probabilities over the next 10 days, we definitely see a bit more activity in the data as we head toward the latter half of next week, but hard to get too excited just yet!