Today is a big day: for the first time in 9 years of doing our First Measurable Snow Prediction Contest, we will surpass all the dates chosen by our readers with still no measurable snow to speak of in Denver! December 3rd was the latest date picked, with this specific reader picking a healthy 14" snowstorm for today. Alas, with a high forecast of 62°F today in Denver, that much snow will be hard to pull off, but at least they can take pride in choosing the right month!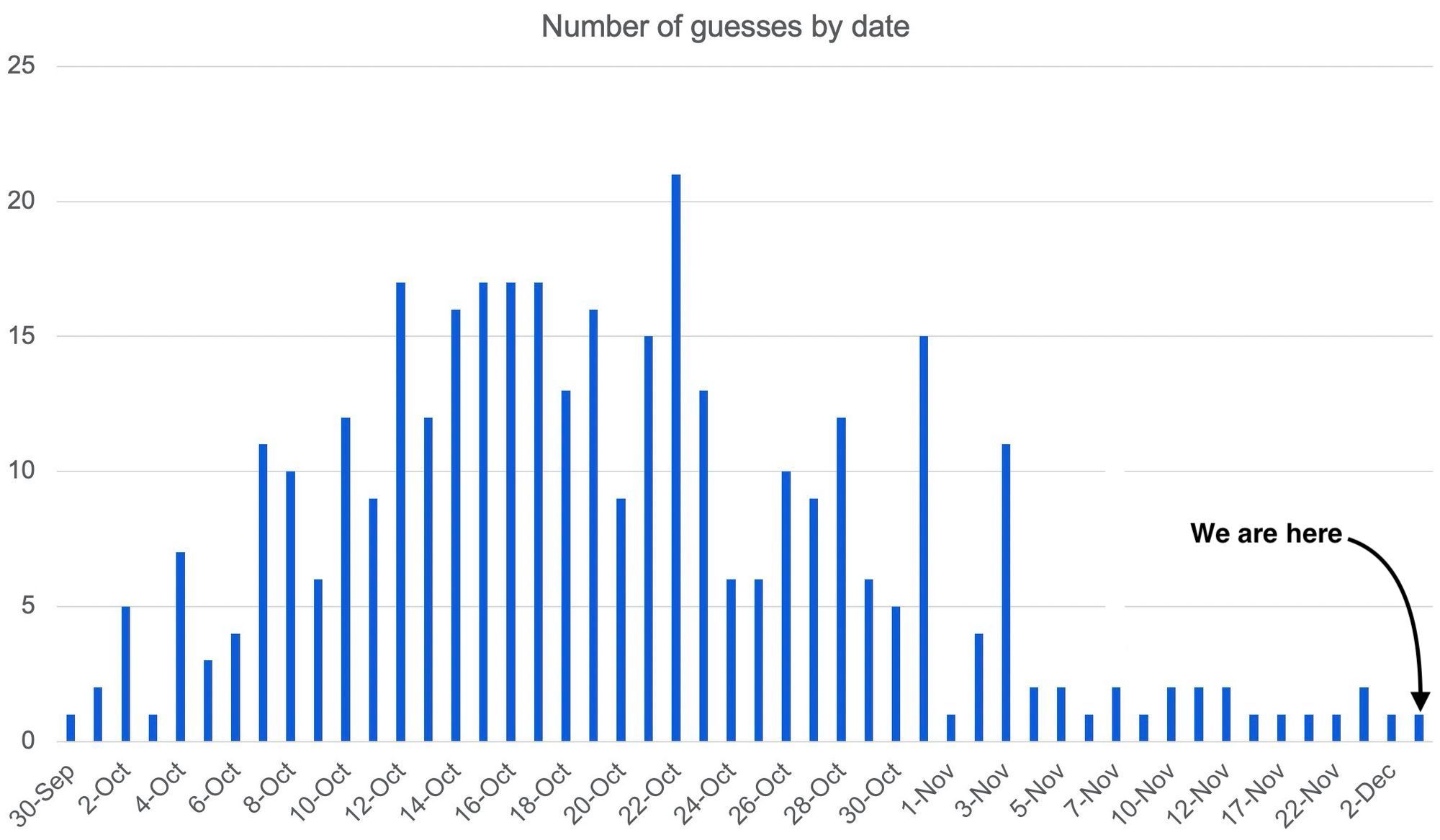 Prior to this year, the latest first measurable snow on record was November 21st, set back in 1934. We've smashed that record and some, and have (perhaps) more than handful or more days to go before we could finally see some snow pile up in the city.
If it feels to you that it's been awhile since we've seen snow, you'd be right! Today is the 226th day without measurable snowfall in Denver (at least officially), which is the 3rd longest streak on record. Tomorrow we will move into a tie with 2nd place, and Sunday we will move into the solo spot at number one. With a record of 235 days, it remains a question if we'll break this record or not this year, but it's possible.
Pattern shift?
It's a bit scary to even insinuate we could see a pattern shift in the next week given how incredibly unforgiving this warm and dry period has been across the region.
Still, as we discussed in this week's State of the Atmosphere, we are tracking a bit of activity in the storm track that will try to bring changes to our weather next week.
Depending on your mood, there's data out there to support both the idea of a full-scale pattern flip for several weeks across the region, and one that is perhaps more of a blip next week before ridging quickly reestablishes itself across he West. The ensemble mean PNA teleconnection forecast would suggest the ridge will breakdown and remain so for some time as it goes negative through much of December, which would mean a more active pattern across the Western United States even if not specifically for Northeast Colorado necessarily.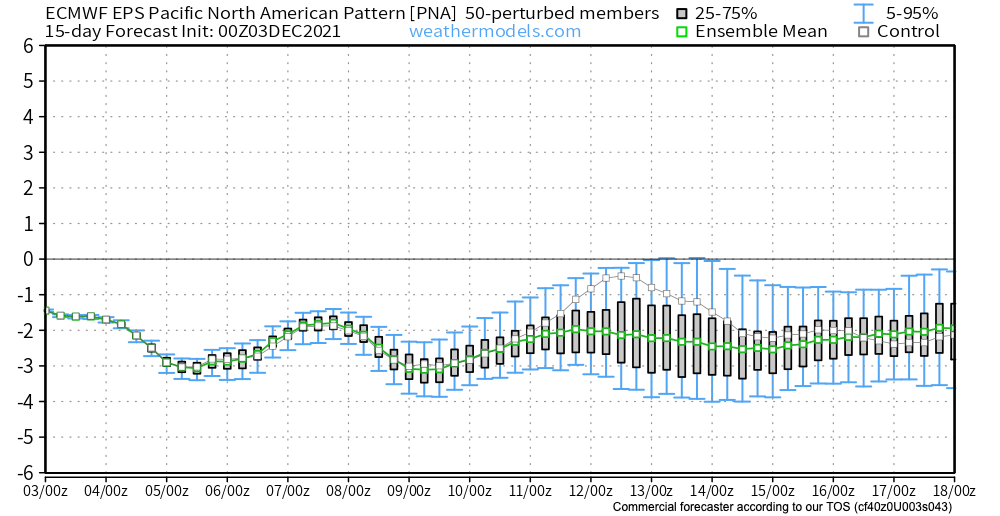 The operational model suggests this pattern could be more volatile, with its latest runs showing a quick rebound of the ridge after the 11th (or so), and perhaps the PNA jumping back positive for a time. The flipping between a +PNA and -PNA can be a better look for our area vs a strictly -PNA as the ridging and troughing is more transient.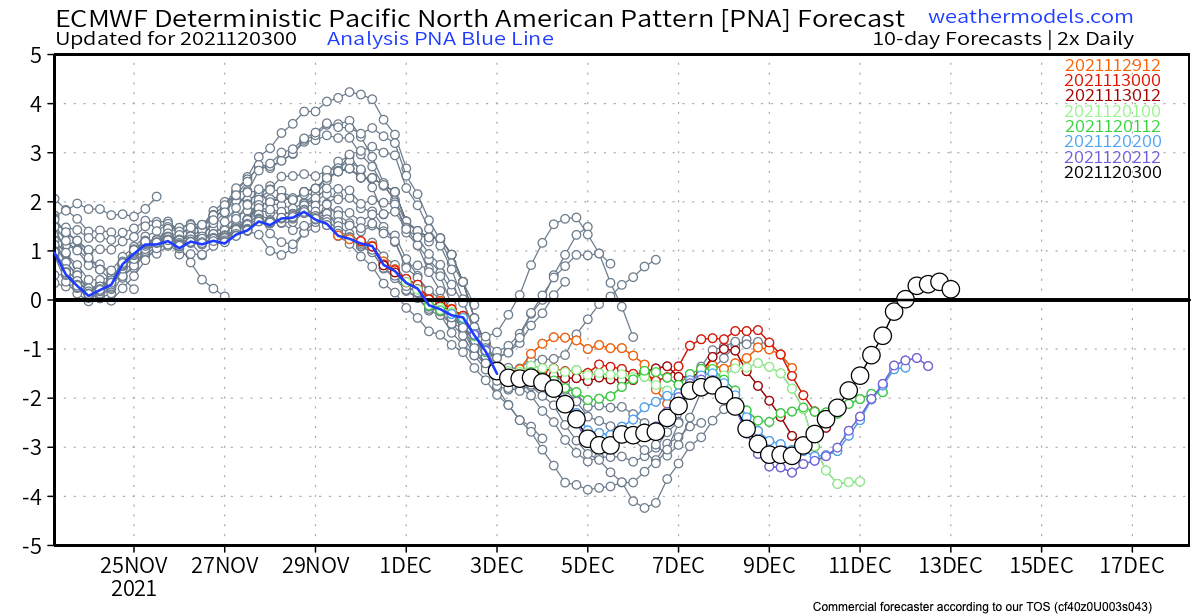 Given the high uncertainty, let's focus on next week, and see if we might (MIGHT!) finally see some snow.
We continue to track two systems. The first due in early next week, the second by the end of week/weekend. You can see in the precipitation probabilities below with the two blips on the radar, with a bit more bias for potential for the latter system vs the first:

Not surprisingly, with the increased chance of seeing some precipitation around here, we will also be saying goodbye to the record heat we've been experiencing this week. Temperatures will remain mild through much of the weekend (50s and 60s for highs) before turning colder next week.
The European ensemble mean shows highs in the 30s by Monday for Denver, warming a bit between systems, then cooling into the 30s for highs once more to end the week and start next weekend: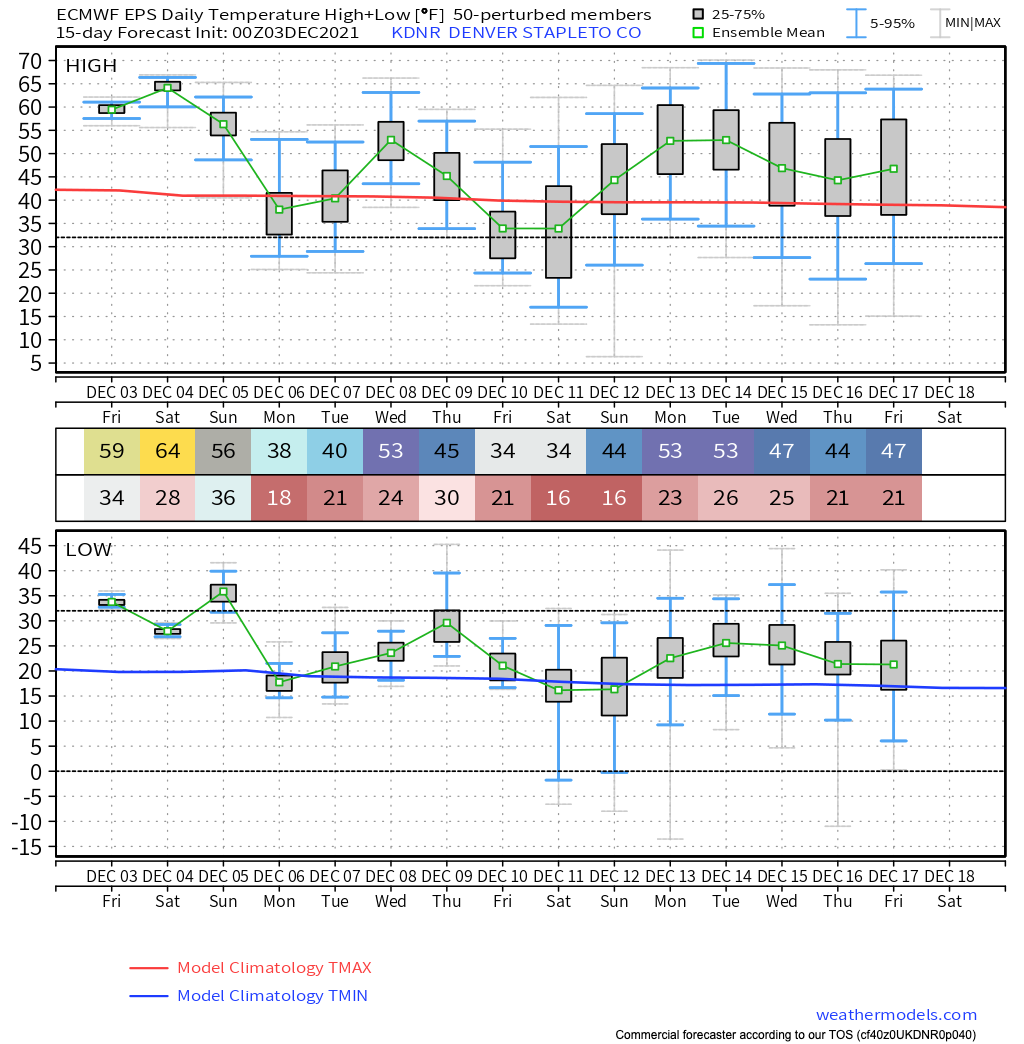 Of the global models, the Euro is least excited of the bunch with both systems, at least for snow potential east of the mountains. The American GFS, European, and Canadian models are all in decent agreement that the snow chances aren't great for Monday in Denver (not zero either), and at least slightly better for Friday/Saturday next week. The GFS and Canadian models are but much deeper and slower with their trough progression for the second system, where the European is faster and more progressive – i.e. less snow for Northeast Colorado. All models have some snow for Denver by then end of next weekend, ranging from about 1/2" to 4" depending on what model you believe. Nothing crazy, but also... something!
So, for now the game plan should be:
Get out and enjoy the weekend as much of it should remain mild and warm across the state. A cold front moves through Sunday evening which will drop temperatures into the 20s Sunday night, but at this time the front looks mostly dry. Do keep an eye on the forecast in case that changes.
Monday will be chilly, with perhaps some snow showers around. We'll have to watch if the system comes in organized enough to bring our first measurable snow, or if the wait continues. Right now odds of measurable snow in town remains on the low side early next week.
Focus then turns to our late-week system, which should deliver more cold are to the region, with perhaps some snow to boot. It's a long ways out, and so far systems showing up at range have more or less fizzled as we get closer. Could this one be different?
Here's the hourly planner for Denver, note temperatures dropping off quickly Sunday evening: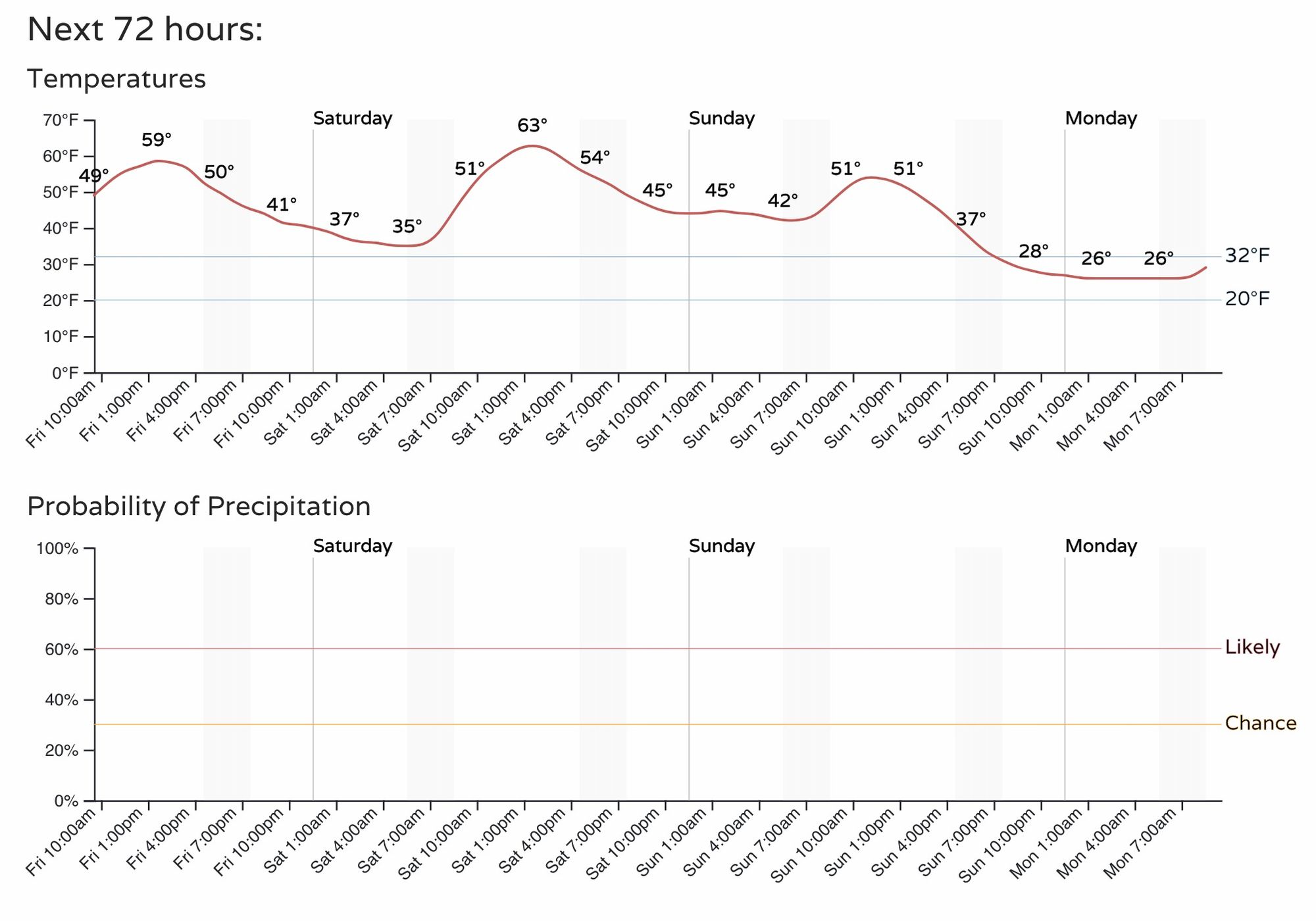 And finally, the latest snowfall gamblers: