It's been a good month for snow across much of the west. In some places, a great month. Overall, the Western United States continues to play catch up on the snowpack front, with nearly all basins across the west playing catchup after a dry, dry start to the snow season.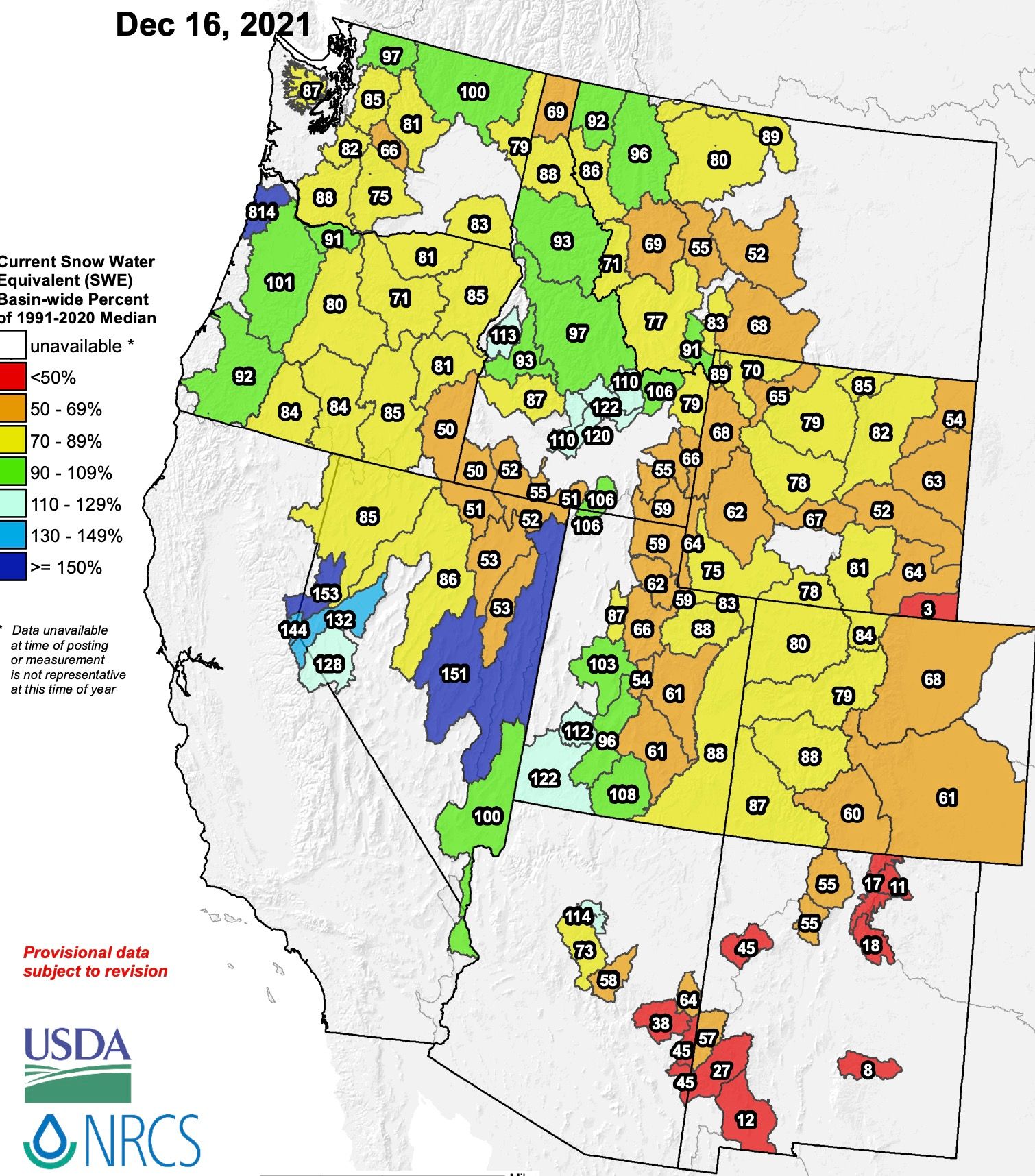 You may look at the above and see a still overwhelming bias to below average snowpack across most basins. If we compare this map to 10 days ago that we shared in our perspective piece on the slow start to the snow season , the improvements are obvious.
To begin December the majority of basins were running at less than 50% of average snowpack... with that now being the exception, focused mainly across Arizona and New Mexico.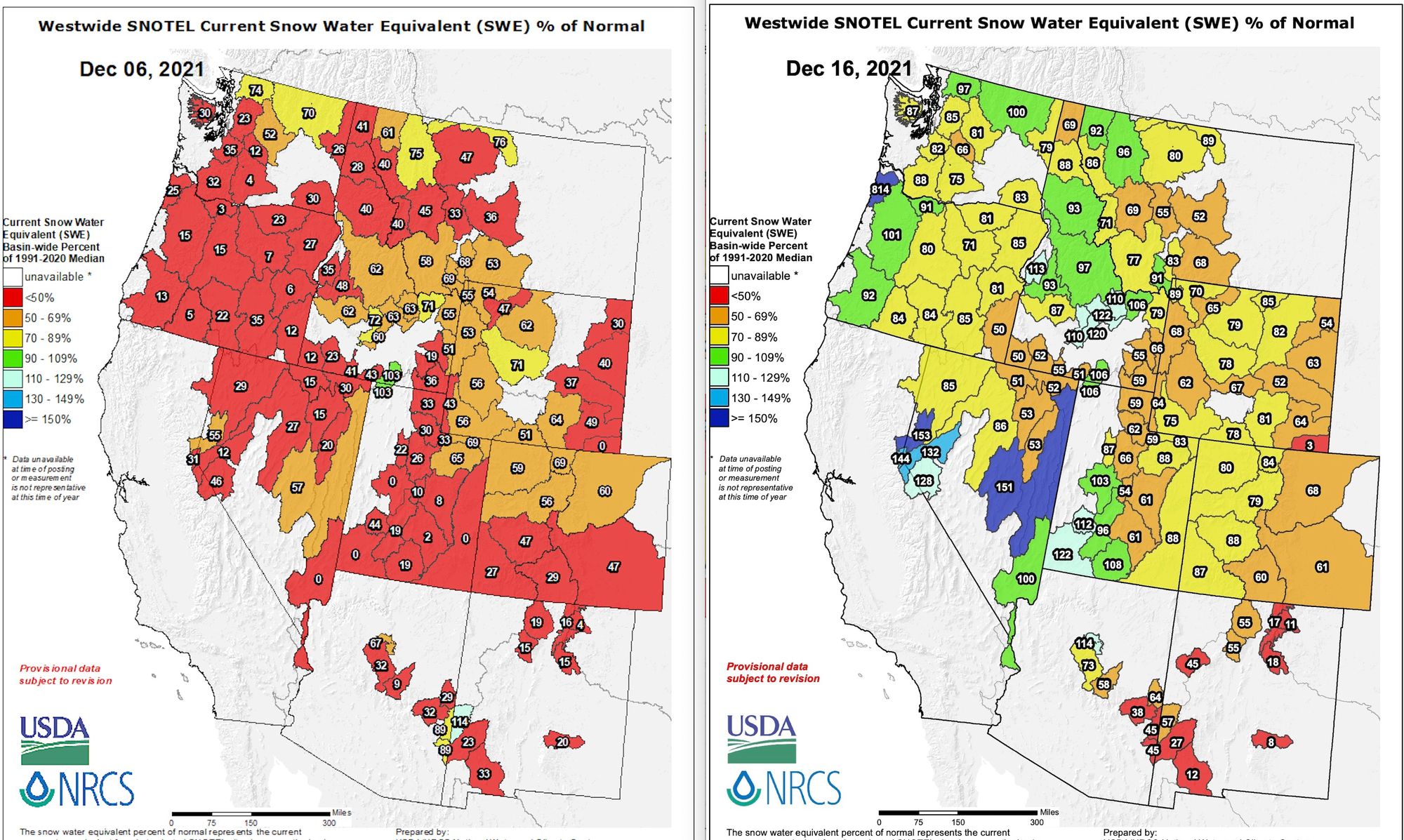 Still, plenty of work to be done. Across Colorado and Wyoming basins remain largely in the 60 to 80% range. For Colorado, though, still notable improvement in recent weeks even if we still remain well below average. Note the nice uptick in the black line below (2022) taking us out of the red and into yellow with the most recent storm. Statewide median SWE is now at 77% of average: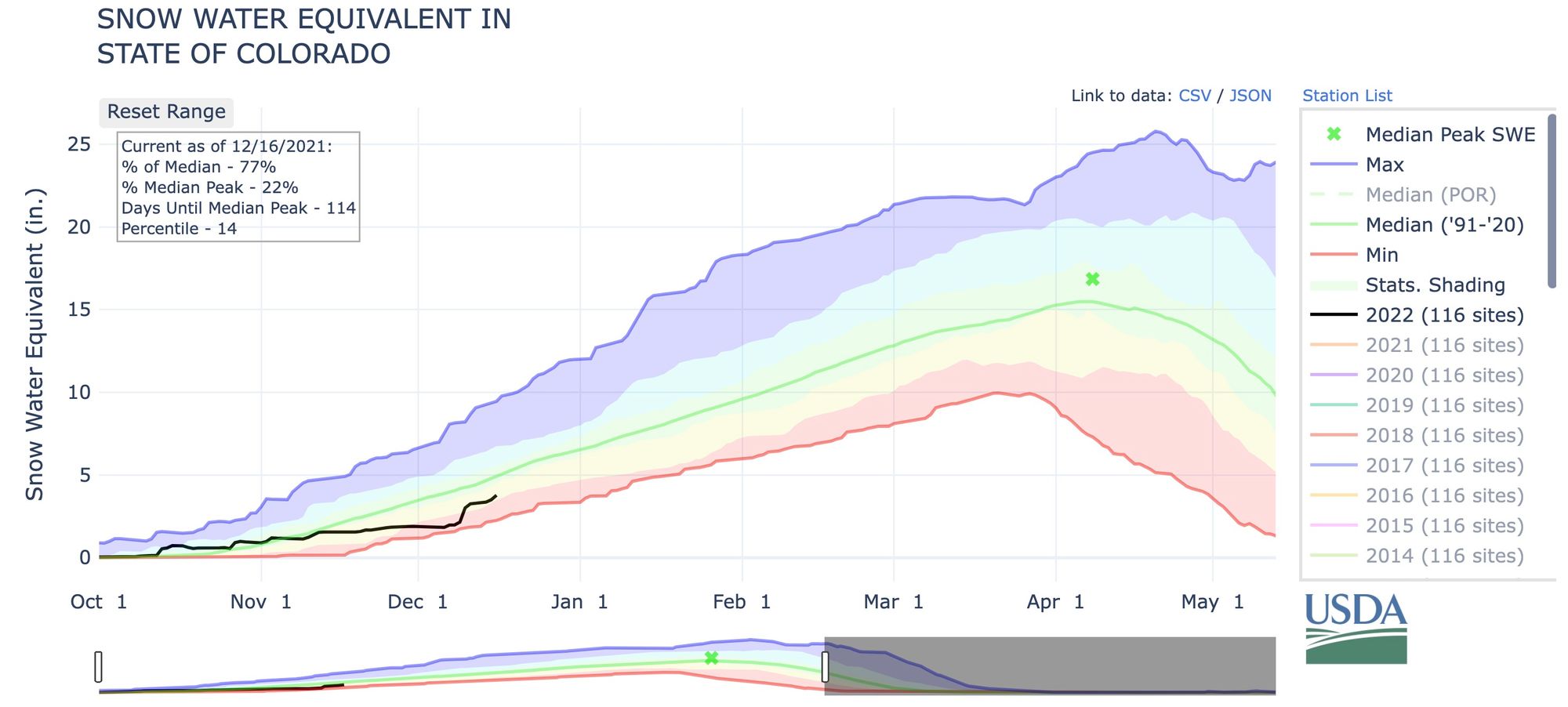 More snow is on the way for much of the west, with a favorable pattern in place for the next two weeks or so, for at least the windward side of the western ranges.
Below is a look at the snowfall forecast from the European ensemble mean model product through the end of December. Of note, more big time snow for the higher terrain of California, and a notable snow hole remaining for those of us east of the mountains in Colorado! A rather unforgiving pattern we find ourselves in.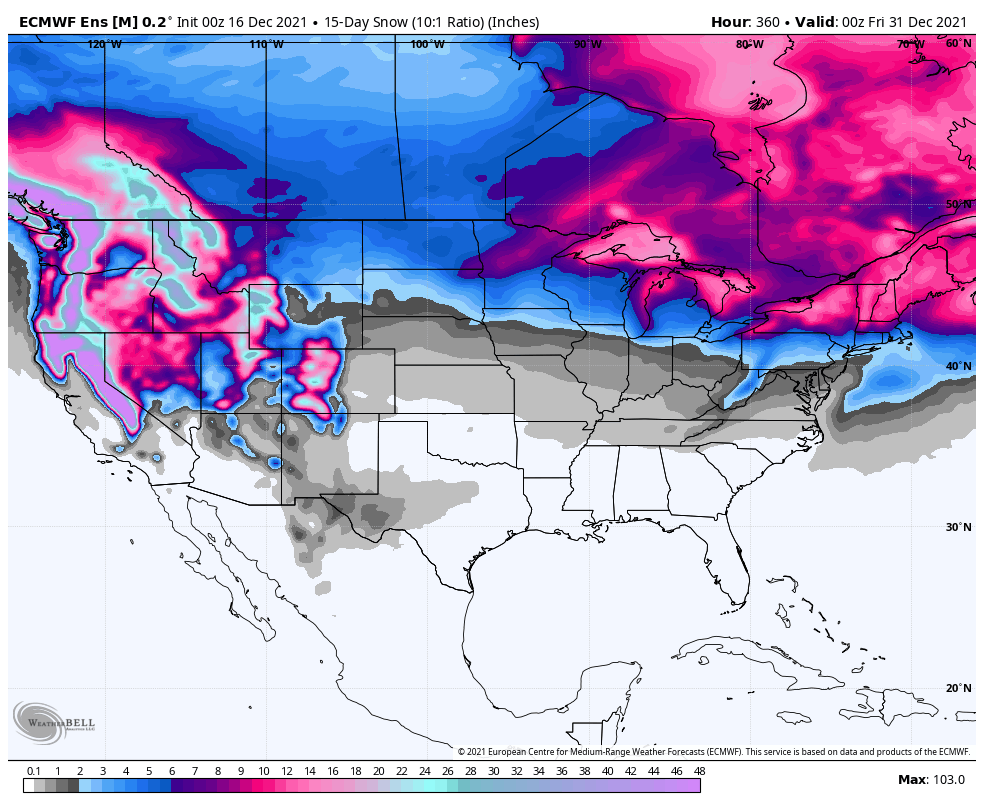 It's important to celebrate the wins we do see, however, with above average precipitation forecast for most of the basins across the west through the end of the month, particularly along the drought-stricken west coast. Bring it on.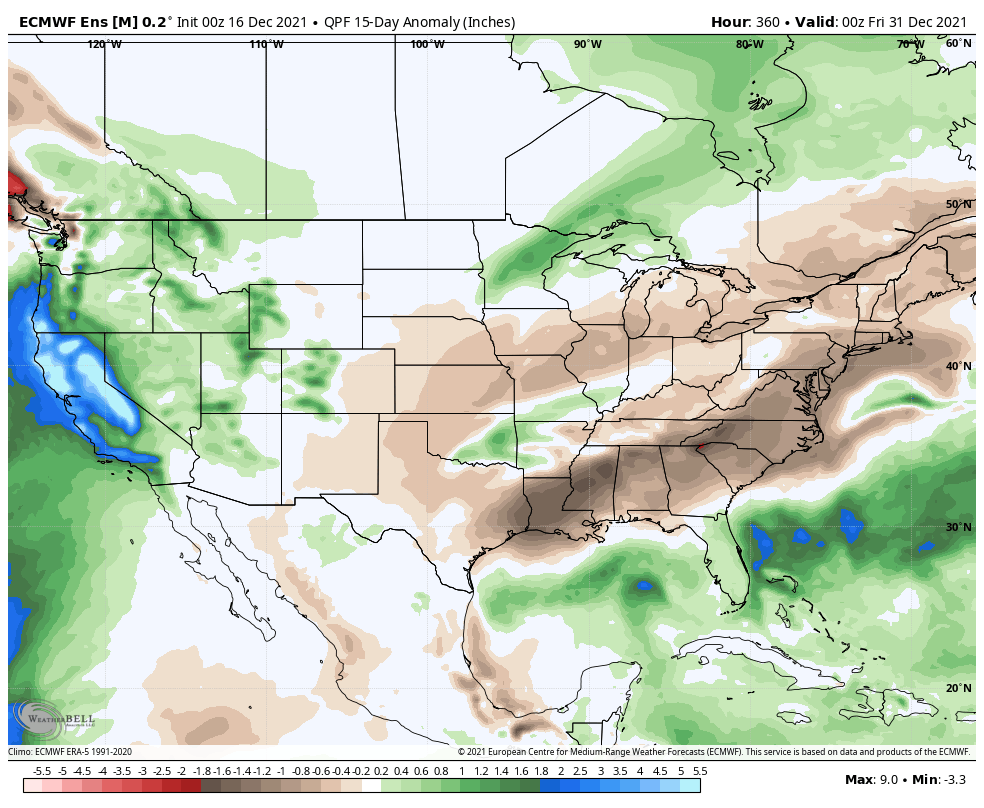 For much of the central plains, particularly those that saw some of the worst of yesterday's wind, dust, and fire – the outlook for the remainder of the year looks to remain a mostly dry one. A zoomed in map of the one above shows below average precipitation in the forecast for Eastern Colorado, Texas, Oklahoma, Kansas, and Nebraska.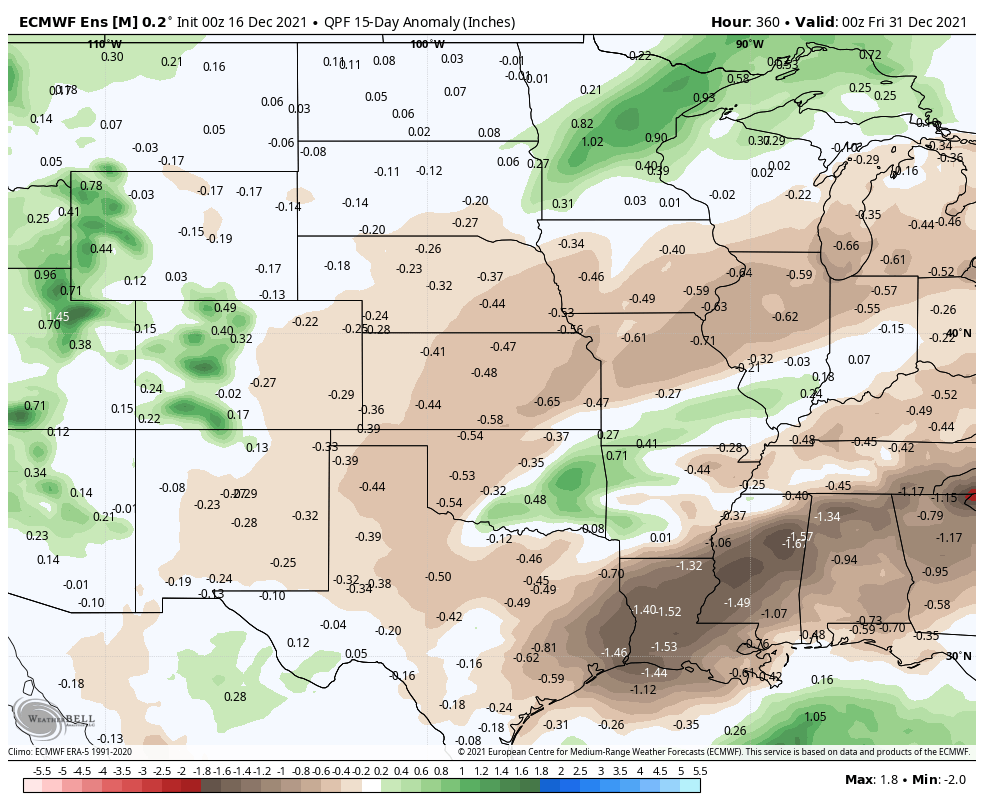 We hope we'll manage to sneak a storm in here (and not just wind) but at this time it's just not showing up in the means. By and large ridging will be favored across the south-central United States which would keep this area warmer than average and drier than average through the holiday.